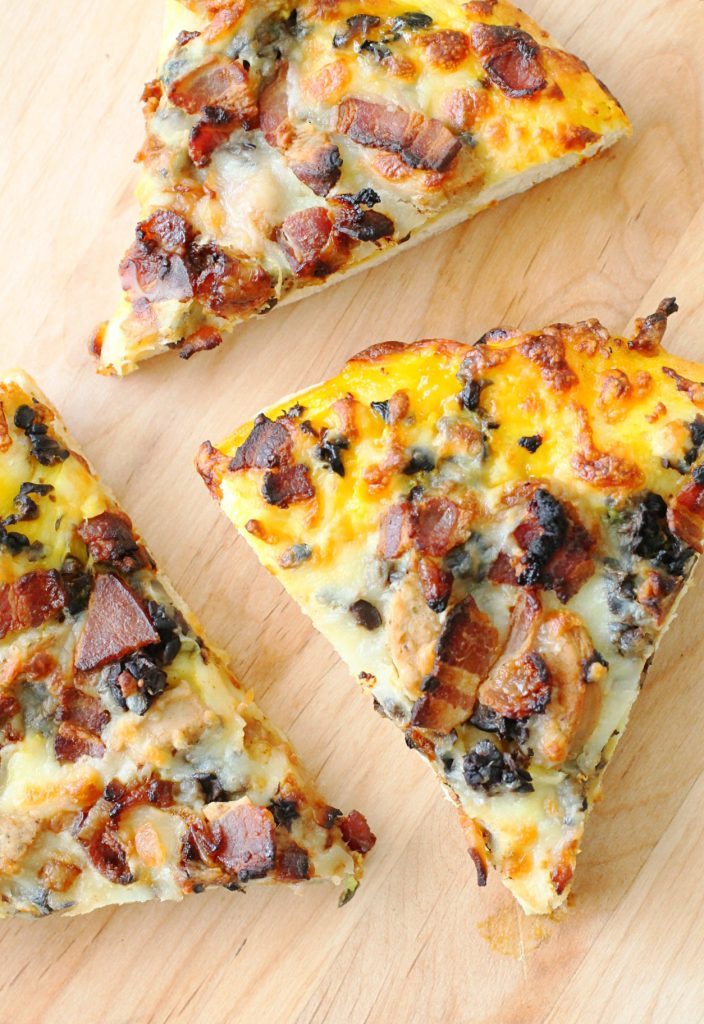 Now that I've perfected my pizza crust I know without a doubt that my homemade pizza is the one meal my family could never live without (I asked them). So on the heels of my Baseball Donuts in honor of Opening Day here in Cincinnati, I decided to bake this Ballpark Brat Pizza for dinner. Trust me, it is a winner!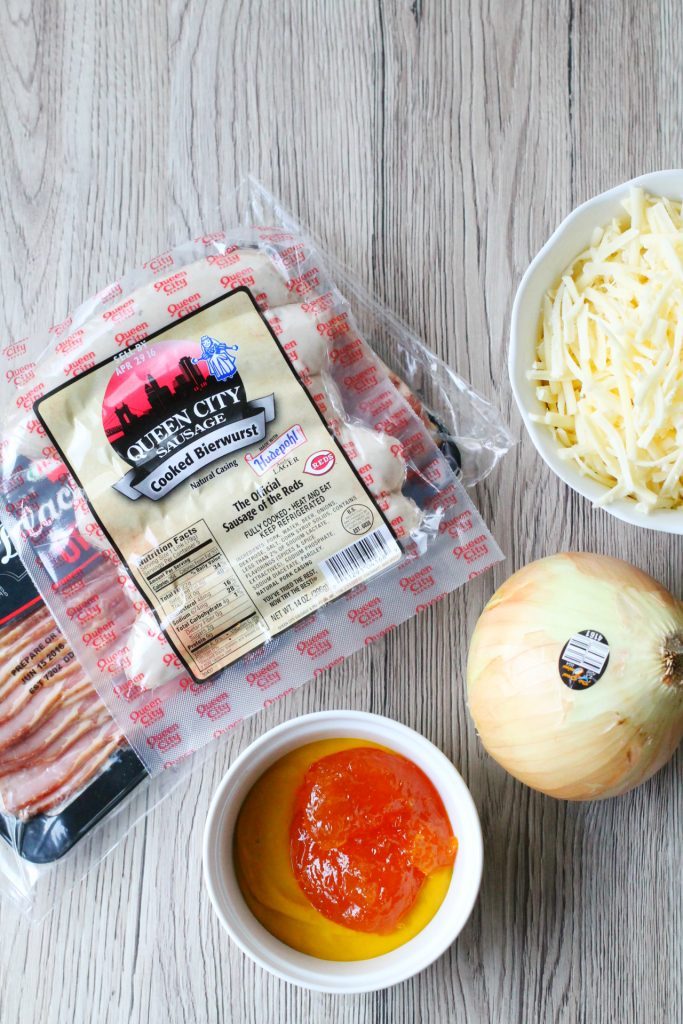 The ingredient list for this baseball-inpsired pizza is simple. A mixture of mustard and apricot preserves for the sauce, caramelized onions and bacon, beer brats (this isn't a sponsored post but if you have a local brat at your grocery, you should use it. Mine happen to be from Queen City Sausage – the official sausage of the Cincinnati Reds), a mixture of mozzarella and white cheddar cheese and chopped black olives (the olives are a personal preference and completely optional – though quite tasty). It all combines for a sweet and salty, lip-smackingly good pizza pie. Watching a ballgame while making the pizza helps too!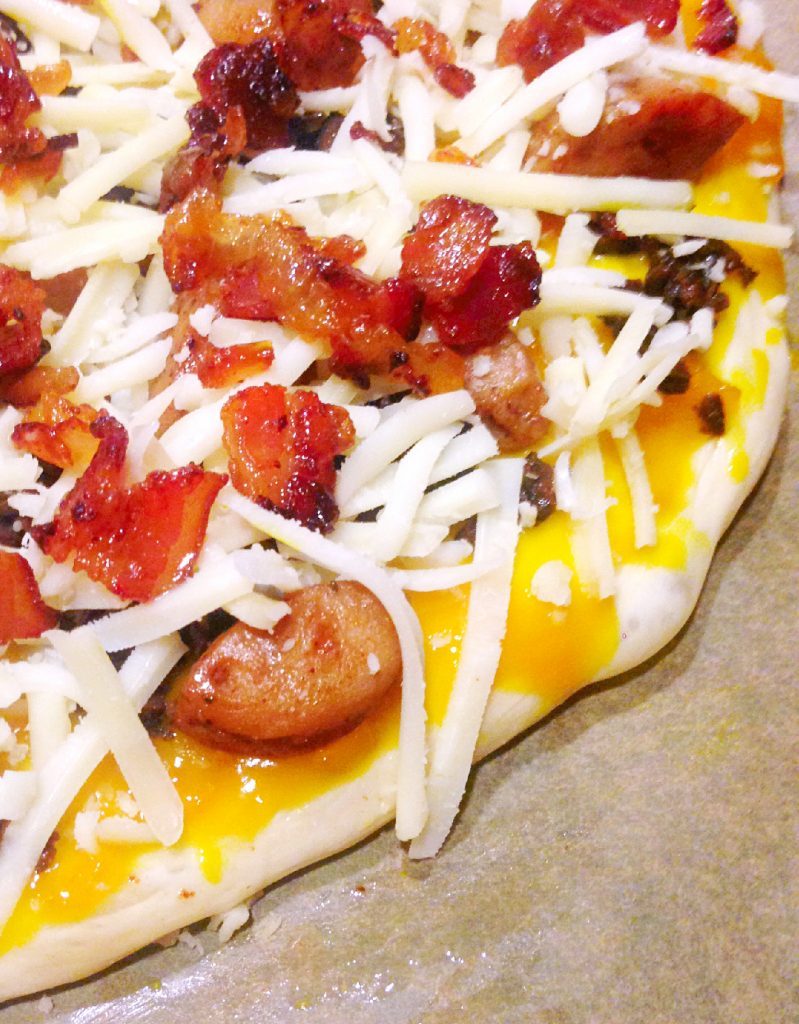 I snapped a shot of this beauty before it went in the oven. It was late so the lighting is a little funky but just look at that glistening combination of meats, sauce and cheese. Aren't you hungry? It's got bacon and brats on it – how can you go wrong? Pin this pizza recipe and try it at least once during baseball season!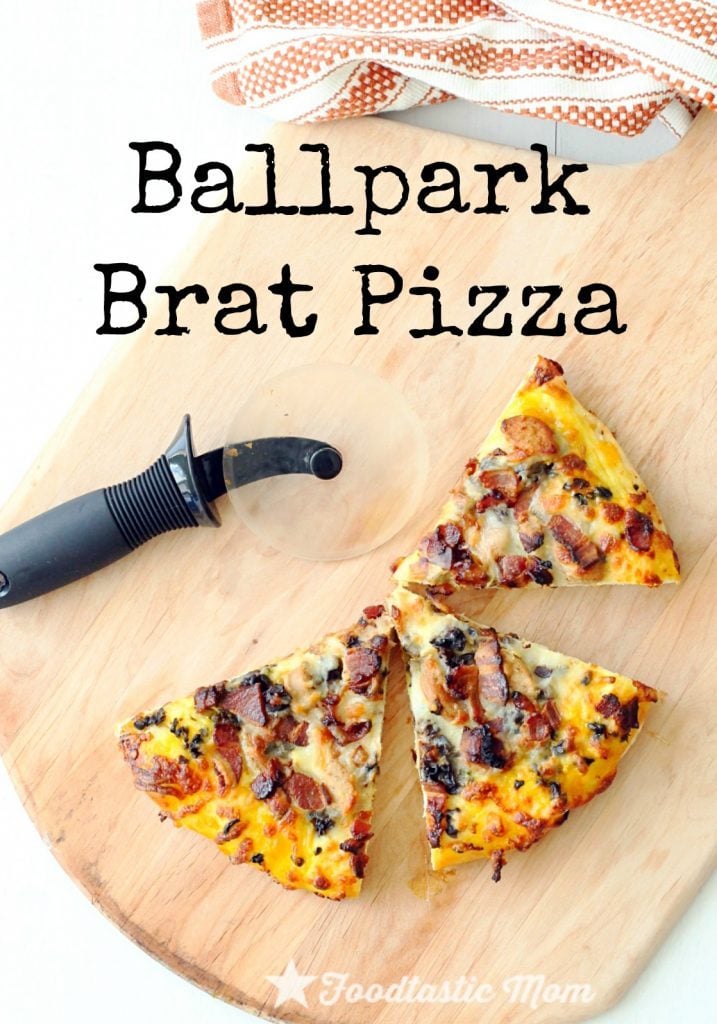 Ballpark Brat Pizza
Ingredients
crust
1/2

c.

warm water

105 - 110 degrees F

1

envelope quick rise yeast

4

c.

bread flour

plus more for flouring

1 1/2

t.

salt

1 1/4

c.

water

at room temperature

2

T.

extra-virgin olive oil
toppings
1/4

c.

yellow mustard

1/4

c.

apricot jam

1

sweet onion

chopped

6

slices

of bacon

chopped

1

pkg. of Beer Brats

chopped

1/2

c.

black olives

finely chopped

8

oz.

mozzarella cheese

shredded

8

oz.

sharp white cheddar cheese

shredded
Instructions
for the crust
Measure the warm water into a 2-cup liquid measuring cup. Sprinkle the yeast over the top and allow to rest for at least 5 minutes, until yeast is foamy. In the bowl of a stand mixer fitted with the dough hook, combine the bread flour and salt, mixing briefly to blend. Measure the room temperature water into the measuring cup with the yeast and water mixture. With the mixer on low speed, pour in the yeast and water mixture as well as the olive oil. Mix until a cohesive dough is formed and knead on low speed until the dough is smooth and elastic, about 5 minutes.

Remove dough from the mixing bowl and place on a clean and lightly floured surface. I like to finish hand-kneading the dough. If it is still sticking to your hands (which is possible - I don't weigh my flour so the texture of the dough is a little different every time) add a little more flour and knead into a smooth ball.

Transfer the dough ball to a lightly oiled bowl, turning once to coat. Cover with a clean kitchen towel and let dough rise until doubled in size, at least 1 hour.

Press down the dough to deflate it. Transfer the dough to a lightly floured work surface. Divide the dough into 2 equal pieces. Form each piece of dough into a smooth, round ball. Cover with a damp cloth. Let the dough relax for at least 10 minutes but no longer than 30 minutes.
for the toppings
Mix the mustard and apricot jam together for the sauce.

Heat a non-stick skillet over medium-high heat and add the onions and bacon. Cook, stirring often, until bacon is cooked complete. Remove the bacon and onion mixture to a bowl.

To the same skillet, add the chopped brats. Cook until browned, stirring occasionally. This will take about 6 - 8 minutes.

To bake, preheat the oven and pizza stone (the pizza stone should be placed on the center rack of your oven) to 500 degrees for at least 30 minutes. Transfer each ball of dough to a piece of parchment paper. Shape the dough into circles with lightly floured hands. Top each pizza with a thin layer of the mustard and apricot jam sauce. Then top each pizza with an equal amount of the cooked brats, shredded cheese, black olives (if using) and bacon and onion mixture.

Transfer each pizza (with parchment) onto the pizza stone. After each pizza has baked for about 5 minutes, carefully remove the parchment paper from under the crust (so the paper doesn't scorch in the oven) and continue baking until the crust and cheese are browned, 10 - 15 total minutes.