This Supreme Mashed Potato Pizza is comfort food at its finest – homemade pizza is topped with mashed potatoes, cheese, bacon, sour cream and chives.
My Supreme Mashed Potato Pizza is a big hug in food form. There's been a lot in the news that's distressing lately but my blog is not where I like to think about those things. Food is the form of comfort I'm best at and so this big huge pizza topped with mashed potatoes and lots of other good things is what I'm offering you today.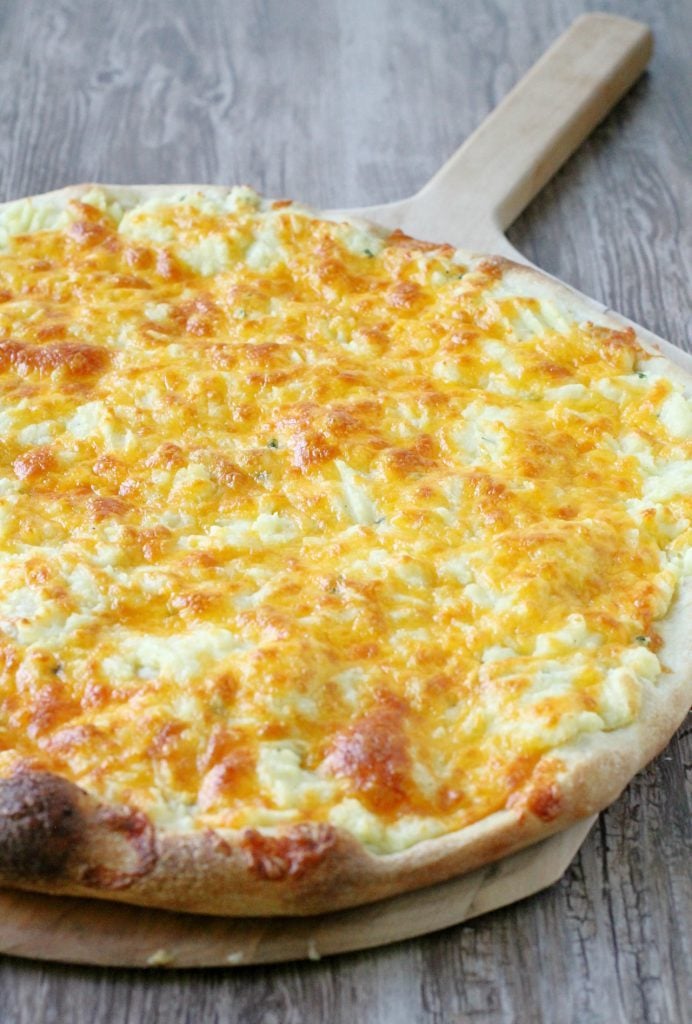 There's actually a funny story behind the potatoes that became the main topping for this pizza. We are in the dog days of summer in Ohio. It's hot and humid and we've had more than our fair share of pool time and I'm in all air-conditioning all the time mode. So for dinner last week I'd pulled out some pizza dough I'd frozen and was contemplating toppings when I realized I had a whole package of bacon, cheddar cheese and sour cream already in the fridge. All I needed were a few potatoes and some chives or green onions. But that meant a trip to the store and leaving my air-conditioned oasis.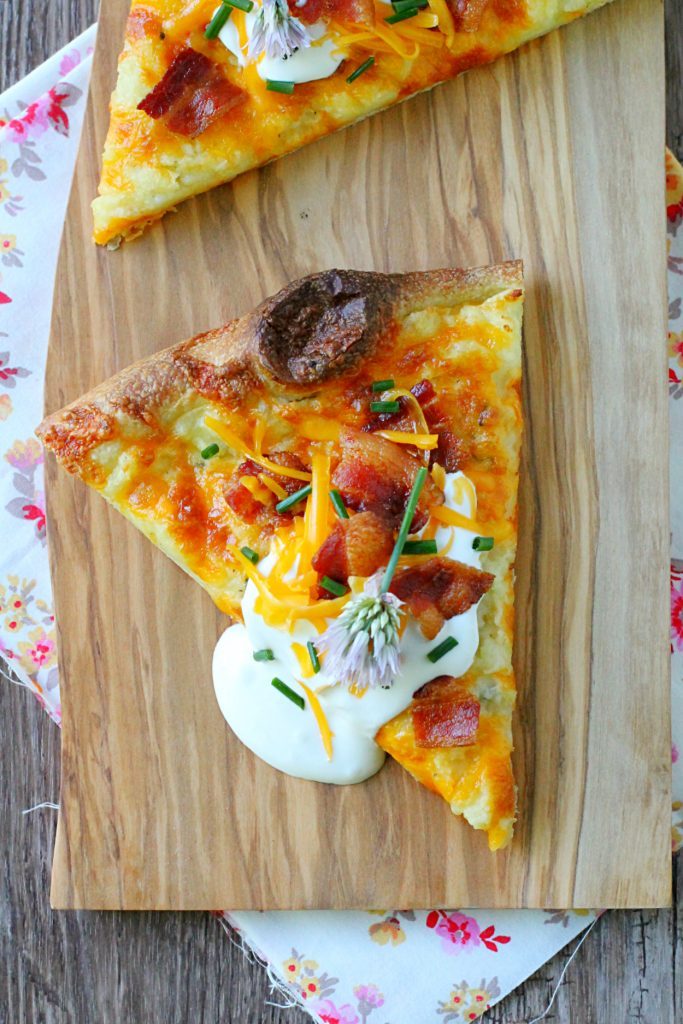 My neighbor and I have a close relationship and borrow cups of sugar from each other (or eggs or oil or anything else we might need). It helps that we both love to cook. As luck would have it she texted me that she was hoping to bake some banana blueberry muffins but didn't have bananas that were ripe enough. I walked over the three that I had and mentioned my need for potatoes. She walked over to her trash can and pulled out five (organic and still in the plastic potato bag) Yukon Gold potatoes and handed them to me. She'd tossed them because they weren't going to be around either and she figured they'd start sprouting in her cabinet. Clearly this pizza was supposed to happen, "dumpster-diving" potatoes and all!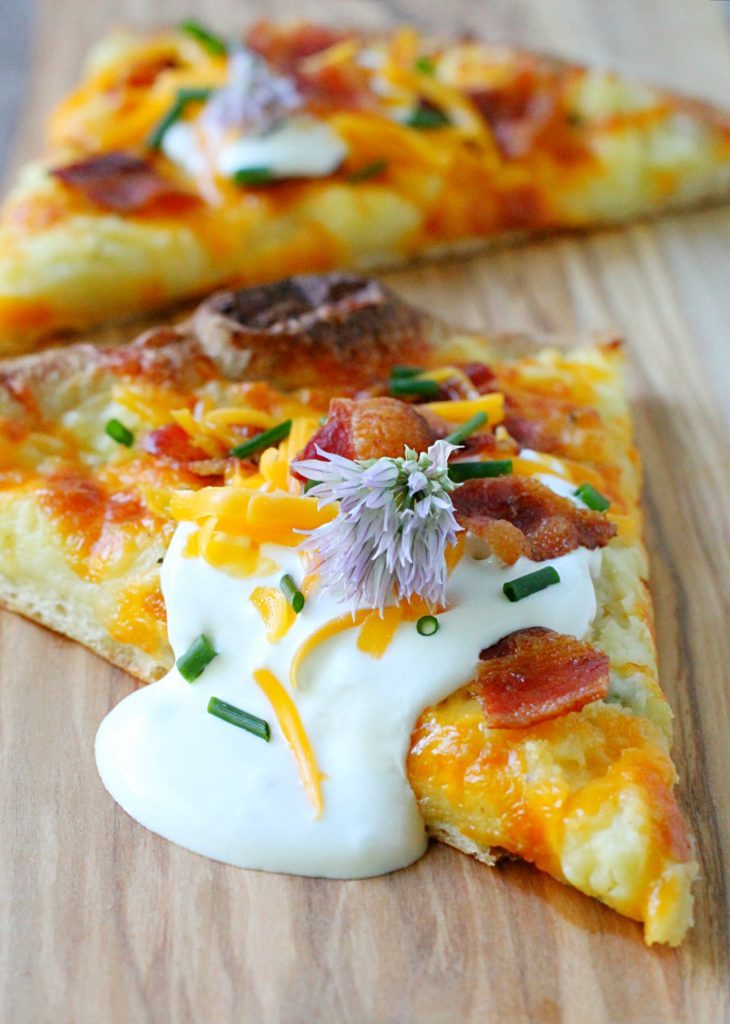 I always use THIS crust recipe. We make it so often I can recall it from memory. But for these simple toppings, feel free to use your own crust recipe or even store-bought dough. It won't be quite the same but it is still a deeply satisfying dinner when you are talking about mashed potatoes on top of freshly baked pizza dough. All the carbs.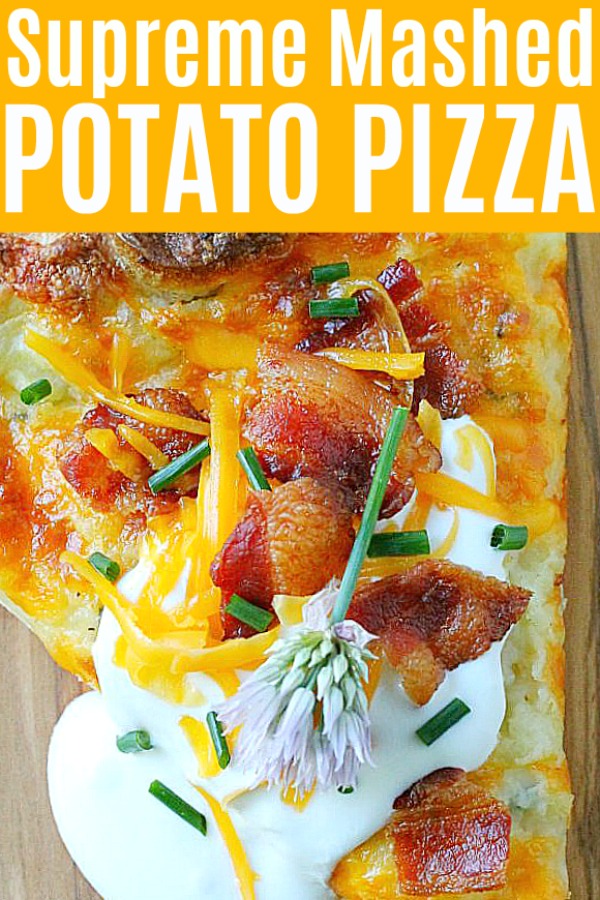 Supreme Mashed Potato Pizza
This Supreme Mashed Potato Pizza is comfort food at its finest - homemade pizza is topped with mashed potatoes, cheese, bacon, sour cream and chives.
Ingredients
dough for one large pizza

refer to my recipe link in the post

5

small

Yukon Gold potatoes

4

tbsp

butter

2

tbsp

whipped cream cheese

2

tbsp

sour cream

1

tsp

salt

1 1/2

cups (6 oz)

cheddar cheese

shredded

8

slices

bacon

cooked and crumbled

fresh chives

chopped

sour cream for topping
Instructions
Peel and chop the potatoes and place in a saucepan. Fill with cold water to an inch above the top of the potatoes. Simmer on the stove top until potatoes are fork-tender. Drain the potatoes and add the butter, cream cheese, 2 tablespoons of sour cream and salt. Mash until smooth. Set aside.

Preheat a pizza stone in the oven at 500 degrees.

Shaped your dough and brush lightly with olive oil.

Evenly (and gently) spread the mashed potatoes on top of the pizza crust. Top with the shredded cheddar cheese (amount of cheese is approximate). Use more or less to your liking.

Bake the pizza until cheese is starting to brown and the crust is cooked through, 10 - 14 minutes.

Top the pizza with the crumbled bacon and chives. Slice and serve the pizza with sour cream for topping.
Nutrition
More Pizza Recipes: