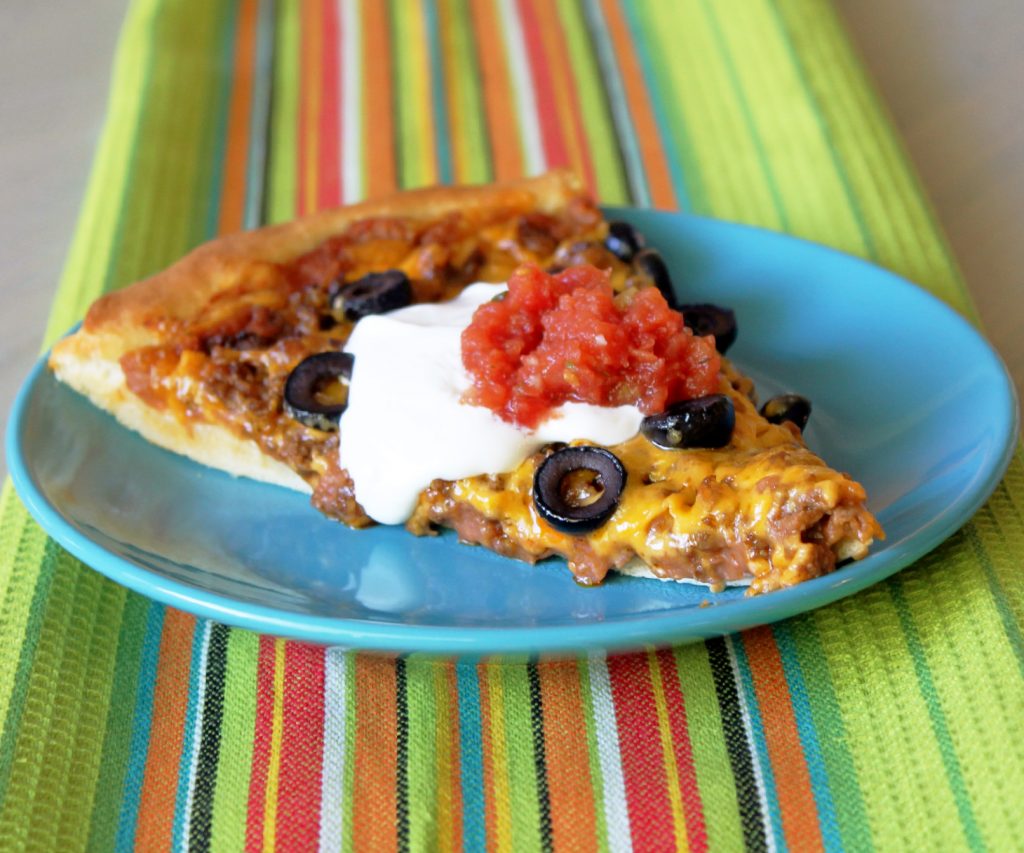 I'm posting this pizza recipe with plenty of lead time for you to make it on Friday. In this past almost one year since I've been seriously blogging, one skill of mine that has greatly improved has been my pizza making. To be honest, I wasn't ever that into making homemade pizza. We'd often have pizza on Fridays but rely on carry-out instead. Which is fine, especially if it's Dewey's, my personal local favorite.
However, once you've made pizza a few times and have a dough recipe and pan that have become your favorites, the process of making your own will become something you look forward to… at least that is what has happened with me. After experimenting over the years with a pizza stone and then having mine recently crack down the middle, I've decided the T-Fal Airbake Pan is my go-to for pizza making. Is it as authentic as a pizza stone? No. But it's a breeze to press the dough right onto the pan and it cleans up beautifully because it's a non-stick surface.
In my first couple of pizza recipes I posted on here I was using a pizza dough recipe from Smitten Kitchen. I've since switched to a quicker crust recipe from the James Beard Foundation. The dough is easier to work with and I think it's tastier. Again, these are my personal opinions and everyone's tastes are different. But if you are a novice looking for a place to start, I think this crust and pan (along with a pizza cutter made for non-stick surfaces) are an excellent place to start.
Of all the pizzas I've made thus far, this is the one my son literally begged for me to make again. Which is fine with me because this combination of toppings was quick and easy to prepare. I've made note of the specific brands of salsa and taco seasoning I used because they are my favorites… especially since Penzeys Taco Seasoning contains absolutely no fake stuff, including MSG. But if these brands are not handy for you to purchase, just use your usual salsa and seasoning. Now print this recipe and enjoy it on a Pizza Friday!
Taco Pizza
Ingredients
for the crust
1 1/2

t.

instant yeast or 2 t. active dry yeast

1/2

c.

+ 3 T. lukewarm water

95 - 115 degrees

3

T.

extra virgin olive oil + extra for greasing bowl

2

c.

all-purpose flour

3/4

t.

kosher salt
for the toppings
1

16 oz. can refried beans

1

container Garden Fresh Gourmet Sweet Onion Salsa

drained

1

lb.

lean

grass-fed ground beef (mine was 91% lean)

2

T.

Penzeys Taco Seasoning

8

oz.

sharp cheddar cheese

shredded

1

large can

6 oz. of black olives, sliced

sour cream for serving
Instructions
for the crust
Place the yeast in a bowl of stand mixer fitted with paddle attachment. Add the lukewarm water and stir on low to dissolve. Add the olive oil and 1/2 c. of flour and beat on medium-low speed for a minute until smooth. Switch to dough hook and add another 1/2 c. flour and salt and mix well. Add the remaining 1 cup of flour and put machine on low speed until the dough forms a mass around the hook. Let the machine knead the dough for 2 minutes. Turn the dough out onto a clean work surface and scrape out the bowl. Knead on counter for a minute for two until the dough is smooth and elastic. Shape the dough into a ball.

Place a teaspoon of oil in the bottom of a large, clean bowl. Place the ball of dough in the bowl and move it around to coat it with oil. Cover the bowl with a clean dish towel and set in a warm place (near your oven) until the dough doubles in bulk, 45 minutes to an hour.
for the toppings
Place entire contents of salsa in a large mesh strainer over a bowl and allow to drain for about 30 minutes.

Meanwhile, heat a skillet over medium-high heat and begin to brown the ground beef. About halfway through cooking time, add the taco seasoning, stirring often until meat is well-browned. If your meat is lean and grass-fed, you should not need to drain it. Remove from heat and allow to cool enough to handle.

In a separate bowl, mix together the refried beans and about half the drained salsa (roughly 2/3 cup). Pour about 1/4 cup of the drained liquid back into the remaining salsa and reserve for topping the cooked pizza.

Shred the cheese and slice the olives.
For the pizza
Preheat oven to 550 degrees and position your oven rack to the lower third of the oven.

Gently press down on the dough in the bowl to release the air. Stretch it gently to begin forming a flat circle, then place the dough on the pizza pan and evenly press the dough until it reaches the edge of the pan.

Spread the bean and salsa mixture on the dough first. Evenly top the beans with the seasoned beef. Evenly spread the shredded cheese on top of the beef and finish with the sliced olives.

Bake for 10-12 minutes until pizza crust is nice and brown and cheese is bubbly.

Allow to cool for a few minutes before slicing and serving with salsa and sour cream.