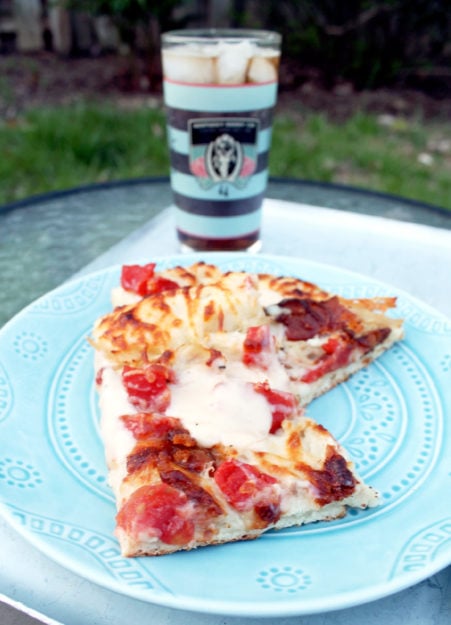 If you don't know, the Kentucky Derby is next Saturday. Our home sits barely 3 miles outside the Kentucky border, so especially at this time of year, I enjoy partaking of Kentucky-bred things like bourbon and hot brown sandwiches. And that's actually a Derby glass from 2004 (the year Smarty Jones won apparently) up there in the picture, filled to the brim with a beam and coke. I don't have a clue how I have the glass because I've never been lucky enough to attend the Derby in person, but hey, it's great for pictures (and drinking).
The hot brown was invented at the historical Brown Hotel in Louisville, Kentucky in 1926, "as an alternative to ham and egg late night suppers", according to Wikipedia. To me this says the hot brown was intended as… how can I put this nicely? Food for those who'd been doing a whole lot of partying. Kentucky is home to bourbon after all. The sandwich as originally created was open-faced, topped with turkey and bacon, smothered in Mornay sauce (white cheesey goodness), broiled until browning and served with fresh tomatoes.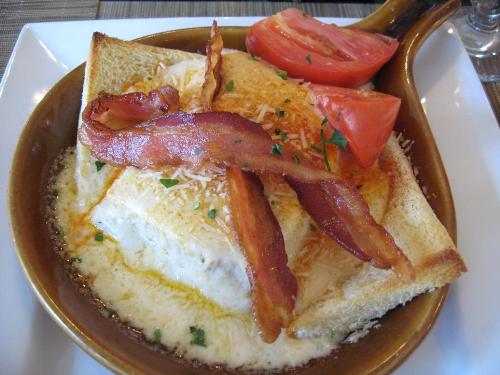 Picture courtesy of Roadfood.com
Now while I do love this combination, the problem for me with this original version of the hot brown has always been the somewhat soggy bread underneath. I'm not so much a fan of that. So really, pizza is the perfect vehicle for these toppings. Crisp crust underneath, plus an extra layer of cheese besides the two portions of Mornay sauce on this bad boy make for a homemade pizza that my husband declared as my best yet!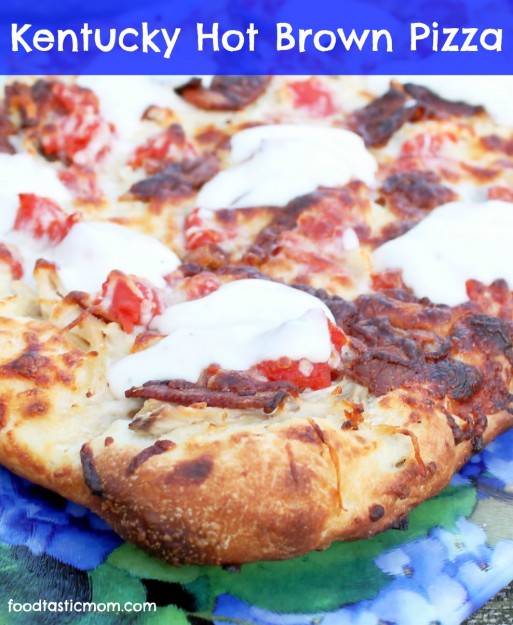 After several postings of THIS crust recipe, I've changed my ways and am now using THIS recipe from the Baking Illustrated cookbook. Long story short, my air-bake pizza pan has since become a grilling tool for crispy chicken wings, and I finally invested in THIS Old Stone Oven pizza stone. With a roll of parchment paper, it's now very easy to make a recipe of this crust and have a "make our own pizza night" on Fridays. Each of us gets our own sheet of parchment and piece of dough to press and top as we wish. The smaller pizzas only take about 10 minutes to bake and so while it takes some patience for 4 separate pizzas to bake, it's a fun and social family activity that our kids just love and really look forward to.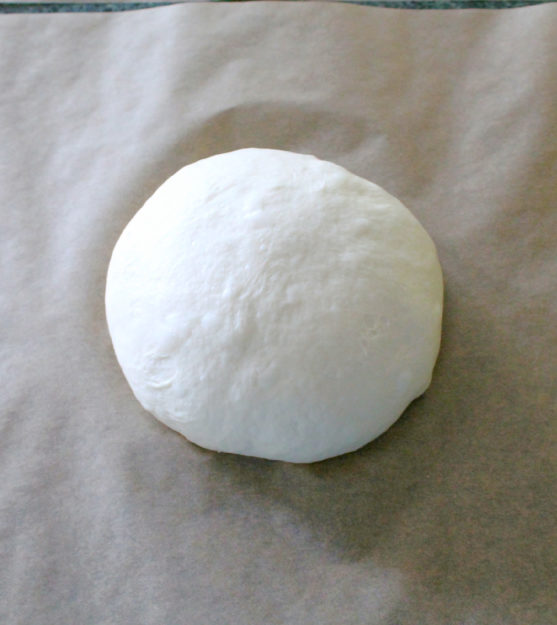 Anyway, this recipe makes enough crust for two whole pizzas. Enough to serve a crowd. If you only wish to make one, the other half of this crust can be frozen to bake at another date. Annie's Eats provides a very comprehensive tutorial on preparing, baking and freezing this dough, and I encourage you to also visit her post HERE. Look at the notes section in my recipe at the end of this post for instructions on freezing and baking with parchment.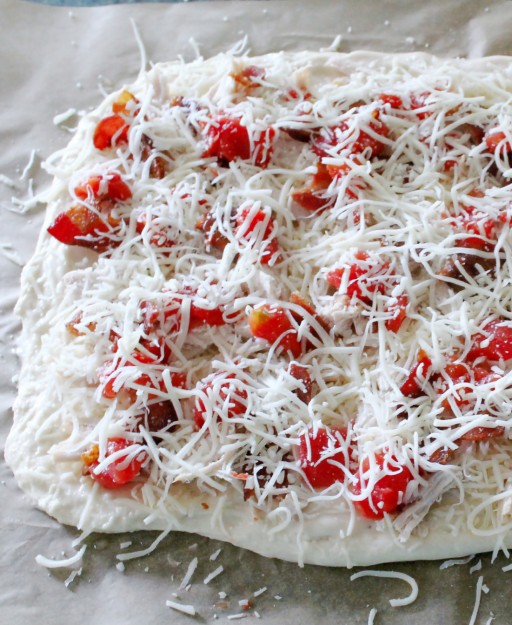 These pizza toppings were actually pretty simple to assemble while my dough was rising. The turkey is thanks to an already roasted, bone-in turkey breast I purchased at Kroger. The tomatoes are of the canned diced variety, in this case Tuttorosso brand because they very generously sent me some free tomatoes! I even added some of the drained tomato juice to my Mornay sauce for an extra punch of flavor.
And speaking of the sauce, it acts as both traditional pizza sauce underneath the toppings, plus as an additional topper after the pizza has baked, to mimic the smothered sandwich. As far as the pizza, normally I make mine round, though I think in this case I was unconsciously making it more of a sandwich shape by stretching the dough into a rectangle this time. Don't you just want to dive right in? This is sure to be a crowd-pleaser at your Derby parties next weekend.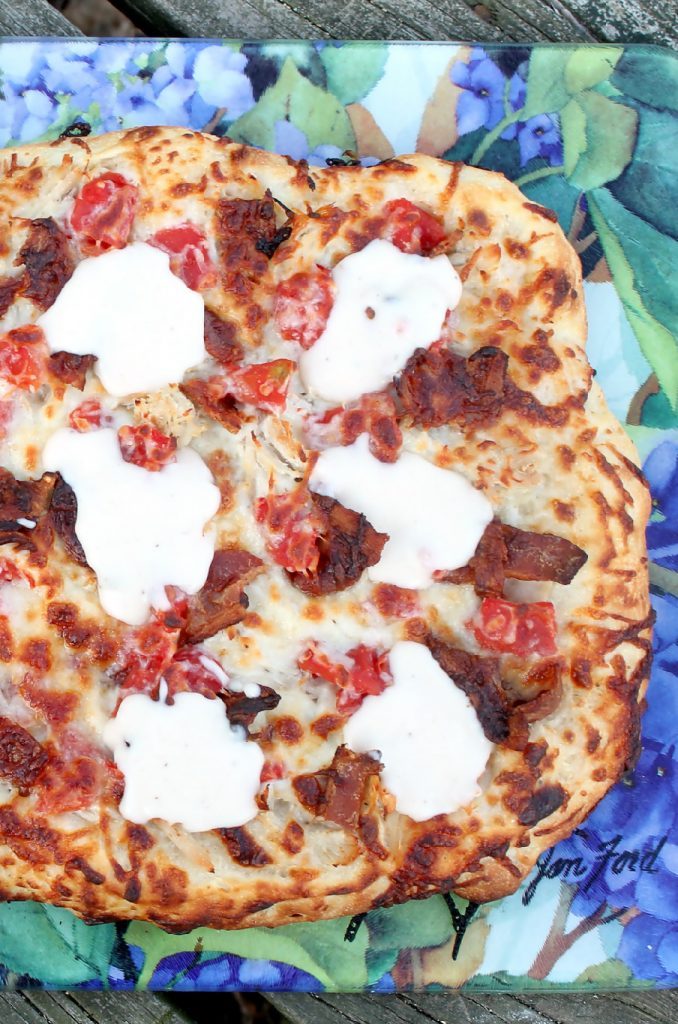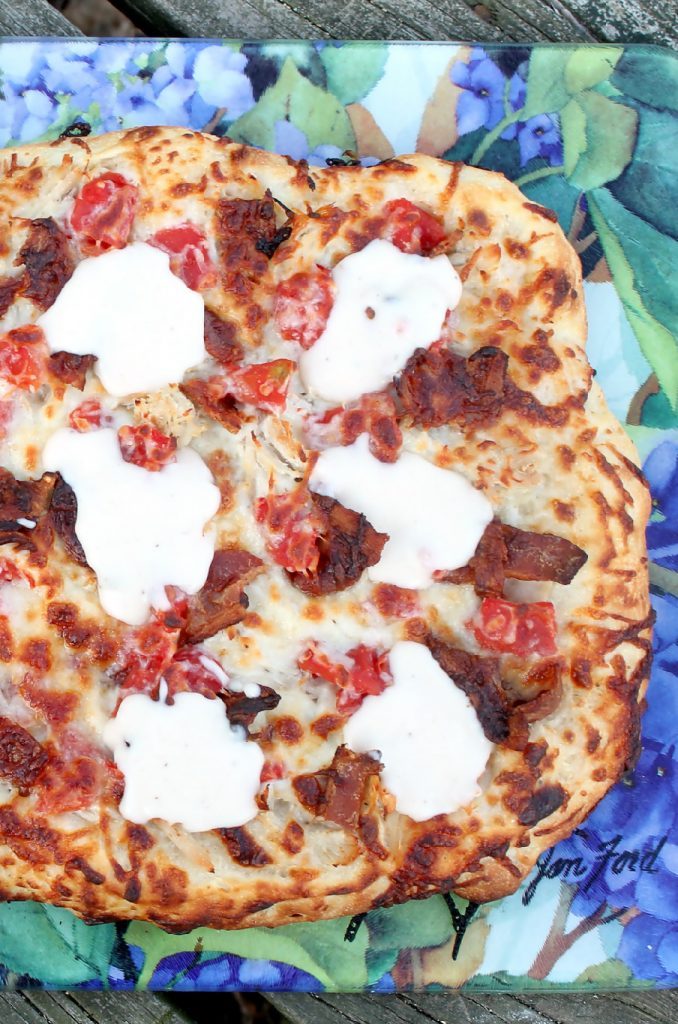 Kentucky Hot Brown Pizza
2014-04-27 12:43:51
for the crust
1/2 c. warm water (about 110 degrees F)
1 envelope (2 1/4 t.) instant yeast (I like Red Star Platinum)
1 1/4 c. room temperature water
2 T. olive oil
4 c. (22 oz.) bread flour, plus more for kneading
1 1/2 t. salt
for the toppings
1 pre-cooked turkey breast, meat picked and shredded of the bone
1 lb. bacon, cooked and broken into 1-inch pieces
1 can (28 oz.) diced tomatoes, drained and juice reserved
4 c. (16 oz.) mozzarella cheese, shredded
2 T. unsalted butter
2 T. flour
2 c. whole milk
1 1/2 c. fresh Parmesan cheese, finely grated
1/2 t. salt
cracked black pepper
for the crust
Combine the warmed water and yeast in a 2 cup measuring cup. In a very large bowl, whisk together 2 cups of the bread flour and the salt. Pour the room temperature water and the olive oil into the measuring cup with the warm water and yeast. Stir to combine.
Pour the water, yeast and oil mixture into the bowl with the flour and salt. Use a spatula to stir together about 1 minute until mixture is smooth. Let rest for about 5 minutes.
Add the remaining 2 cups of flour and mix to combine. Flour a clean surface, turn the dough out, sprinkle with additional flour and begin to knead, sprinkling with extra flour as necessary. Knead for 6 - 7 minutes until dough is a smooth ball and just slightly tacky to the touch.
Oil a clean bowl, turn the dough ball in the bowl to coat all sides of the dough with oil. Cover the bowl loosely with a clean towel and set in a warm spot to rise for 1 1/2 - 2 hours.
See notes if freezing half the dough.
for the toppings
This amount of toppings makes enough to cover two pizzas, using ALL the pizza dough. If only making one pizza, simple halve the topping ingredients.
Before making the sauce, open your can of tomatoes and place in a mesh strainer over a bowl, reserving the juice.
To make the sauce, melt the butter in a large sauce pan over medium heat. Add the flour and whisk occasionally, allowing the flour and butter mixture to brown a bit. This will take 2 -3 minutes. Whisking constantly, pour in the milk, making sure to whisk all the flour and butter mixture off the bottom of the pan. Add the salt and continue to whisk. Turn the heat to medium high and bring the mixture to a gentle boil. Turn the heat down and add about 1/3 cup of the reserved tomato juice (if making the whole recipe of sauce, add about 1/4 cup of the juice if making half a recipe) and simmer for a few minutes. The sauce is finished when you turn the pan to the side and the sauce thickly coats the bottom of the pan.
Off the heat, whisk in the grated Parmesan cheese. Stir until the cheese is melted and the sauce is smooth. Transfer sauce to a clean glass bowl and top with plastic wrap, directly on the surface of the sauce to prevent a "skin" from forming, until ready to use.
Place pizza stone in the oven (rack in lower third of oven) and heat to 525 degrees.
Tear two sheets of parchment paper, deflate the risen dough in the bowl, divide dough evenly, and gently begin to stretch the dough into your desired shape. Place each piece of dough on the parchment paper and press the edges outward with your finger tips until pizza is 12 - 14 inches across.
Lightly brush the edges of the crust with olive oil. Spread about half a cup of the Mornay sauce over the bottom of each crust and sprinkle lightly with the pizza cheese. Top each pizza with about 2 cups of the shredded, pre-cooked turkey breast. Divide the bacon pieces between each pizza. Divide the diced tomatoes evenly between each pizza. Top each pizza with the remaining shredded pizza cheese.
Transfer the pizza, with the parchment paper, on top of the pre-heated baking stone. (only one pizza at a time) Bake each pizza until the top is nicely browned and bubbly, about 10 - 12 minutes.
After removing each pizza from the oven, top each with dollops of Mornay sauce... one dollop per slice, as illustrated in the pictures.
for the crust
This dough recipe makes enough for two whole pizzas. If you would like to freeze dough for later, after the rising time and you have divided your dough in half, take one half of the dough and wrap it tightly in plastic wrap. Then place it in a gallon-sized, freezer-safe Ziploc bag and place in the freezer.
When ready to use the dough, place the frozen dough (still wrapped) in the refrigerator the morning you'd like to use it for dinner. Unwrap when ready to top and proceed as directed.
for the pizza on parchment
So far, I've had luck removing the parchment paper about halfway through baking time. I just put my oven mitts on, grab the parchment at both ends and gently slide it out from underneath the still-baking pizza. The parchment gets really dark if you leave it in the oven and several sources suggest doing this.
When it is time to remove the completely baked pizza, I have two, long-handled spatulas that I use. I slide one under each end and carefully lift the pizza onto a cutting board. This is easier to do with smaller, individual-sized pizzas, but I haven't had any slipping accidents with the full-sized pizzas yet!
Trust me, for pizza at home so good that you'll never want take-out again, a pizza stone and parchment paper are the way to go!
Foodtastic Mom https://www.foodtasticmom.com/