There is a LOT to be excited about with this post! First of all, it is sponsored by the National Pork Board and Kroger in anticipation of GRILLING SEASON! Backyard barbecues can be simply delicious with tender and juicy pork, the star of grilling season. Celebrate grilling season at Kroger, the ultimate source for barbecue essentials and great pork deals. Visit Kroger.com to view special offers exclusive to your area.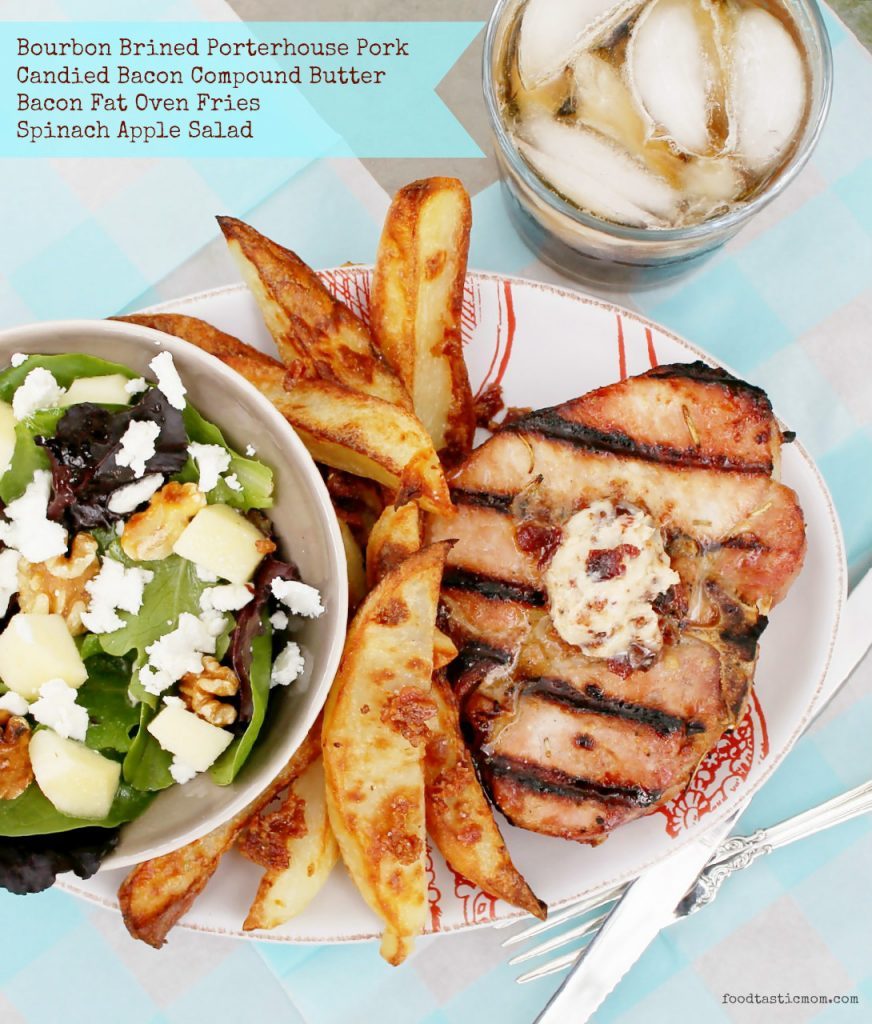 I had so much fun with this project and learned a lot along the way. Last year the USDA changed their recommended cooking temperature for pork. They no longer recommend grilling it to 160°F. Now their recommendation is a range of temperatures between 145°F (medium-rare) to 160°F (medium-well) with a three-minute rest. As the Pork Be Inspired people keep saying, "Grill it like a steak!"

Along with this change in cooking temperature, the pork board updated the names of different cuts of pork to make them easier to understand. The complete list of new names is here, and I was asked to create a recipe using the bone-in ribeye pork chop. Similar to a beef ribeye, it has a T-shaped bone connecting the prized tenderloin to the loin chop. Having never in my life grilled this cut before, I researched quite a bit on the web and brining is where I began. But why brine with just water? We live just across the river from Kentucky, my husband's drink of choice is Beam and Coke and we're coming up on Derby weekend. Luckily, a bourbon brining method was already created HERE and just waiting for me to try!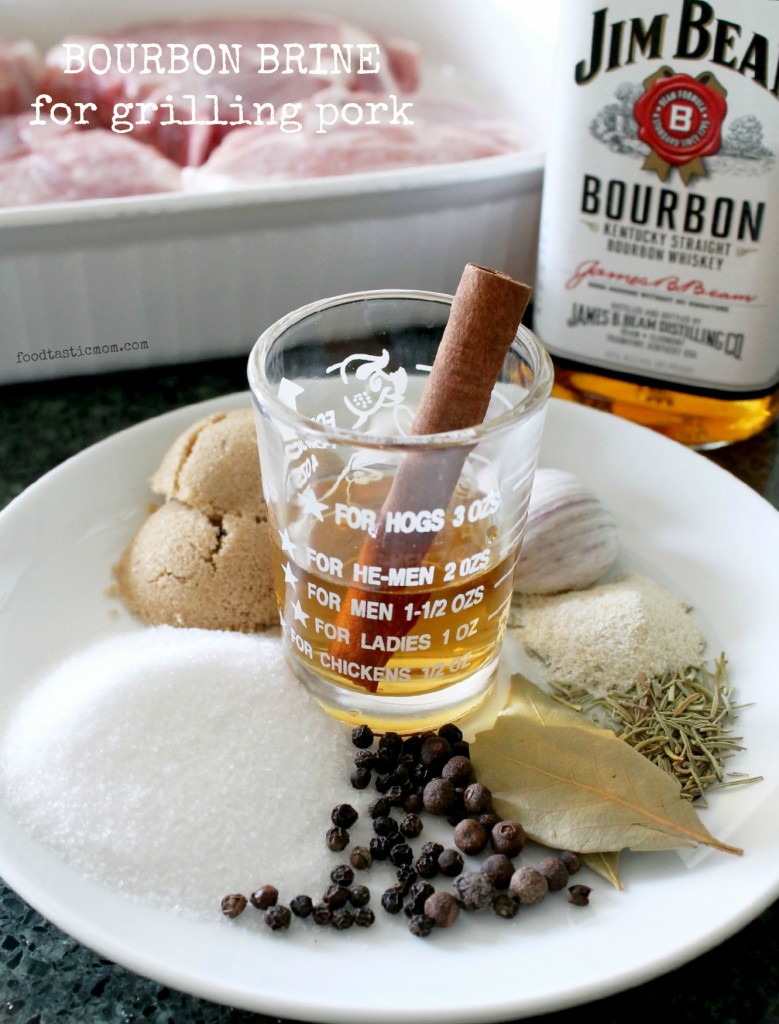 Since this porterhouse put me in mind of decadent compound butters melting seductively atop a thick steak, I found THIS recipe for candied bacon compound butter to pair with my bourbon-brined, juicy grilled pork. Now we're talking.
In Cincinnati, we have a fabulous, award-winning restaurant called Senate, specializing in gourmet hot dogs. On Fridays, they serve up bacon fat fries that are just to die for. I'd recently made THESE oven fries, and figured why not do a bacon fat version? Yes! These were the perfect side for this grilled pork porterhouse.
And since this meal is just so over the top, I (sort of) evened it out with a fresh and light spinach apple salad, with a from-scratch, lemony vinaigrette and topped with toasted walnuts and a sprinkling of goat cheese. My family thinks I am a goddess of the grill now, I am not even kidding. We ate our faces off and loved every bite!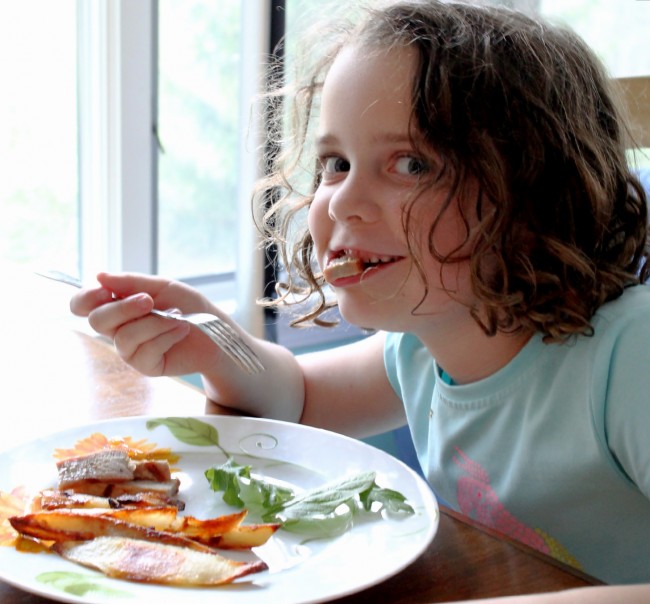 I'll be making this meal again for sure as we enjoy grilling season and entertaining friends and family. And by the way, with bourbon and the Derby fresh in my mind, I created a separate recipe using the same brine, but grilling boneless New York pork chops. I paired it with an orzo and sugar snap pea pasta salad dressed in a mint julep sauce. A meal on the lighter side but still incredibly tasty. That post will be up next after this one!

So to start, I shopped my favorite Kroger that is barely a mile from my front-door. Talk about convenient! With my own $250 gift card, I could have purchased practically a whole pig, while simultaneously earning our fuel points. Which believe me, my husband's diesel-guzzling truck uses up every month. I had quite the selection to choose from and the girl who weighed my order was very knowledgable and quick to direct me to the porterhouse instead of the ribeye cut, which looked surprisingly similar to my untrained eye.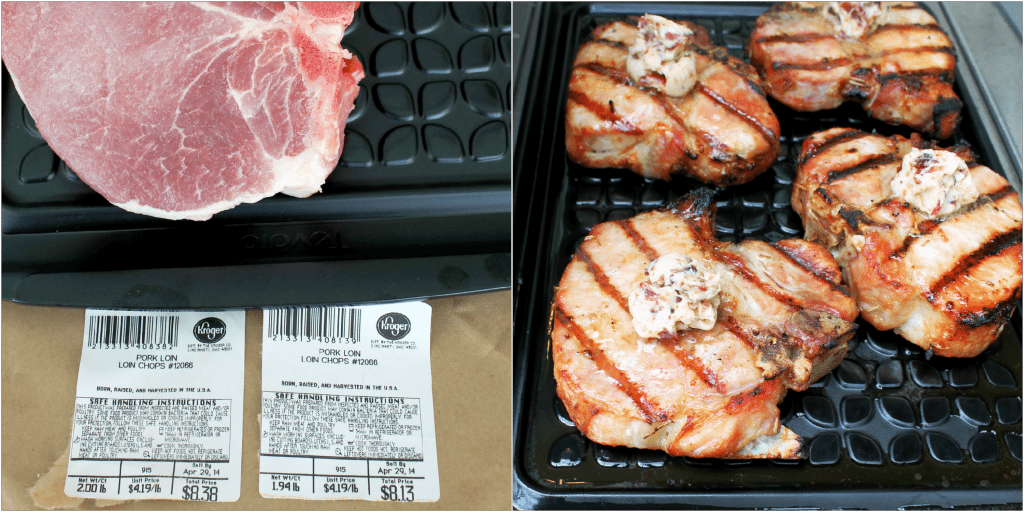 Seriously, for these four ENORMOUS porterhouse pork chops, I paid just shy of $17. Believe me, our family food budget can much more easily accommodate grilling pork over beef on a regular basis. After preparing this marinade which apparently contains just enough bourbon to be considered "He-Men" (a sense of humor in the kitchen is a requirement for me) I put these beautiful chops in the fridge and went about my day. My potatoes got a soak in some water before being oven fried, so they were hanging out in the fridge with the pork and making friends.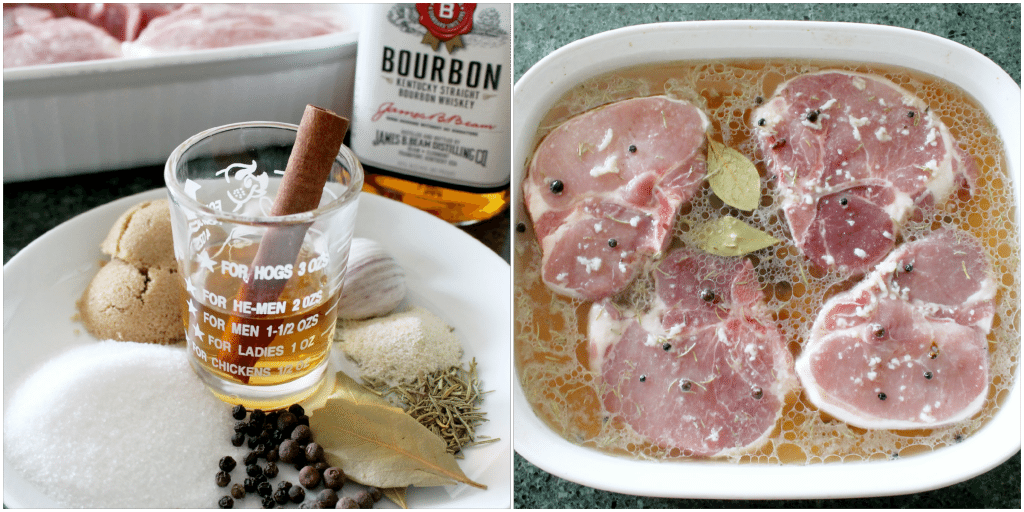 In reading up on grilling, the most common advice I came across was low and slow is best for pork. After heating my grill on high and scraping it clean, I turned all my burners to low, except the one on the far left side… I kept it at medium. Our grill is a Weber, it's less than a year old, and it's powerful. So while most instructions advised me to grill my monster chops for about 20 minutes over low, followed by a pass over the higher heat side at the end for a couple of minutes, I found this to be too long. Remember, for tender, juicy pork, my recommendation is to grill it to 145°F followed by a three-minute rest! A digital thermometer is a must and THIS is similar to the style I own. It's inexpensive and reliable. The three-minute rest is important because the internal temperature actually continues to rise, even after the meat comes off the grill. It also allows the juices to redistribute a bit so they're not spilled and wasted on the cutting board or plate.
So have I convinced you yet? You're going to run right out to your local Kroger, purchase some beautiful pork chops and get to grilling, right? This recipe is so luscious. The bourbon flavor is very subtle. What you'll mostly notice is the velvety, buttery sweet yet smoky flavor of the bacon butter, melting into the tender, juicy pork. It's AH-MAZ-ING!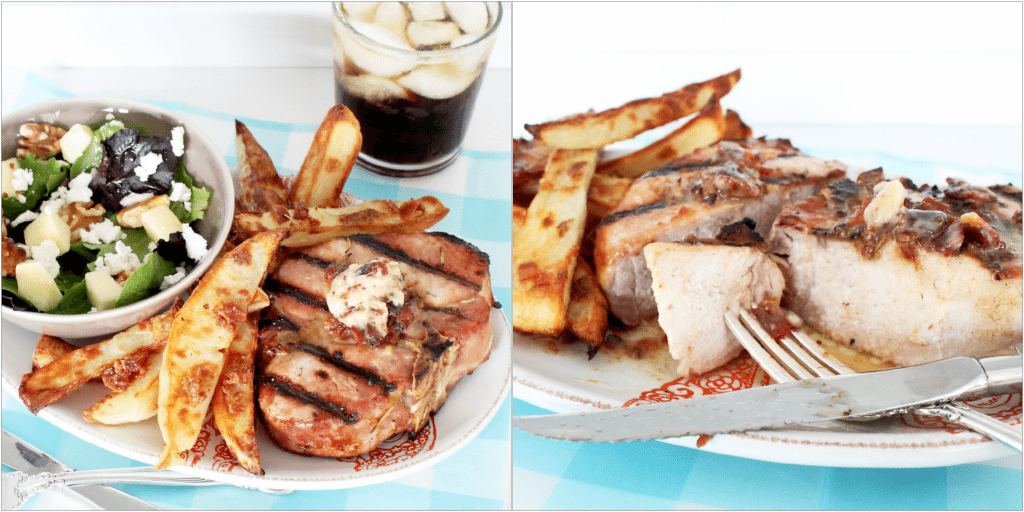 Plus, bacon fries, I mean seriously what is not to LOVE here?!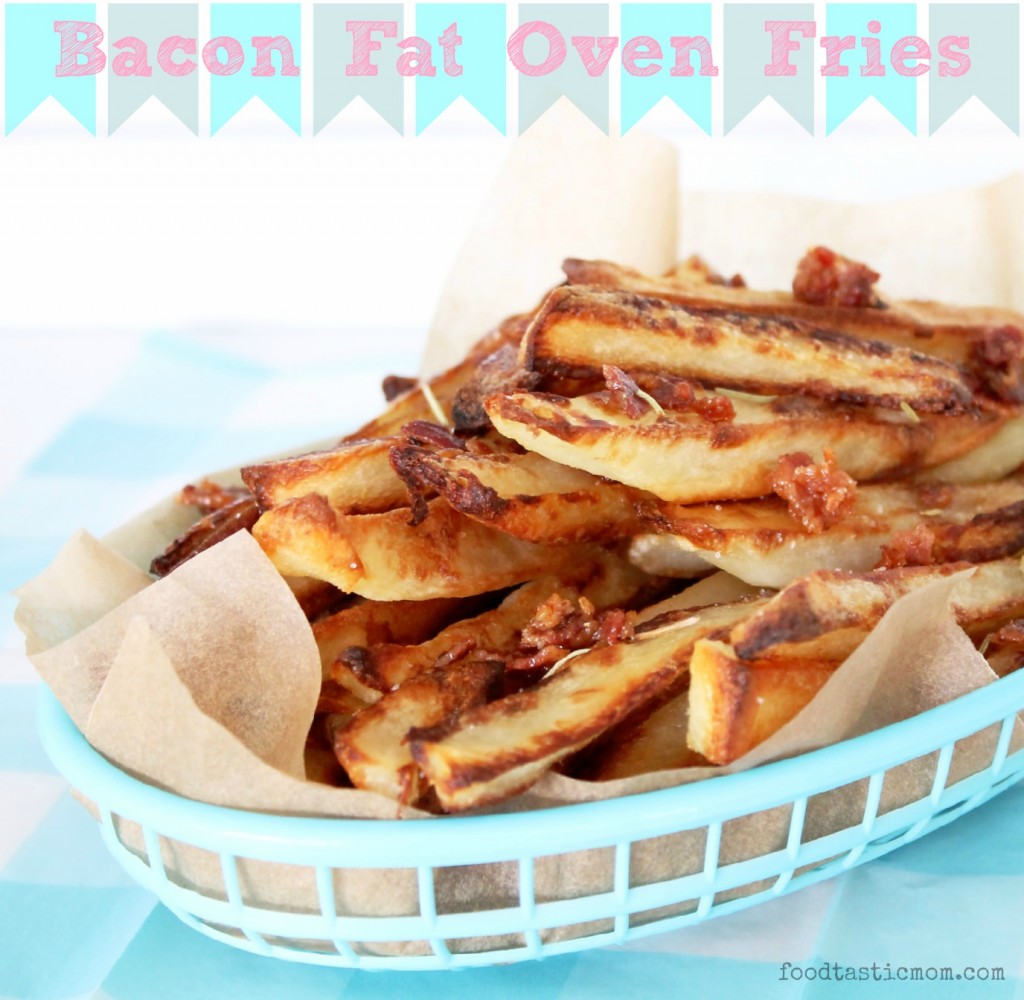 GIVEAWAY IS NOW OVER
For my lucky readers, I am hosting a chance to win a Grilling Essentials kit plus a $250 gift card to Kroger. The kit includes two grilling trays from Williams-Sonoma that are seriously my favorite things ever… one for raw meat, one for cooked, plus you can cut the meat right on them. It also includes a grill tool kit from Weber, an awesome grilling mit, a digital thermometer, a basting brush and an apron.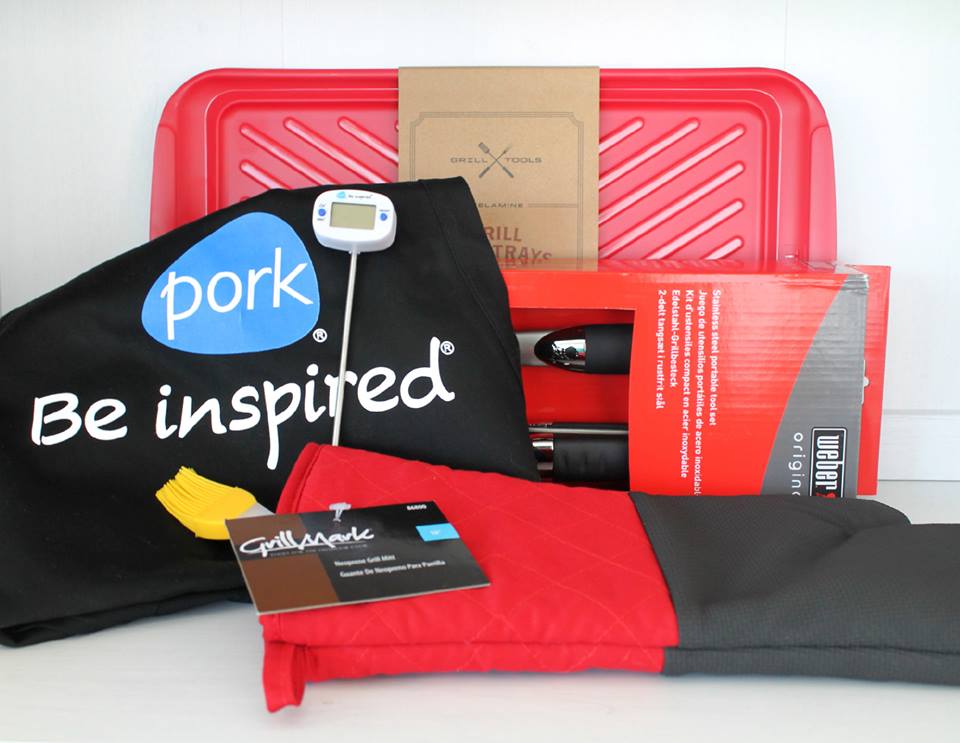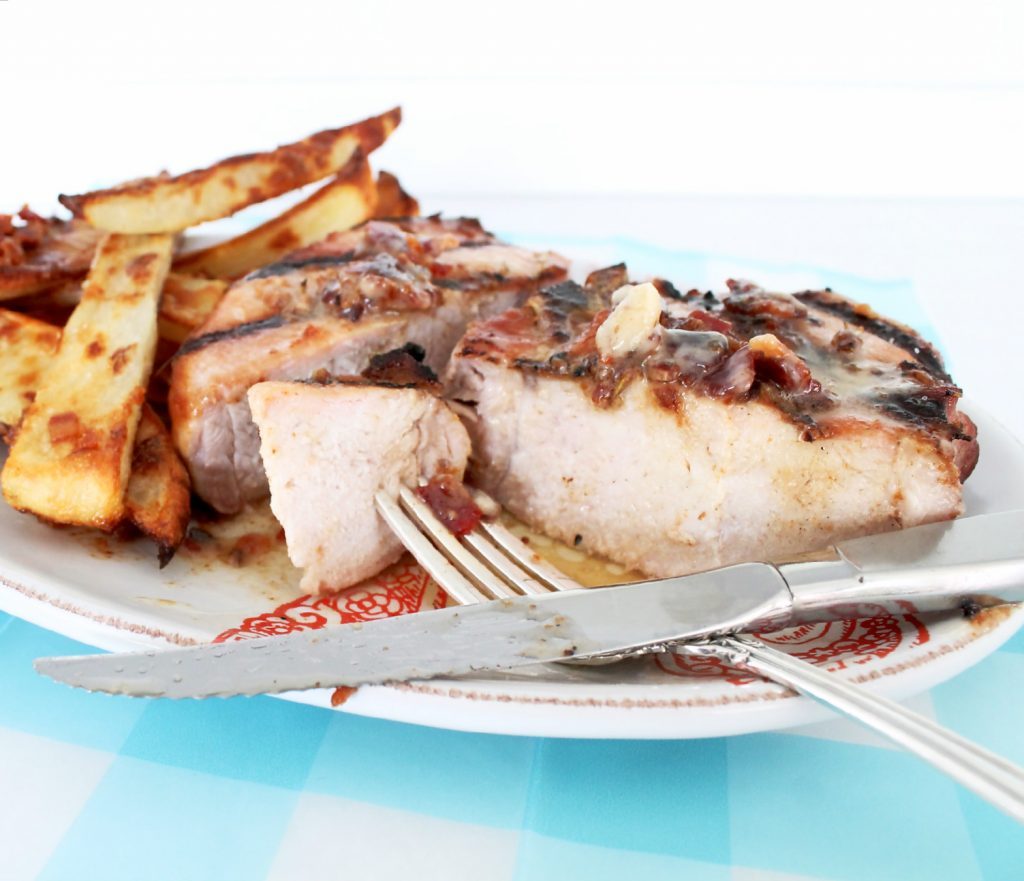 Bourbon Brined Pork with Candied Bacon Butter
2014-05-01 10:59:49
Serves 4
for the brine
4 thick-cut Porterhouse pork chops
3 c. water, divided
1/4 c. bourbon
3 T. light brown sugar
3 T. salt
10 whole peppercorns
5 whole allspice berries
1 t. dried rosemary
1 t. onion powder
3 cloves garlic, minced
2 bay leaves
1 cinnamon stick
2 T. canola oil
for the butter
1 stick, salted butter, softened
1 T. bourbon
4 slices bacon
4 T. light brown sugar
for the brine
In a 4-cup, glass measuring cup combine one cup of water, the brown sugar, salt, peppercorns, allspice berries, rosemary and onion powder. Microwave for 3 minutes, or until salt and sugar mostly dissolve when stirred.
Remove from microwave and whisk in the remaining 2 cups of water, the bourbon, the garlic, bay leaves, cinnamon stick and oil.
Rinse the porterhouse pork chops under cold water and pat dry with paper towels. Place flat in a large dish and pour the marinade over the chops to coat. Refrigerate for 4 hours, turning chops over once halfway through.
for the butter
Place four slices of bacon on a sheet pan and evenly sprinkle each slice with brown sugar, pressing gently to adhere.
Bake on center rack of oven at 400 degrees until bacon is nicely browned, about 20 minutes. Watch closely at the end so it doesn't burn. Allow bacon to cool on a clean plate. Then, crumble the bacon into a clean bowl with the softened butter and bourbon. Stir very well to combine. Refrigerate until ready to use.
Heat grill to high, scrape clean, then turn all burners to low, except one on the end, keep it at about medium heat. Allow the grill to rest with the lid closed for about 10 minutes after you've turned the burners to low.
Grill your porterhouse pork chops over LOW heat, about 20 minutes, turning over once halfway through cooking time. Measure the internal temperature at about 18 minutes. Cook until each pork steak reads at least 145f degrees. Remove and allow the chops to rest for 3 minutes. While pork is resting, place about a tablespoon of the candied bacon butter on top of each chop to allow it to start melting into the grilled pork.
Serve with bacon fat oven fries and spinach apple salad.
Adapted from Primal Grill
Foodtastic Mom https://www.foodtasticmom.com/