Summer is for salads and this Fresh Cherry and Asparagus Salad is a star.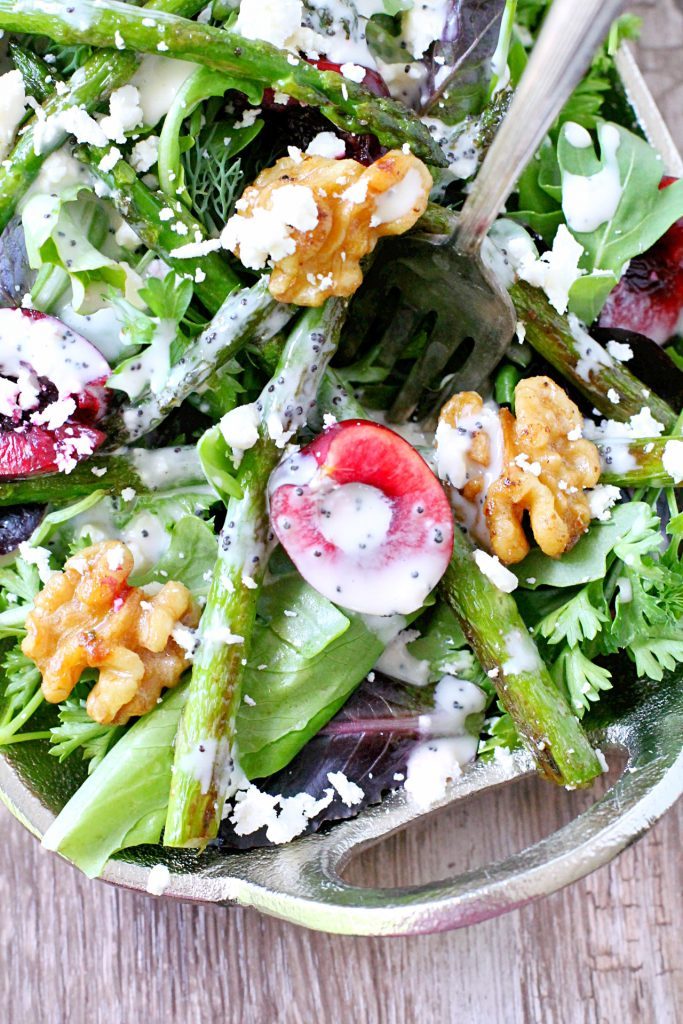 I think if I were to compare this salad to a celebrity she'd be a diva. And it's not just the salad – the dressing wants to be noticed too. In fact I almost titled my post Drinkable Poppy Seed Dressing because I seriously could have sipped down that whole jar of dressing… it's that good.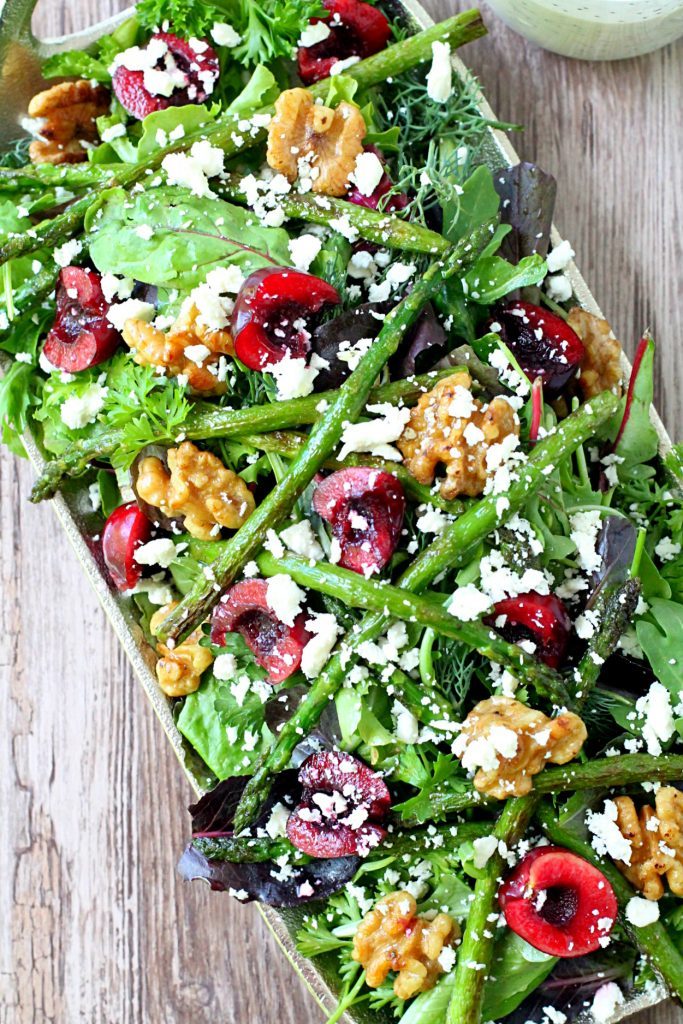 Clearly I haven't been eating enough salads in these summer months because after these photos were snapped I inhaled that whole platter. I transferred the salad to a bowl for less mess while eating. Not just any bowl but a mixing bowl bigger than my head! And I happily ate it all and felt supremely satisfied afterwards.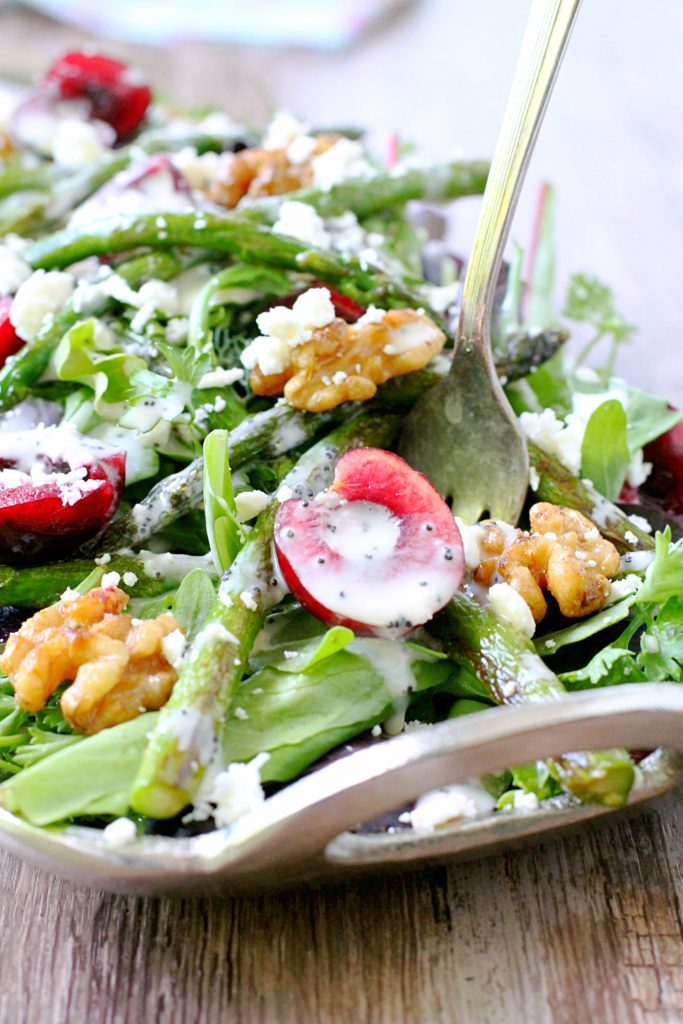 When I eat a salad for dinner it helps to have cooked some part of the meal. It's a mind trick I guess. So I tossed my fresh asparagus and walnuts in a pan and seared/toasted them for a few minutes. You'll appreciate the added flavor this provides so don't skip the searing.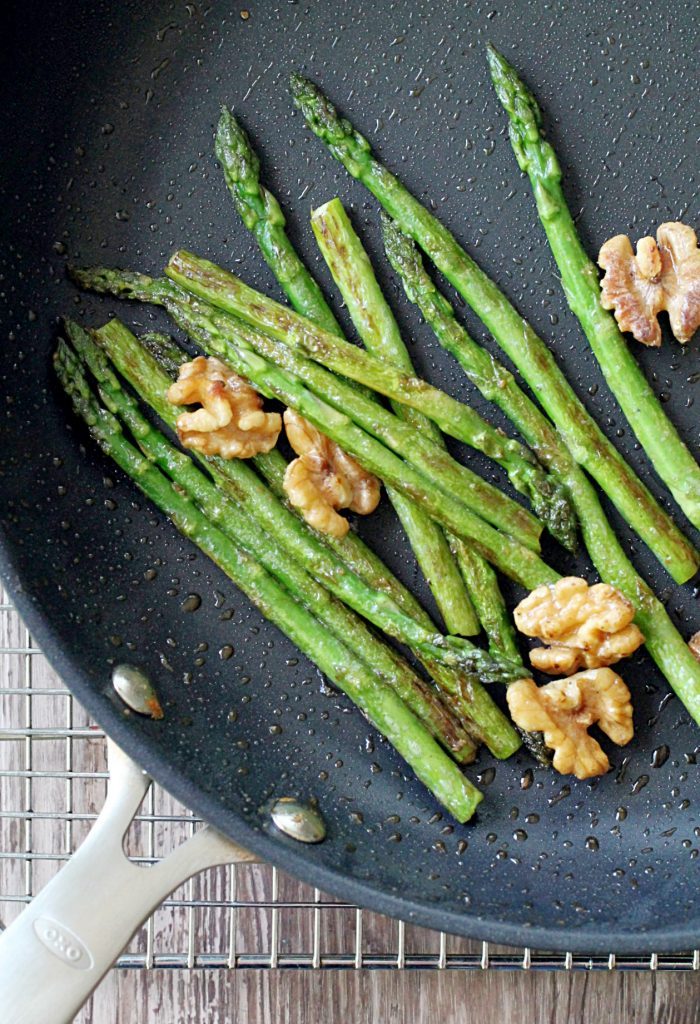 As for this dressing it can at least be considered low fat. It's not low in sugar but that's what makes it so luscious. Just five ingredients (counting everything) are all that's needed for poppy seed dressing bliss: sour cream, brown sugar, lemon juice, poppy seeds and salt. So simple for such a satisfying taste experience.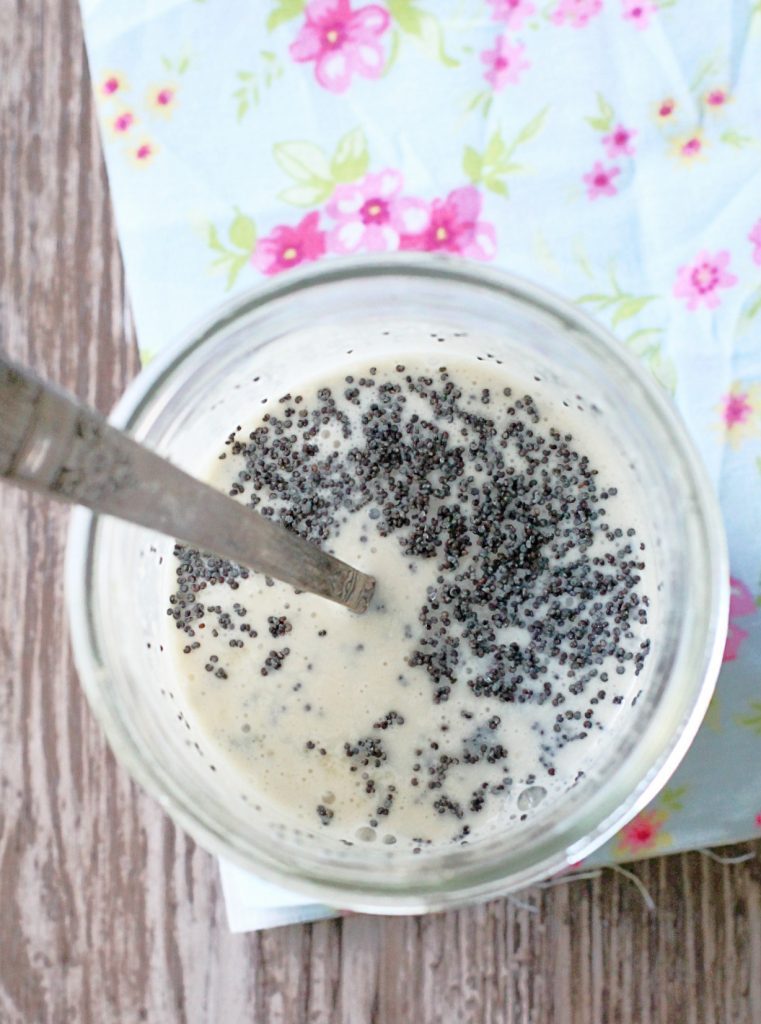 Tell me because I really want to know: what's your favorite salad to eat in the summer? I hope you have a few and I know you'll want to add this salad to your list!

Fresh Cherry and Asparagus Salad
Ingredients
6

cups

spring lettuce mix

16

asparagus spears

tough ends removed

1

cup

fresh cherries

pitted and halved

1/2

cup

walnuts

1/2

cup

feta cheese

cooking spray

1/2

cup

sour cream

1/4

cup

light brown sugar

1

tbsp

fresh lemon juice

1

tbsp

poppy seeds

1/2

tsp

salt
Instructions
Heat a non-stick pan over medium high heat and spray with cooking spray. Add the asparagus spears and whole walnuts. Cook, tossing occasionally until asparagus is starting to brown, 5 - 7 minutes. Remove from heat.

In a small jar, whisk together the sour cream, brown sugar, lemon juice, poppy seeds and salt.

In a large bowl, toss together the cooked asparagus and walnuts, cherries and feta cheese with the spring mix lettuce. Top with the dressing. I had some dressing leftover for another day.
Check out these other terrific salads too:
Copycat Lou Malnati's Salad
Sugared Walnut Grape Salad
Grilled Steak Salad with Pineapple Viniagrette