Do you have to feed a crowd dessert this month? Lots of graduation parties are on the horizon and one of the most memorable I've ever attended (and it was before we had kids so over 10 years ago) served homemade strawberry shortcakes. That's it. The mom did one thing and did it spectacularly well. And after a season of making the rounds at the usual deli tray graduation open houses those shortcakes were a star.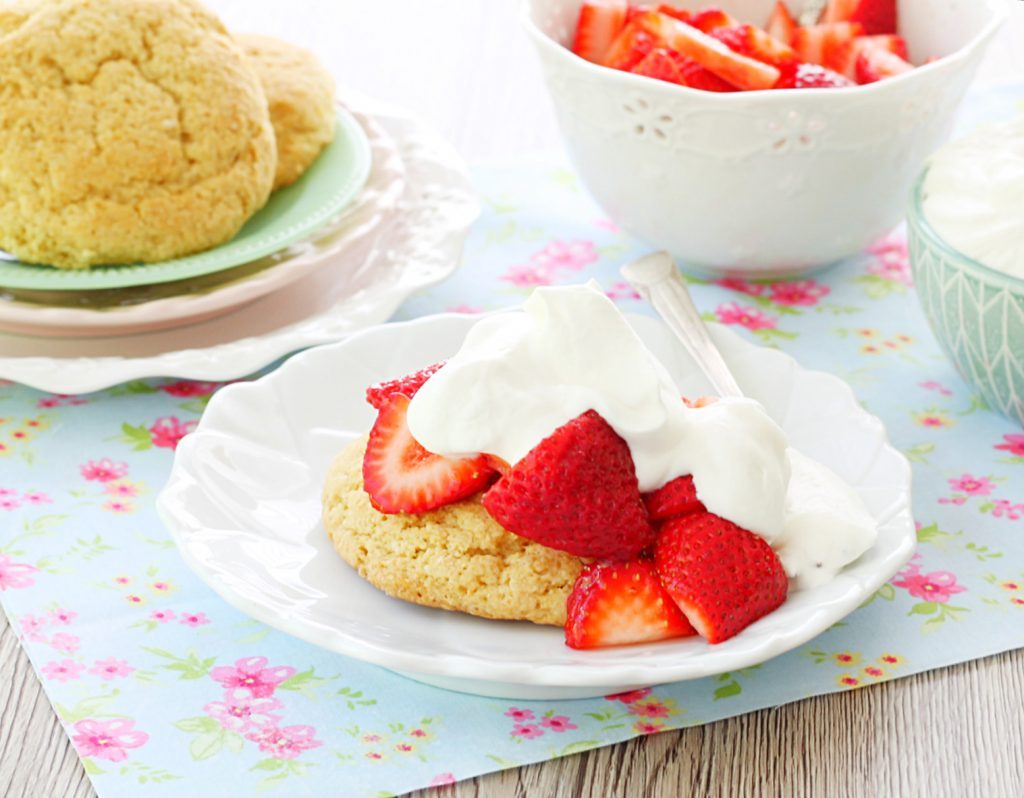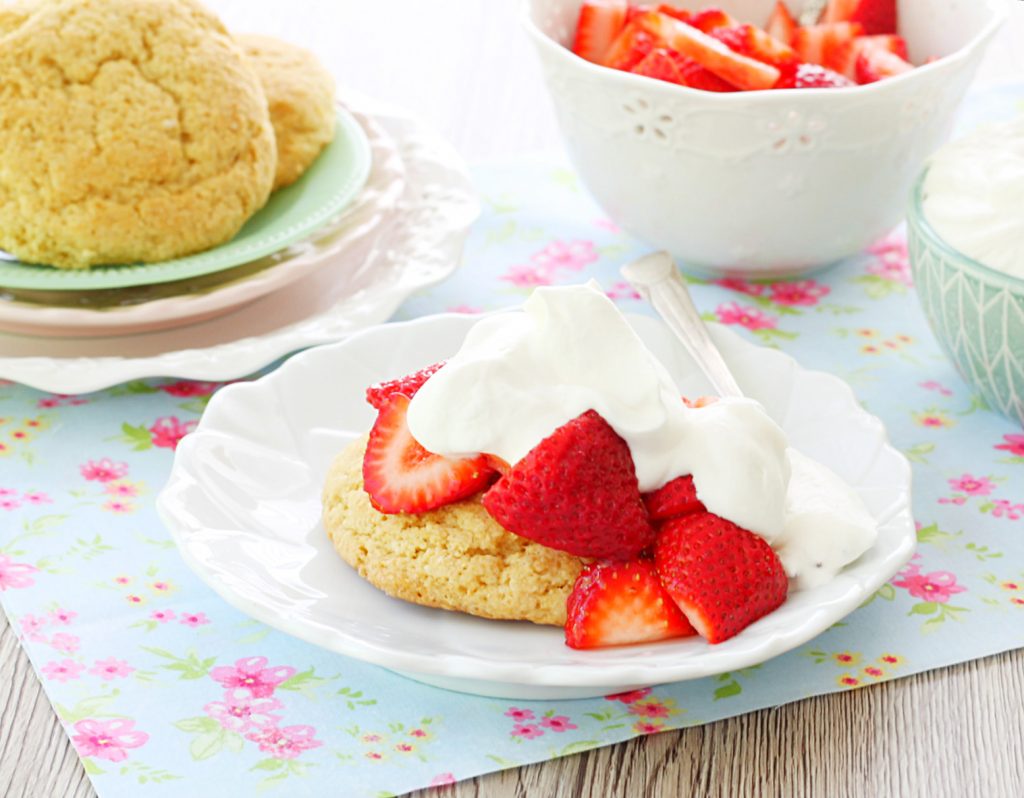 Anyway, I made shortcakes for a friend's Mother's Day party using THIS vanilla scone recipe I'd shared on the blog a while back. They are completely hands-off… I made them entirely in my Kitchen Aid stand mixer and then scooped the batter onto my baking sheets with an OXO muffin scoop. They baked up like pillowy soft, oversized cookies. One full recipe yields 18 shortcakes. And if you'd like to make them for a crowd, you can freeze them ahead, then thaw when ready to serve.
I served traditional whipped cream with them but they'd also be stellar with a scoop of vanilla ice cream. The strawberries are looking really good in the stores so you might as well take advantage of them!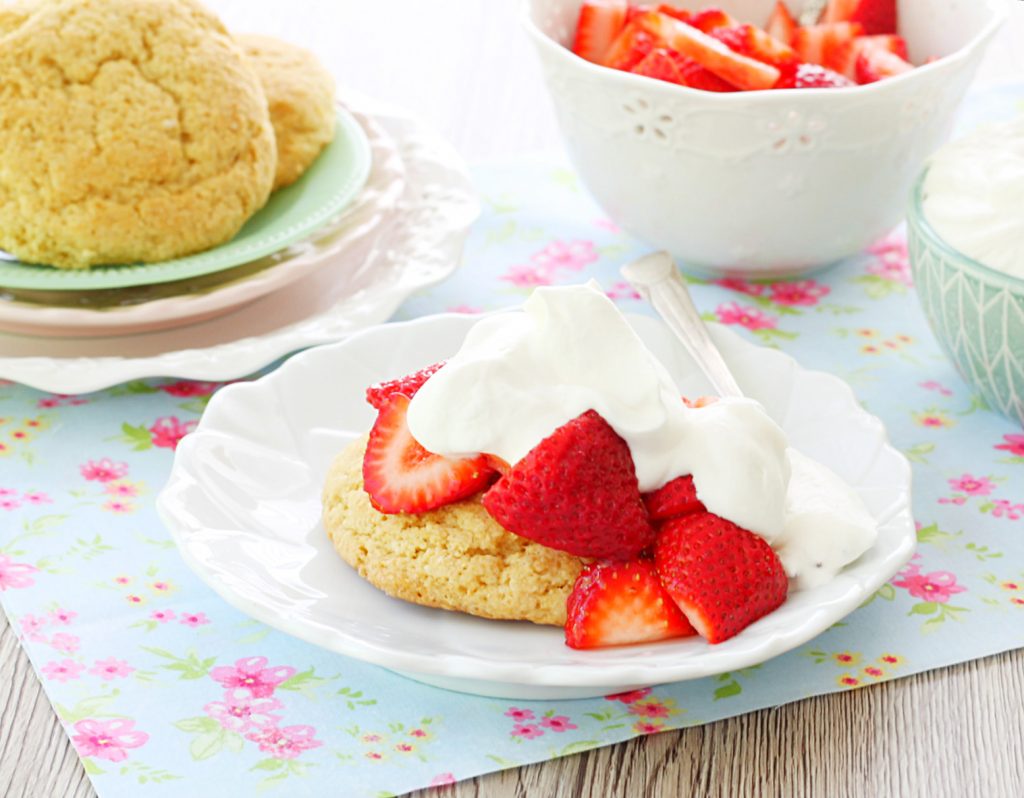 Strawberry Shortcake
2015-05-12 12:47:58
for the shortcakes
3 1/2 c. all-purpose flour
1 c. granulated sugar
1 T. baking powder
2 t. baking soda
1 1/2 t. kosher salt
1 c. (2 sticks) cold unsalted butter, cubed
2 T. pure vanilla extract
3/4 - 1 c. well-shaken cultured buttermilk (full-fat)
for the strawberries
4 (16 oz.) containers of fresh strawberries
2 - 4 T. sugar
for the cream
3 c. heavy whipping cream
1/4 c. + 2 T. powdered sugar
1 t. vanilla extract
for the shortcakes
In the bowl of a stand mixer, combine the flour, sugar, baking powder, baking soda and salt. Use the paddle attachment and run on medium low speed. Add butter, one cube at a time. Allow one butter cube to mix in for about 30 - 60 seconds before adding another cube of butter (each cube was about the size of a tablespoon, so 16 tablespoons). I walked around assembling the rest of my ingredients while I was doing this.
Stop the mixer and if your freezer will allow, stick the mixing bowl with the flour and butter mixture in it for about 20 minutes.
Mix together the buttermilk and vanilla and leave in the refrigerator until ready to use.
Once flour and butter mixture has chilled in the freezer, remove it and make a well in the center of the bowl. Pour in the buttermilk and vanilla mixture and mix with a spatula until the dough sticks together in a ball. Use just enough buttermilk... so anywhere from 3/4 to 1 cup (plus the vanilla).
Preheat oven to 375 degrees.
Line two sheet pans with silicone baking mats or parchment paper.
Using a large muffin scoop (3 tablespoon capacity), portion out dough rounds, 6 to each baking sheet (you'll bake three total baking sheets for a total of 18 shortcakes). The process is basically the same as scooping cookie dough onto a baking sheet.
Bake cakes for 15 - 18 minutes, or until browed on top, rotating baking sheets halfway through baking time.
for the strawberries
Wash, hull and slice the strawberries. Mix with sugar (using more or less depending on the natural sweetness of your berries). Allow to set at room temperature for about an hour before serving.
for the cream
Pour the cold whipping cream into a stand mixer (or use a hand mixer). Add the powdered sugar and vanilla. Beat on high until stiff peaks form. Store in the refrigerator until ready to serve.
Foodtastic Mom https://www.foodtasticmom.com/