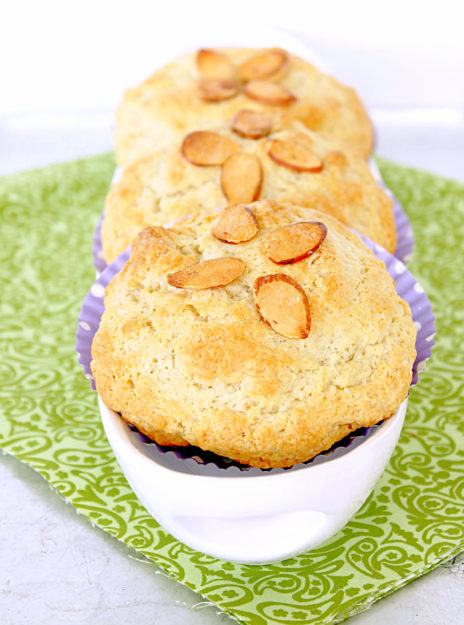 If you're following along with me on my Instagram and Facebook accounts, you may have noticed I tried baking some blackberry bran muffins earlier this week. I even mentioned the recipe fail in THIS post. I was still determined to use blackberries this week because Kroger had them on sale for .99 per carton… a terrific price! Plus, what's not to love about a baked good with fresh blackberries? Bran muffins, apparently.
I'm sure there are good recipes out there combining blackberry and bran, but I decided to go in a different direction and boy did it pay off. I'm becoming thrifty in my old age, so in my search for a new recipe, it had to use ingredients I already had in the house. That's how I decided on this scone recipe from the Big Sur Cookbook published by The Kitchn.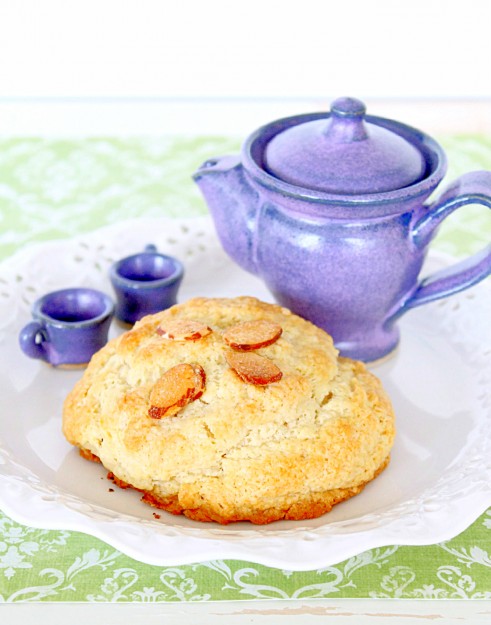 I followed the directions almost exactly until I got to the part about mixing the berries into the scone dough. I literally stared at the bowl of dough and my cup of berries for a full five minutes. You could walk into my home on any given day and the word anal would never enter your mind. I'm a throw things in the air and let them fall where they may creative type… except when it comes to baking. I wanted these scones to be uniform and each to contain an equal amount of the berries. And wouldn't you know it, after counting my cup of blackberries, I had exactly 36. That's how this process of using OXO cookie scoops to form my scones came about.

Scone dough is somewhat similar to pastry in that cold is better. Lots of hands-on time is NOT a good thing. So the scoops kept my hands off, but allowed me to portion evenly. First, I used the large scoop (3 tablespoon capacity) to make the bottoms. I then acted like they were thumbprint cookies, and formed a well in the center of each scone. After placing 3 (frozen from fresh) blackberries in the center, I used the medium scoop (1.5 tablespoon capacity) to top each of them and then gently cupped my hand over each to squish it all together in a hockey-puck like shape.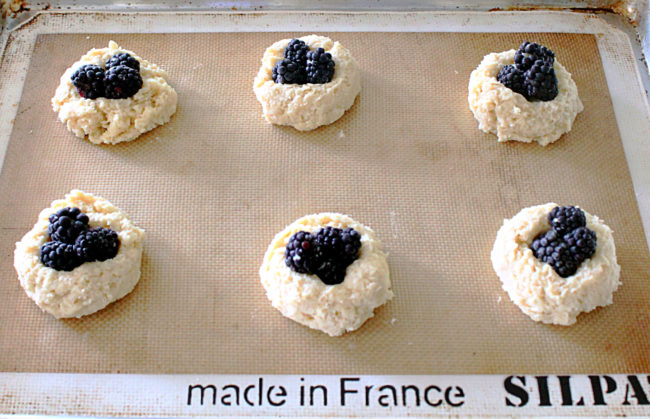 I ended up with two sheet pans of six scones each. I was pretty proud of my ingenuity… it doesn't happen for me every day. Also, the original recipe called for coarse sugar to be sprinkled on top of each scone. I didn't have that, but I did have a package of Trader Joe's honey toasted almonds. I arranged a few of those atop each scone and loved the result. The almonds are completely optional though.
This recipe contains a full TWO tablespoons of vanilla extract, making these scones incredibly flavorful and fragrant. Please seek out pure vanilla for this recipe! The original recipe also called for freezing the fresh blackberries, although using this scooping method, I'm not sure that's necessary. The blackberries will stay intact by placing them on the bottom portion of dough, instead of mushing them all up by stirring them into the batter, so I think you could skip the step of freezing the berries beforehand. Or, if it isn't the season for fresh blackberries, just buy a bag already frozen. Either way, you'll want to make these scones!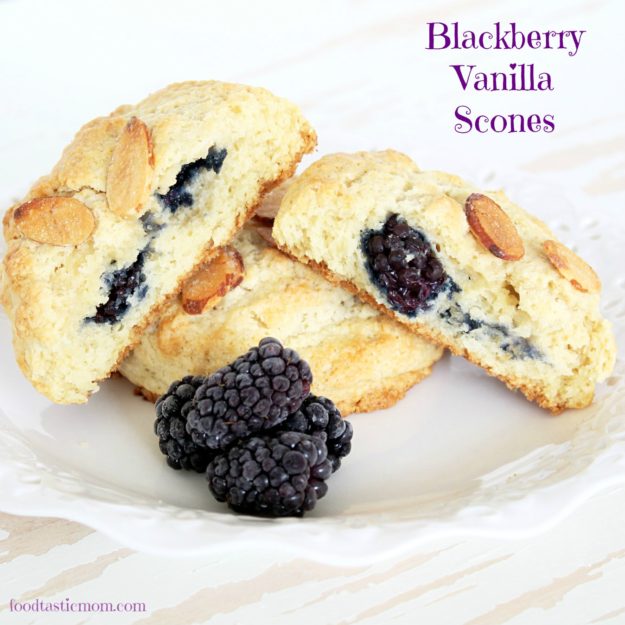 Blackberry Vanilla Scones
Ingredients
1

c.

fresh or frozen blackberries

36 berries

3 1/2

c.

all-purpose flour

1

c.

granulated sugar

1

T.

baking powder

2

t.

baking soda

1 1/2

t.

kosher salt

1

c.

2 sticks cold unsalted butter, cubed

2

T.

pure vanilla extract

1

c.

well-shaken cultured buttermilk

full-fat - it says start with 3/4 c. but I needed the full cup

coarse sugar or honey toasted almonds to top
Instructions
If using fresh blackberries, the original recipe says to scatter them across a cookie sheet to freeze, 2 hours before baking. I did this, and it kept the berries neat, but by using my method for assembling the scones, you should be able to use fresh berries.

In the bowl of a stand mixer, combine the flour, sugar, baking powder, baking soda and salt. Use the paddle attachment and run on medium low speed. Add butter, one cube at a time. Allow one butter cube to mix in for about 30 - 60 seconds before adding another cube of butter (each cube was about the size of a tablespoon, so 16 tablespoons). I walked around assembling the rest of my ingredients while I was doing this.

Stop the mixer and if your freezer will allow, stick the mixing bowl with the flour and butter mixture in it for about 20 minutes. The original recipe says this helps with the final product and I did it myself. And the final product was fantastic!

Mix together the buttermilk and vanilla and leave in the refrigerator until ready to use.

Once flour and butter mixture has chilled in the freezer, remove it and make a well in the center of the bowl. Pour in the buttermilk and vanilla mixture and mix until it sticks together in a ball.

Preheat oven to 375 degrees.

Line two sheet pans with silicone baking mats or parchment paper.

Using a large cookie scoop (3 tablespoon capacity), portion out dough rounds, 6 to each baking sheet. Make an indentation in the center of each dough mound, as you would a thumbprint cookie. Place 3 blackberries in the center of each dough mound. Use a medium cookie scoop (1.5 tablespoons) to top each mound of dough with a smaller mound. Cup your hand and seal the blackberries in the center of each scone. Each scone will be rounded and kind of like a hockey-puck in shape.

Sprinkle each scone with coarse sugar or place a few honeyed almonds on top of each.

Bake the scones, rotating pans halfway through baking time, for 17 - 20 minutes, until nicely browned.

Allow to cool for at least 20 minutes before serving. Scones will keep in an air-tight container, stored on the counter, for up to 3 days.