Slow Cooker Guinness Beef Stew will have you coming back for seconds even it's not St. Patrick's Day. It's hearty, savory and sweet with a secret ingredient you might never guess.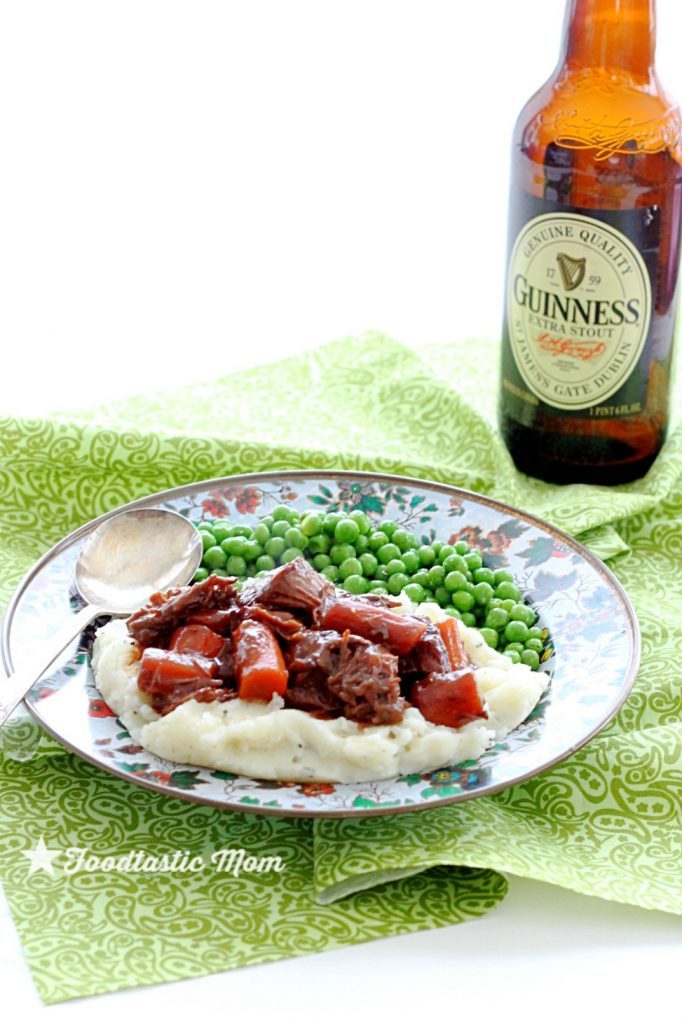 Top 'o the mornin' to ya, or something like that. I totally meant to share this stew recipe with you days ago, but then I kept getting approved for sponsored posts, which are how I can afford to keep this blogging thing going and bringing you original recipes like this one! So a totally good problem to have.
I'm practically a day late and a dollar short on this St. Patrick's Day themed recipe share but that's kind of how my life in general goes so it's cool. And by no means should you only make this luscious stew to celebrate your Irishness (fake or not). It's meat candy I tell you. Make it whenever you want.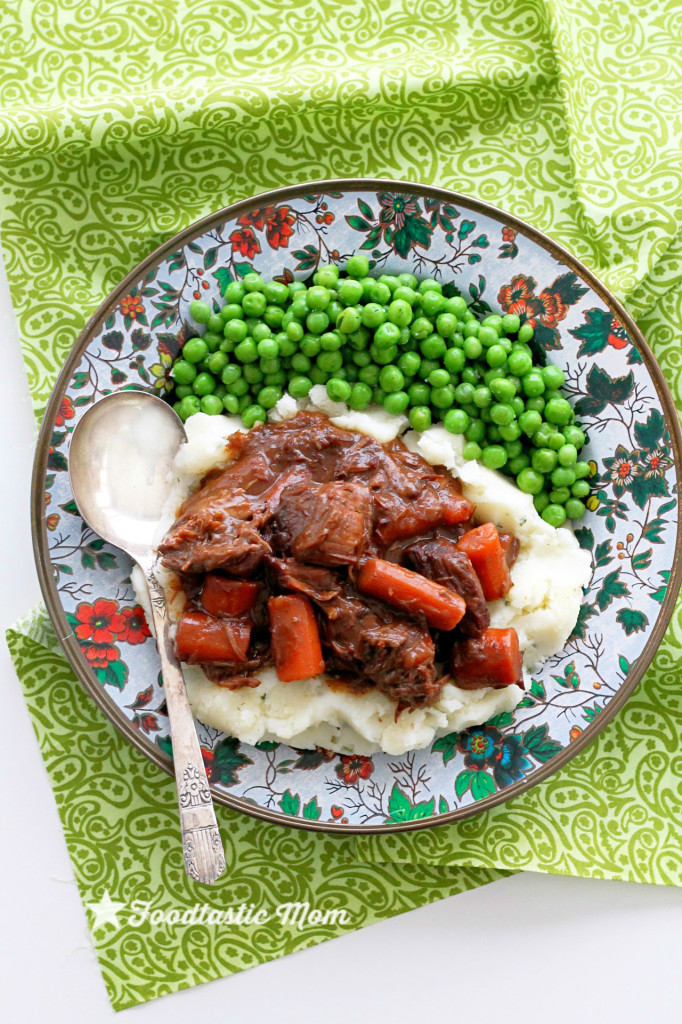 I'm not even kidding about the candy reference. Guess what the secret ingredient is? Chocolate! Bittersweet chocolate chips and a little brown sugar tame the natural bitterness of the Guinness and slow cook into the most lip-smackingly good gravy. And I must note that taking the extra step of pouring off the broth, letting it rest, thickening it into actual gravy and then adding it back to the slow cooker is totally worth the time and effort. This is really a two-day stew. I cooked that beef to death and it tasted better for it (meaning this stew can use an inexpensive cut of meat and be economical as well as delicious). But by far, most of the time is totally hands-off, so don't let that intimidate you. I always try and give you fairly quick and simple recipes, but sometimes the end result is just worth it to spend more time on the food up front.
And as for those mashed potatoes… they benefitted by my adding butter, buttermilk (real buttermilk, not the low-fat kind), a generous sprinkling of salt, pepper, dried dill, parsley and chives plus some creamy horseradish sauce. Try making yours that way next time you fix mashed potatoes and see what you think. And in the meantime, have a festive day and be safe if you'll be out in the pubs this evening!

Slow Cooker Guinness Beef Stew
2015-03-16 15:51:19
Ingredients
5 pounds of beef stew meat, trimmed of fat and cubed
2 pounds of carrots, peeled and cut into bite-sized pieces
2 large sweet onions, sliced
2 (10 oz.) cans of beef consommé
1 c. Guinness
1/4 c. Ghirardelli bittersweet chocolate chips
2 T. light brown sugar
1 t. seasoned salt
1 t. dried thyme
1/2 t. black pepper
2 bay leaves
4 T. unsalted butter
4 T. flour
Instructions
Add the beef, carrots, onions, beef consommé, Guinness, chocolate, brown sugar, seasoned salt, thyme, pepper and bay leaves to the slow cooker. Cook on low setting for 8 - 10 hours or until stew meat is completely tender.
Turn off the heat and strain out the broth into a glass bowl. Cover the bowl with plastic wrap and refrigerate overnight. Discard the bay leaves. Leave the beef, carrots and onions in the slow cooker insert and refrigerate that as well.
The next day, remove the hardened fat from on top of the beef broth. Return the insert to the slow cooker base and reheat on low.
Heat the 4 tablespoons of butter over medium heat in a large pan. Whisk in the flour and cook for about 2 minutes, or until starting to brown.
Whisk in the beef broth. Bring to a gentle boil and then reduce to simmer. Allow the broth to cook for 5 - 10 minutes until thickened.
Add the gravy back to the beef mixture in the slow cooker. Stir it well to combine. Let the stew get hot in the slow cooker and serve over mashed potatoes.
Foodtastic Mom https://www.foodtasticmom.com/