Sink your teeth into this Open Face Grilled Steak Sandwich with Roasted Red Pepper Vinaigrette Dressing and blue cheese on toasted garlic ciabatta bread for a gourmet eating experience at home (with little effort). This recipe is brought to you by the Ohio Beef Council. All opinions are mine alone.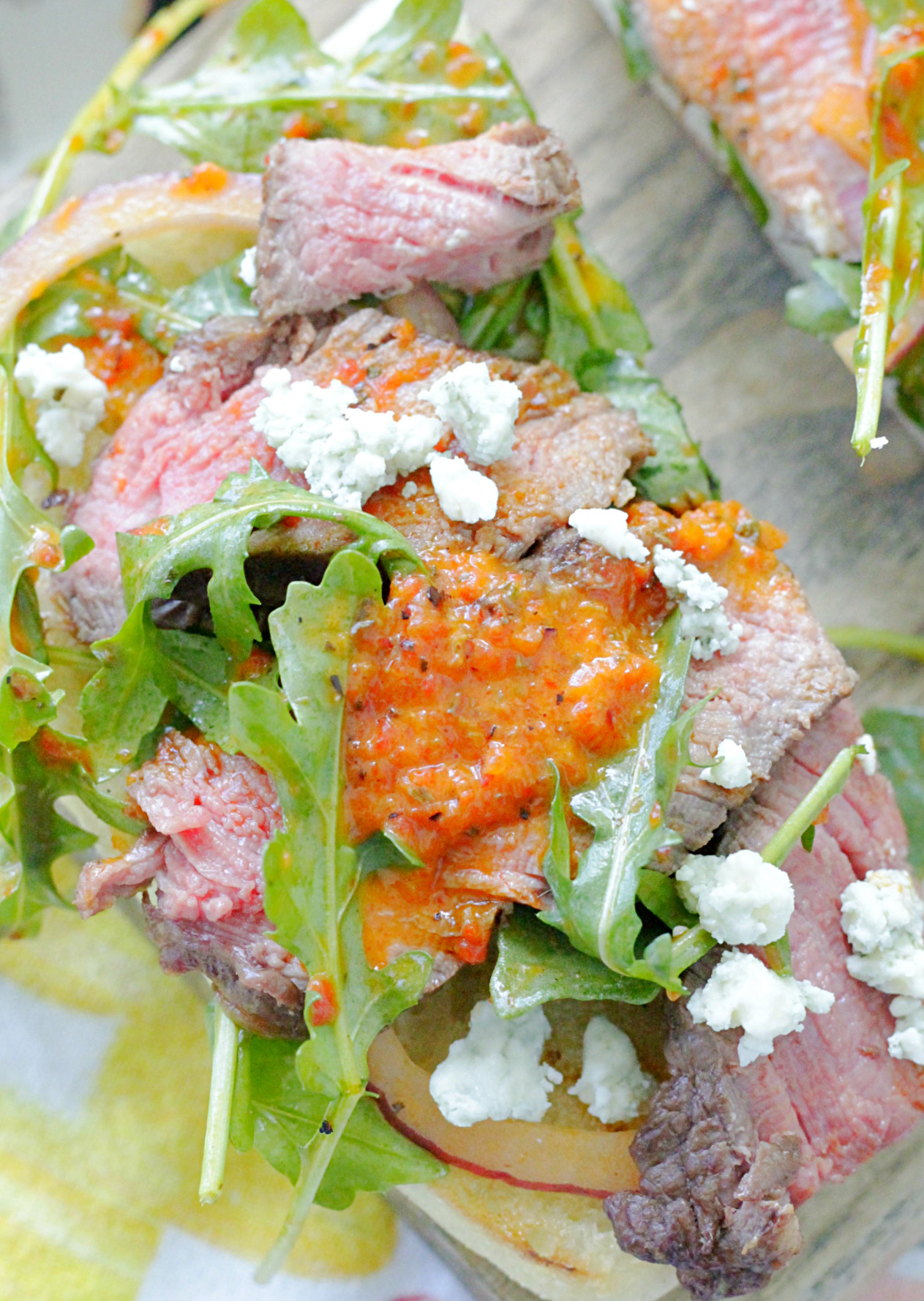 When you think of beef to grill on a holiday do you think of burgers? I think most everyone does. So I decided to change things up by grilling some beautiful filet mignon steaks and thinly slicing them. Piling it up on some warm and toasty ciabatta bread brushed with garlic butter, plus some fresh arugula, blue cheese crumbles and a simple but oh-so-tasty roasted red pepper vinaigrette. Sounds amazing right? Like something you'd order out but simple enough to create with a minimal amount of effort at home. That's what I'm bringing you with this recipe for Open Face Grilled Steak Sandwich with Roasted Red Pepper Vinaigrette.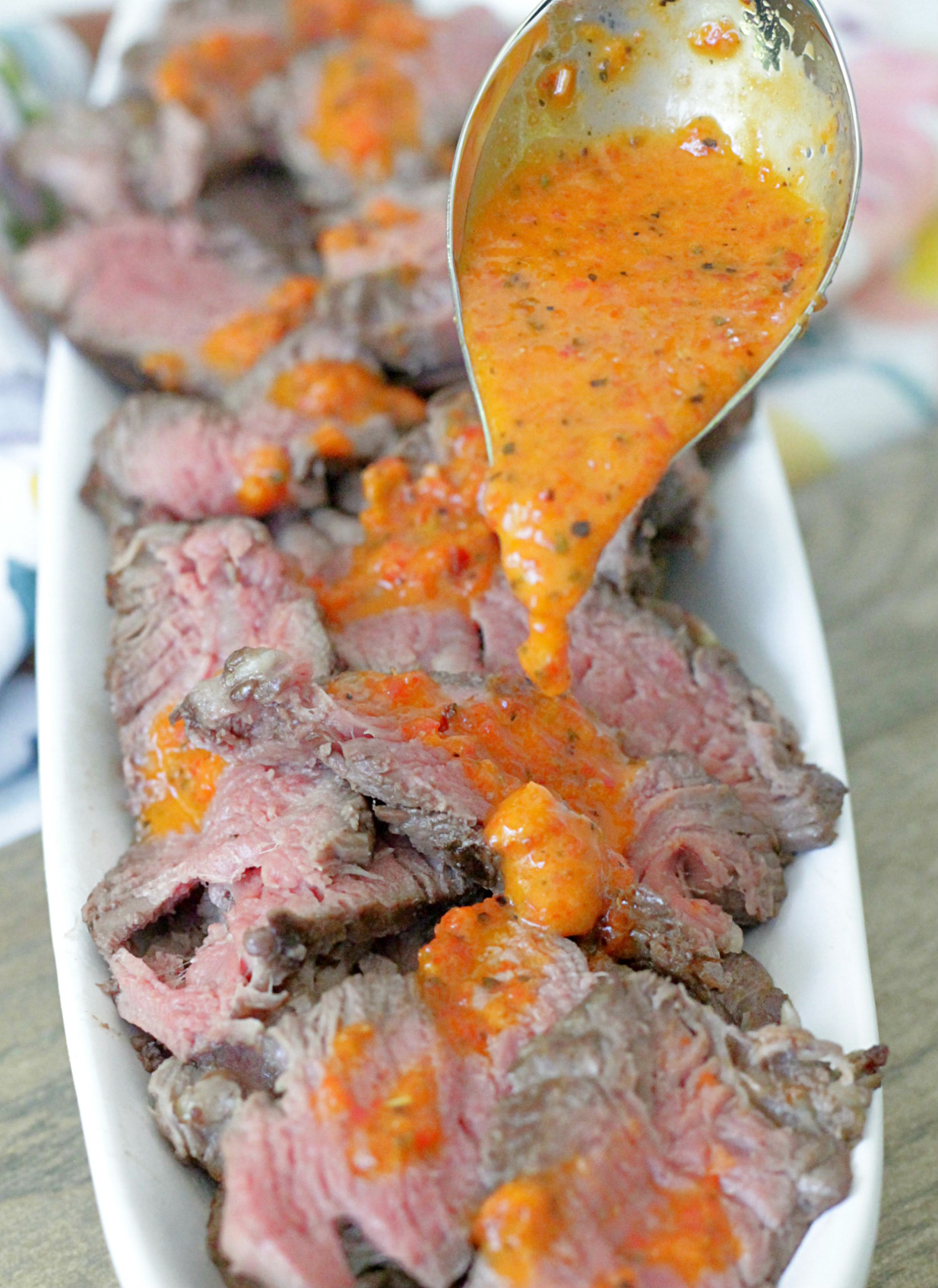 If you've been cooking along with me for a while now you know that my family and I love beef – steak, hamburger, roasts – we love it all. I have a fantastic relationship with the folks at the Ohio Beef Council and thanks to them have learned all about how generations of family beef farmers bring their beef from the farm to your table.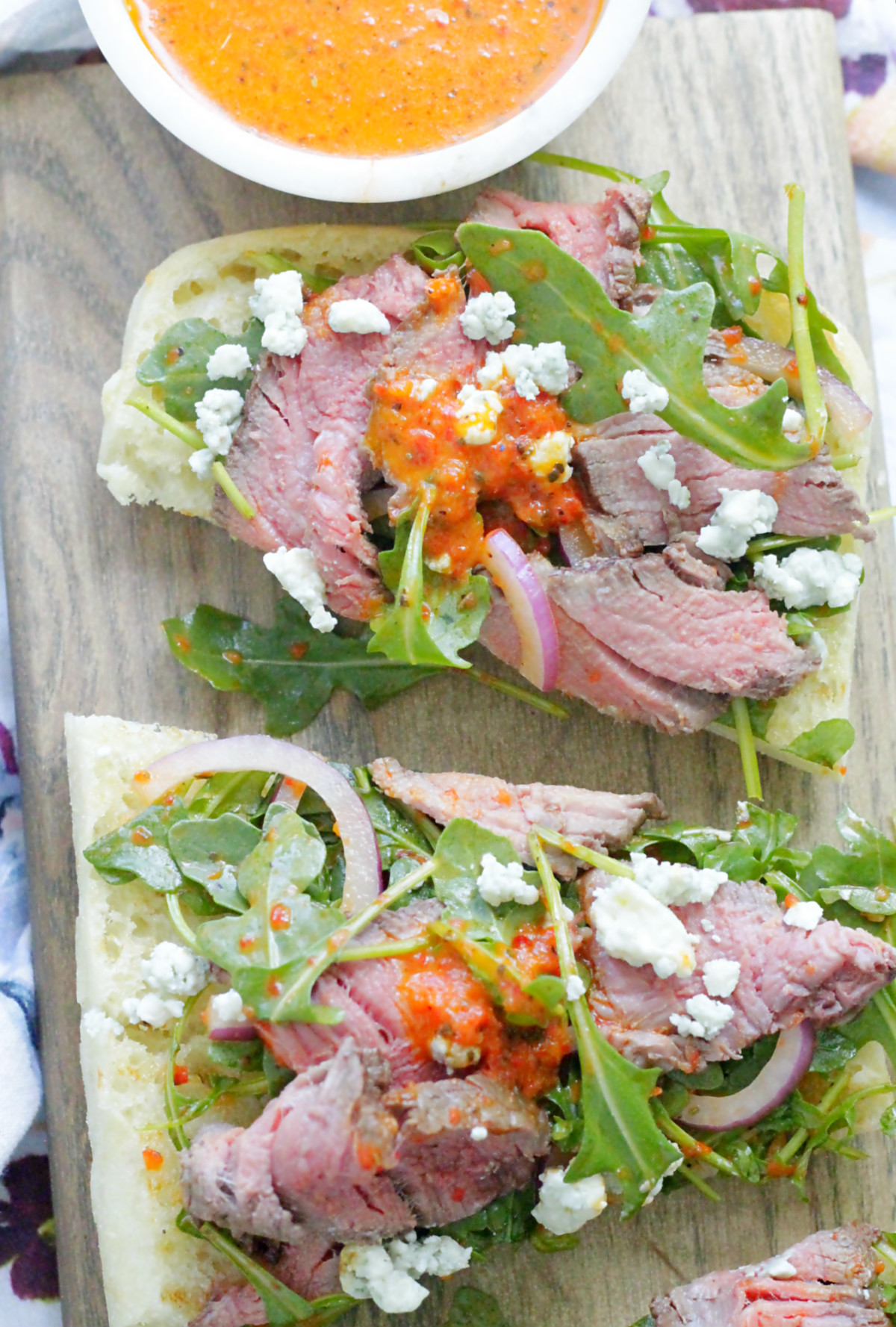 Recently I was invited to travel to Denver, Colorado to visit the National Cattlemen's Beef Association and to see how beef ranchers operate on a little bit larger scale than our beef farmers in Ohio. I learned how to properly grill a steak with the expert chefs in the Cattlemen's Association brand new test kitchen. I saw up close the hard work and passion that goes into breeding the bulls that produce the beef we eat – how they are fed and cared for and the big-sky plains and mountain pastures that they graze on for most of their lives.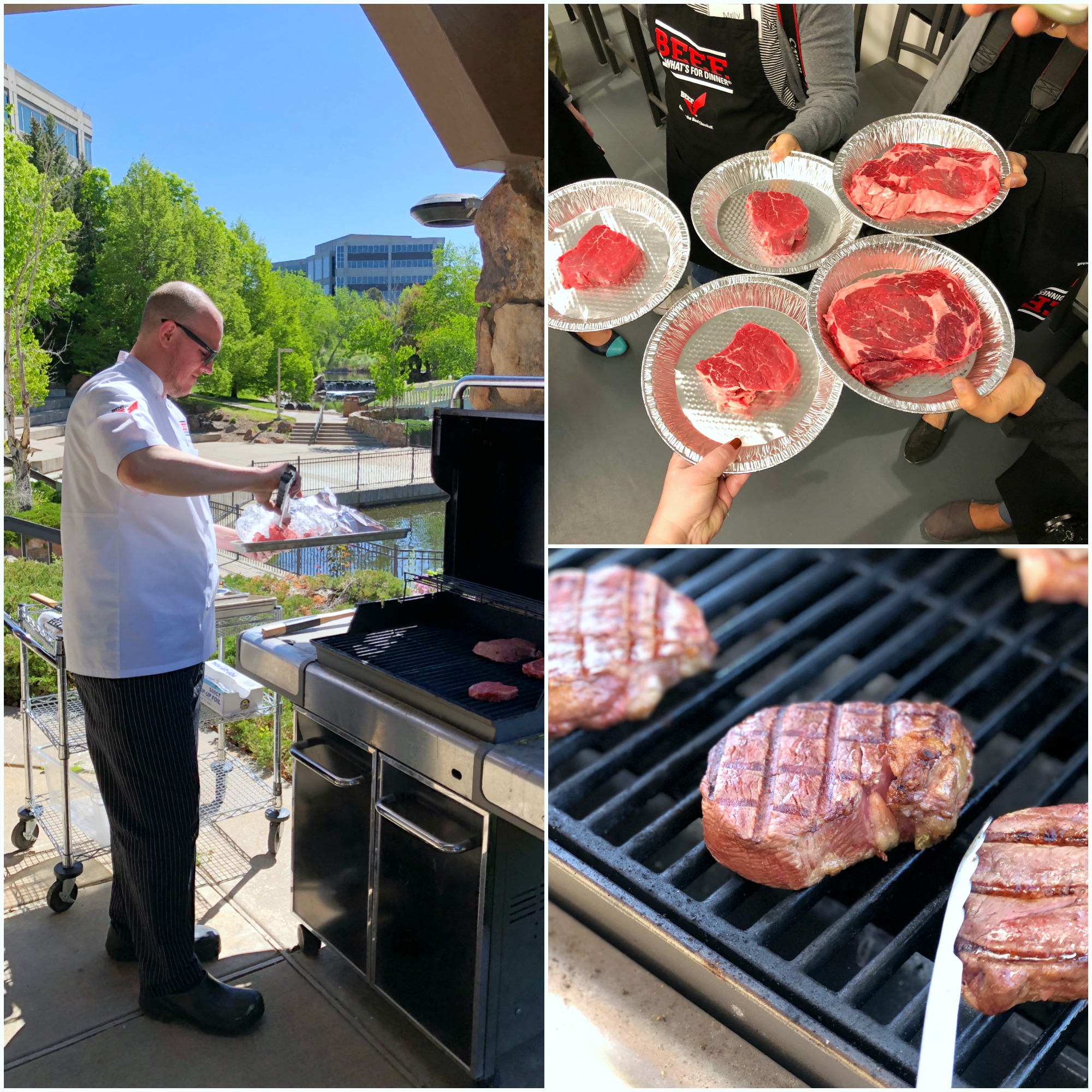 Then I got to touch and smell the many different grains that make up the diet towards the end of the beef life cycle. Let me assure you it is highly scientific – created by animal dietitians and computer programs. That means that your beef is efficient. The carbon footprint of beef in the United States is smaller than any other carbon-emitting industry. Cars included!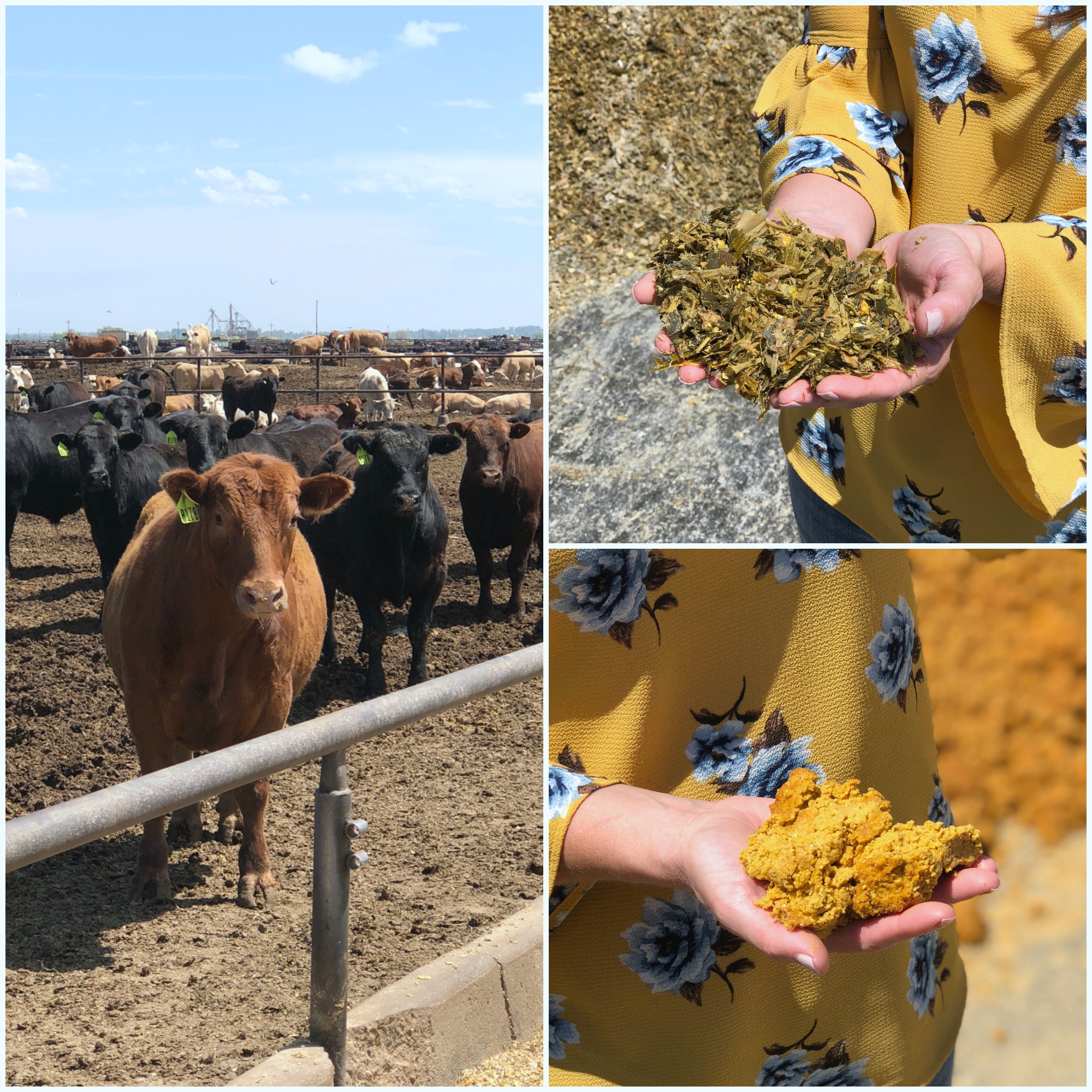 That's because much smarter people than me are constantly working to feed our planet's population in the most efficient way possible. Family farmers are such a small percentage of our population yet they do the hard and often thankless work of feeding an entire country. It really is amazing to see the behind-the-scenes of it all in an industry like beef farming.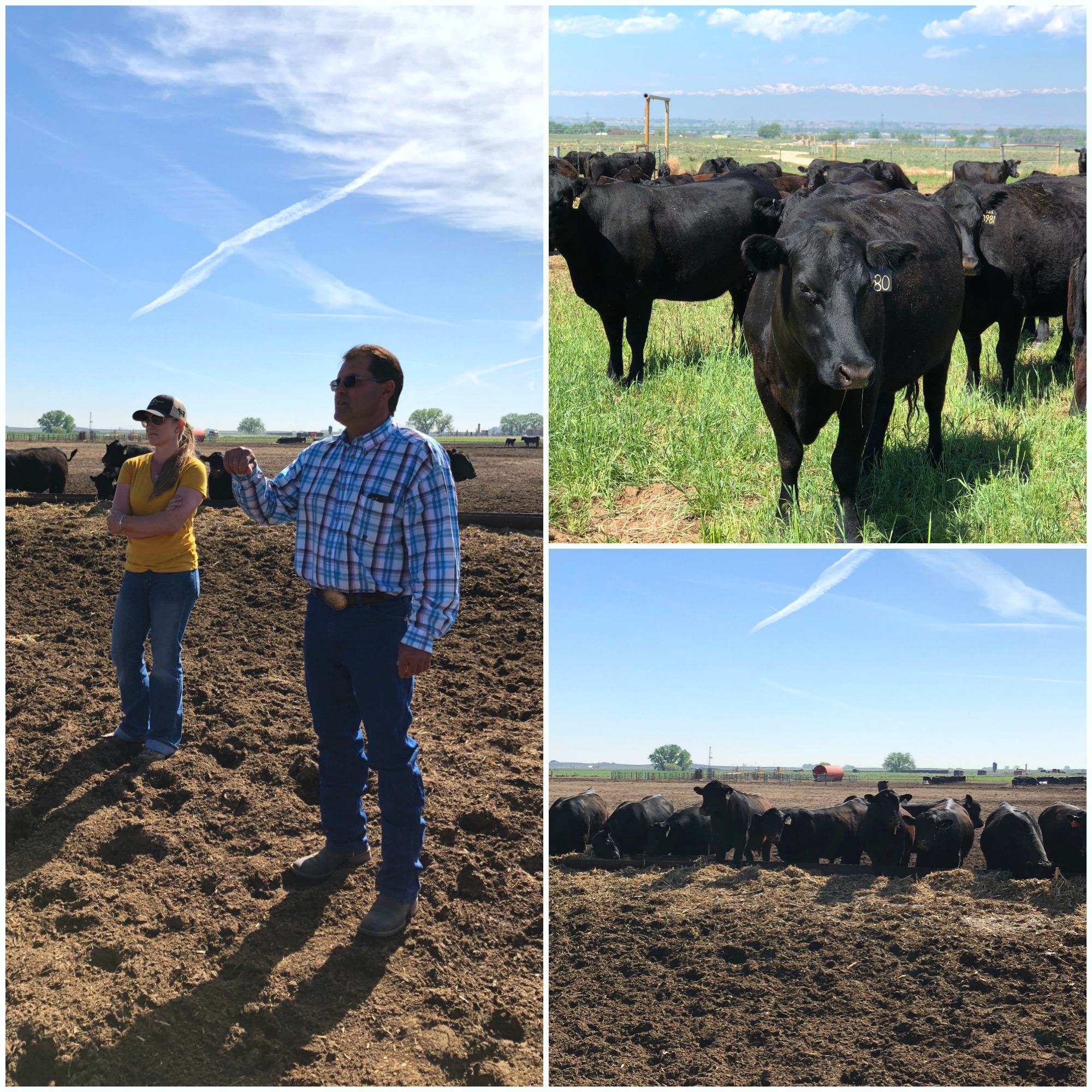 But back to these tender and flavor-packed steak sandwiches. Don't they just make your mouth water? I'll be serving these on Fourth of July alongside some of my other favorite recipes – Spinach Strawberry Salad, Cheesy Potatoes and French Strawberry Cake. Tell me what some of your favorite holiday beef recipes are and if you are inspired to try these Open Face Grilled Steak Sandwiches.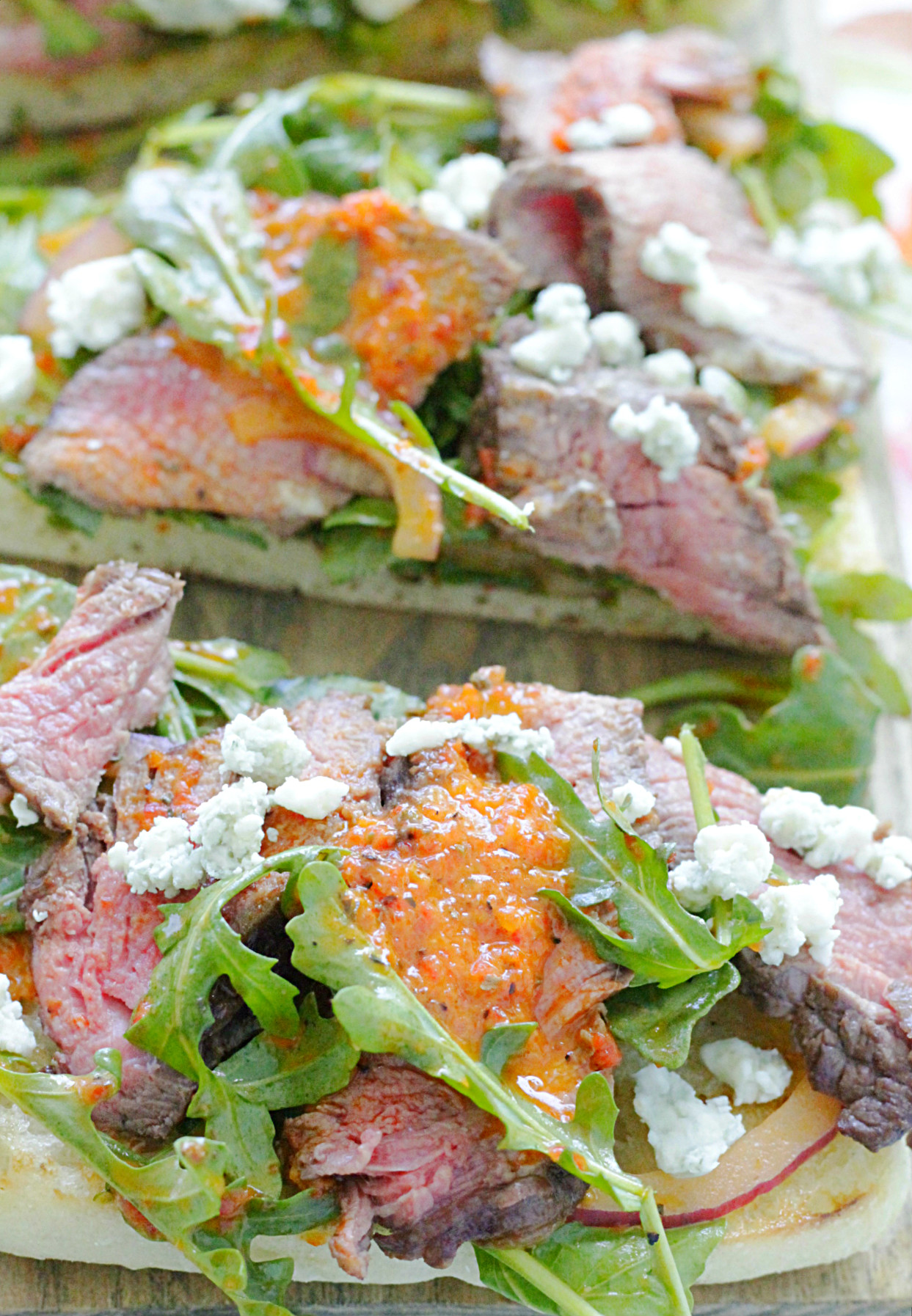 Tips for making Open Face Grilled Steak Sandwiches with Roasted Red Pepper Viniagrette:
You should be able to find fresh roasted red peppers on the olive bar/antipasto bar at your local grocery store. If not here's a recipe for simple roasted red peppers.
I used a partially baked loaf of ciabatta bread like this one for this recipe.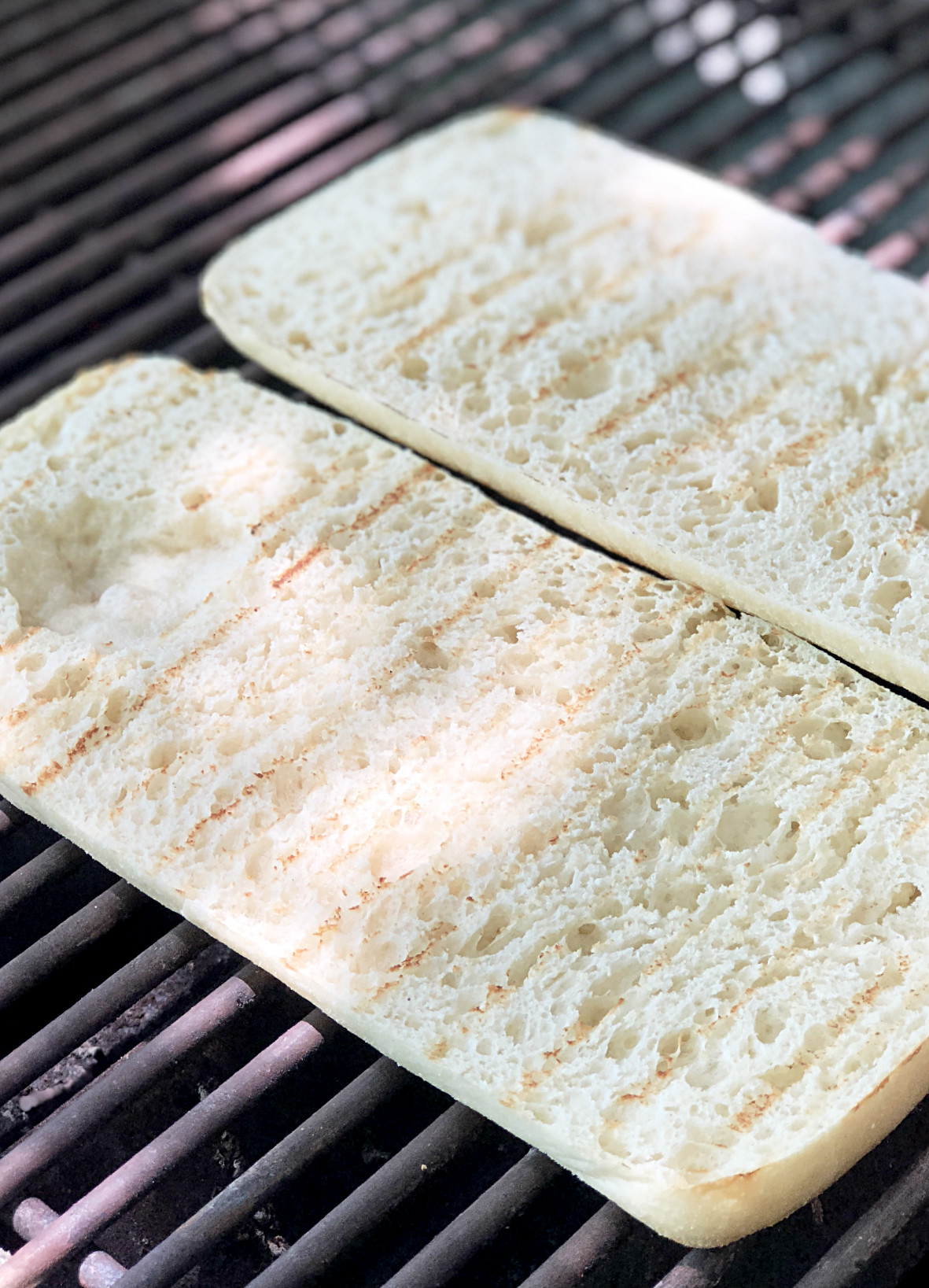 I chose to grill filet mignon steaks because they are so tender – top sirloin steaks would also work well for these steak sandwiches.
If you don't like blue cheese you can substitute crumbled feta or goat cheese instead.
To ensure a proper medium to medium rare doneness on your grilled steak be sure to use an instant-read digital thermometer like this one.
For thinly sliced steak I use this serrated knife for slicing.
Foodtastic Mom is a participant in the Amazon Services LLC Associates Program, an affiliate advertising program designed to provide a means for sites to earn advertising fees by advertising and linking to Amazon.com. Any highlighted, clickable Amazon link you see is an affiliate link that I may earn advertising fees on.
Thank you so much for being a faithful reader and supporter of Foodtastic Mom. Be sure to PIN and print this recipe!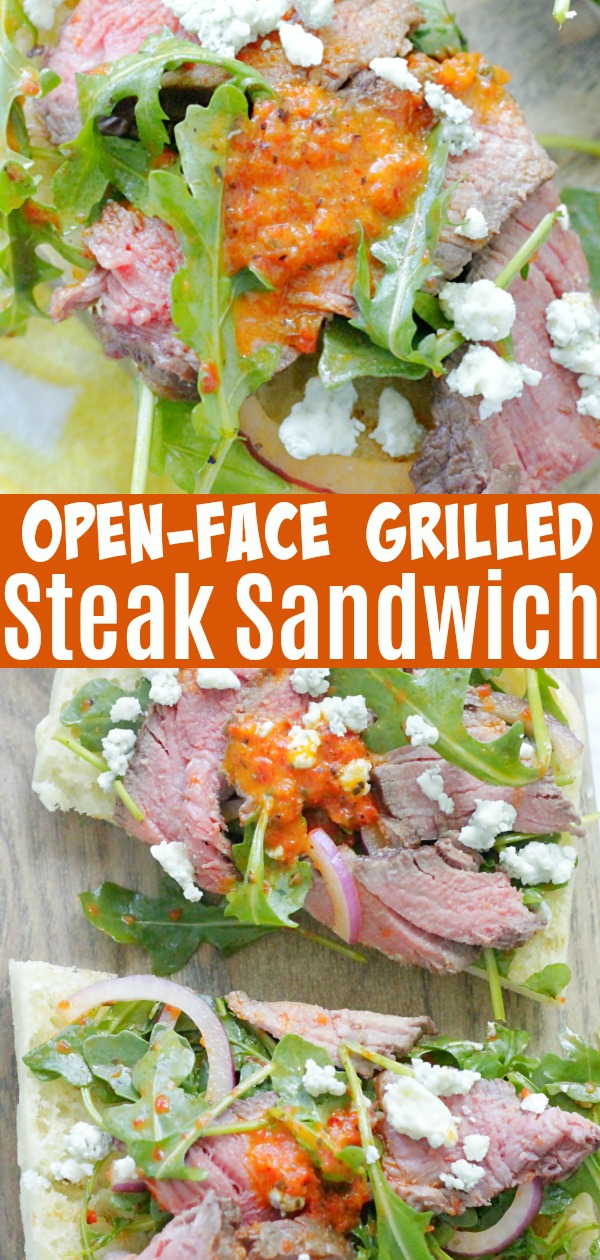 Open Face Grilled Steak Sandwich with Roasted Red Pepper Vinaigrette
Sink your teeth into this Open Face Grilled Steak Sandwich with Roasted Red Pepper Vinaigrette Dressing and blue cheese on toasted garlic ciabatta bread for a gourmet eating experience at home (with little effort).
Ingredients
1

loaf

ciabatta bread

4

tbsp

butter

melted

2

cloves

garlic

minced

1/4

tsp

salt

1 1/2

lbs

filet mignon steak

or top sirloin

salt and pepper

1

large

roasted red pepper

1/3

cup

olive oil

2

tbsp

red wine vinegar

2

tbsp

honey

1

tsp

salt

1/2

tsp

dried basil

1/2

tsp

dried oregano

1

cup

baby arugula

1/3

cup

red onion

thinly sliced

1/3

cup

blue cheese

crumbled
Instructions
Heat the grill to high. Scrape the grill grates clean. Turn one half of the grill burners to low heat. Turn the other side off.

Slice the ciabatta in half. Grill the ciabatta on both sides until lightly browned - a few minutes per side. Remove the ciabatta. Stir together the melted butter, minced garlic and 1/4 tsp of salt. Evenly brush both cut sides of the ciabatta with the garlic butter mixture. Sandwich the two halves back together and wrap tightly in heavy-duty foil.

Grill the steak starting on the low heat side of the grill. Grill both sides until seared - about 4 minutes per side. Move the steaks to the side of the grill where the burners are off and continue cooking until the internal temperature of the steak is between 145 and 150 degrees F. Remove the steak to a cutting board. Season with salt and pepper and allow to rest for at least 5 minutes. Thinly slice the steak and set aside.

Place the foil wrapped bread on the grill and close the lid to warm the bread.

Meanwhile, make the roasted red pepper vinaigrette. To a food processor add the roasted red pepper, olive oil, red wine vinegar, honey, salt, basil and oregano. Blend until smooth. Taste and add more honey and or salt if needed.

Toss the arugula and red onion with about half of the dressing.

Remove the bread from the grill. Unwrap.

Top each half of the grilled ciabatta bread evenly with the dressed arugula and onion, grilled steak and crumbled blue cheese. Serve with the rest of the vinaigrette for topping. Slice and eat with a knife and fork.
More grilled beef recipes: