This Nashville Hot Grilled Chicken has all the super spicy and also sweet and smoky flavors of the traditional fried version of this Southern classic – made simpler and a bit healthier at home for the grill. This post is sponsored by Mirum. All opinions are mine alone.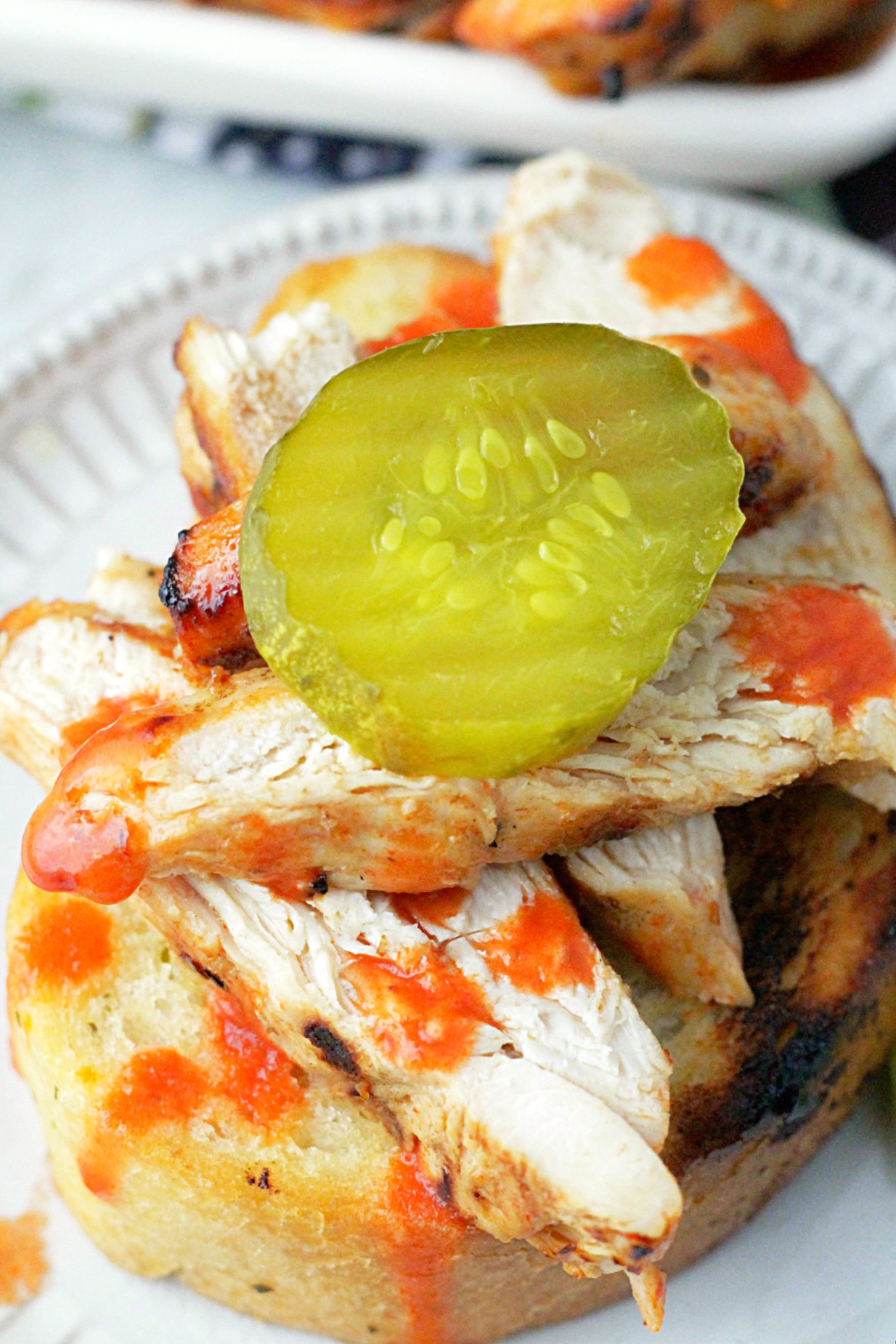 As I've gotten older my tastebuds have changed and gotten more used to spicy foods. In my youth I barely tolerated mild salsa with my chips. But in my 40's I enjoy spicy Thai food, medium wings instead of mild, and most definitely Nashville Hot Chicken. Have you had this delicacy? It's not for the faint of heart but boy is it delicious. Super spicy, sweet and smoky fried chicken goodness – usually served with some white bread and dill pickle slices. I don't have many places I can go to get it here in Ohio, so I decided to create this Nashville Hot Grilled Chicken I can enjoy at home.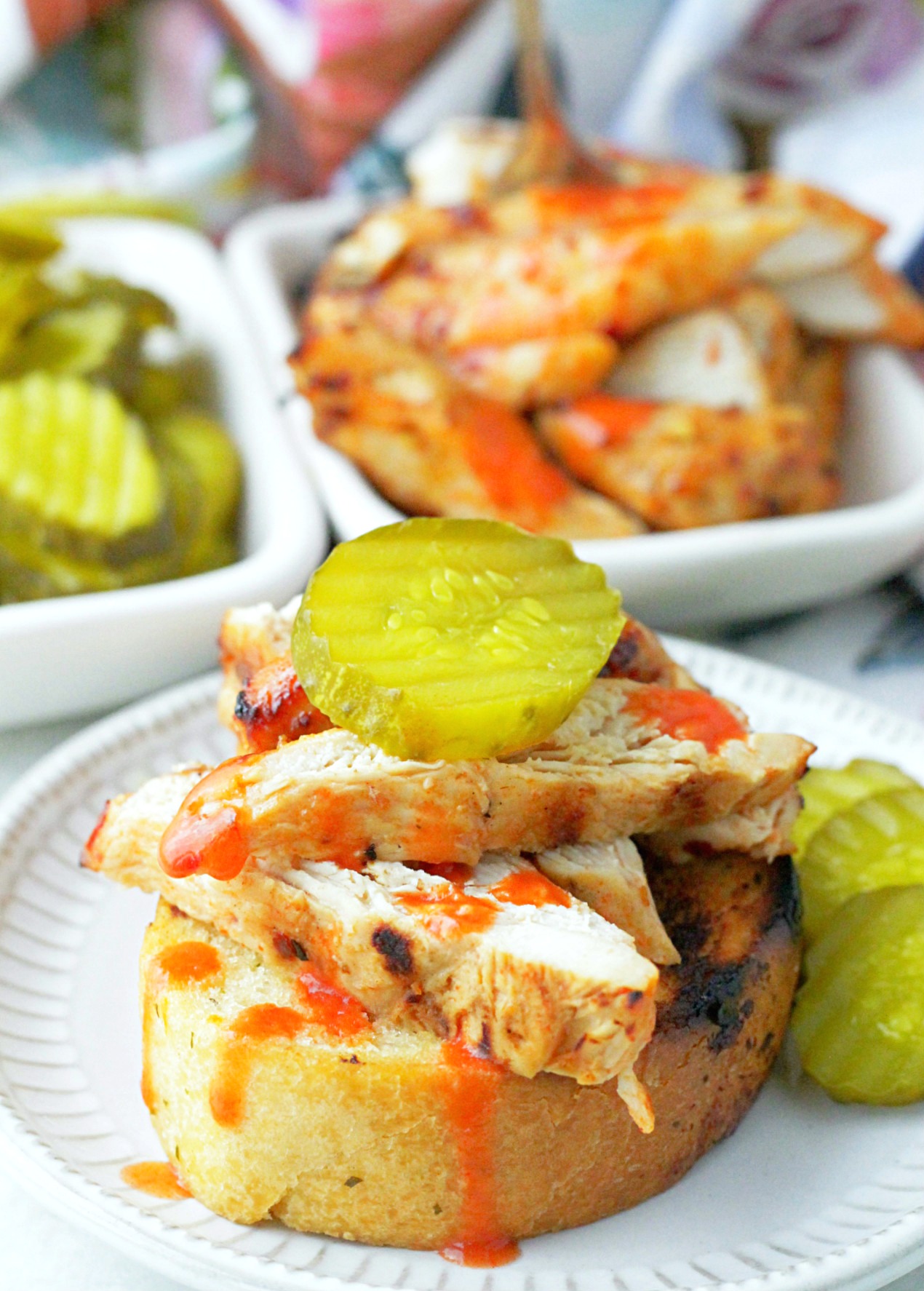 Speaking of heart, my husband ended up in the ER a while back with some pretty severe ulcers. What does that have to do with food? Well, everything. He couldn't eat for almost a week. And as he healed he still suffered from heartburn for quite a while (like a few months) afterward. He has always been a fan of spicy foods. But spicy foods were not his friend at this time. And they still cause him issues even now.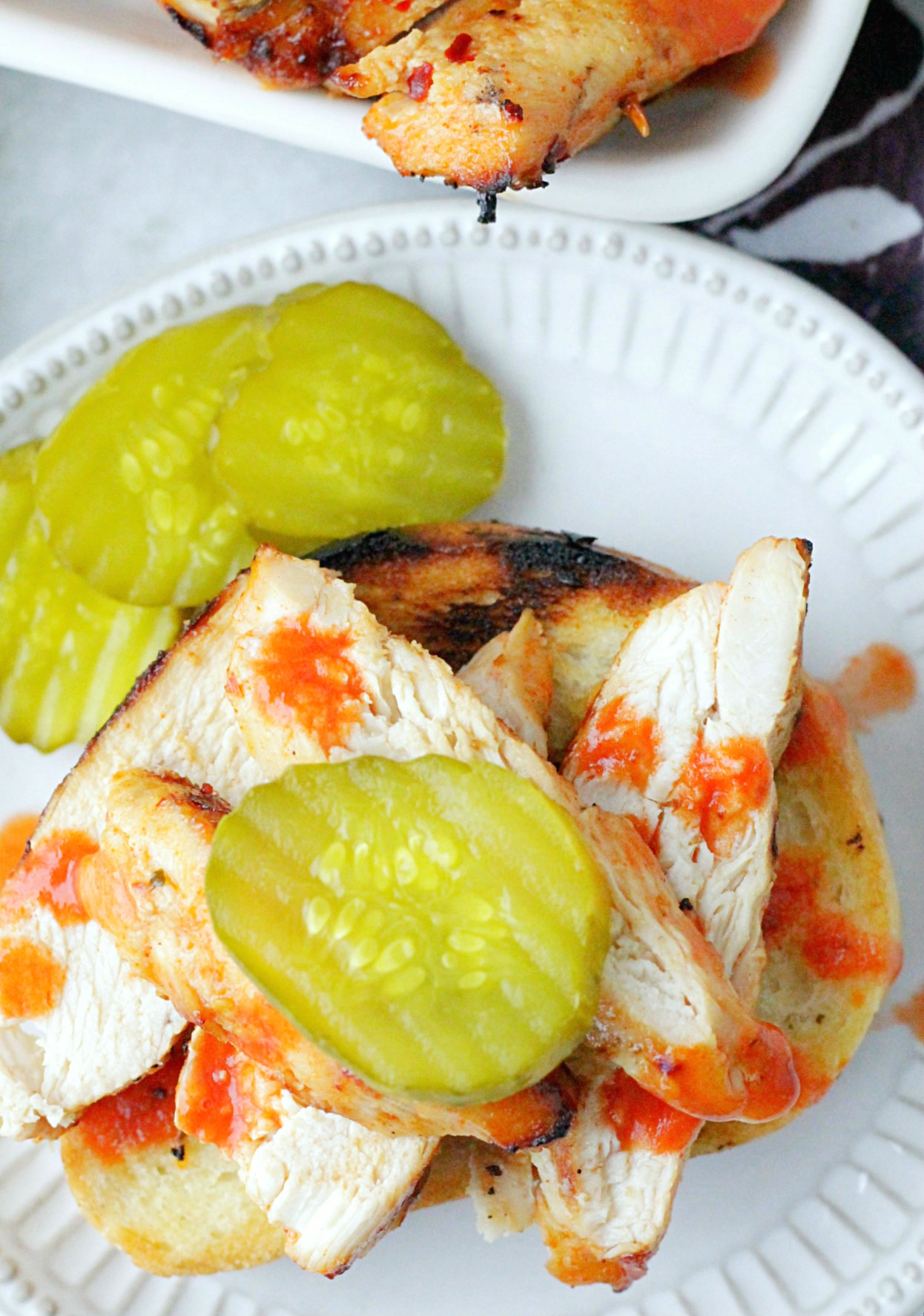 That's why I was happy to learn about Kroger Omeprazole Orally Disintegrating Tablets (also referred to as ODT) which is designed to treat the symptoms of frequent heartburn (2x or more per week). Even better the Omeprazole ODT with MELTech™ allows the tablet to dissolve easily on the tongue. Why is this important? Just ask my husband. When your esophagus feels like it is on fire, the last thing you want to do is swallow a pill. Dissolving just makes the delivery more pleasant.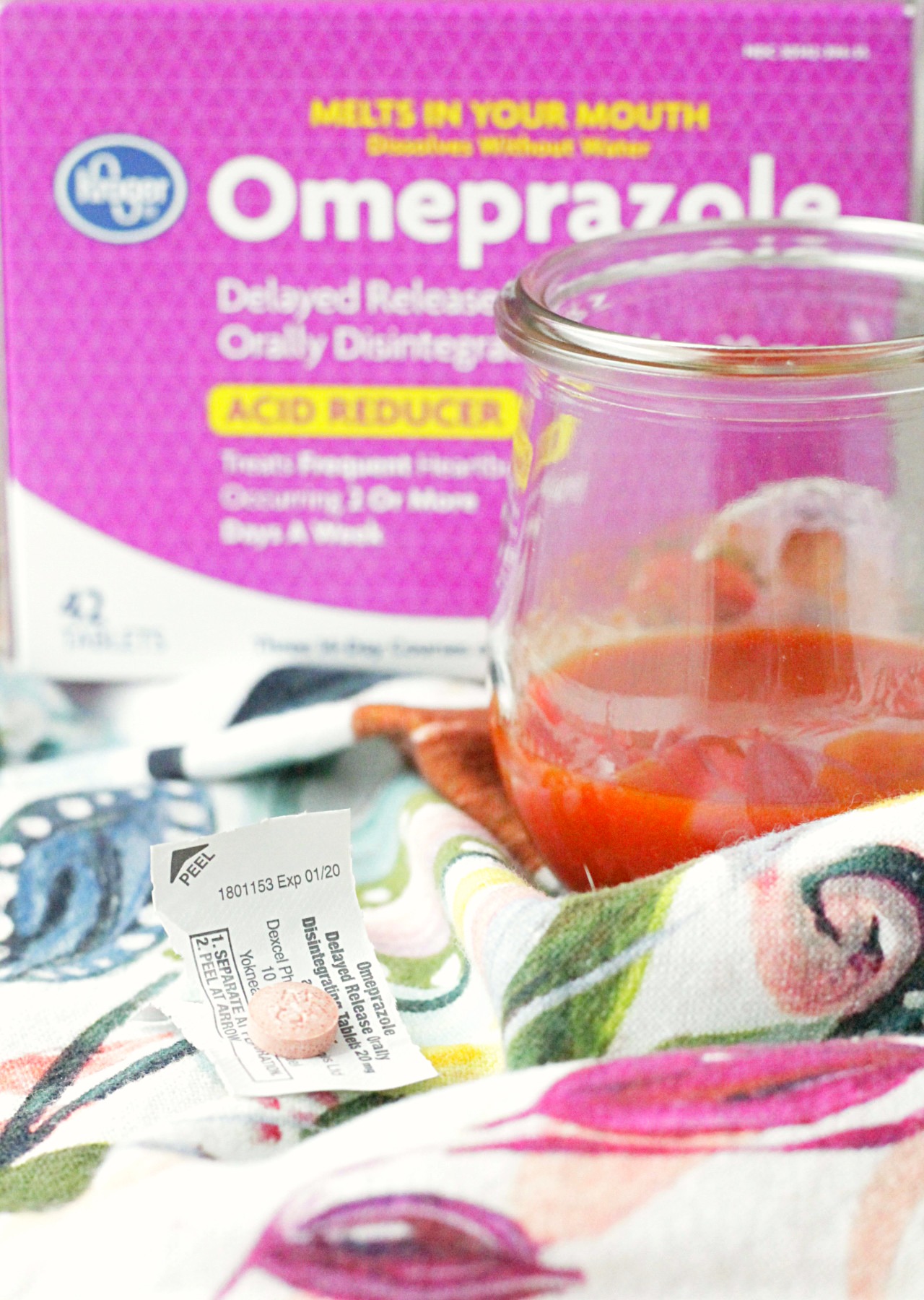 One dose of this strawberry-flavored tablet in a 24-hour period allows my husband to still enjoy his favorite hot and spicy foods, despite his relatively new experience with heartburn. You should only take one dose every 24 hours for up to 14 days. And thanks to Ibotta, you can get $3 off Kroger Omeprazole ODT 42 ct. to try it for yourself by clicking here!
Disclaimer: Use as directed for 14 days to treat frequent heartburn (occurring 2 or more days a week). May take 1-4 days for full effect. Not intended for immediate relief.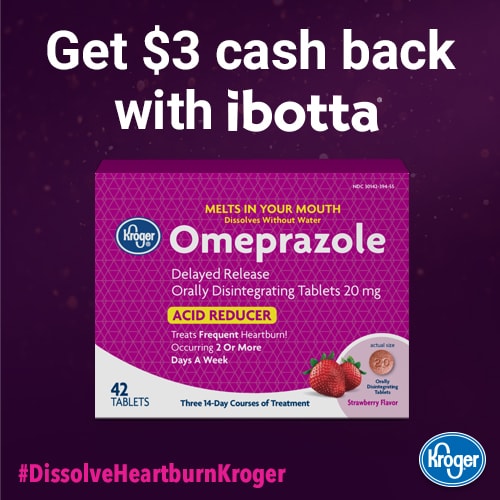 Tips for making Nashville Hot Grilled Chicken:
Use your personal favorite hot sauce for this recipe
I like garlic toast to soak up all the delicious grilled Nashville-style hot sauce from the grilled chicken, but you can substitute the bread with rice or even mashed potatoes
Use an instant read thermometer to make sure the internal temperature of the grilled chicken is 165 degrees F before removing it from the grill
Use a heat-safe silicone brush to apply the spicy and sweet basting sauce to the chicken as it is grilling
Foodtastic Mom is a participant in the Amazon Services LLC Associates Program, an affiliate advertising program designed to provide a means for sites to earn advertising fees by advertising and linking to Amazon.com. Any highlighted, clickable Amazon link you see is an affiliate link that I may earn advertising fees on.
Thank you so much for being a faithful reader and supporter of Foodtastic Mom. Be sure to PIN and print this recipe!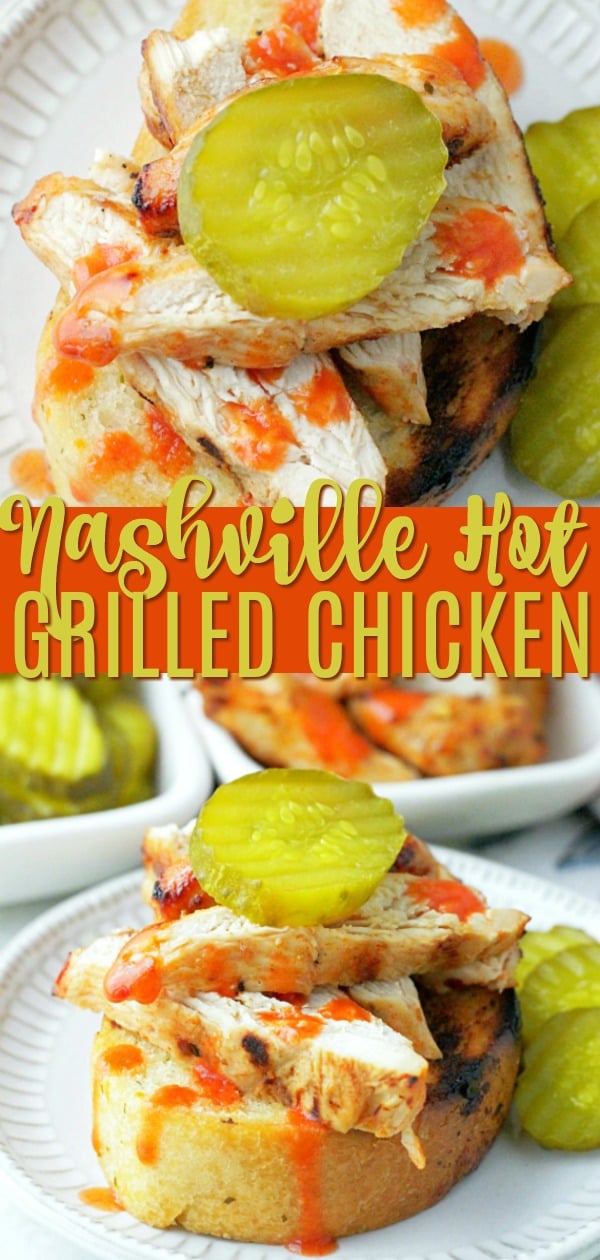 Nashville Hot Grilled Chicken
This Nashville Hot Grilled Chicken has all the super spicy and also sweet and smoky flavors of the traditional fried version of this Southern classic - made simpler and a bit healthier at home for the grill.
Ingredients
Chicken and Marinade
2

lbs

boneless, skinless chicken breasts

1

cup

buttermilk

not low fat

1/2

cup

hot sauce

1

tsp

cayenne pepper

1

tsp

salt

1/2

tsp

smoked paprika
Basting Sauce
2

tbsp

vegetable oil

2

tbsp

honey

2

tbsp

hot sauce

1

tsp

red pepper flakes

1/4

tsp

salt
Instructions
Whisk together the marinade ingredients - buttermilk, 1/2 cup hot sauce, cayenne pepper and smoked paprika. Place the chicken breasts in a gallon-sized zippered bag. Pour the marinade over the chicken and seal the bag. Allow the chicken to marinate in the refrigerator for at least 4 hours or up to 12 hours.

Heat a gas grill on high. Scrap the grill grates clean and turn all the burners to medium-low heat.

Whisk together the basting sauce ingredients - vegetable oil, honey, remaining hot sauce, red pepper flakes and salt.

Grill the chicken on the first side for about 5 minutes. Flip and baste the chicken with the sauce.

Continue to grill on the second side for at least 5 minutes. Flip the chicken again and baste with the sauce.

Close the lid and continue cooking the chicken until the internal temperature reaches 165 degrees F.

Remove the chicken to a cutting board and allow to rest for at least 5 minutes.

Slice the chicken and serve with garlic bread, pickle slices and more hot sauce.
More spicy recipes: