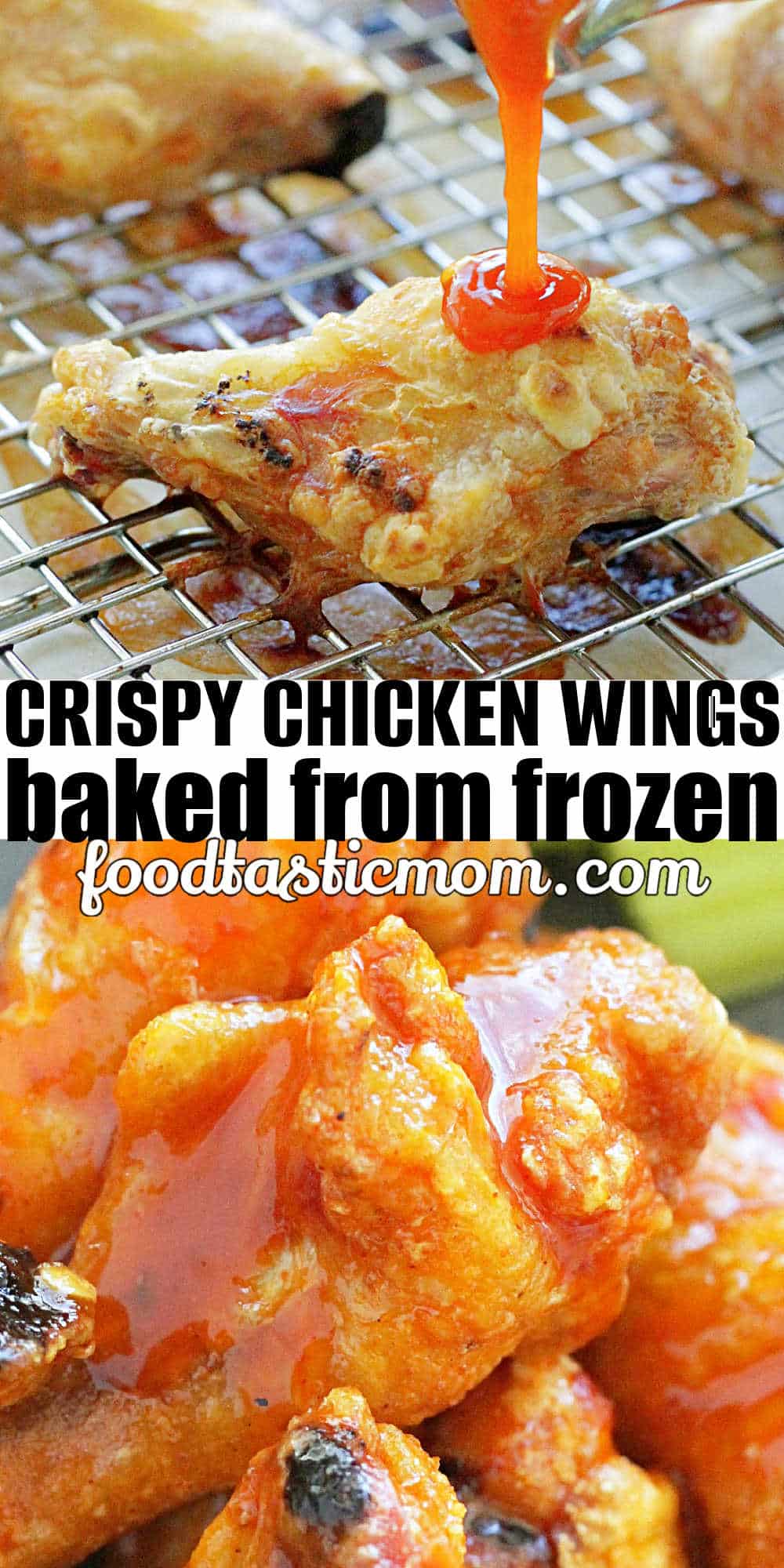 Even baked from frozen these wings are unbelievable good. Crispy Baked Chicken Wings (with the best buffalo sauce) are a must make for your next game day at home.
Until not too long ago I refused to eat buffalo chicken wings (with bones). Really good wings are hard to come by at restaurants and I'd had more than enough soggy, fatty wings to swear them off. But then this most recent Super Bowl happened and I was reading how many people serve wings that weekend and so I admit I gave in to the peer pressure. And that's how I'm bringing you these crispy (like unbelievably crisp) baked chicken wings that you can make conveniently at home.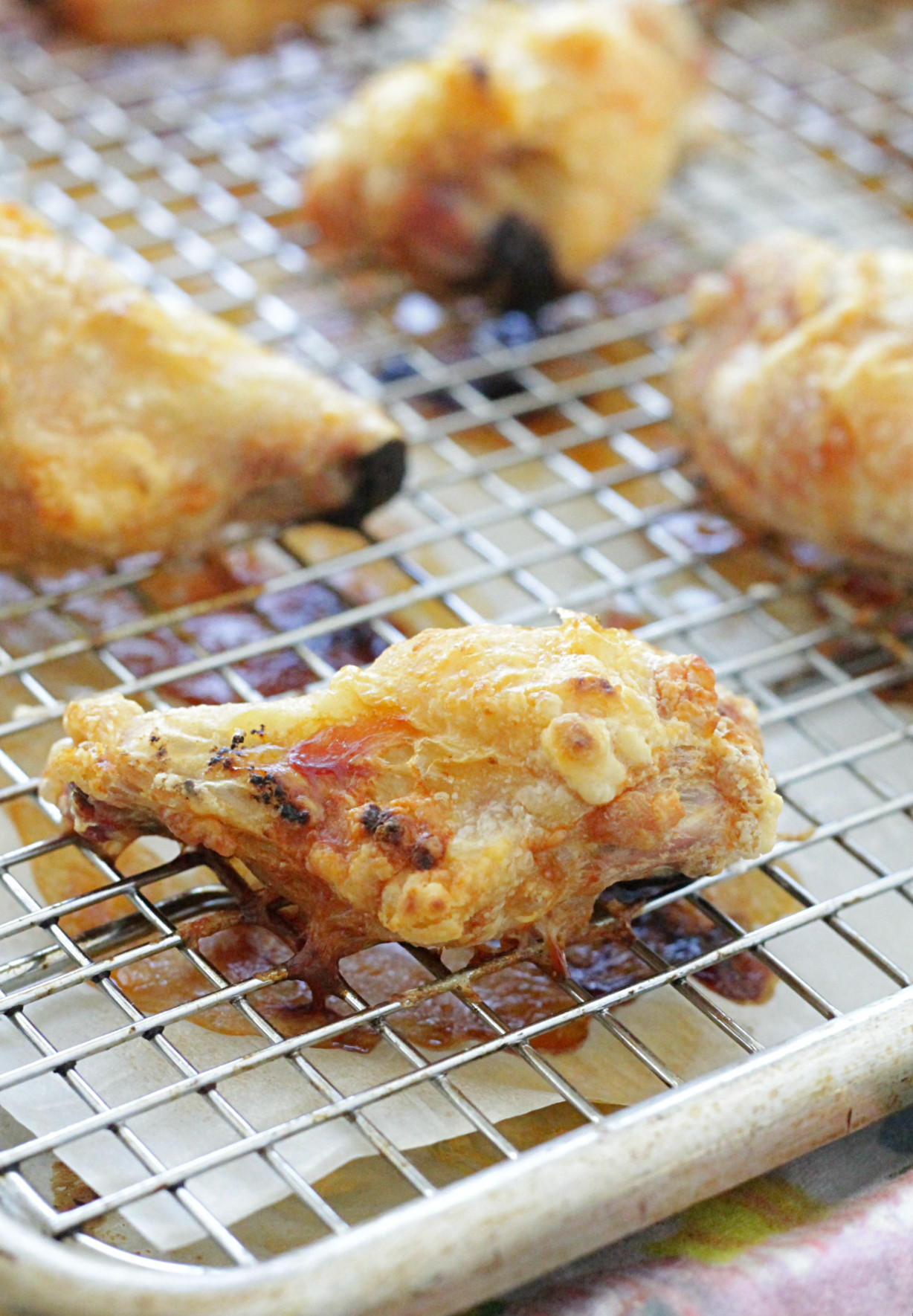 I'm a big fan of Cook's Illustrated so I started by searching for a wing recipe that they had created in their test kitchen but I ran across another recipe post instead (which used the Cook's Illustrated recipe). The problem I had when going to purchase my wings the day before the Super Bowl however (yes I am a procrastinator) was that I was stuck with frozen (ice coated) wings. There was not a fresh wing in sight. But guess what? The frozen wings worked! As in I baked them from frozen and they were still amazingly crispy!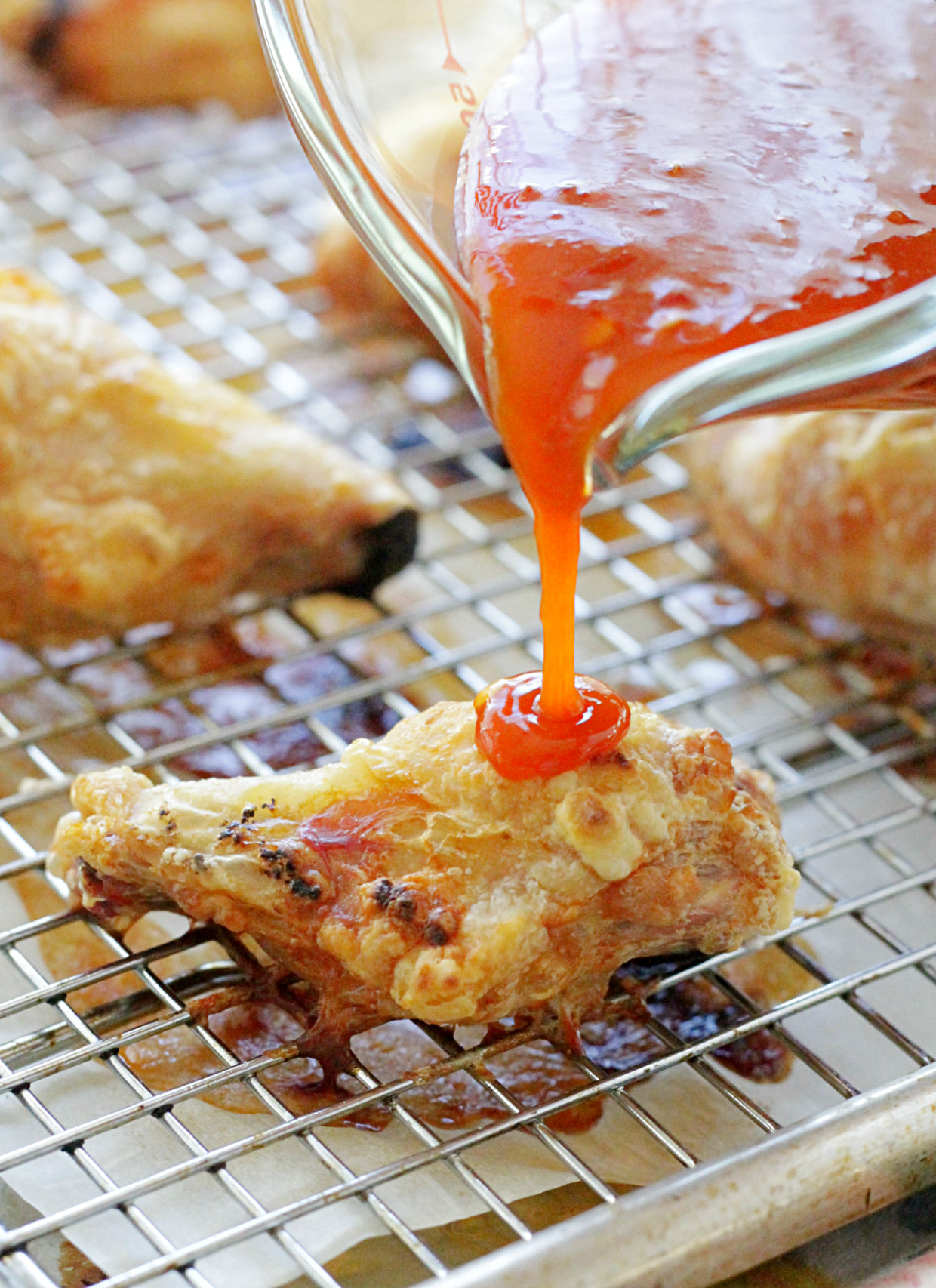 So what's the secret? Baking powder. Not baking soda. Baking powder. I'm not sure why it works because I didn't actually read the Cook's Illustrated well-researched article behind the recipe but it most definitely works and I am so happy it does! You will be too.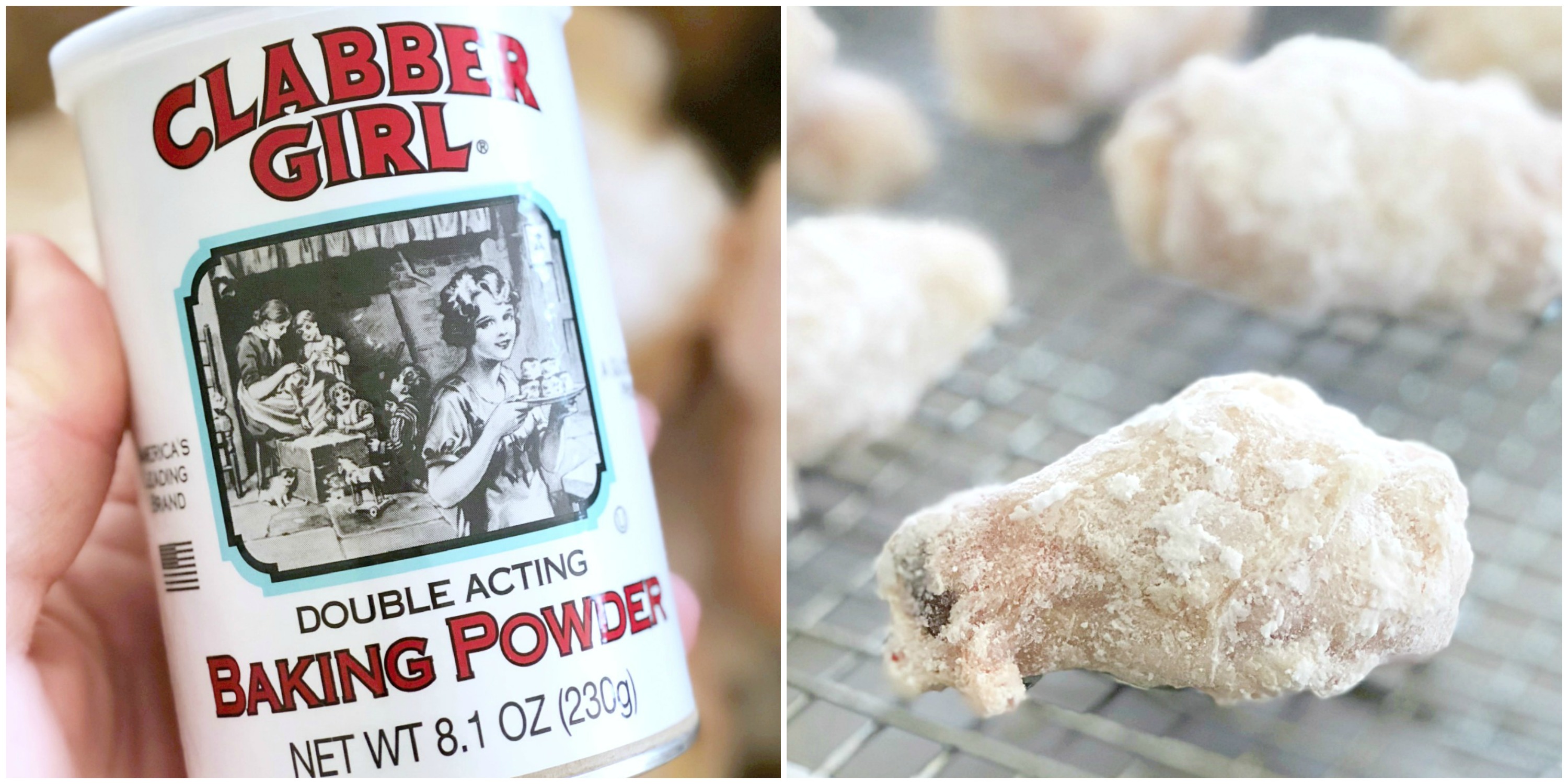 Tips for making Crispy Baked Chicken Wings:
It is not necessary to search out fresh wings for this recipe – I used a bag of frozen chicken wings and followed the package temperature and time suggestions to bake them from frozen
Equipment matters for baking these chicken wings properly
I used a baking sheet like this one
Lined with parchment paper (you could also use foil)
And I baked the wings on an oven safe baking rack like this one to allow air to circulate on all sides of the wings
Be sure to lightly oil the baking rack first to make sure the chicken wings don't stick
Now about what I believe is the best buffalo sauce. I've made this recipe for crispy baked chicken wings several times now, tweaking the sauce each time. And I found what I think is the perfect flavor and spice combination. I only use four ingredients for my sauce.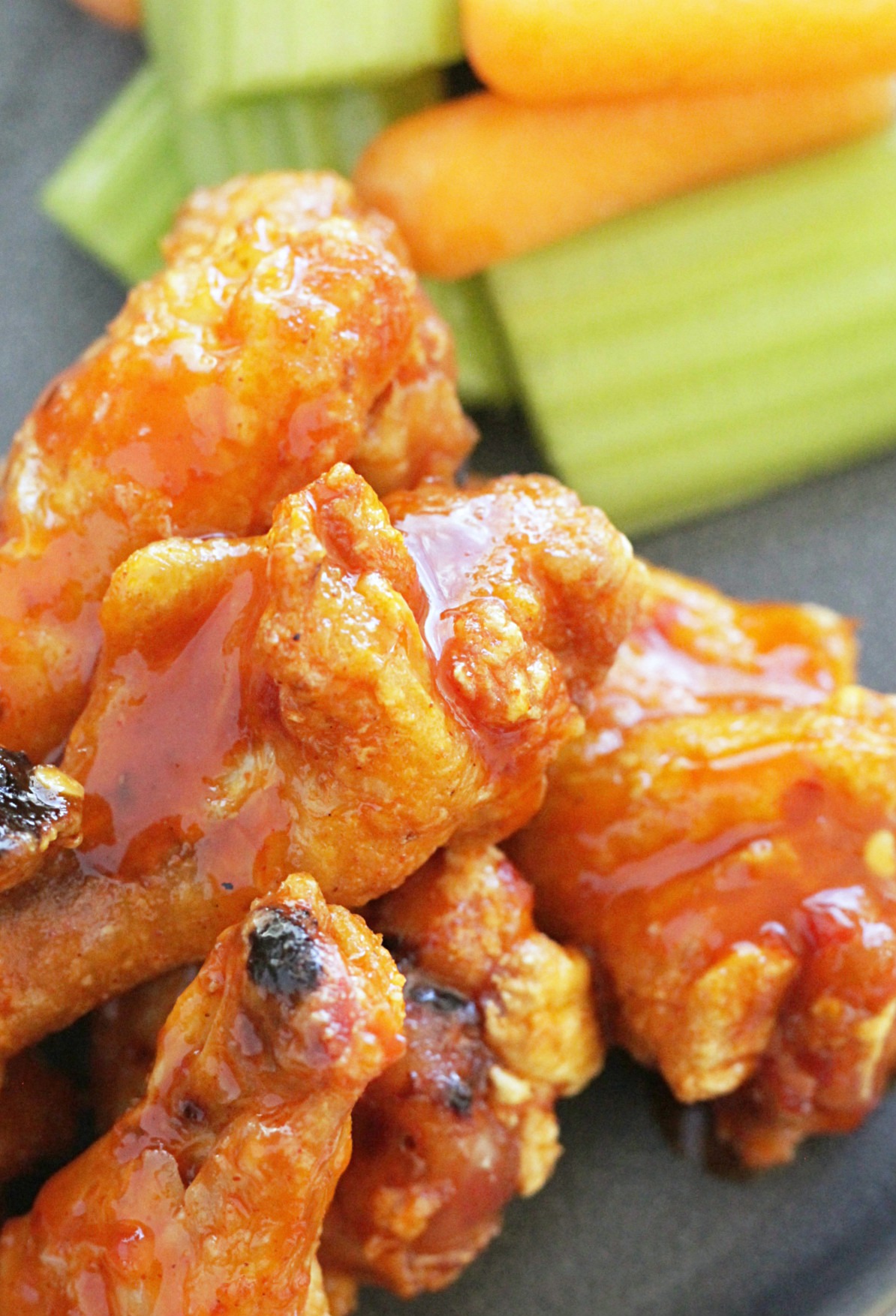 Ingredients for making the Best Buffalo Sauce:
I use this brand of wing sauce
Mixed with this brand of chili garlic sauce
Mixed with pure maple syrup
Plus a little salt
You also might be wondering why I'm posting a recipe I discovered right before the Super Bowl now? Two words: March Madness
Foodtastic Mom is a participant in the Amazon Services LLC Associates Program, an affiliate advertising program designed to provide a means for sites to earn advertising fees by advertising and linking to Amazon.com. Any highlighted, clickable Amazon link you see is an affiliate link that I may earn advertising fees on.
Thank you so much for being a faithful reader and supporter of Foodtastic Mom. Be sure to PIN and print this recipe!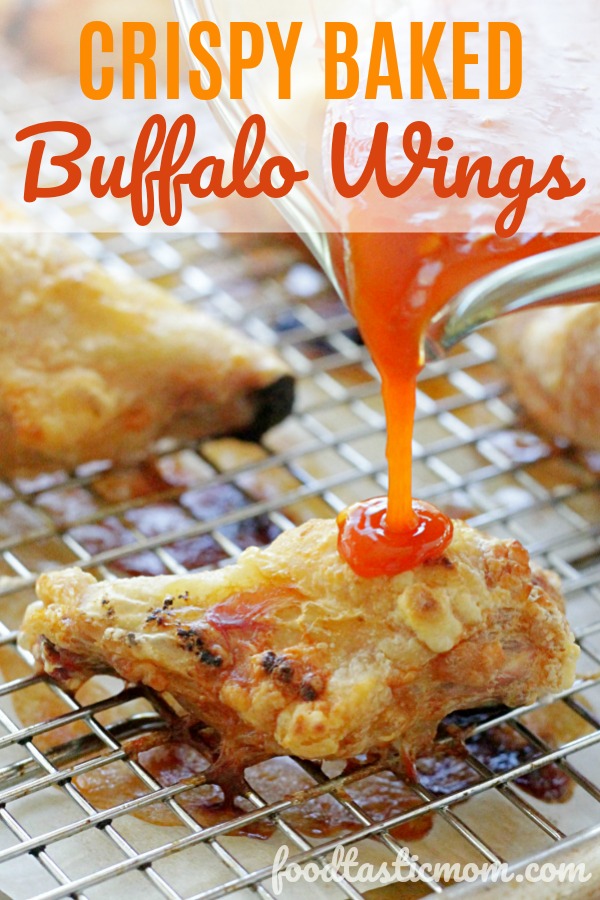 Crispy Baked Chicken Wings
Even baked from frozen these wings are unbelievable good. Crispy Baked Chicken Wings (with the best buffalo sauce) are a must make for your next game day at home.
Ingredients
1

2.5 pound bag

frozen chicken wings (or drumettes)

1 1/2

tbsp

baking powder

1/2

cup

Frank's buffalo wing sauce

1

tbsp

chili garlic sauce

1

tbsp

pure maple syrup

1/2

tsp

salt
Instructions
Preheat oven to 375 degrees F.

Add the frozen chicken wings (or drumettes if you prefer) to a large gallon-sized zippered bag with the baking powder. Shake the wings to coat.

Line a sheet pan with parchment paper (or foil). Place an oven-safe baking rack on top of the lined sheet pan. Lightly oil the rack.

Place the baking powder coated frozen wings on the baking rack and bake for 80 minutes, or until the internal temperature of the wings is 165 degrees. If desired you can broil the chicken wings for the last two minutes of cooking time to get them even more browned.

Whisk together the buffalo sauce, chili garlic sauce, maple syrup and salt. Add the baked chicken wings to a bowl and toss them with the sauce until they are evenly coated.

Serve the wings with fresh carrots and celery and blue cheese dressing.
Nutrition
More game day favorites: