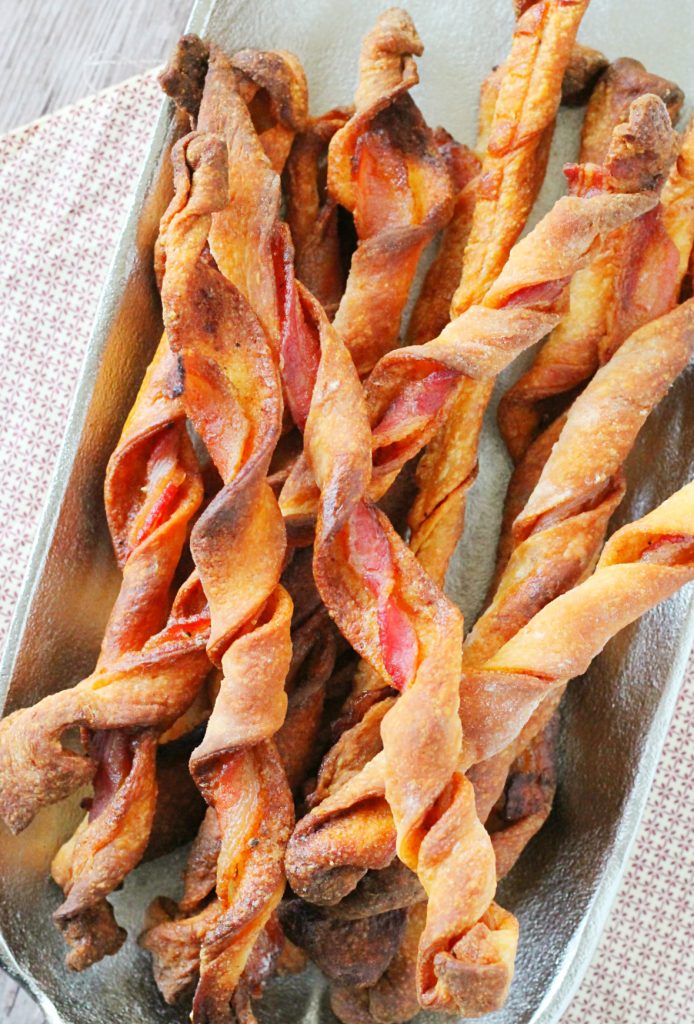 Spicy sweet bacon breadsticks are a dangerously addictive snack. So be warned! We are in prime snacking time with the kids heading into Christmas break and all kinds of family and friend gatherings coming up. Candied bacon was a recent trend but I always thought it wasn't quite substantial enough. And just like everything is better with bacon lots of things are better with bread right?

So I took some help from the store with a can of pizza dough. Brushed it with melted butter because I wanted these sticks to be buttery and crispy. Then heavily seasoned it up with brown sugar, cayenne pepper, smoked paprika, cracked black pepper and salt. Salt? Yes I know bacon is salty but it balances the sweetness of the brown sugar and evenly seasons the bread.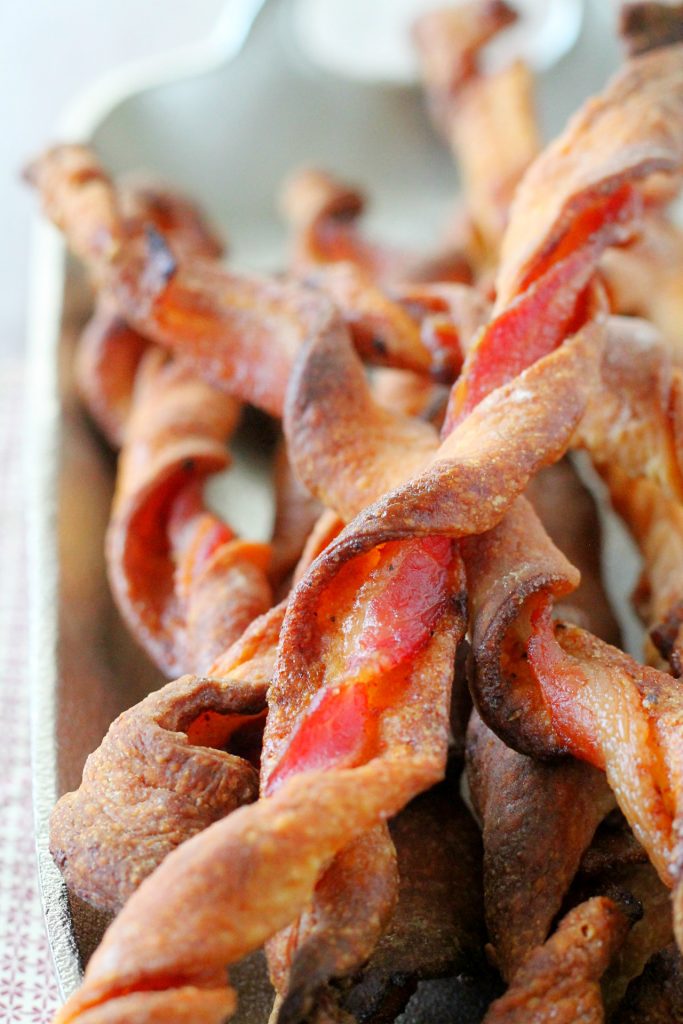 I've tested the recipe a couple of times now. Which means I've eaten a whole lot of these crispy, spicy, sweet, salty, bacon breadsticks in the past few days. It's a rough job but I am happy to make the sacrifice!
PRO TIPS
I meant for these bacon breadsticks to be spicy. You can reduce the amount of cayenne pepper or leave it out altogether if you do not like spice.
I use an aluminum half sheet pan in this recipe. Find one HERE.
THIS is the oven-safe baking rack I use. It keeps the breadsticks from swimming in bacon fat and helps them to crisp in the oven.

Spicy Sweet Bacon Breadsticks
Ingredients
One can pizza dough

I used Pillsbury brand

6

slices

of bacon

4

tablespoons

unsalted butter

2

tablespoons

light brown sugar

1/2

t.

smoked paprika

1/2

t.

salt

1/2

t.

cayenne pepper

1/4

t.

cracked black pepper
Instructions
Preheat oven to 400 degrees.

Line a baking sheet with foil and place a metal baking rack on top of the foil.

Stack the bacon directly on top of each other and using a sharp, heavy knife cut in half from end to end. You'll have 12 long strips.

Unroll the pizza crust and evenly shape into a rectangle.

Melt the butter in the microwave.

Use a pastry brush to evenly spread the butter over the pizza crust.

Whisk together the brown sugar, smoked paprika, salt, cayenne pepper and black pepper.

Evenly spread the brown sugar and seasoning mixture over the melted butter on the crust.

Evenly space the 12 halves of bacon across the crust and slice with a pizza cutter (see video).

Grab each breadstick by the ends and gently twist the ends in the opposite direction until the bacon and bread are evenly twisted together.

Space the bacon breadsticks evenly on top of the baking rack.

Bake for 20 minutes.

Remove the baking pan and gently flip the breadsticks over. Place them back in the oven and bake for 10 minutes more, or until the bacon looks crisp and the breadsticks are nicely browned.

Allow to cool for about 10 minutes and serve.