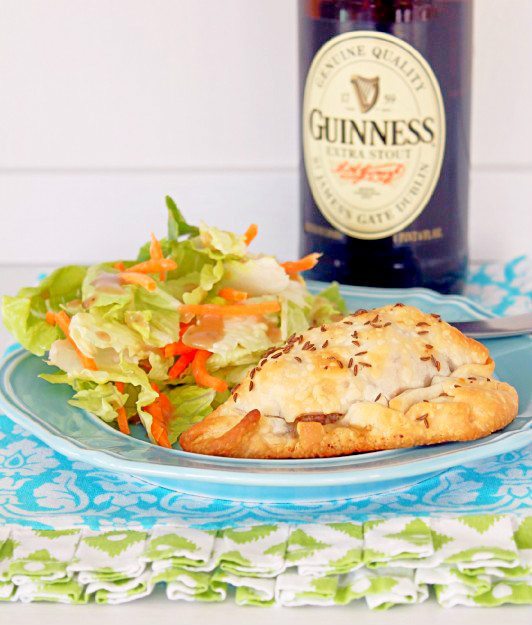 I had some ground beef in my freezer, and I hadn't posted a recipe with Guinness since last March. Though I'm not a huge fan of drinking Guinness (except in March), I do enjoy its flavor in recipes. I just made this Guinness Cheddar Dip again this weekend for a party and it was just as tasty as I remembered it. I highly recommend trying it for your own St. Patrick's gatherings in the next week or so.
Also, I had a really great experience creating this Broccoli Chicken Parmesan Hand Pie recipe for Ragu. And I had seen lots of recipes for Irish-style hand pies in the past, so I decided to make my own version here.
The filling recipe I made would have been enough for 16 pies. I'm thinking you probably don't want to make more than 8 (which only requires one box of Pillsbury Pie Crust), so I have scaled the filling for 8. If however you really want to use a whole pound of ground beef at one time, just use the extra filling as a baked potato topping. Or even scramble it up with some eggs as a kind of hash. Either way, you'll have another dinner for your family with hardly any effort which is always a plus.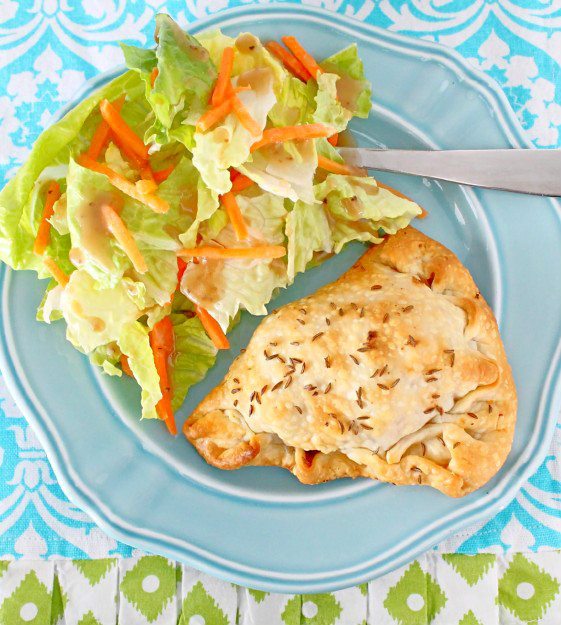 If you are a little perplexed as to how to fill these, please click HERE for a picture example. Also, this is a great opportunity to eat half now and freeze the other half for later. If freezing the hand pies, place them on a baking sheet lined with a silicone baking mat or parchment paper. This step is important because otherwise the pies will stick to the metal. Freeze them for about 4 hours and then transfer them to a freezer-safe zipper bag. When ready to use, allow the pies to thaw in the refrigerator overnight and then bake as instructed in the recipe.
I hope you enjoy these. We sure did.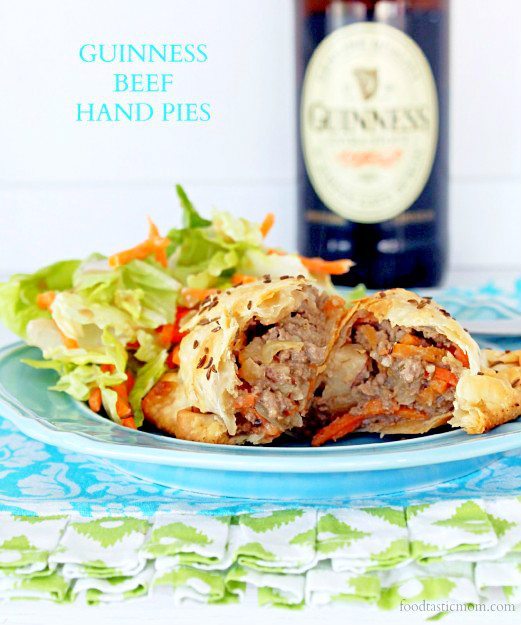 Guinness Beef Hand Pies
Ingredients
1

pkg. Pillsbury refrigerated pie crust

3

T.

unsalted butter

divided

1 1/2

c.

red skinned potatoes

diced small

1

c.

cabbage

shredded

1

c.

carrots

shredded

1/2

lb.

ground beef

3/4

c.

Guinness

1

t.

salt

1/2

t.

onion powder

1/2

t.

caraway seeds

1/2

t.

marjoram

2

t.

Dijon mustard

3

oz.

Irish cheddar cheese

shredded
Instructions
Heat one tablespoon of butter over medium heat in a Dutch oven. Add the potatoes, cabbage, carrots, Guinness and all the seasonings, salt through marjoram. Cover and simmer for 20 - 25 minutes, stirring occasionally, until potatoes are fork tender.

Meanwhile, brown the ground beef in a small skillet.

Remove lid from Dutch oven and stir in the ground beef. Allow to simmer uncovered for about 5 minutes. Stir in the mustard and cheddar cheese and stir until cheese is completely melted. Remove from heat and allow filling to cool. Filling can be made up to one day ahead and stored in the refrigerator, in an air-tight container.

Unroll the pie crusts and cut each round into four pie shaped wedges. Roll each wedge so it is thinner and larger. Place about 1/2 cup of the filling off-set in the center and fold the crust over the filling, making a pie shape. Crimp the edges to seal in the filling.

Brush the hand pies with the remaining melted butter and sprinkle with a bit of additional caraway seeds if desired.

Preheat oven to 450 degrees. Place hand pies on a sheet pan lined with a silicone baking mat or parchment paper. Bake for 20 minutes. Serve warm.