This slow cooker brown sugar balsamic glazed pork is served with a simple mix of roasted potatoes, apples and sweet potatoes. It's one the most visited recipes on my blog!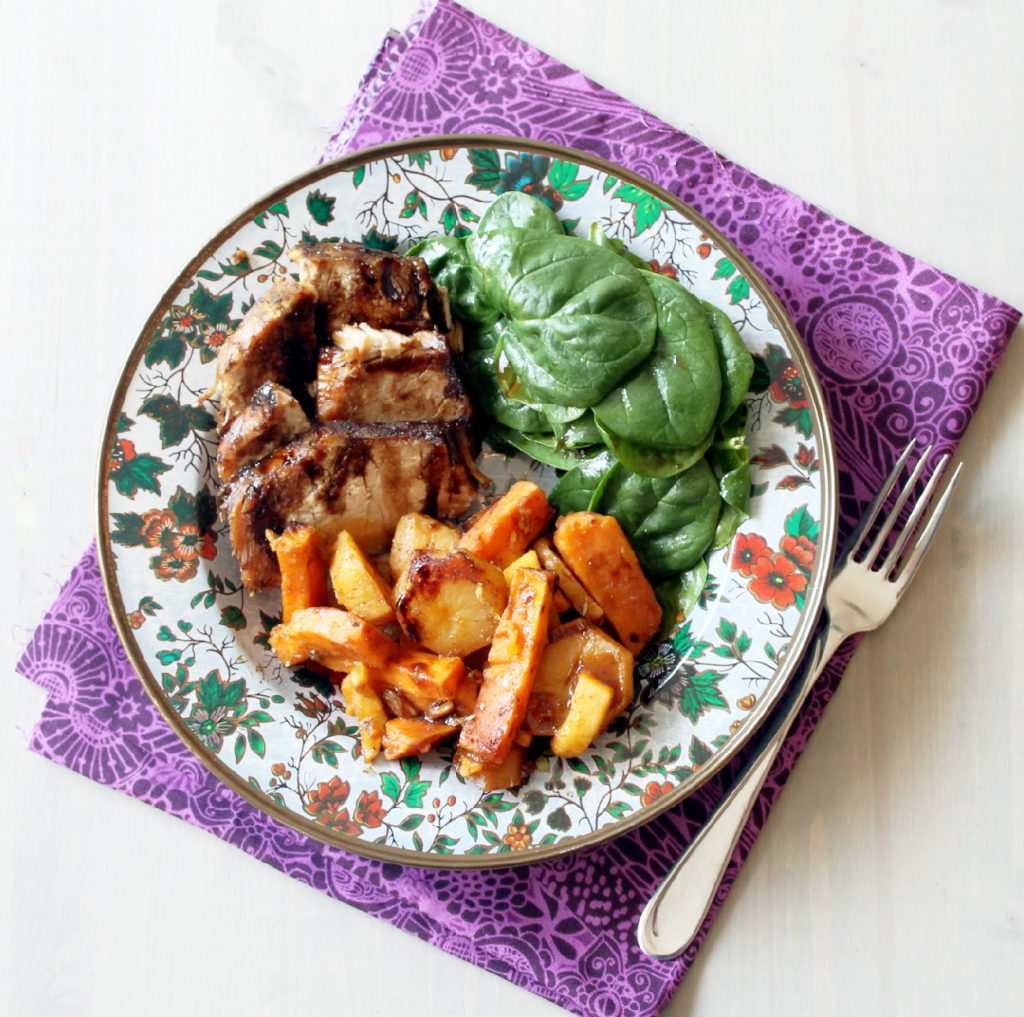 I really know it's fall once I've pulled out the slow cooker and made a roast. I have a feeling my slow cooker and I are going to be best friends now that my son has started swim team. He has practice every Monday, Wednesday and Friday from 4:30 – 5:45, which is great because it also forces me to the Y for a workout of my own. But also we've been arriving back home after 6:00 and starving, meaning a dinner hot out of the slow will be a warm welcome home.
This luscious pile of pork with roasted potatoes and apples is what we had Wednesday night for dinner, along with some Pumpkin Pie Bars I made earlier in the day. The pork was so full of flavor and simple to assemble. Fix it and forget it, that's what I love about the slow cooker!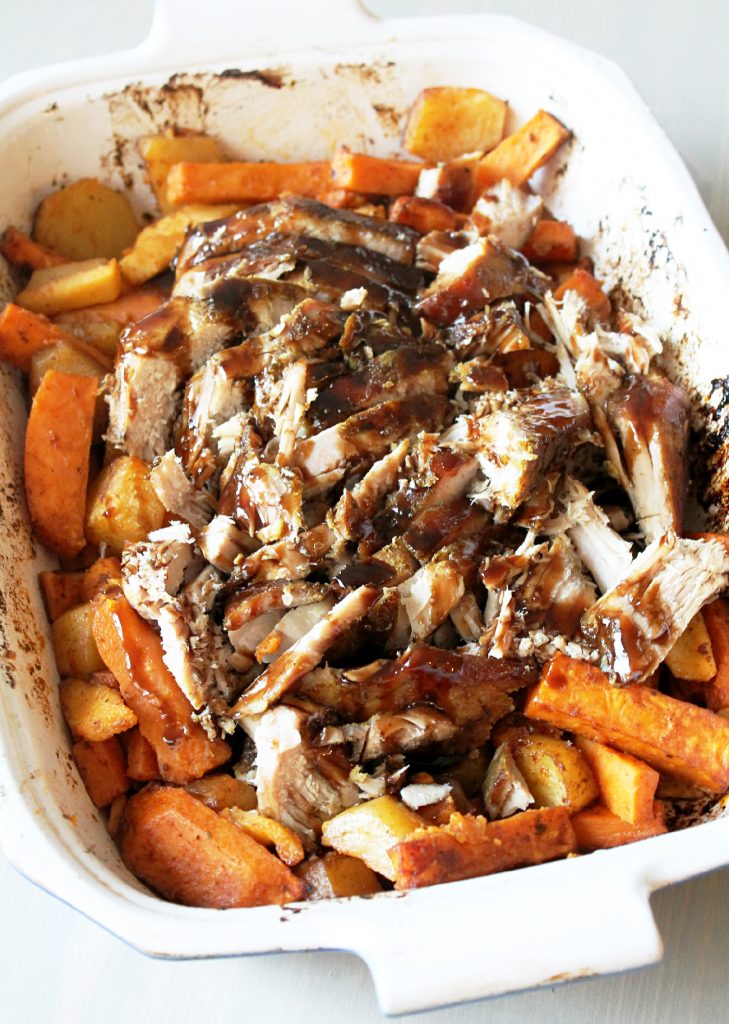 This potato mix with apples was inspired by a cooking demonstration I attended recently thanks to The Kitchen's Bounty at Jungle Jim's. I hadn't ever thought to combine both russet and sweet potatoes AND add apples but they work so well together. Combined with the tender, sweet and slightly tangy pork – this is fall cooking at its best!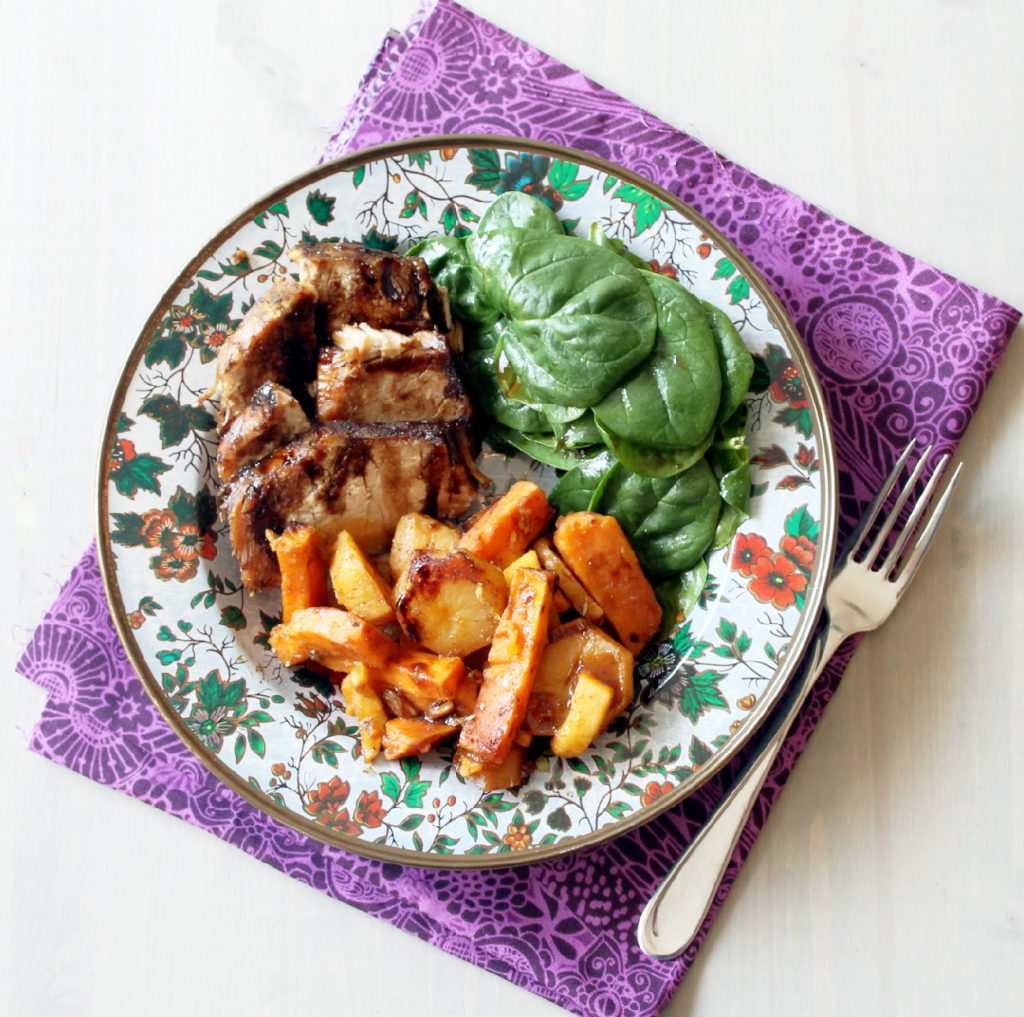 Crock Pot Brown Sugar Balsamic Pork
2013-10-03 12:12:45
Serves 6
Ingredients
2 lbs. pork tenderloin
1 t. ground sage
1/2 t. salt
1/2 t. garlic powder
1/4 t. pepper
1/2 c. water
1/2 c. light brown sugar
1 T. cornstarch
1/4 c. balsamic vinegar
1/2 c. water
2 T. soy sauce
Instructions
Mix together the sage, garlic powder, salt and pepper and rub it over the pork tenderloin.
Place 1/2 cup of water in your Crock Pot.
Place the rubbed pork in the Crock Pot and cook on low for 6-8 hours.
1 hour before roast is finished, mix together the glaze ingredients in a small saucepan: brown sugar, corn starch, balsamic vinegar, water and soy sauce. Heat the glaze over medium, stirring until mixture thickens, about 4 minutes.
Brush your roast 2-3 times with the glaze during the final hour of cooking. Serve sliced pork with remaining glaze on the side.
Adapted from Food 52
Foodtastic Mom https://www.foodtasticmom.com/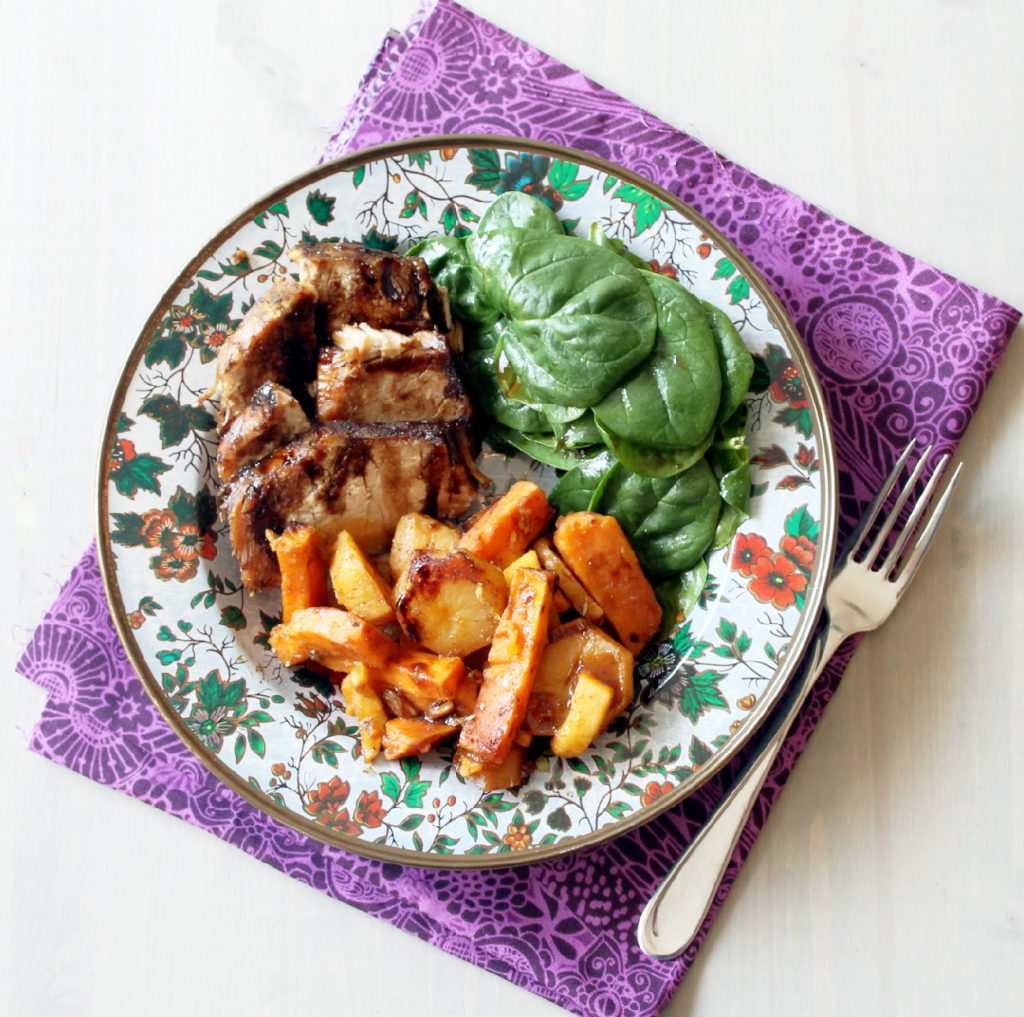 Roasted Potatoes and Apples
2013-10-03 12:18:22
Ingredients
2 smallish sweet potatoes, peeled and cut into bite-sized pieces
8-10 small Red or Yukon Gold Potatoes, peeled and cut into bite-sized pieces
2 apples, peeled and sliced (I used Gala)
3 T. olive oil
1 t. salt
1 t. chili powder
1 t. smoked paprika
Instructions
Preheat oven to 400 degrees.
Toss both types of potatoes with the oil, salt and seasonings. Spread evenly onto a sheet pan.
Roast potatoes until starting to get tender, about 20 minutes, stirring once halfway through cooking time.
After 20 minutes, add apple slices, stirring well to incorporated into the potato mixture.
Roast for at least another 20 minutes, until potatoes are completely fork tender.
Serve alongside the roasted pork and extra brown sugar and balsamic glaze.
Adapted from The Kitchen's Bounty
Foodtastic Mom https://www.foodtasticmom.com/
Love pork? Don't miss my Apple Butter Glazed Pork Tenderloin served with the best cheesy grits and a side of bacon! Click on the picture to be taken to the recipe…