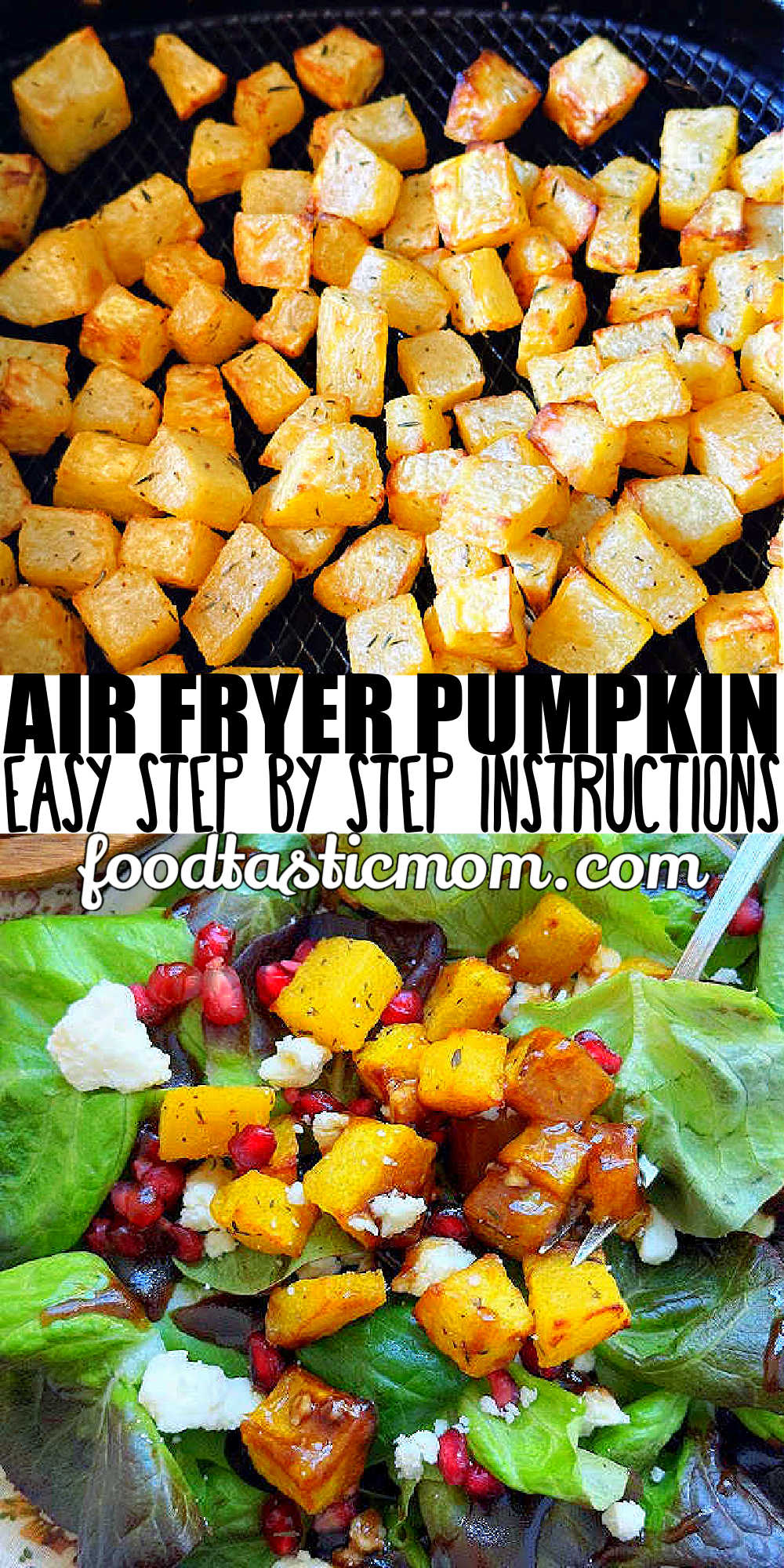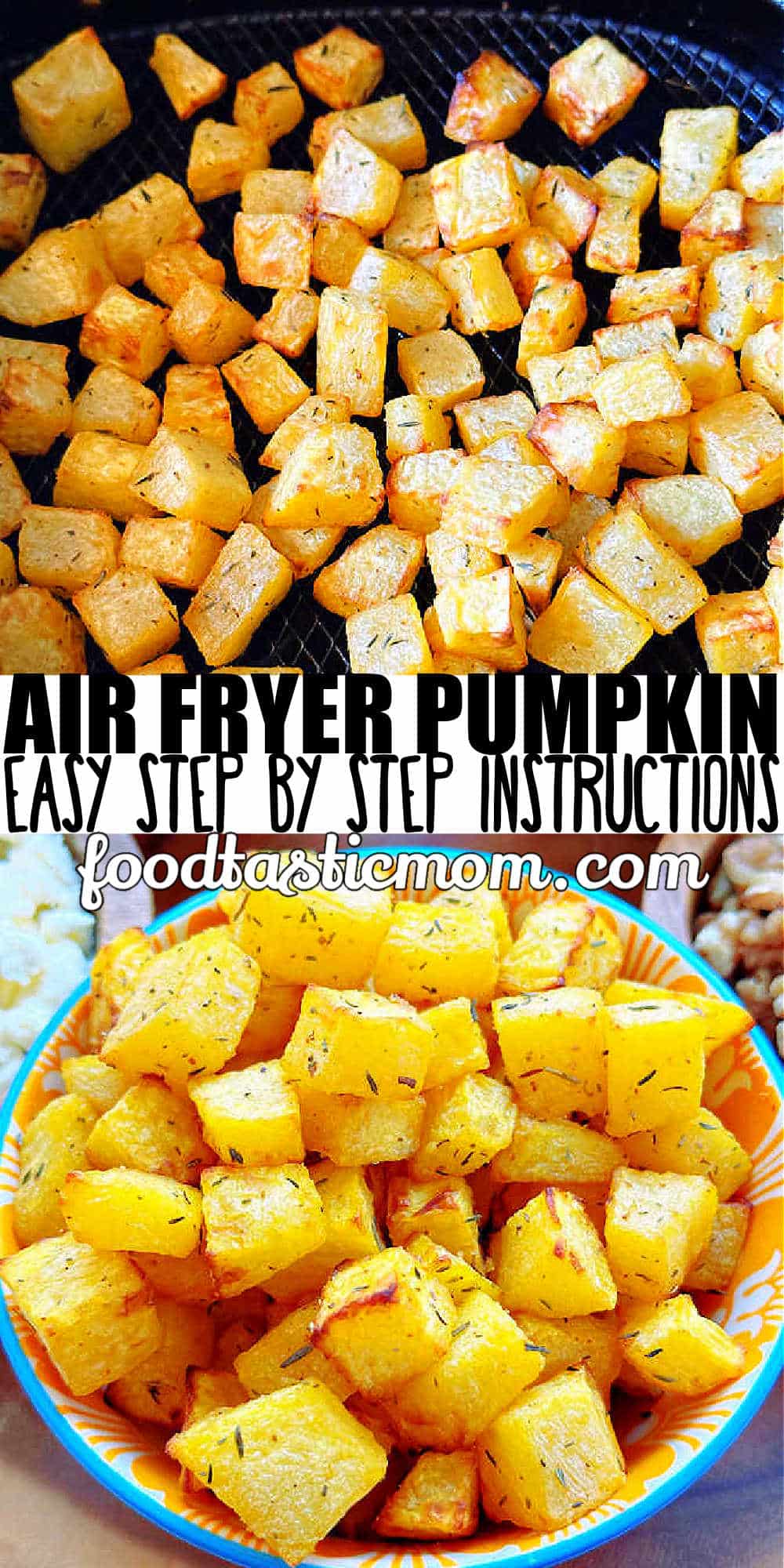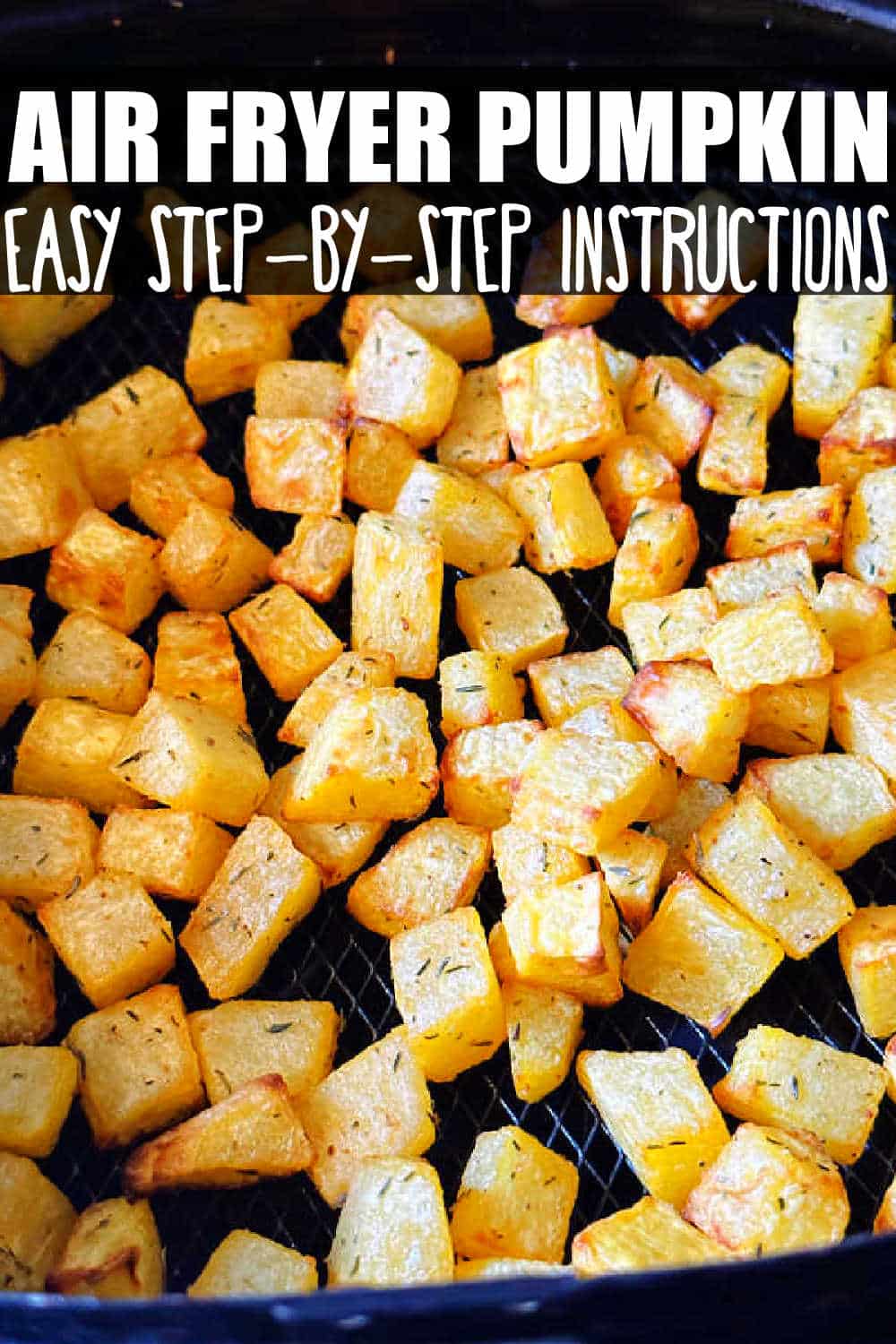 Your air fryer is the best way to make perfectly roasted pumpkin cubes from a fresh pumpkin for a healthy snack or adding to a beautiful fall salad.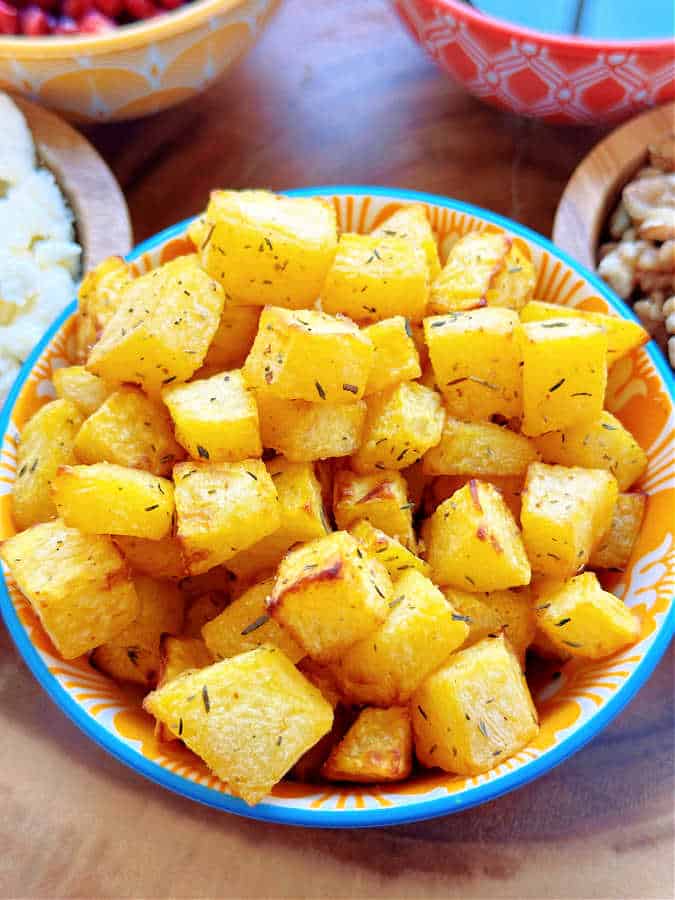 My recipe for Air Fryer Acorn Squash is number one on Google. It's one of my favorite recipes and involves roasting halves of acorn squash in the air fryer to serve with butter and maple syrup as a lovely side dish for the fall. I love all kinds of squash and had been wanting to create a new salad using roasted pumpkin. Air frying the pumpkin cubes is a great way to prepare it for a salad and so I'm sharing that recipe today. Right before I share my new recipe for Roast Pumpkin Salad.
More savory pumpkin recipes
Why this recipe works
The high heat and constant air circulation of the air fryer seals in the moisture of the pumpkin cubes while also roasting them to perfection. The interior of the pumpkin pieces becomes very tender, while the exterior is cooked golden brown and holds its shape. This makes the pumpkin a perfect addition to salads in the fall months. It's also easy to snack on at room temperature.
Ingredients for air fryer pumpkin
Pumpkin – Use a small pumpkin, like sugar pie or pumpkin pie variety. Keep scrolling for the FAQ section for more detailed explanation.
Oil – I like avocado oil because it has a high smoke point and it's healthier. Vegetable oil and extra virgin olive oil work too. Just don't use an aerosol spray in your air fryer. It can damage the nonstick coating of your air fryer basket.
Garlic Powder – This is optional, but I like the savory flavor it adds to the pumpkin.
Thyme – Also optional, but I like the flavor of thyme especially in the fall months.
Salt – Good for savory pumpkin flavor, also helps to compliment the sweet pumpkin flavor. You can use whatever type you have on-hand: kosher salt, sea salt or table salt.
Variations – You could make this air fried pumpkin sweet and season it with a little cinnamon and brown sugar instead. Drizzle it with maple syrup or honey after its cooked. Or you could even add a little heat to the pumpkin and add chili powder and salt, instead of garlic powder and thyme.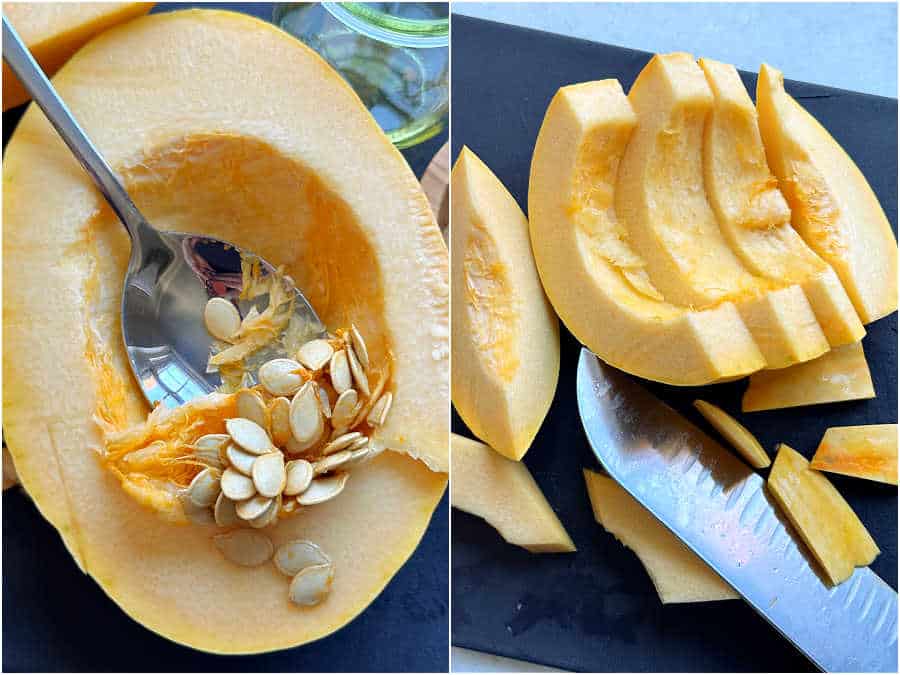 Instructions for air fryer pumpkin
The most important part of this recipe is preparing the pumpkin. Wash the outside well with cold water and then dry it with paper towels to help keep it from being slippery. Use a large heavy knife to cut it in half. Then use a large spoon to scoop out and discard the seeds and pumpkin guts.
Slice it into thin slices, then use the same large knife to cut off the rind. The cut the pumpkin into bite-sized cubes. In a large bowl, toss the prepared pumpkin cubes with the oil and seasonings.
Add the pumpkin to the basket of your air fryer. Shake it around to make sure the pumpkin is in an even layer. Air fryer the pumpkin at 375 degrees F for about 18 – 20 minutes. Shake it halfway through. Remember that air fryers vary and your air fryer make take longer (or shorter) time to cook your pumpkin. The pumpkin is ready when it is tender and golden brown.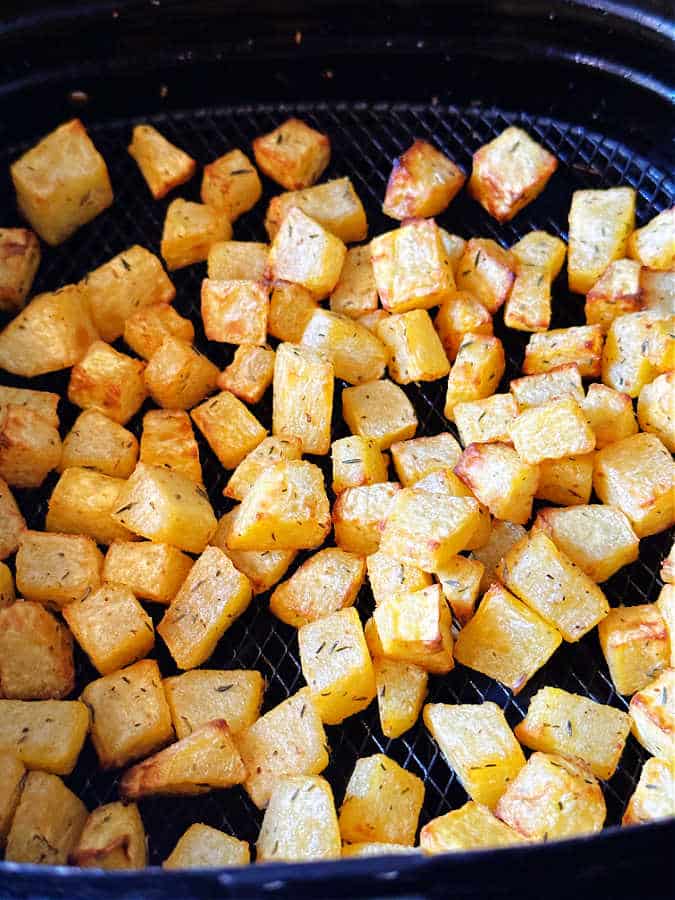 FAQ
The most common question is can you cook a jack o lantern pumpkin? The type of large pumpkin you'd find in pumpkin patches. The answer is yes. However, I much prefer to use a smaller pumpkin variety, like sugar pumpkins or pie pumpkins that I can find at the grocery store.
Most air fryer baskets are small, so a smaller pumpkin is better suited for this recipe, as you want to be sure and roast the pumpkin in a single layer. Also, and more importantly, smaller cooking pumpkins have a better flavor for eating.
Storage directions
Store the leftover pumpkin in an airtight container in the refrigerator for up to three days. You could also freeze the roasted pumpkin, also stored in an airtight container, for up to one month.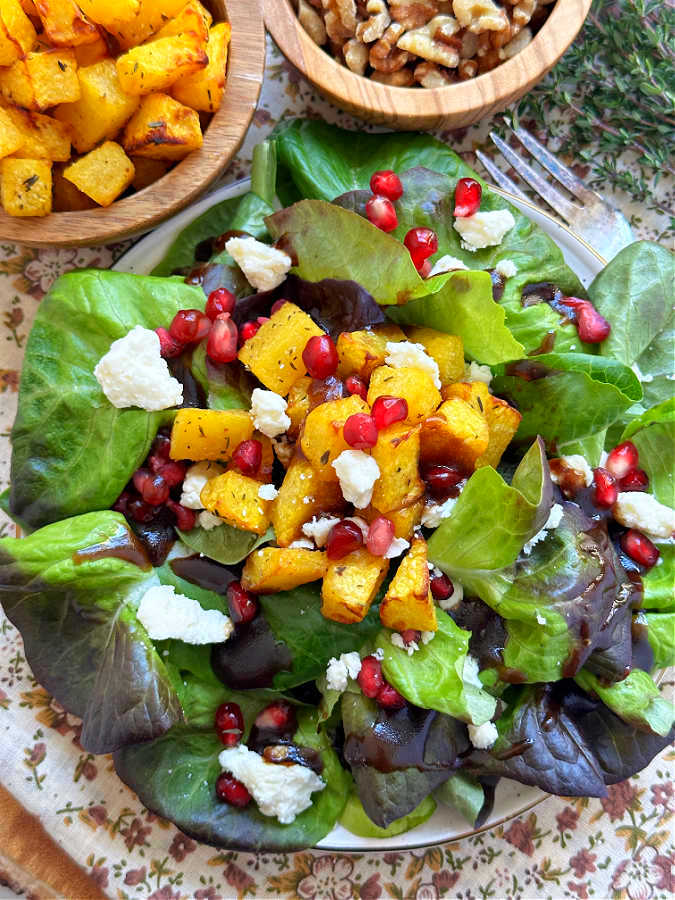 Serving suggestions
My favorite way to serve air fryer pumpkin is my Roast Pumpkin Salad. It also makes for a tasty snack or easy side dish in the fall months.
Kitchen Tools
I use a Philips XXL Air Fryer to test all of my air fryer recipes.
You need a sharp knife with some weight to it for slicing a fresh pumpkin – this one is my current favorite.
You also need a large cutting board similar to this one.
More air fryer recipes
Air Fryer Pumpkin
Ingredients
1

small

pumpkin

1

tbsp

avocado oil

1/2

tsp

salt

1/2

tsp

garlic powder

1/2

tsp

thyme
Instructions
Wash the pumpkin in cold water and dry it with a paper towel or clean kitchen towel.

Use a sharp, heavy knife to cut the pumpkin in half. Use a large spoon to remove the seeds and guts from the inside of the pumpkin. Discard.

Slice the pumpkin into thin wedges. Then use the heavy knife to carefully cut the rind from the pumpkin. Cut the pumpkin into bite-sized cubes.

In a large bowl, toss the cubed pumpkin with the oil and seasonings.

Add the pumpkin to the basket of the air fryer. Shake it around so it's in an even layer.

Cook the pumpkin at 375 degrees for 18 - 20 minutes. Shake or stir the pumpkin halfway through cooking time.

The pumpkin is ready when it is tender (check it with a toothpick) and golden brown.
Nutrition
Calories:
81
kcal
|
Carbohydrates:
15
g
|
Protein:
2
g
|
Fat:
3
g
|
Saturated Fat:
0.4
g
|
Polyunsaturated Fat:
0.3
g
|
Monounsaturated Fat:
2
g
|
Sodium:
196
mg
|
Potassium:
775
mg
|
Fiber:
1
g
|
Sugar:
6
g
|
Vitamin A:
19304
IU
|
Vitamin C:
21
mg
|
Calcium:
49
mg
|
Iron:
2
mg
Foodtastic Mom is a participant in the Amazon Services LLC Associates Program (Amazon Associate), an affiliate advertising program designed to provide a means for sites to earn advertising fees by advertising and linking to Amazon.com. Any highlighted, clickable Amazon link you see is an affiliate link that I may earn advertising fees on when you click to purchase.
Thank you so much for being a faithful reader and supporter of Foodtastic Mom. Be sure to PIN to Pinterest and print this recipe! Also like and tag 'Foodtastic Mom' on Facebook and Instagram if you make this recipe!