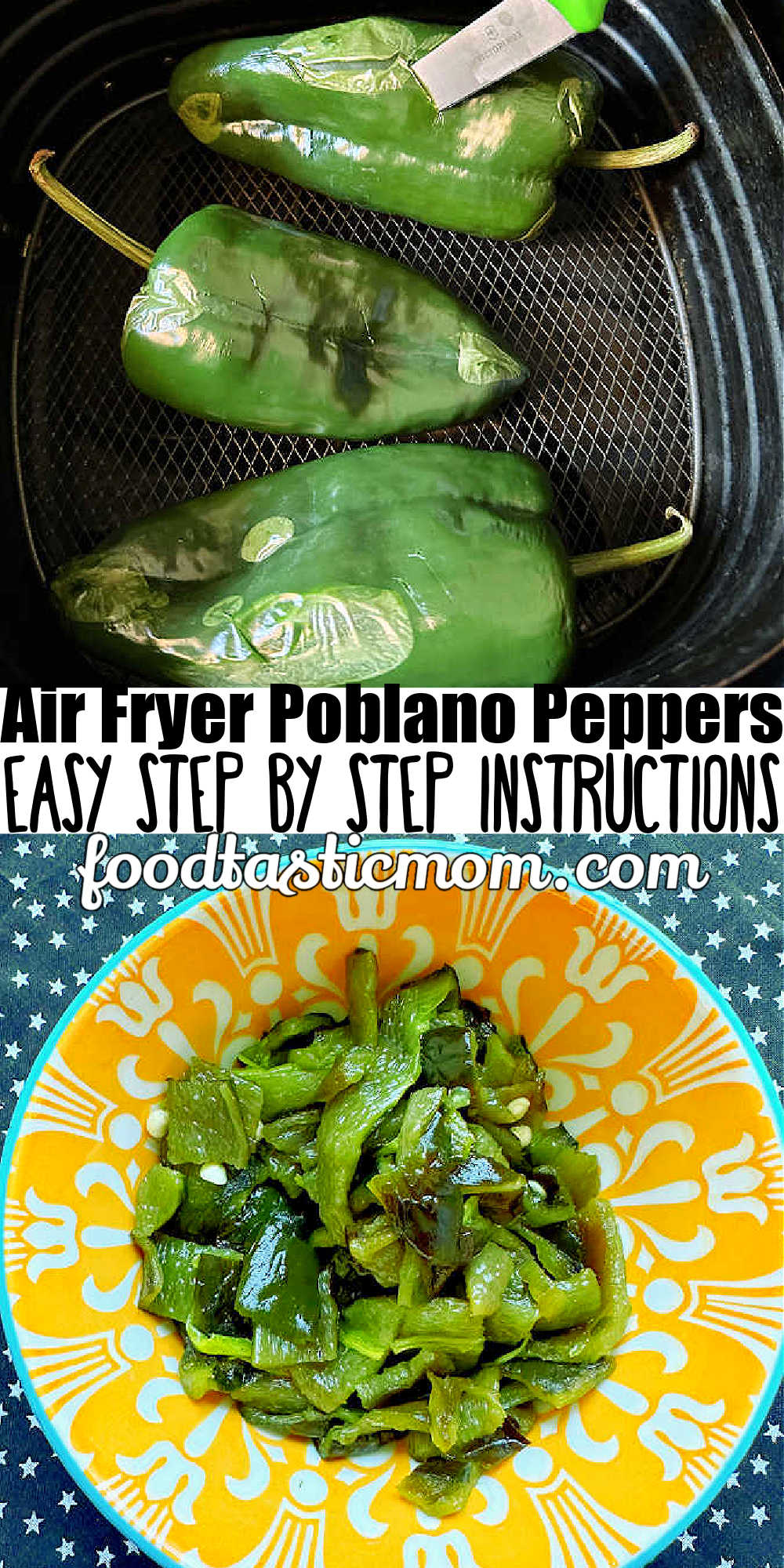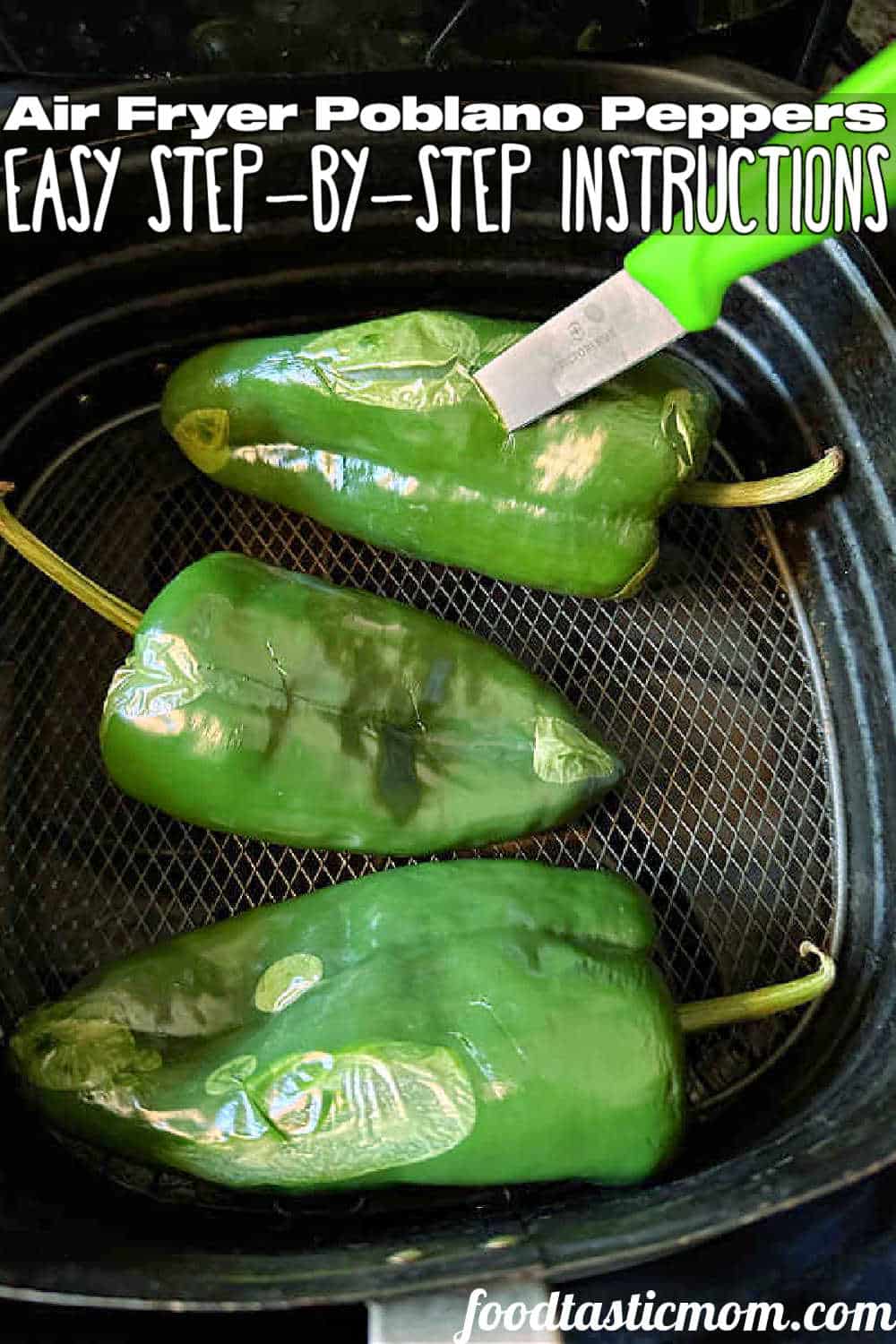 Easy step by step instructions for how to make Air Fryer Roasted Poblano Peppers. So simple to make and no oil required.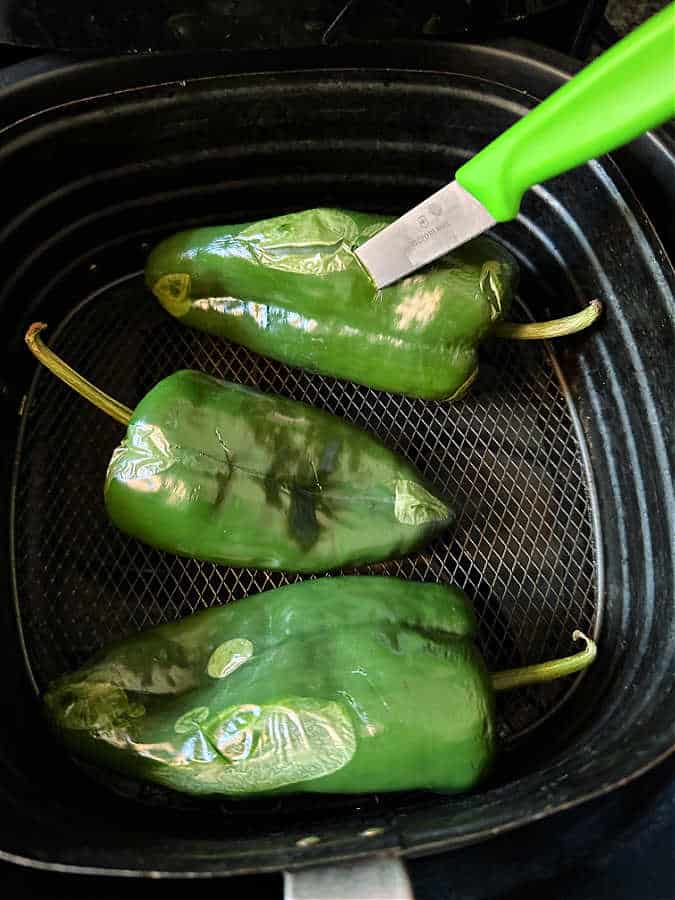 I used to shy away from making roasted peppers of any kind. I currently don't have a gas stove or a grill. And turning my oven on for a few peppers seems wasteful. But yet again, my air fryer is the solution. Your air fryer can roast any kind of pepper – Anaheim peppers, jalapeño, hatch green chiles, red bell peppers and poblanos – to perfection. You only need peppers! No oil is necessary for roasting. Once they're finished, pop them into a plastic bag to steam for easy peeling. That's it! Read on for more tips and tricks. The full recipe card is at the bottom for your reference.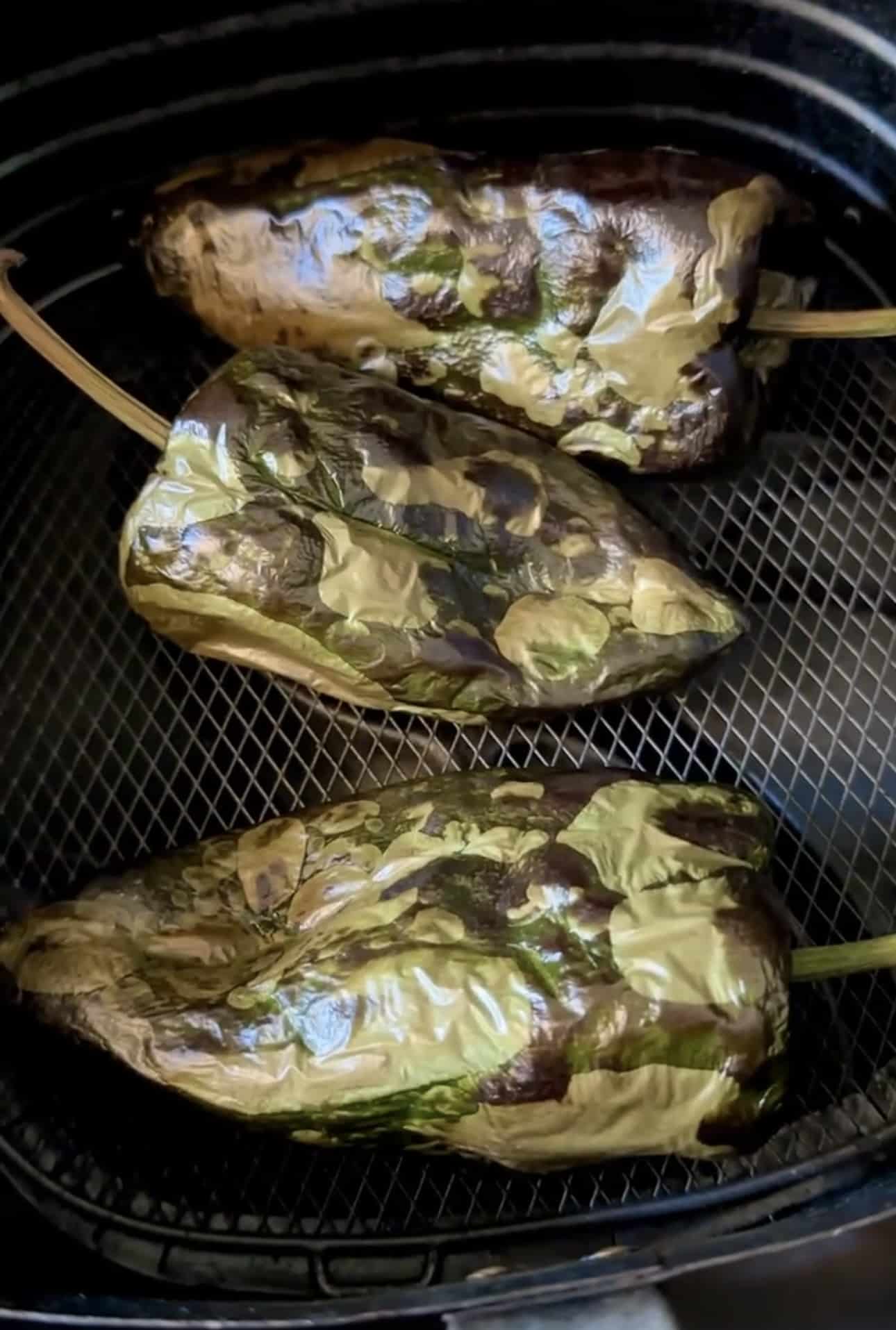 More air fryer recipes
Ingredients for roasted poblano pepper
Fresh Poblano Peppers – That's it! I found that no oil is necessary for roasting the peppers to charred skin perfection. This recipe works for any type of pepper!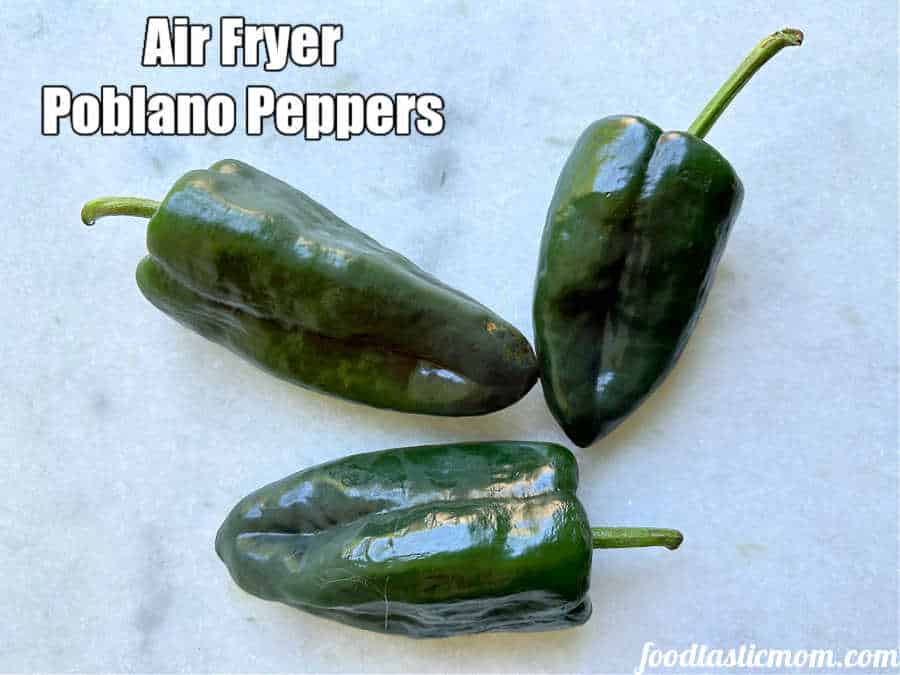 Instructions for how to make air fryer roasted poblano peppers
Wash the peppers. Poke them several times with a sharp knife. I didn't do this the first time I tested this recipe and the peppers popped. Luckily they didn't completely explode inside my air fryer basket! So to prevent a mess, make sure to poke your peppers so steam can escape as they are roasting. You can flip your peppers halfway through or not. I didn't find it to be necessary. Once the peppers are charred place them in a Ziploc bag for about 10 minutes. Seal the bag so the peppers can steam as they cool. This helps the skin to peel off more easily.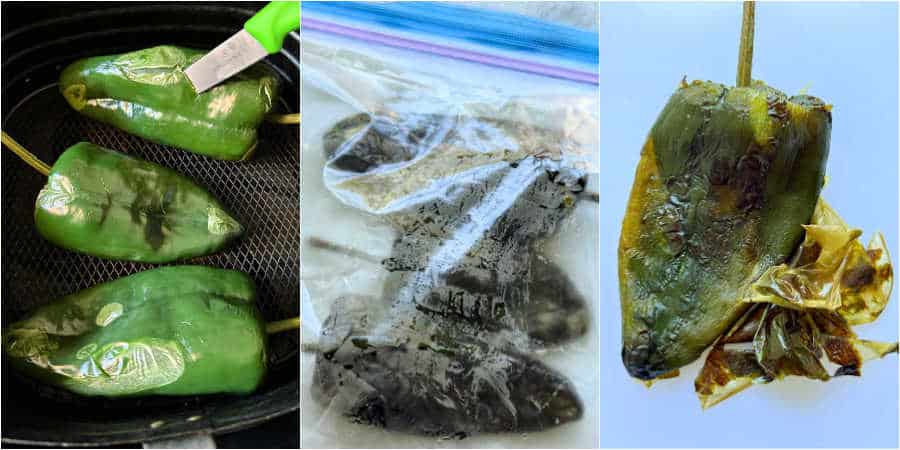 FAQ's
Do you need to remove seeds from poblano peppers?
It's not necessary, but most of the heat of a pepper resides in its seeds. The seeds can also have a slightly bitter flavor. It's easy to scrape them out with a spoon after roasting the peppers. And be sure to remove the stem to when you are preparing the peppers.
If roasting a hotter pepper like jalapeño, be sure and wear gloves when handling the seeds. Or at the very least DO NOT touch your eyes and be sure to wash your hands thoroughly.
Do you have to peel the skin off roasted poblano peppers?
No but I prefer to eat them without the skins. The pepper skin can be tough, so it's really more of a texture issue. And I definitely have texture issues.
What is the easiest way to peel poblano peppers?
The easiest way to peel the skin from any type of roasted peppers is to place them in a gallon-sized Ziploc bag immediately after roasting. Seal the bag so the peppers can steam inside the bag as they cool. Leave them for about 10 minutes. When you pull them out the skin will be very easy to peel off using your fingers.
Storage directions
Prepared peppers (skin and seeds removed) will keep for up to 3 days in the refrigerator or up to one month in the freezer. Be sure to store the peppers in an an air-tight container in the refrigerator and a freezer-safe container in the freezer.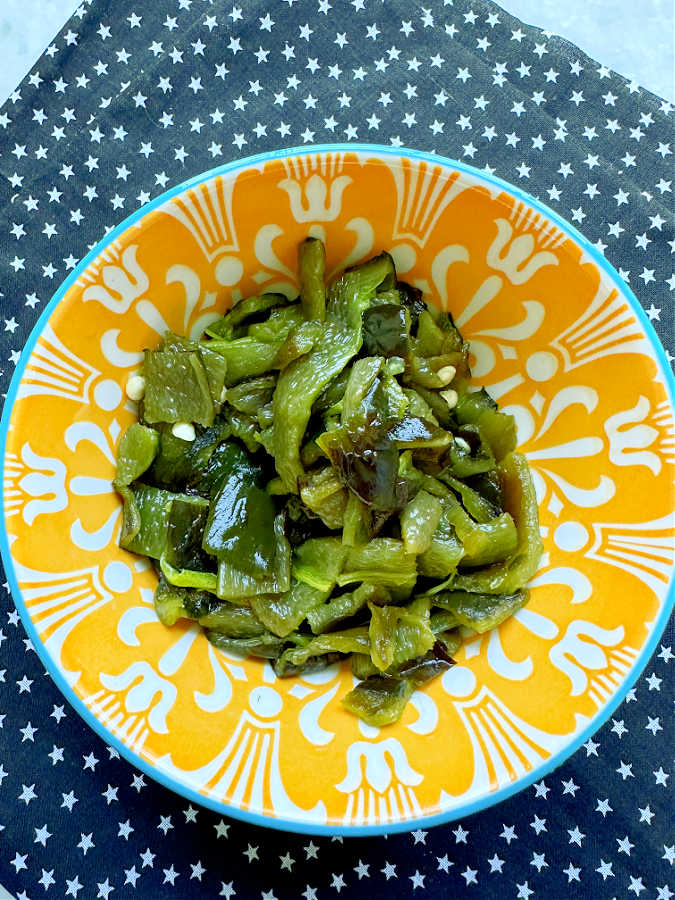 Serving suggestions
You can use prepared roasted poblano peppers in a wide variety of dishes – in sauces, sandwiches, salads, enchiladas, pasta dishes, salsa or as a topping for your favorite taco. Or use these roasted poblano peppers as a topping for my copycat recipe, Queso Fundido con Chorizo (coming soon).
Kitchen tools
More recipes with roasted peppers
Air Fryer Roasted Poblano Peppers
Easy step by step instructions for how to make Air Fryer Roasted Poblano Peppers. So simple to make and no oil required.
Instructions
Try to pick poblano peppers that are about the same size.

Wash the poblano peppers. There's no need to dry them.

Add the peppers to the basket of your air fryer in a single layer.

Use a sharp paring knife to poke 2 or 3 holes in each of the peppers to make sure the steam can escape as they roast.

Air fry the peppers at 400 degrees F for about 18 minutes or until the peppers are blackened and charred on all sides.

Use tongs to remove the peppers from the air fryer basket. Place them into a gallon-sized Ziploc bag.

Seal the bag and allow the peppers to steam as they cool in the bag, for about 10 minutes.

Remove the peppers from the bag and gently peel away the skin.

Slice the peppers in half and gently scrap away the seeds with a spoon.
Nutrition
Calories:
24
kcal
|
Carbohydrates:
6
g
|
Protein:
1
g
|
Fat:
0.2
g
|
Saturated Fat:
0.1
g
|
Polyunsaturated Fat:
0.1
g
|
Monounsaturated Fat:
0.01
g
|
Sodium:
4
mg
|
Potassium:
208
mg
|
Fiber:
2
g
|
Sugar:
3
g
|
Vitamin A:
440
IU
|
Vitamin C:
96
mg
|
Calcium:
12
mg
|
Iron:
0.4
mg
Foodtastic Mom is a participant in the Amazon Services LLC Associates Program (Amazon Associate), an affiliate advertising program designed to provide a means for sites to earn advertising fees by advertising and linking to Amazon.com. Any highlighted, clickable Amazon link you see is an affiliate link that I may earn advertising fees on when you click to purchase.
Thank you so much for being a faithful reader and supporter of Foodtastic Mom. Be sure to PIN to Pinterest and print this recipe! Also like and tag 'Foodtastic Mom' on Facebook and Instagram if you make this recipe!