Shepherd's Pie gets an upgrade for fall – ground turkey, brussels sprouts and even a little cranberry sauce is topped with luscious pumpkin mashed potatoes in this Pumpkin Shepherd's Pie.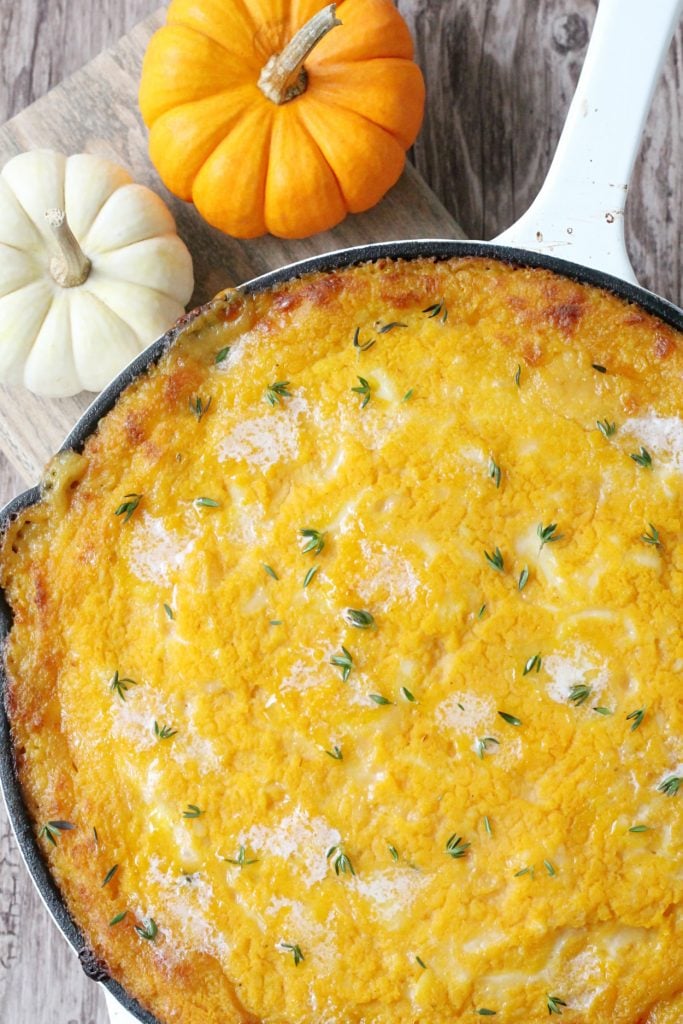 One of my son's favorite meals is Shepherd's Pie. I think it's a direct result of his Harry Potter obsession. And while I love the traditional beef and mashed potato version I decided to get creative and make a pumpkin version with ground turkey, brussels sprouts and even some cranberry sauce in the gravy. Can you tell I have Thanksgiving on my mind?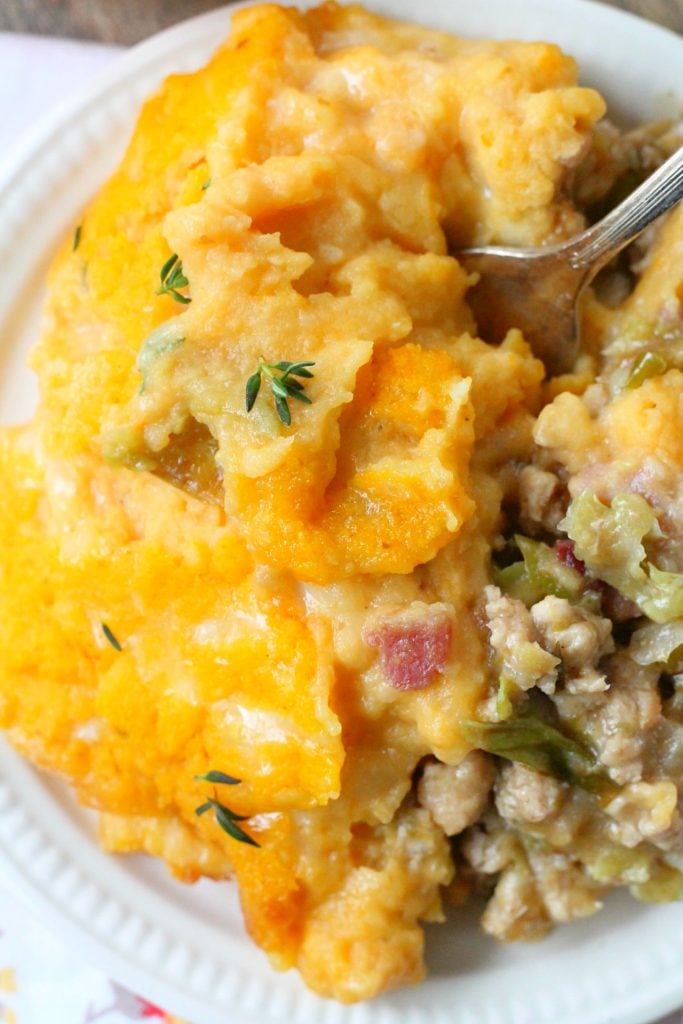 POPULAR VIDEOS
I debated using fresh pumpkin to mash in with the potatoes but I wanted this to be a simple weeknight meal so I decided to go with canned pumpkin puree. The addition of pumpkin to mashed potatoes with a little baby swiss, nutmeg and thyme makes for an incredibly flavorful shepherd's pie topper. It's really, really good. I'd consider these mashed potatoes as a "new" side dish for the fall season and of course for pumpkin lovers like me.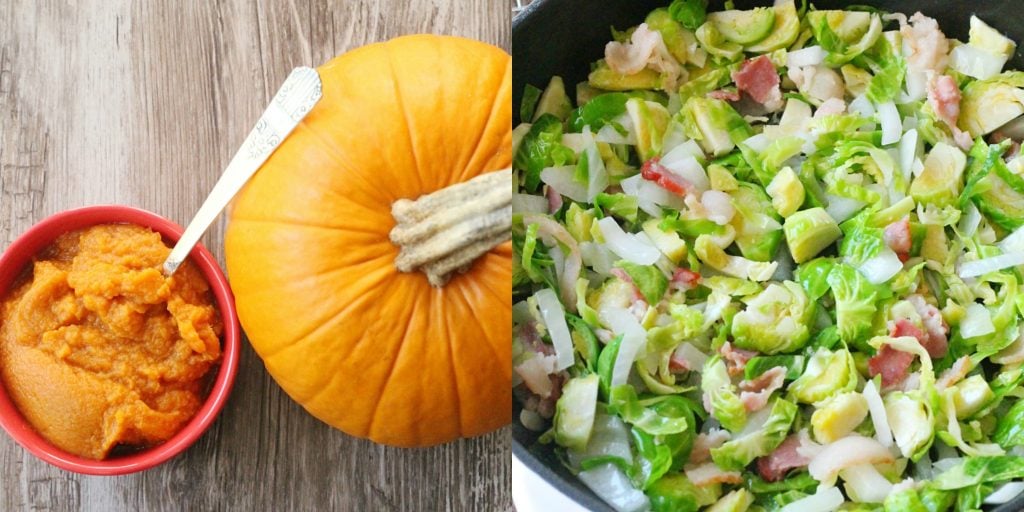 The base of my pumpkin shepherd's pie starts with a little butter and bacon. You can't go wrong with that kind of beginning right? Onion, brussels sprouts, ground turkey, cranberry sauce (the secret ingredient), broth and a little flour to thicken it all, combine to make the delicious filling for underneath those cheesy pumpkin mashed potatoes.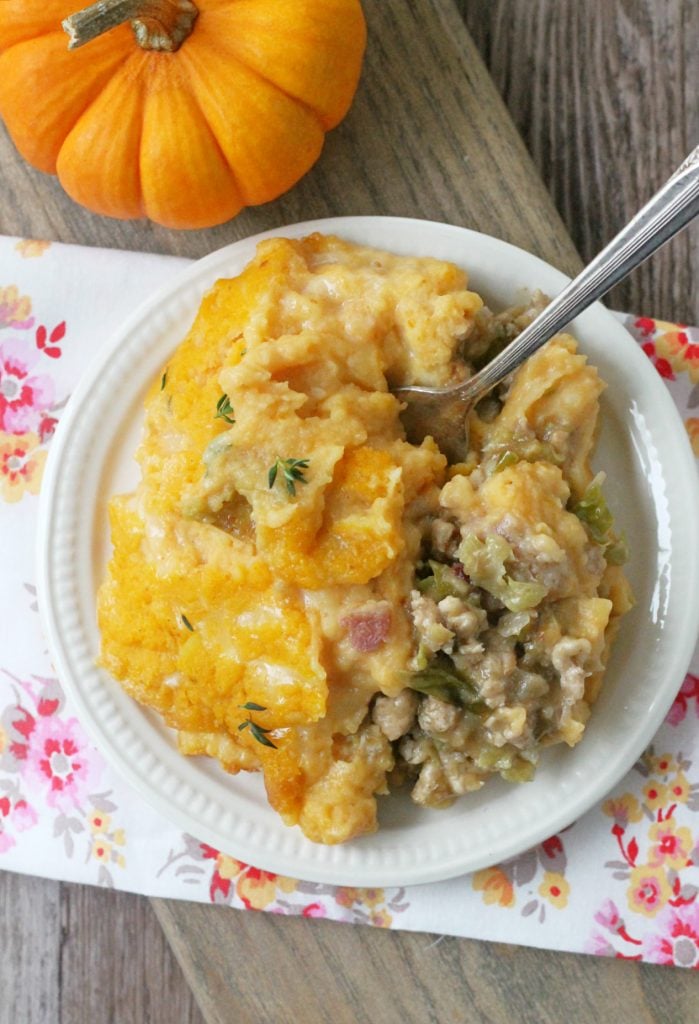 It's really hard to beat a good, old-fashioned meat and potatoes dinner for when those fall nights start turning really cold. And adding pumpkin is just the icing on the cake (or the pie in this case).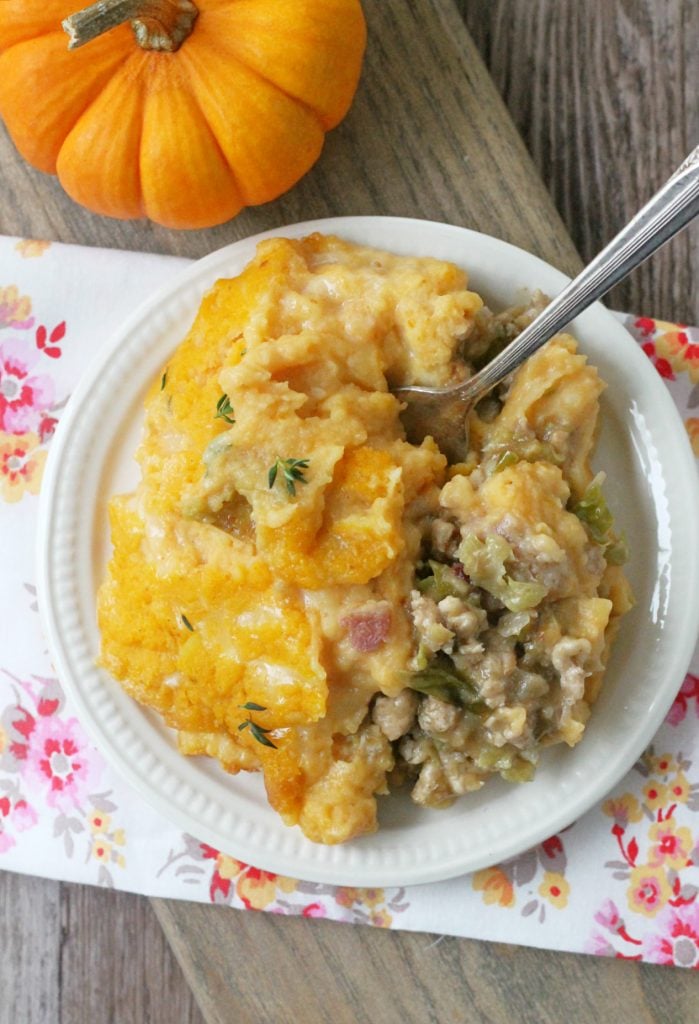 Pumpkin Shepherd's Pie
2016-10-13 08:14:22
Ingredients
4 c. russet potatoes, peeled and chopped
1 c. pumpkin puree (not pumpkin pie filling)
1 c. baby swiss cheese, shredded
1/2 c. milk or cream
6 T. butter, divided
1 t. salt
1 t. fresh thyme
1/4 t. nutmeg
3 slices bacon, chopped
1/2 sweet onion, diced
2 c. fresh brussels sprouts, stems removed and thinly sliced
1 lb. ground 99% fat free turkey
1 c. chicken or turkey broth
1/3 c. jellied cranberry sauce
1 T. all-purpose flour
1/2 t. salt
Instructions
In a large pot cover the potatoes with cold water. Bring to a boil and reduce heat to simmer. Cook the potatoes until fork tender. Drain the potatoes and add the pumpkin puree, milk or cream, 4 tablespoons of butter and salt. Mash well. Stir in the shredded cheese, thyme and nutmeg and set aside.
Heat the remaining 2 tablespoons of butter in a cast iron skillet (at least 11 inches in diameter) until melted. Add the bacon, onion and brussels sprouts. Cook over medium heat until bacon is browned, about 10 minutes. Add the turkey and salt. Cook, stirring often to break up the turkey. Once the turkey is cooked through stir in the broth and cranberry sauce and simmer for about 5 minutes. Stir in the flour and cook for an additional 2 minutes to thicken up the sauce.
Remove the skillet from the heat.
Spread the pumpkin mashed potatoes evenly over the cooked turkey mixture.
Bake the shepherd's pie at 400 degrees for 35 - 40 minutes. Serve.
Foodtastic Mom https://www.foodtasticmom.com/
This recipe is part of Food Networks' Fall Fest PUMPKIN recipe roundup. For other tasty pumpkin recipes check out the links below:
The Lemon Bowl: Healthy Pumpkin Bread
Foodtastic Mom: Pumpkin Shepherd's Pie
Creative Culinary: Pumpkin Spice Muffins with Molasses Walnut Crumble
Dishin & Dishes: Overnight Pumpkin French Toast
The Mom 100: Pasta Shells with Pumpkin in a Creamy, Cheesy Sauce
Devour: Give 'Em Pumpkin to Talk About with 4 Instagram-Ready Desserts
The Fed Up Foodie: Pumpkin Gnocchi Soup
A Mind "Full" Mom: 5 Must-Try Pumpkin Recipes That Are Not Pie
Elephants and the Coconut Trees: Eggless Pumpkin Pie
Taste with the Eyes: Fabulous Fall Dessert: Pumpkin Ricotta Wonton Ravioli
Mom Loves Baking: Pumpkin Chocolate Swirl Bundt Cake
Pinch My Salt: Buttermilk Pumpkin Spice Bread
Swing Eats: Pumpkin Whoopie Pies with Molasses Marshmallows (GF)
Hey Grill Hey: How to Grill Pumpkin
In Jennie's Kitchen: No Bake Pumpkin Cream Pie
FN Dish: 6 Surprising Ways to Use Canned Pumpkin for More Than Pie