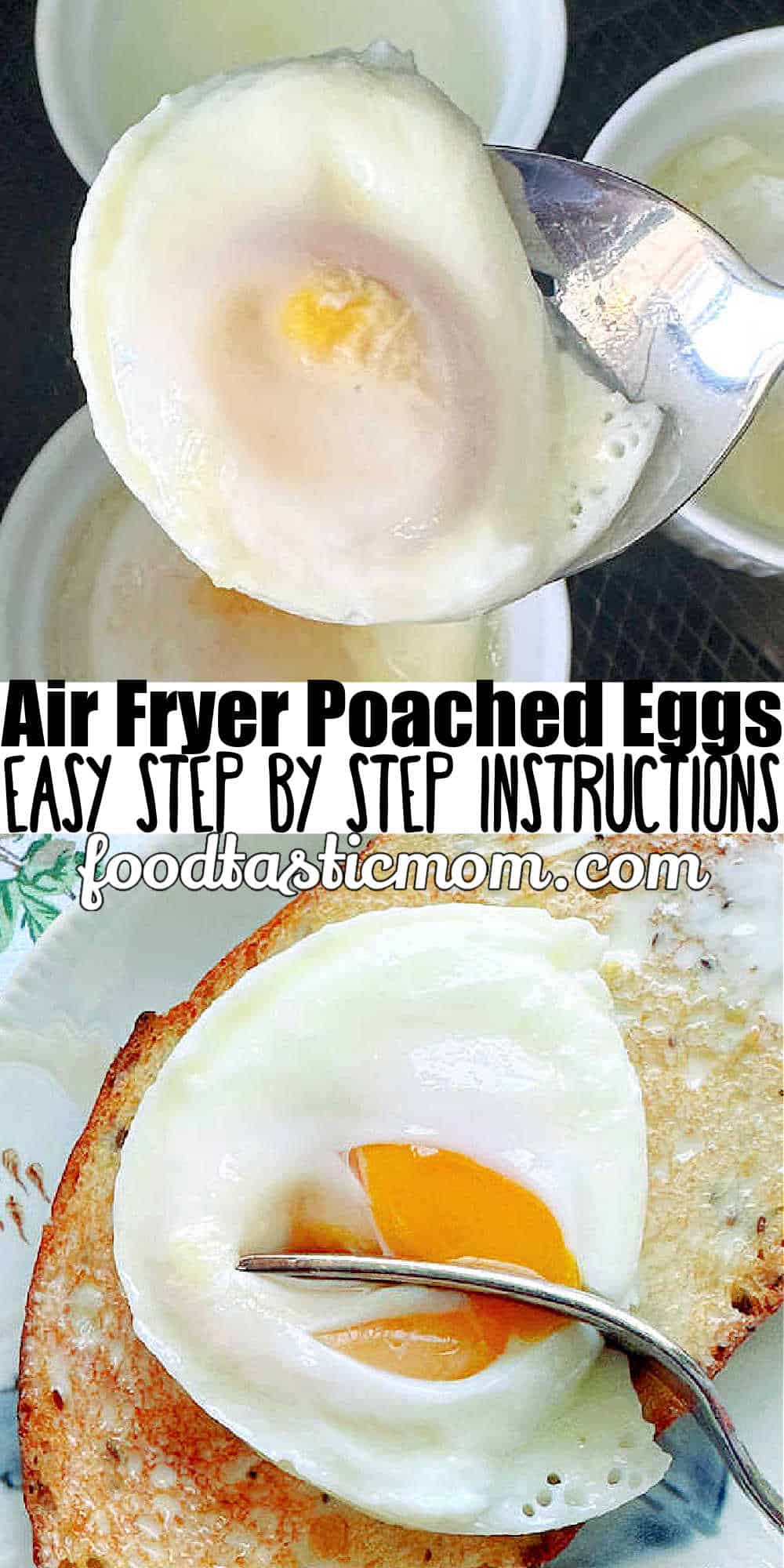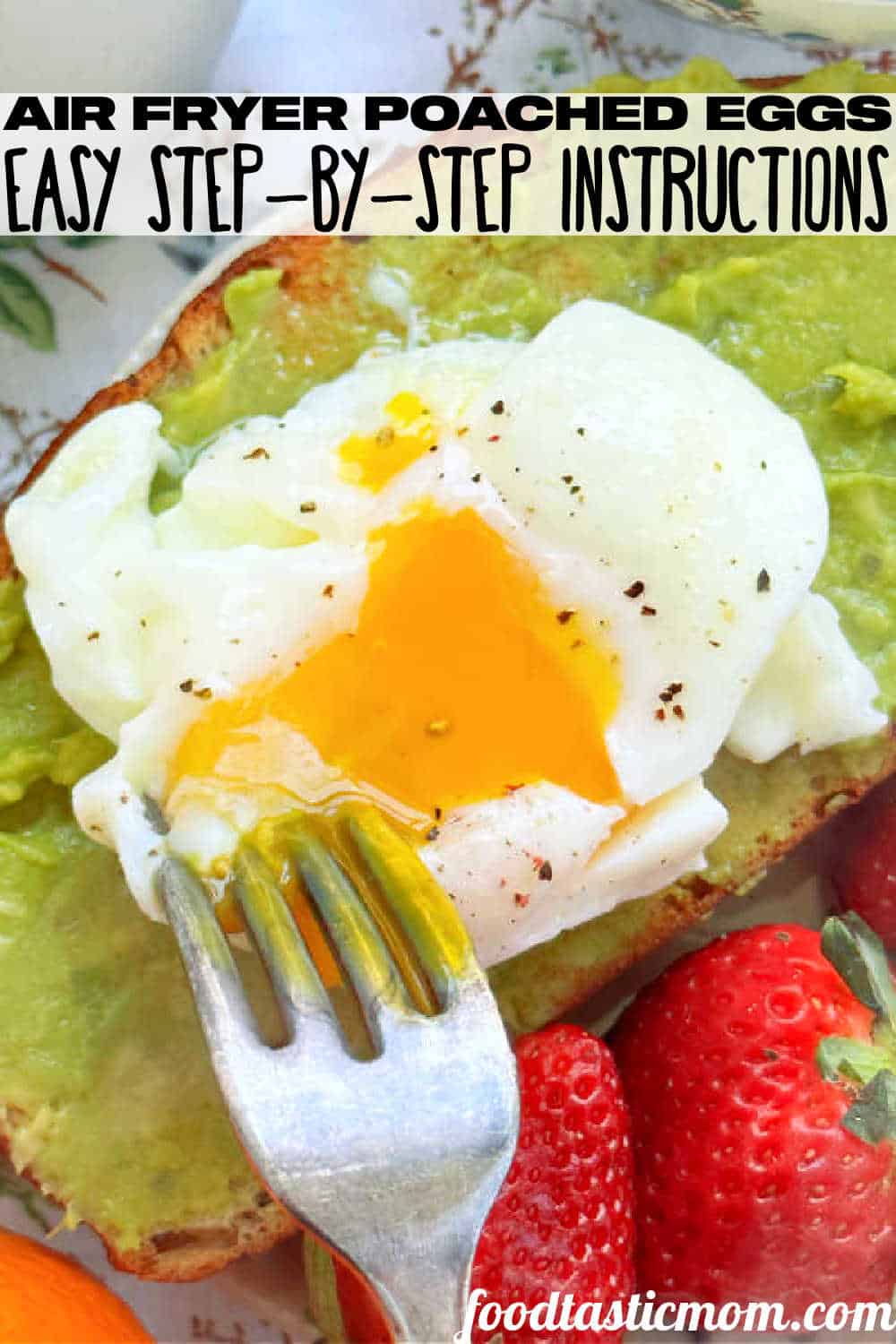 Air Fryer Poached Eggs are a fuss free method for fixing perfectly poached eggs for a quick breakfast any morning of the week.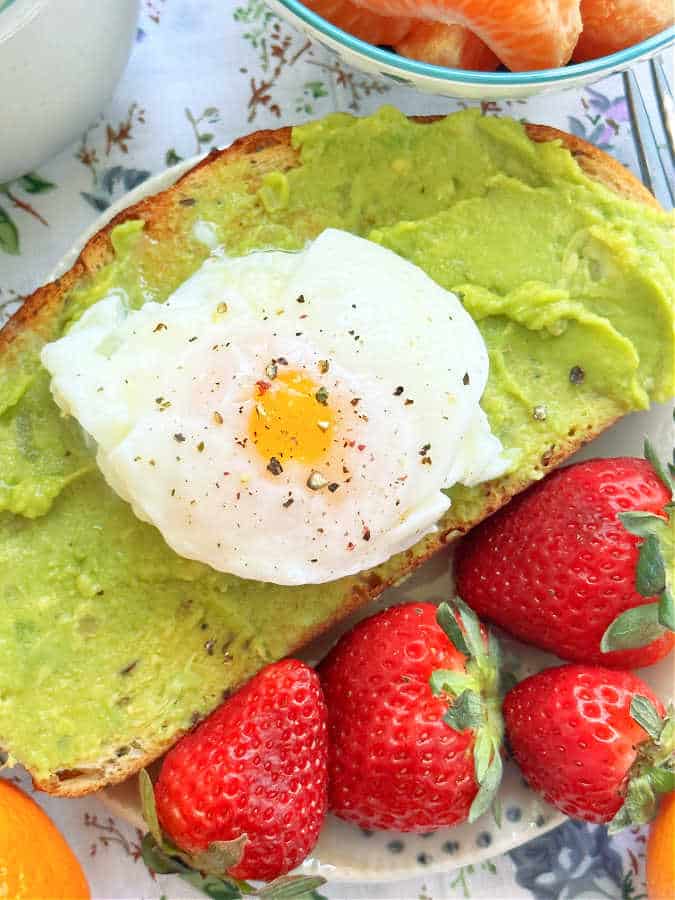 I didn't believe it until I tried it. And I have to admit it took me several tries to get this just right in my brand of air fryer. But your air fryer can produce a perfectly poached egg with runny yolk! I tried mine on buttery toasted bread and it was so delicious! This is a quick and easy breakfast for any morning of the week. I usually think of poached eggs as a really fussy project for the weekend. But not anymore!
My air fryer never ceases to amaze me with how versatile it is. It remains my favorite kitchen gadget. My kids use it often for after school snacks, or dinner if I'm not home. Here's some of my all-time favorites I've created in my Foodtastic Mom kitchen so far…
More air fryer recipes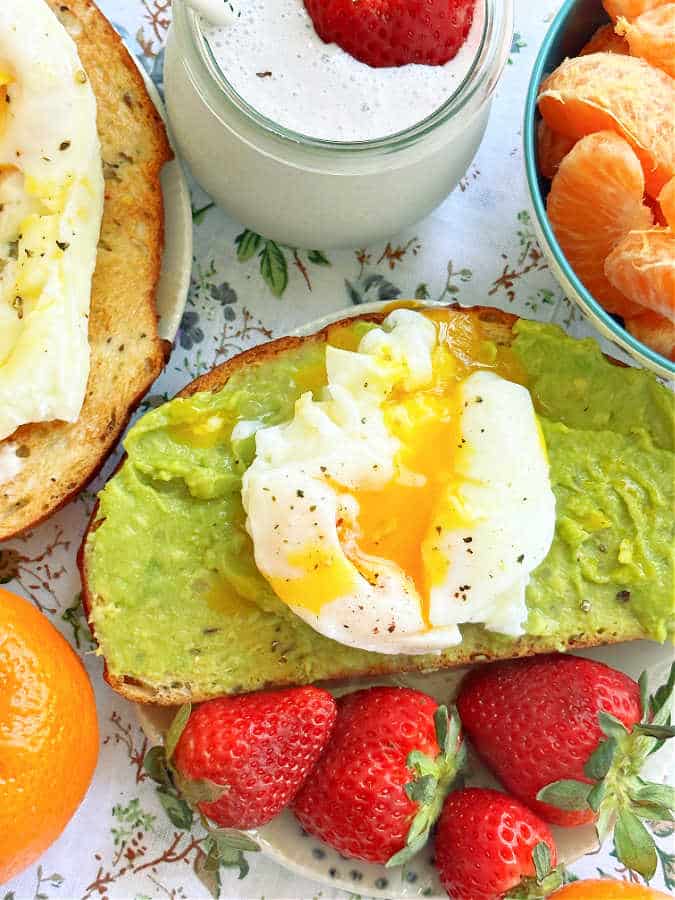 Why this recipe works
One egg is put into a small, four-once ramekin dish. The dish is sprayed with cooking spray. I don't normally suggest using cooking spray in your air fryer because it will damage the non-stick coating over time. But in this case, the cooking spray is contained to the dish, preventing the egg from sticking to it. Some water is added and the water is heated quickly by your air fryer, to poach the egg. Similar to how you would poach eggs on the stovetop in simmering water.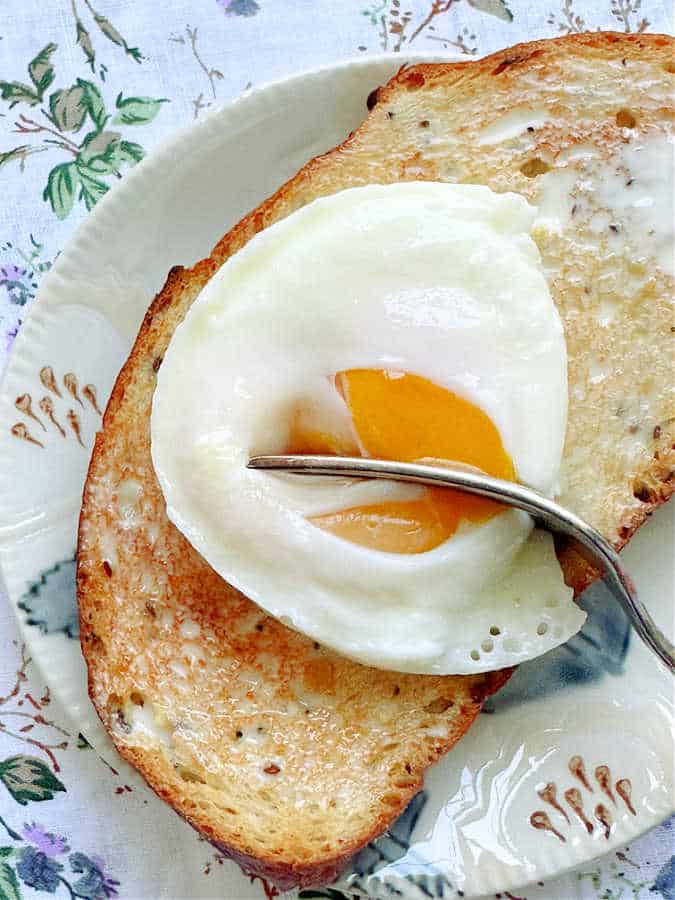 Ingredients for air fryer poached eggs
Ramekins – Ramekins are small, ceramic dishes used for baking and cooking. It is important to use 4 ounce ramekins for this recipe! I tested the eggs in larger dishes and this method for poaching eggs in the air fryer did not work in a larger dish.
Eggs – Use large eggs. I did not test this recipe with another size of egg.
Cooking Spray – Cooking spray will stick to the sides of the dishes. I tried this recipe with both olive oil and melted butter and it did not work. Be sure and spray the entire inside surface of your ramekin dishes with the cooking spray of your choice.
Water – A few tablespoons of water is crucial to the poaching process. But unlike with stovetop poaching, there's no need to add vinegar or lemon juice to the water.
Salt and Pepper – For seasoning the eggs after poaching.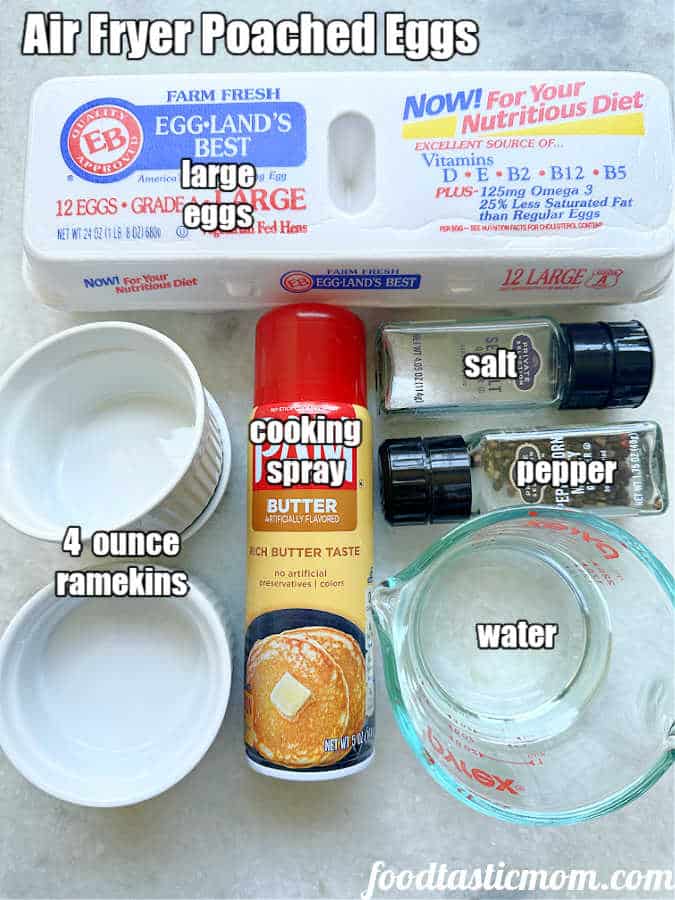 Instructions for air fryer poached eggs
Preheat your air fryer to 375 degrees F for about 3 minutes.
Spray a 4-ounce ramekin generously with cooking spray.
Add one large egg and three tablespoons of water.
Cook the egg in the dish at 375 degrees F for 6-7 minutes.
Gently remove the poached egg from the dish with a slotted spoon.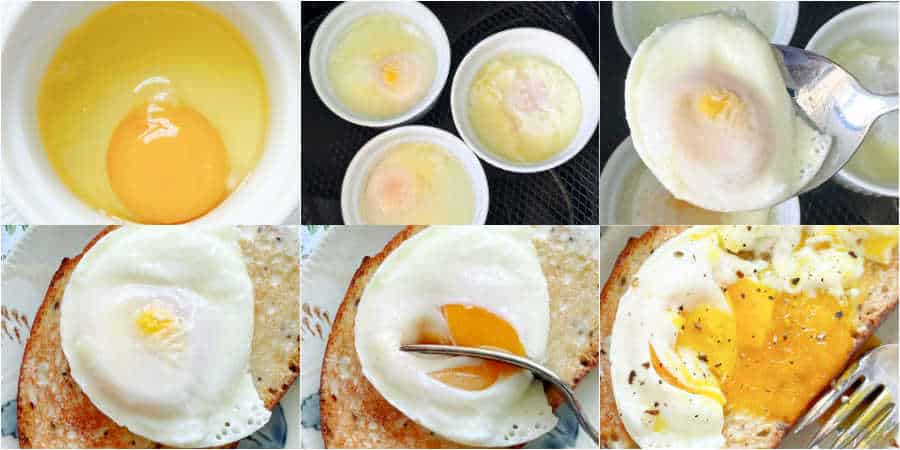 FAQ's
Can you poach more than one egg at a time?
I think this depends on your style of air fryer. I tested this method in my Philips XXL basket-style air fryer. One egg turned out perfectly. And I tested several different sizes of dishes and greasing methods to be sure. Two eggs worked out well. Three eggs at the same time, at least with my air fryer, was pushing it! My air fryer basket seems to have some hot spots. And so all three eggs weren't poached to exactly the same doneness.
I would recommend only poaching one or two eggs at a time in your air fryer.
How do I remove my poached eggs from the dish?
A slotted spoon is essential for this. There will still be some water in the dish. So you'll want to gently remove the poached egg from the dish while leaving the water behind.
Serving suggestions
Kitchen tools
More egg recipes
Air Fryer Poached Eggs
Air Fryer Poached Eggs are a fuss free method for fixing perfectly poached eggs for a quick breakfast any morning of the week.
Ingredients
2

large

eggs

6

tbsp

water

cooking spray

salt and pepper
Instructions
Preheat your air fryer to 375 degrees F for about 3 minutes.

Spray two, four-ounce ramekins generously with cooking spray.

Crack one egg into each dish. Add three tablespoons of water into each dish.

Place each egg and water filled ramekin into the air fryer basket.

Close and air fry at 375 degrees F for 6 - 7 minutes.

Use a slotted spoon to gently remove each egg from the ramekins. There will be a little water left behind in each dish.

I like to season my poached eggs with salt and pepper after cooking them.
Nutrition
Calories:
58
kcal
|
Carbohydrates:
5
g
|
Protein:
2
g
|
Fat:
4
g
|
Saturated Fat:
0.4
g
|
Polyunsaturated Fat:
3
g
|
Monounsaturated Fat:
0.3
g
|
Trans Fat:
0.01
g
|
Sodium:
4
mg
|
Potassium:
49
mg
|
Fiber:
4
g
|
Vitamin A:
6
IU
|
Vitamin C:
0.2
mg
|
Calcium:
77
mg
|
Iron:
1
mg
Foodtastic Mom is a participant in the Amazon Services LLC Associates Program (Amazon Associate), an affiliate advertising program designed to provide a means for sites to earn advertising fees by advertising and linking to Amazon.com. Any highlighted, clickable Amazon link you see is an affiliate link that I may earn advertising fees on when you click to purchase.
Thank you so much for being a faithful reader and supporter of Foodtastic Mom. Be sure to PIN to Pinterest and print this recipe! Also like and tag 'Foodtastic Mom' on Facebook and Instagram if you make this recipe!