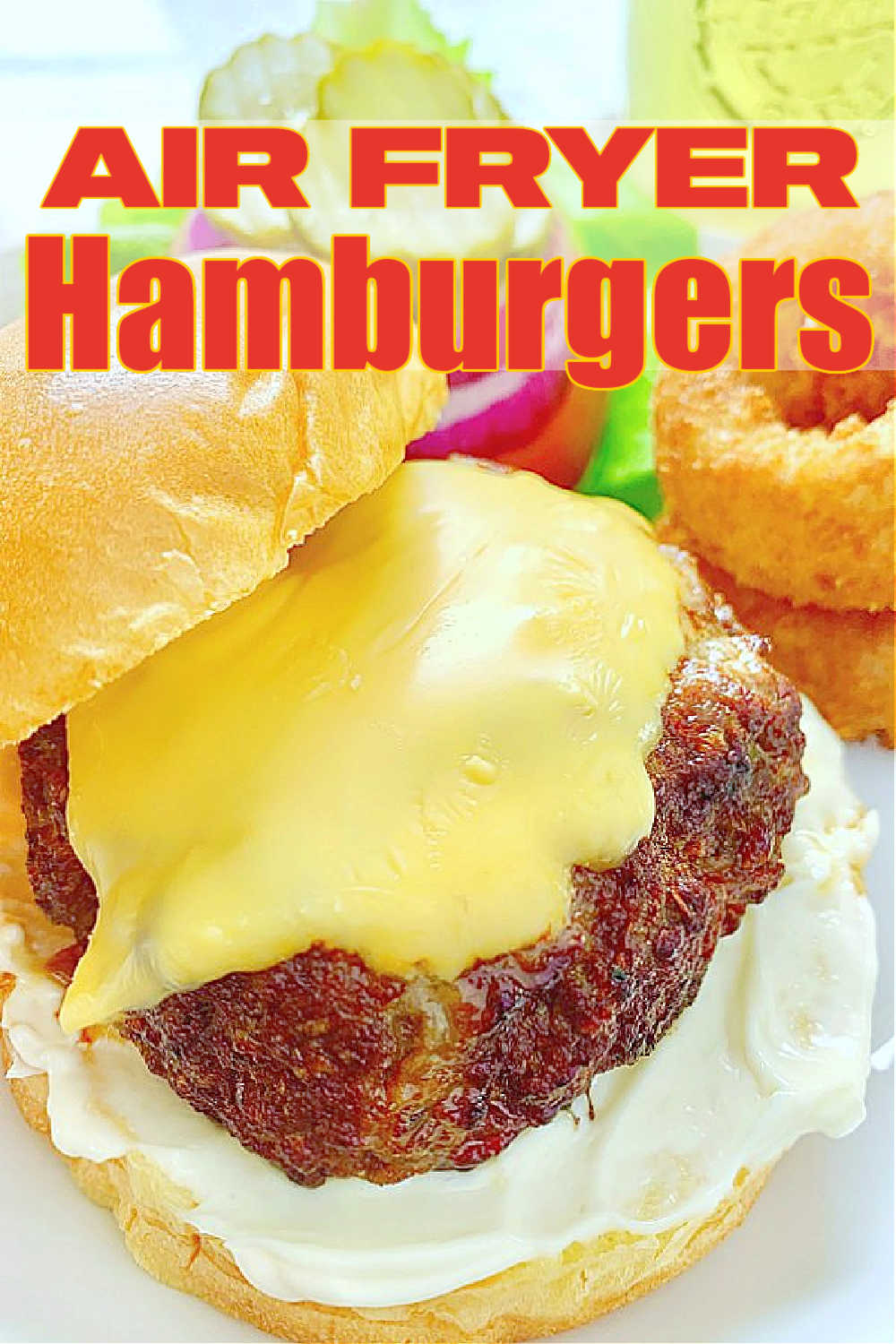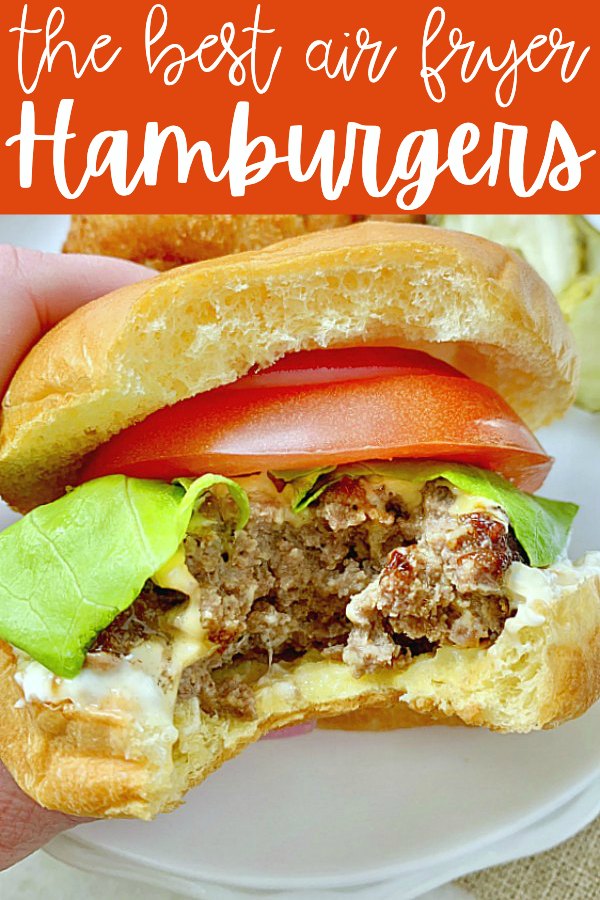 Try these Air Fryer Burgers and you'll think you've gone out to your favorite burger joint for a treat. The air fryer cooks juicy and delicious hamburgers every time.
I've been developing a lot of recipes for my Philips Air Fryer because it cooks protein so well. The high heat and constant air circulation seals in the juices while browning the outsides just right – for all the meats and seafood I've tried so far. These burgers are no exception and they are my favorite recipe I've made so far in my air fryer. They came out flavorful, perfectly cooked and really juicy and delicious. Just like the best burger I've ever enjoyed at a restaurant.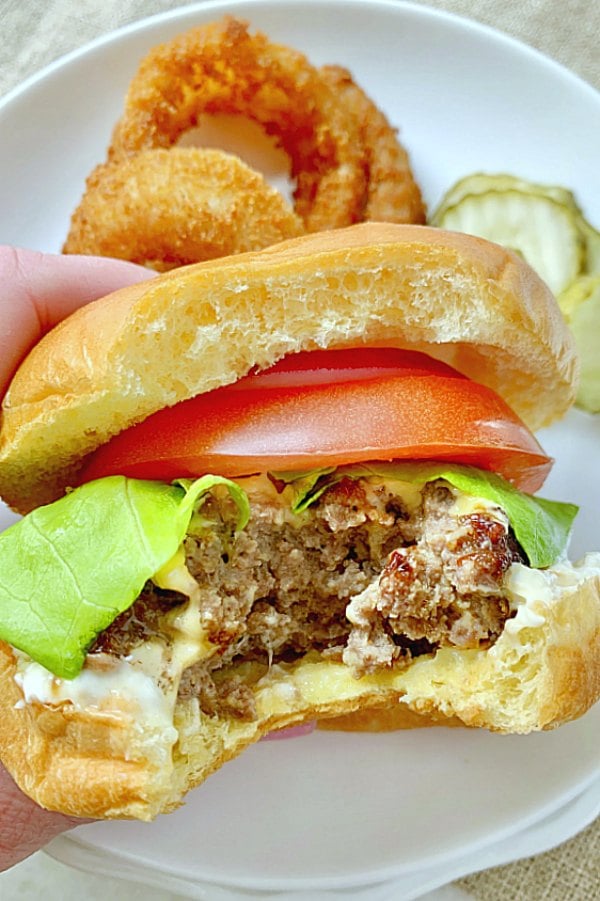 How to Make Air Fryer Burgers
I got inspiration for these burgers from a new America's Test Kitchen magazine that is filled with air fryer recipes. They explained that a panade (a mixture of milk and bread) helps to seal in the natural juices of the beef when it's cooking in the air fryer. A simple mix of seasonings, the torn up insides of a hamburger bun, a little milk. That's all it takes to mix with 85% lean hamburger meat to make perfectly cooked and juicy Air Fryer Burgers.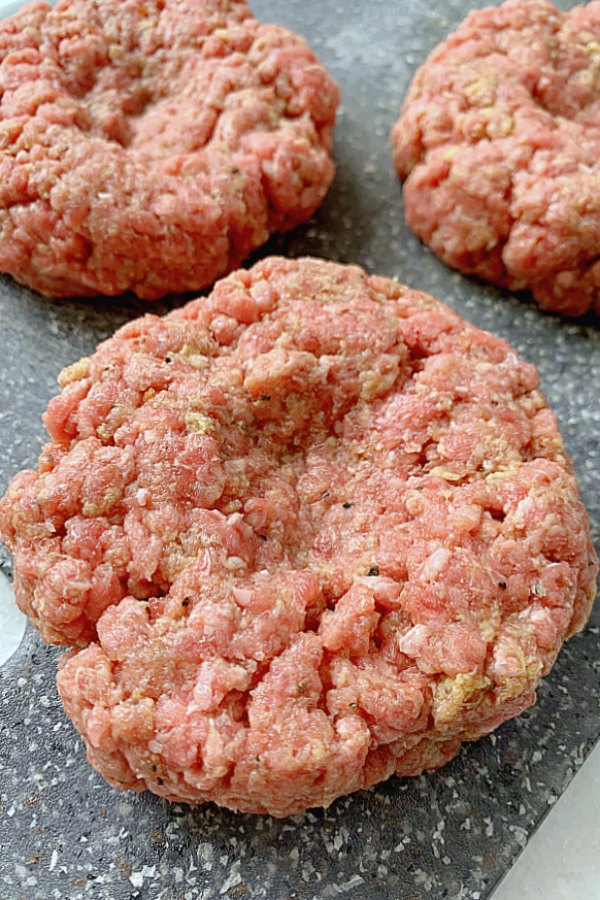 How Long Does it Really Take to Cook Hamburgers in the Air Fryer?
This absolutely depends on the brand of air fryer you own. The recipe I took inspiration from suggested cooking the burgers for 18 – 21 minutes at 350 degrees. In my Philips Air Fryer XXL, that was too long. My burgers took about 15 minutes to be cooked to Medium (140 – 145 degrees F).
It also depends on how you like your burger cooked. A good instant read digital meat thermometer is essential for getting the cook right on your burger. But don't worry, even if you overcook these burgers, they are still delicious. Mine were a bit overcooked (for my liking) on the first try and they were still unbelievably juicy. The panade is a magic ingredient.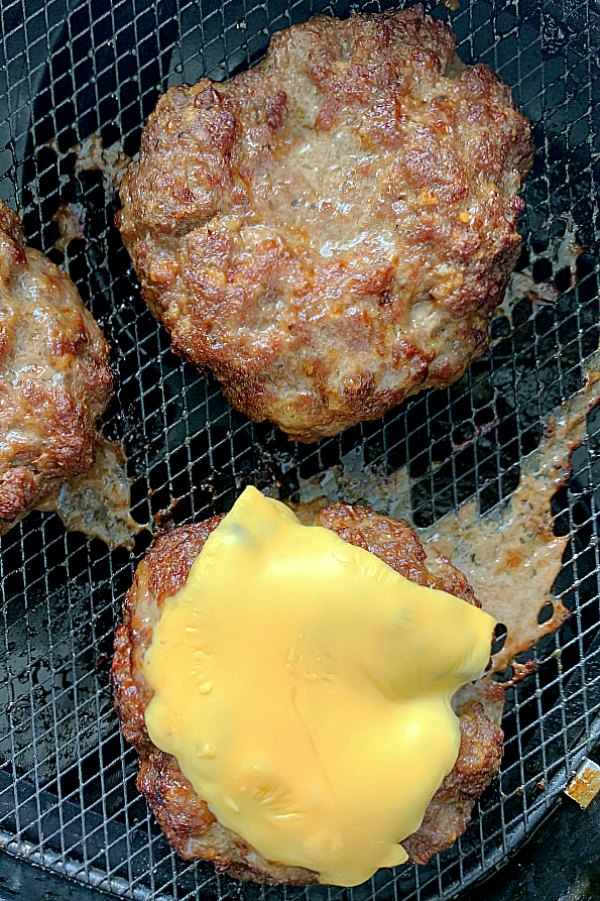 Safe Temperature for Perfectly Cooked Hamburgers
According to the USDA (which errs on the side of extreme caution) the minimum safe temperature for ground meat is 160 degrees F. I tend to like my burgers on the medium to medium well side of things. Here is a complete list of temperatures for cooking ground beef burgers…
Rare: 120 to 125
Med-Rare: 130 to 135
Medium: 140 to 145
Med-Well: 150 to 155
Well Done: 160 to 165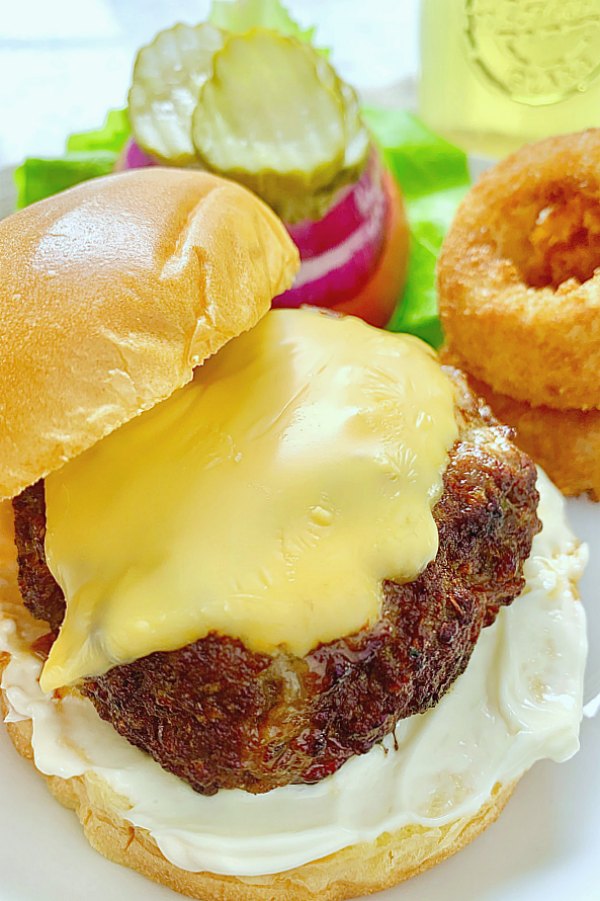 Kitchen Tips for Air Fryer Burgers
I use a Philips Air Fryer XXL to test all of my air fryer recipes
Brush your air fryer basket with a light coating of vegetable oil using a pastry brush. Do not use a commercial, non-stick spray like Pam because it will damage the coating of your air fryer basket
This is the digital meat thermometer I use in my kitchen
Foodtastic Mom is a participant in the Amazon Services LLC Associates Program, an affiliate advertising program designed to provide a means for sites to earn advertising fees by advertising and linking to Amazon.com. Any highlighted, clickable Amazon link you see is an affiliate link that I may earn advertising fees on.
Thank you so much for being a faithful reader and supporter of Foodtastic Mom. Be sure to PIN and print this recipe!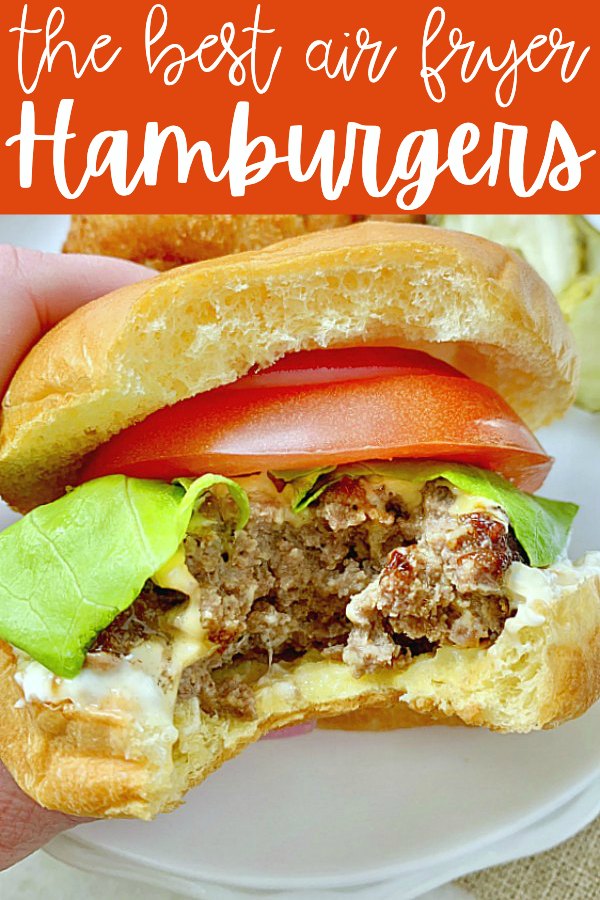 Air Fryer Burgers
Try these Air Fryer Burgers and you'll think you've gone out to your favorite burger joint for a treat. The air fryer cooks juicy and delicious hamburgers every time.
Ingredients
1 lb

85% ground beef

4

brioche buns

2

tbsp

milk

1/2

tsp

grill seasoning

1/2

tsp

garlic powder

1/2

tsp

salt

1/2

tsp

black pepper

1

tbsp

Worcestershire sauce
Instructions
Remove the insides of the bun from the top and bottom crust - tearing it in large pieces into a mixing bowl. Add the grill seasoning, garlic powder, salt, pepper, Worcestershire and milk. Stir and mash together with a fork until a paste is formed. Break up the ground beef over the paste and stir together the meat and panade mixture with a fork. Transfer the meat mixture to a cutting board and divide it evenly into three portions. Form into three burgers, about 1 inch thick. Make an indentation with your thumb in the middle of each burger. (see photo in post for example).

Brush the air fryer basket lightly with vegetable oil. Arrange the burgers so they are not touching in the air fryer basket.

Cook the burgers at 350 degrees F in the air fryer (no need to flip them) for 15 - 22 minutes. Check the internal temperature before removing the burgers to achieve your desired doneness. My burgers took about 15 minutes to reach Medium temperature. Your air fryer may vary.

If desired, place a 1/2 slice of American cheese on each burger at the end and air fry for an additional 30 seconds or so, to melt the cheese onto the burgers.

Serve the burgers on toasted brioche buns with desired toppings.
Nutrition
More Air Fryer Recipes: