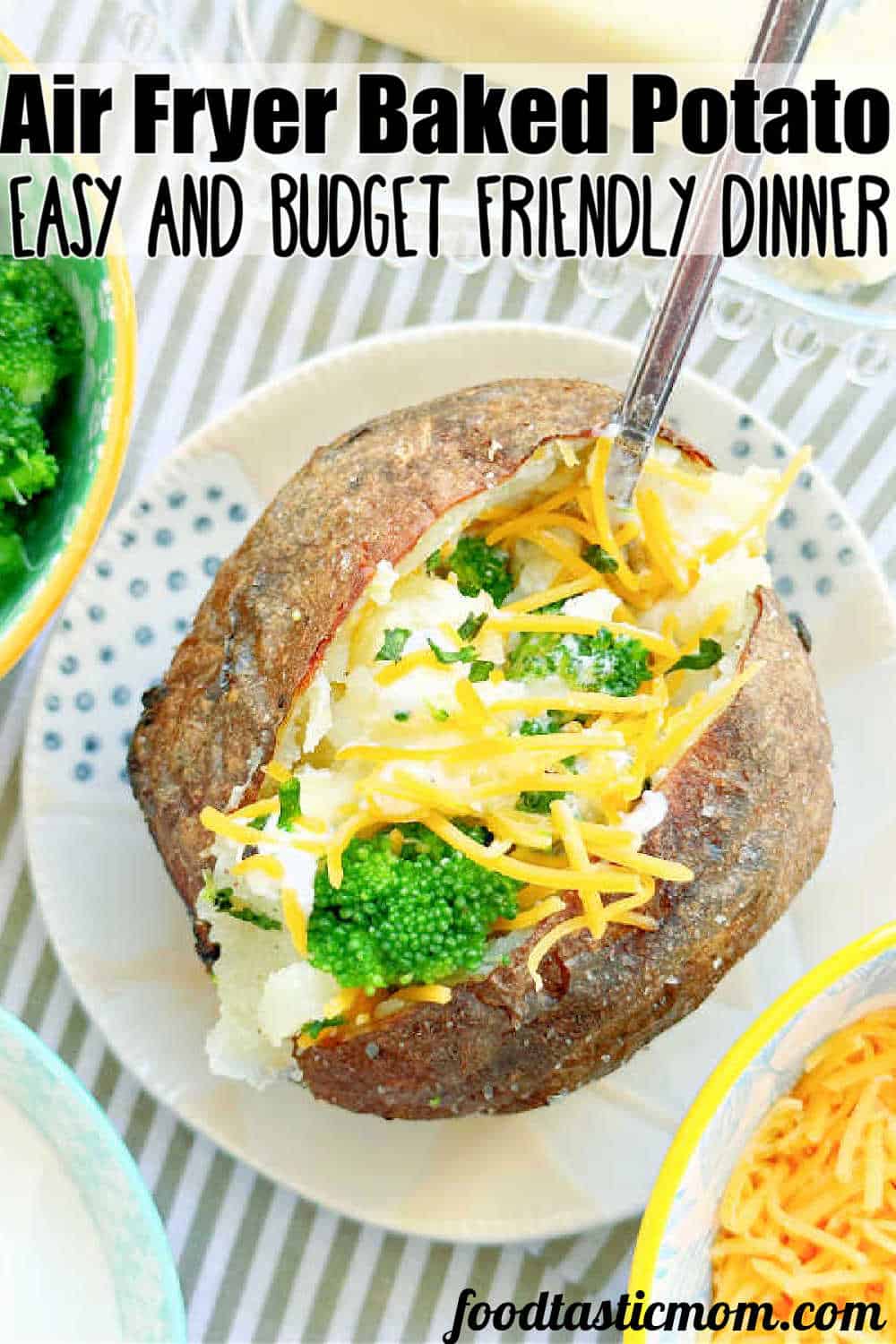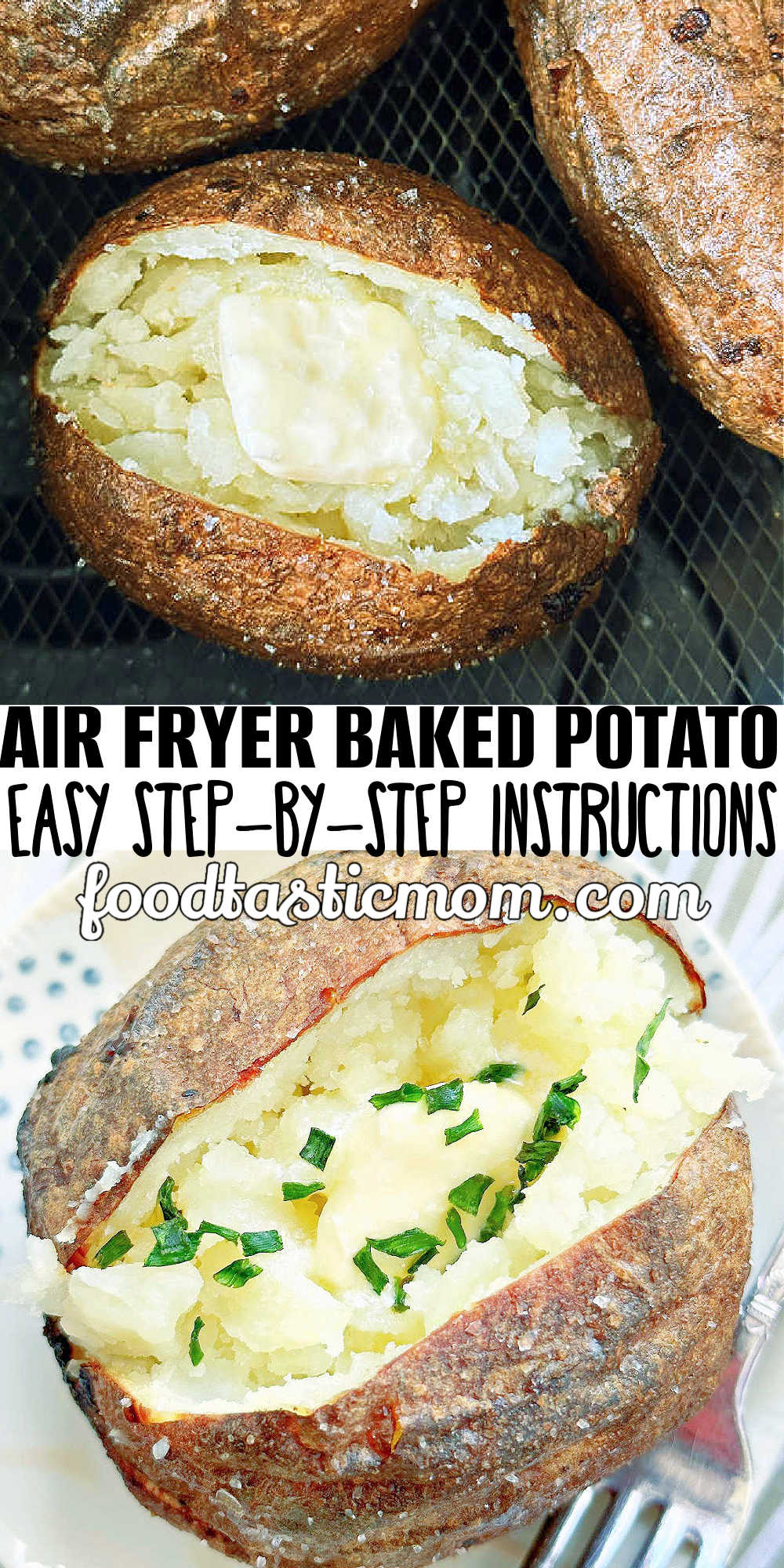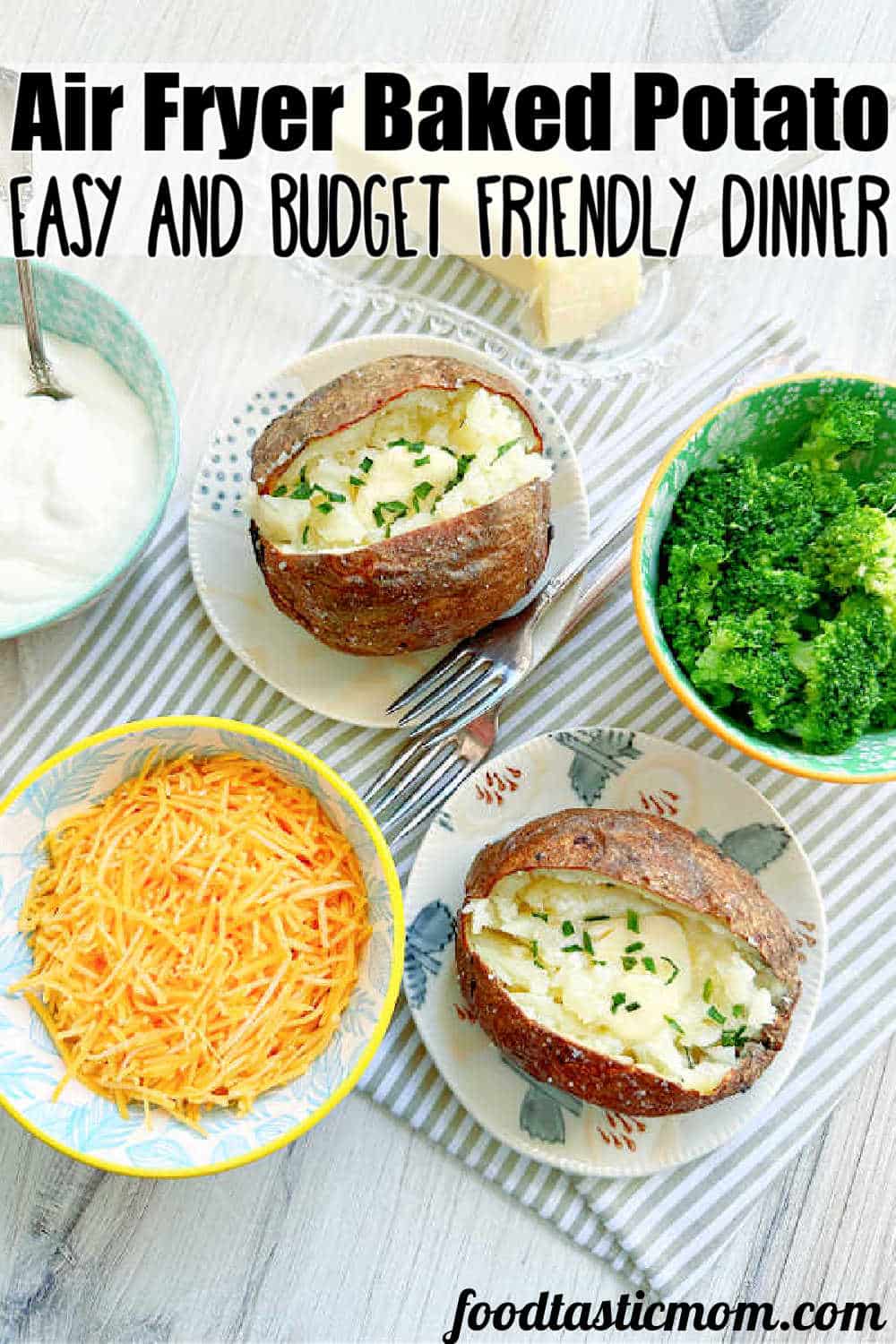 An Air Fryer Baked Potato has perfectly crispy skin with a fluffy, tender inside that is ready to fill with your favorite toppings.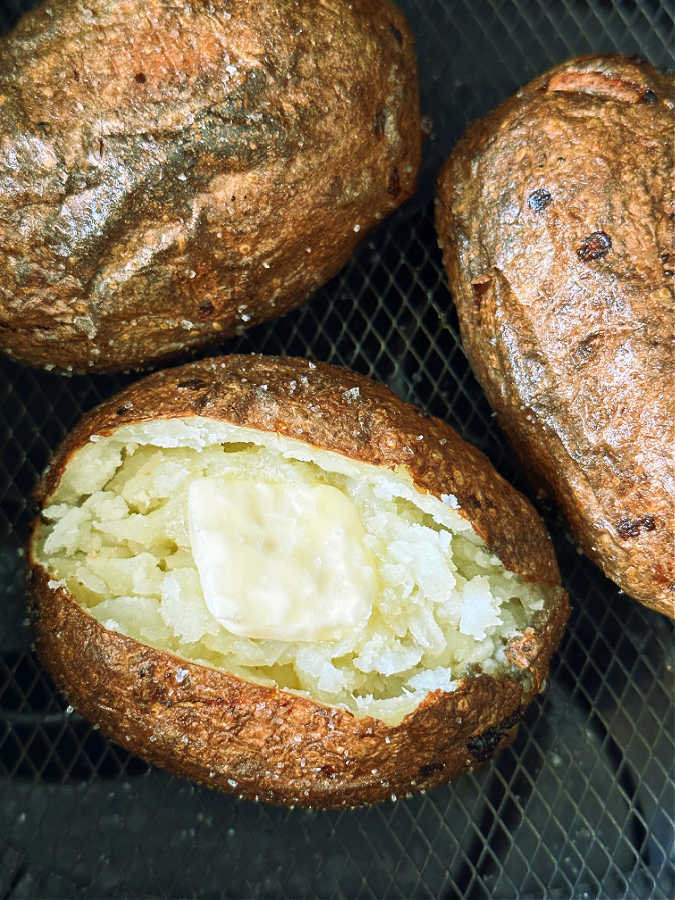 Air fryer baked potatoes are a great side dish for grilled pork and chicken. In the summer when you don't want to heat up the house, baking potatoes in the air fryer is your solution. And honestly they just taste so much better than an oven potato. But any time of year, baked potatoes are a smart, budget friendly dinner choice. With the current prices at the grocery that seem to still be on the rise, I know I'm looking for recipes that will stretch my dollar farther and keep my family full.
Looking for more potato recipes? Here's my most popular recipes for potatoes here on Foodtastic Mom…
Why this recipe works
I have to confess that I used to throw away the skin of my oven baked potatoes. Which I would always bake wrapped in aluminum foil because that is how my Mom made them. Discarding potato skin is just wasteful, especially since there are 12 times more antioxidants in the skin of a potato than the insides. The air fryer has changed that silly habit for me. Your oven just doesn't get the potato skin crispy like your air fryer can. Air frying a russet potato doesn't save a lot of time vs. the oven to be honest. However it adds so much flavor and the texture is by far better. Plus no wasted potato skins! And a whole potato can be stuffed with any number of toppings to make it a complete meal that is delicious and economical.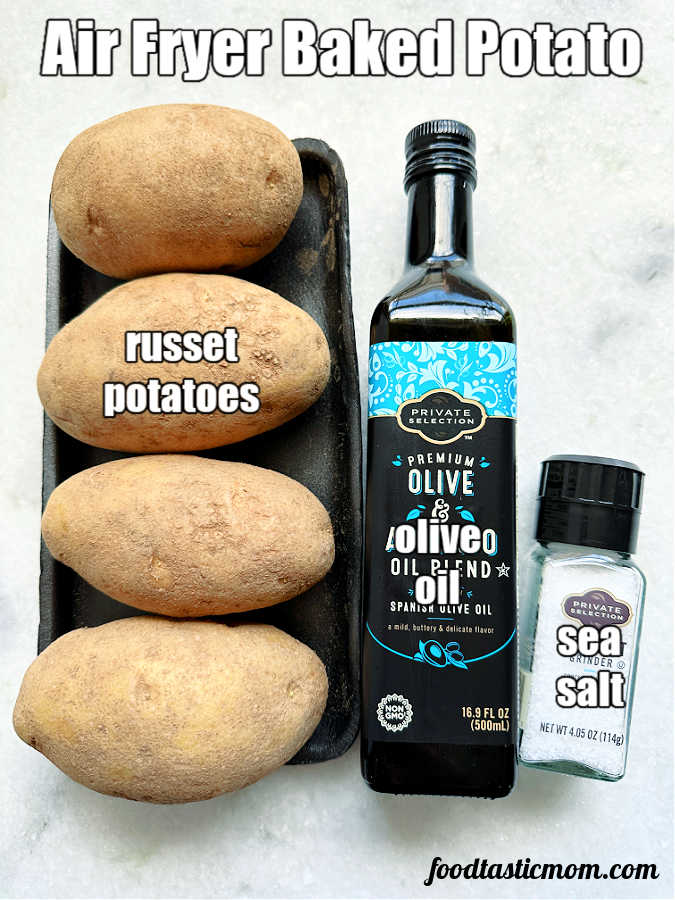 Ingredients for Air Fryer Baked Potato
Russet Potatoes – This is by far the best choice of potato as they are firm with a thick enough skin to hold up to the high heat of the air fryer. I don't recommend using Red Skinned or Yukon Gold potatoes for this recipe.
Olive Oil – I like the taste olive oil imparts to the potatoes and I usually have it on-hand, or a blend of olive and avocado oil works well too.
Kosher Salt – Or sea salt. Any type of salt that has a more course texture than table salt is what you want to use.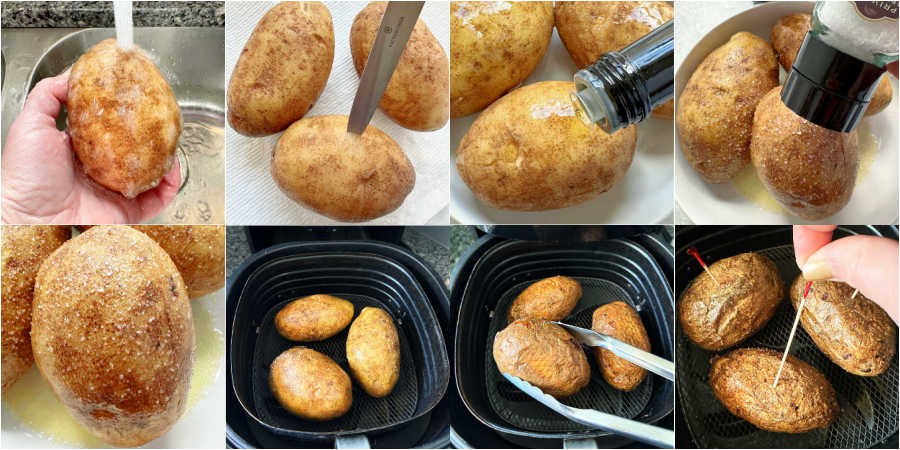 Instructions for making Air Fryer Baked Potatoes
Since you'll be eating the skin, wash your potatoes thoroughly under warm or hot water. Pat them dry with a paper towel. Poke them in several places with a sharp knife (a fork can be used instead). Lightly oil the outsides and sprinkle them with salt. Place them in the air fryer basket. Cook them at 375 degrees F for 30 minutes. Use tongs to flip them over. Increase the heat and continue to air fry them at 400 degrees F for an additional 20 – 25 minutes, or until they are easily pierced with a toothpick.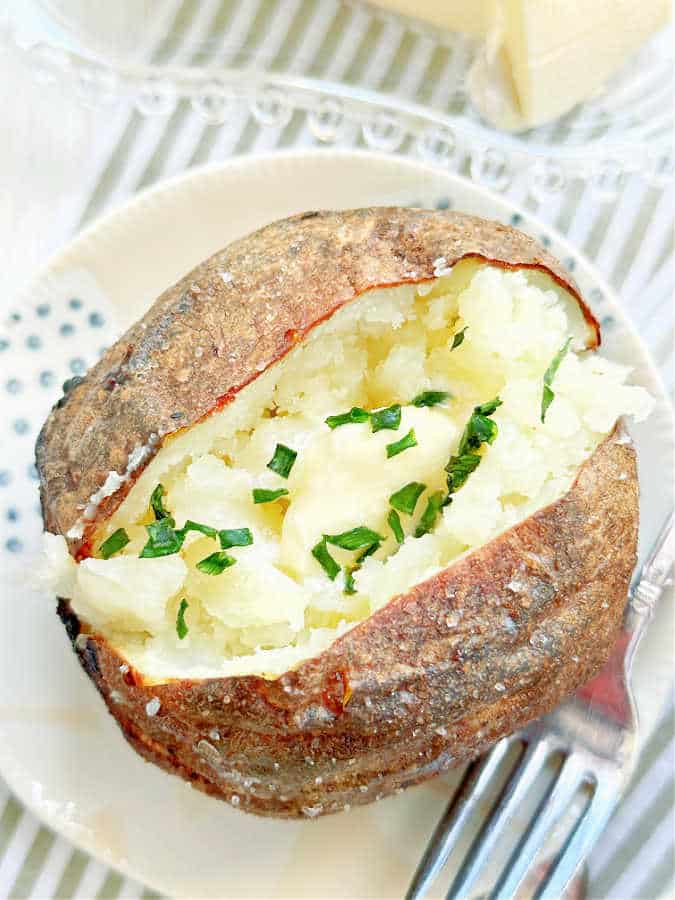 FAQ's
Do you need to pierce the potato in the air fryer?
Yes because holes allow the steam to escape as the potatoes cook. You wouldn't want exploding potatoes in your air fryer basket!
Why soak potatoes in water before air frying?
It's only necessary to soak potatoes if you are making air fryer french fries. For baked potatoes, just be sure and wash them very well under warm to hot water and then dry them with paper towels.
Are baked potatoes better in the microwave or air fryer?
I most definitely believe that air fryer baked potatoes are the way to go. A microwave will cook your potato much more quickly. And I do like to microwave sweet potatoes because I don't like a crispy sweet potato skin. But for russets I much prefer to cook them in my air fryer than my microwave or even my oven.
Should you spray Pam in the air fryer?
I advise to never use a cooking spray like Pam in your air fryer. This is because the chemical propellents in these sprays will damage the non-stick coating of your air fryer basket over time. When I want to use oil in my air fryer, I apply it with a silicone pastry brush, or I use an oil mister like this one.
Storage directions
I do not recommend freezing already cooked air fryer baked potatoes. However, leftovers do reheat well in your air fryer after being refrigerated. Place the cooked potatoes into an airtight container and store them in your refrigerator for up to three days. When ready to serve, reheat them in your air fryer at 400 degrees F for about 15 minutes or until hot.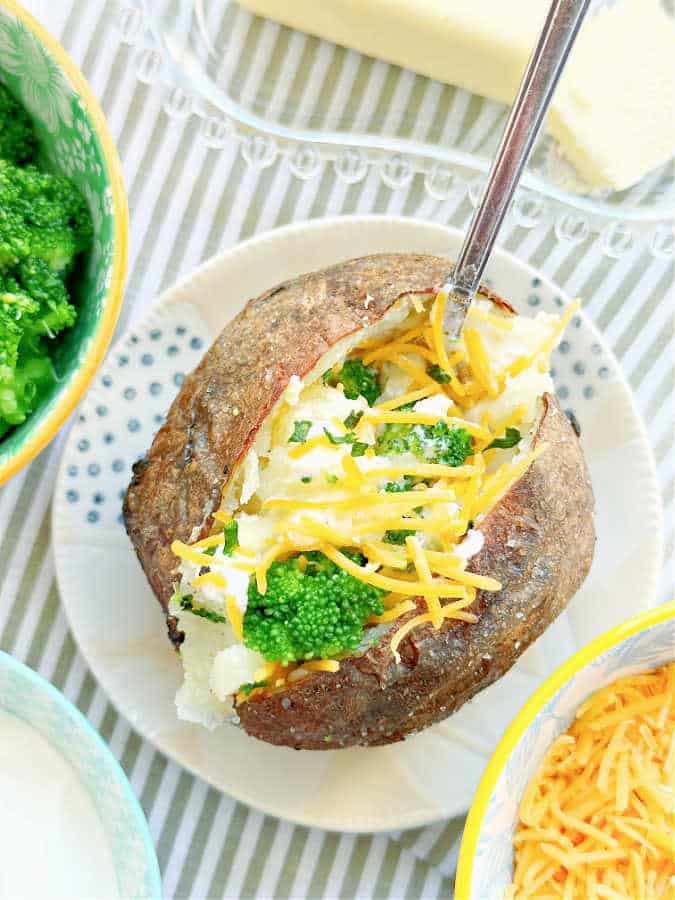 Serving suggestions
These potatoes are a terrific side dish for grilled meats like chicken, pork and steak. They can also be topped in an endless number of ways to make a complete meal. Chili, pulled pork, taco meat, hummus, butter, sour cream or Greek yogurt, chives, sliced green onions, bacon bits, cheddar cheese and broccoli are just some of the more popular choices.
Kitchen tools
More air fryer recipes
Air Fryer Baked Potato
An Air Fryer Baked Potato has perfectly crispy skin with a fluffy, tender inside that is ready to fill with your favorite toppings.
Ingredients
3

Russet Potatoes

1 1/2

tbsp

Olive Oil

1 1/2

tsp

Kosher Salt
Instructions
Wash the potatoes thoroughly with warm to hot water. Dry them with paper towels.

Use a sharp paring knife or fork to poke several holes into each potato.

Oil the outside of each potato.

Sprinkle the outside of each potato evenly with the salt.

Place the potatoes into the basket of your air fryer.

Cook the potatoes at 375 degrees F for 30 minutes.

Use metal tongs to flip the potatoes over.

Increase the heat. Continue to cook the potatoes at 400 degrees F for an additional 20 - 25 minutes, or until the potatoes have reached an internal range of 205 - 212 degrees F and/or they are easily pierced with a toothpick.

If your potatoes are on the small side, adjust the time accordingly. They will take less time to be fully cooked.

Top each potato with your favorite toppings: bacon, butter, sour cream, chives, broccoli, cheddar cheese, additional salt and pepper, etc.
Nutrition
Calories:
230
kcal
|
Carbohydrates:
38
g
|
Protein:
5
g
|
Fat:
7
g
|
Saturated Fat:
1
g
|
Polyunsaturated Fat:
1
g
|
Monounsaturated Fat:
5
g
|
Sodium:
1174
mg
|
Potassium:
889
mg
|
Fiber:
3
g
|
Sugar:
1
g
|
Vitamin A:
2
IU
|
Vitamin C:
12
mg
|
Calcium:
28
mg
|
Iron:
2
mg
Foodtastic Mom is a participant in the Amazon Services LLC Associates Program (Amazon Associate), an affiliate advertising program designed to provide a means for sites to earn advertising fees by advertising and linking to Amazon.com. Any highlighted, clickable Amazon link you see is an affiliate link that I may earn advertising fees on when you click to purchase.
Thank you so much for being a faithful reader and supporter of Foodtastic Mom. Be sure to PIN to Pinterest and print this recipe! Also like and tag 'Foodtastic Mom' on Facebook and Instagram if you make this recipe!