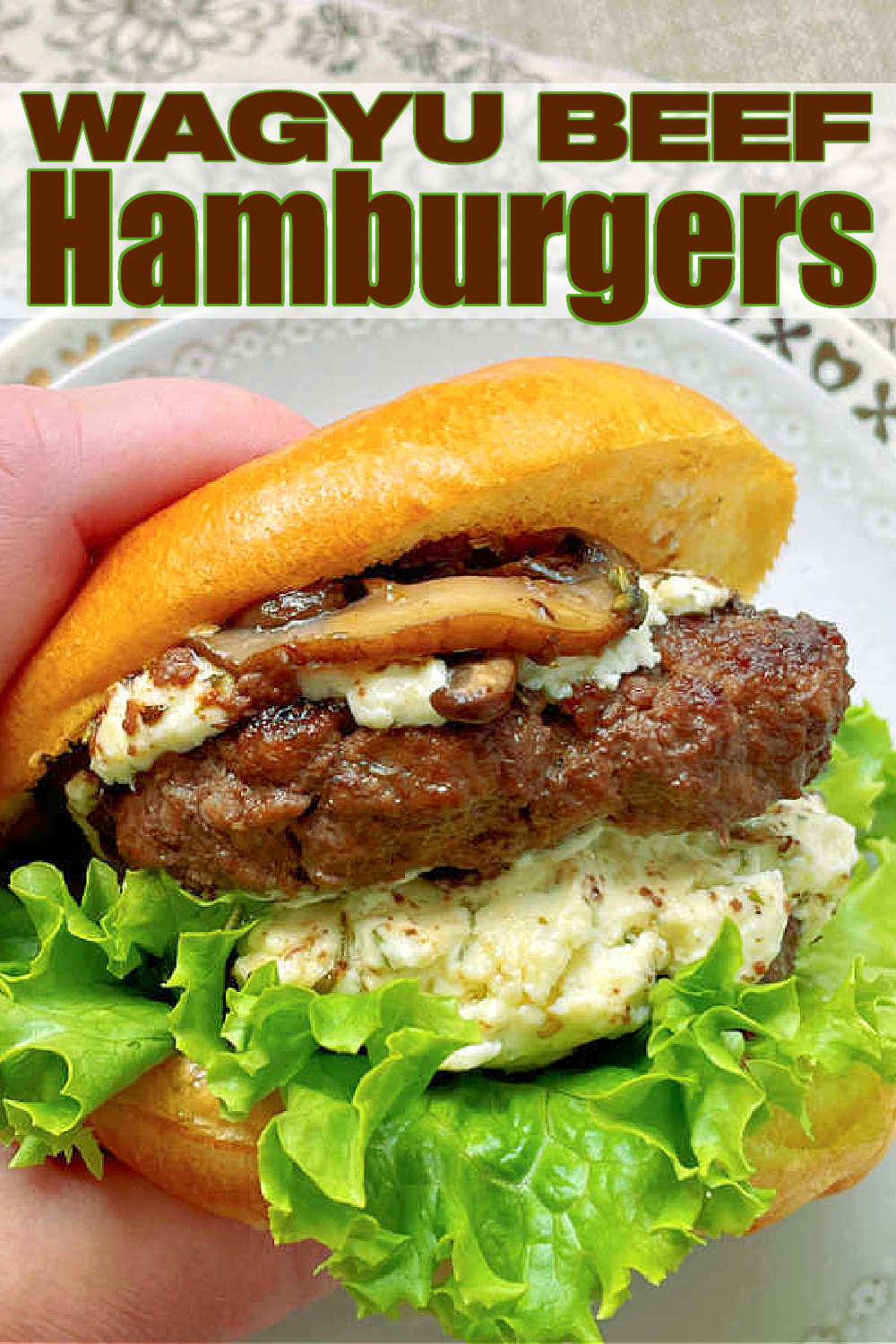 This Wagyu Burger is the best with its simple ingredients and preparation to help the superior flavor of the Wagyu Beef take center stage.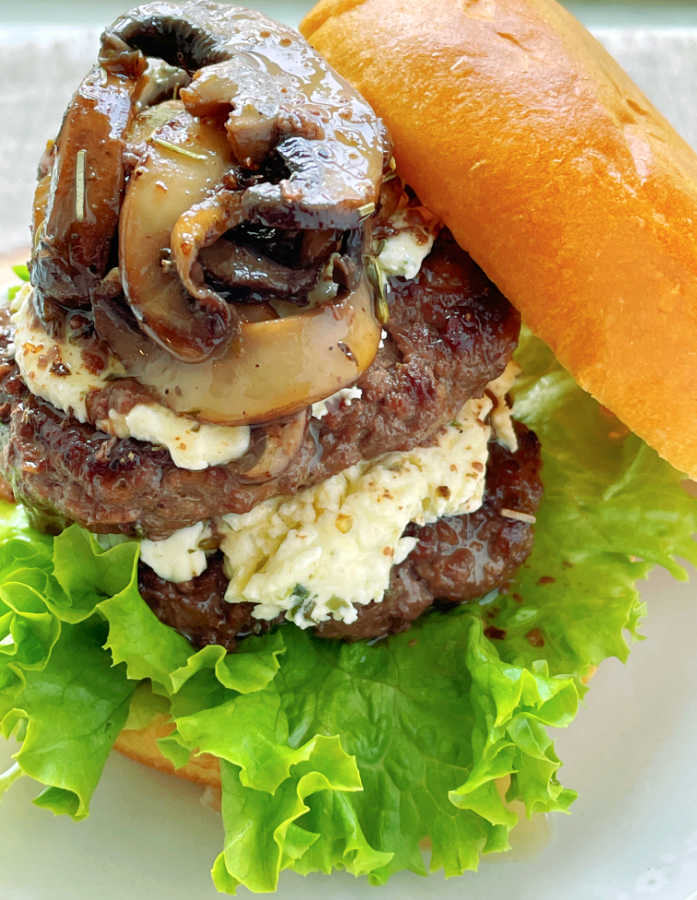 Fat equals flavor. And in regards to a really flavorful and juicy burger, Wagyu beef is where it's at. This burger is the bomb. Wagyu beef is so full of flavor on its own, hardly any prep is necessary to create a really tasty and impressive burger at home. These burgers are simply seasoned and stacked with sauteéd mushrooms on brioche buns. Smeared with some Boursin cheese and garnished with leafy lettuce. You know you want one!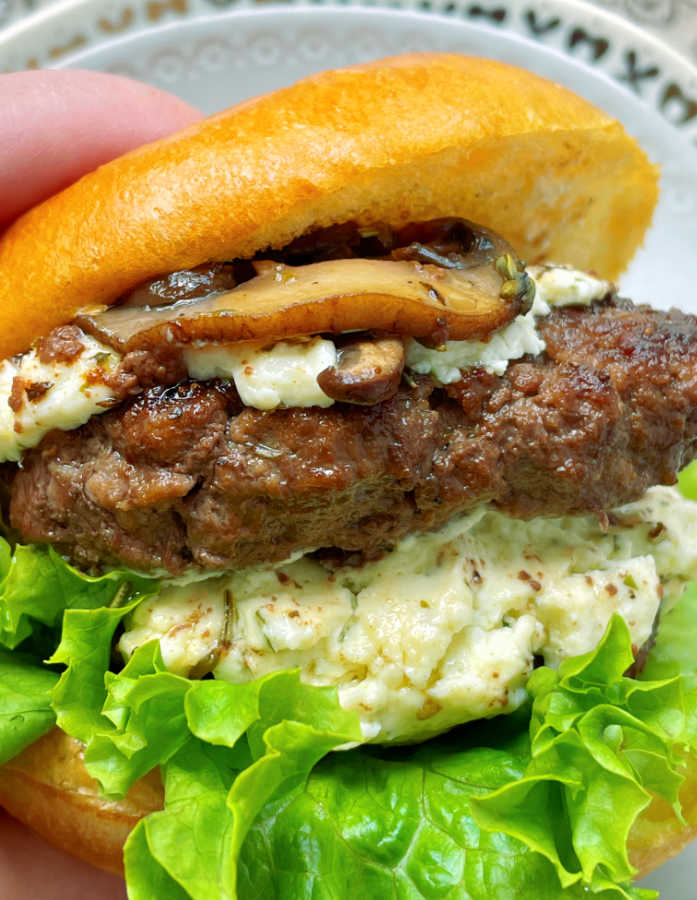 What is Wagyu Beef?
Wagyu simply translates to Wa=Japanese and Gyu=Cow. When Wagyu cattle eat to gain weight, the fat manages to evenly distribute throughout the muscle (not just create a layer of fat on top), yielding beautifully marbled steaks that are full of flavor. If you'd like to read more in-depth about Wagyu Beef, I highly recommend this article. We're not talking steak here though. You're just looking for ground Wagyu beef, which I found surprisingly easy to find.
Where to buy Wagyu Beef
I was able to purchase my beef at my local Kroger grocery store. If you are unable to find this type of beef in your own grocery store, here's a place to order it online.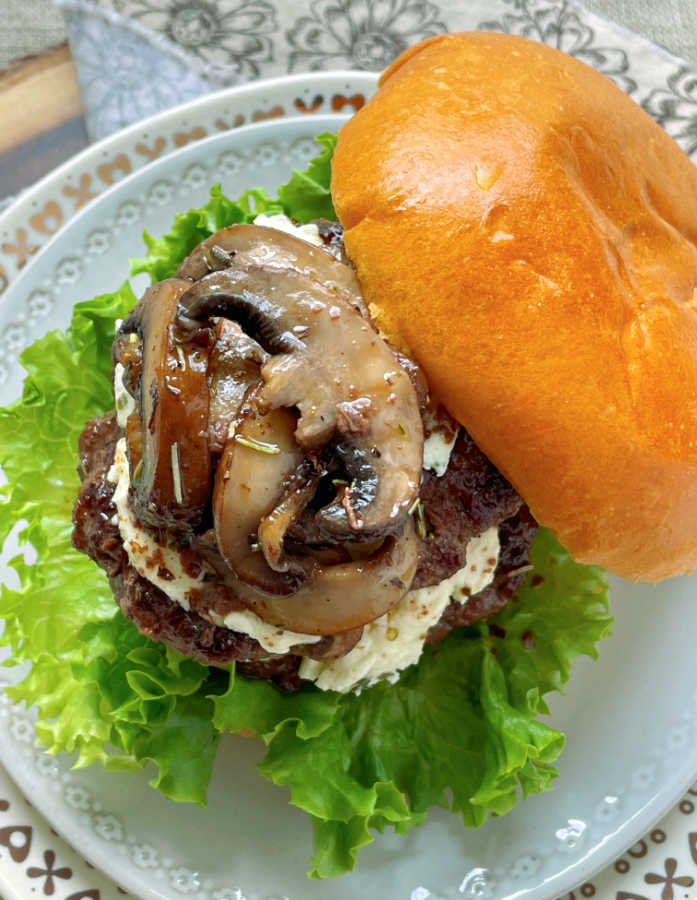 Ingredients for the best Wagyu Burger
Brioche Buns
Wagyu Beef
Mushrooms
Herbs de Provence Seasoning
Salt and Pepper
Olive Oil
Butter
Boursin Cheese
Leaf Lettuce
Why simple is best for this Wagyu Burger
The beef is the star of the show here. I simply divided my Wagyu beef into four equal portions, formed them into patties and seasoned them. Then I cooked them in a skillet with the remnants of the buttery sauteéd mushroom liquid. I think they are perfect this way.
If you don't like mushrooms, sub onions instead. You could skip the Boursin and melt some Provolone on top, or maybe top them with a smear of goat cheese. I just think when using Wagyu, it's important to keep things simple.
Safe Temperature for Perfectly Cooked Wagyu Burgers
According to the USDA (which errs on the side of extreme caution) the minimum safe temperature for ground meat is 160 degrees F. I tend to like my burgers cooked medium to medium well. Here is a complete list of temperatures for cooking ground Wagyu beef burgers…
Rare: 120 to 125 F
Med-Rare: 130 to 135 F
Medium: 140 to 145 F
Med-Well: 150 to 155 F
Well Done: 160 to 165 F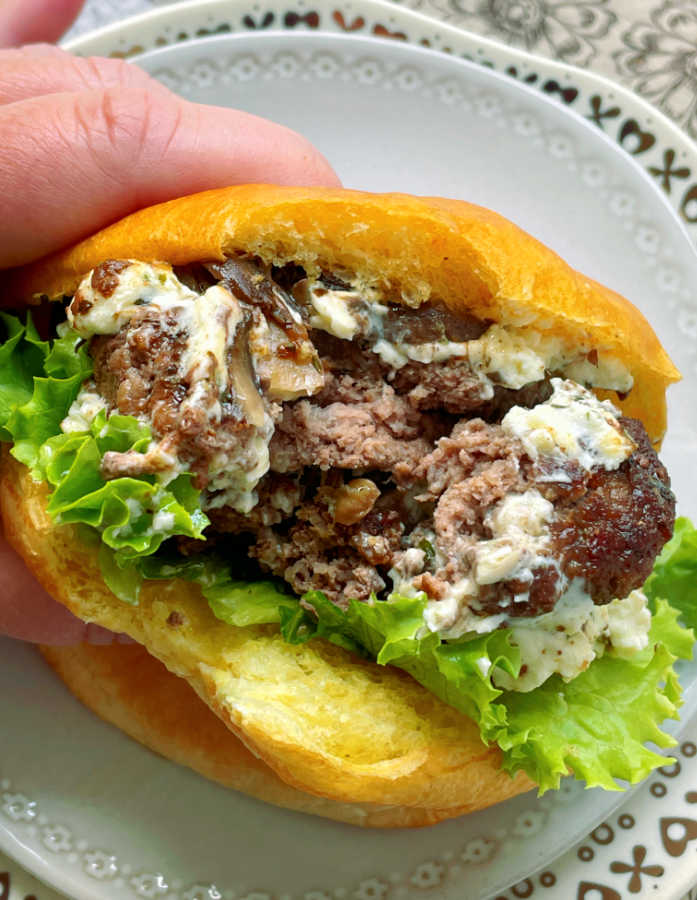 Kitchen Tips for making Wagyu Burgers
Foodtastic Mom is a participant in the Amazon Services LLC Associates Program, an affiliate advertising program designed to provide a means for sites to earn advertising fees by advertising and linking to Amazon.com. Any highlighted, clickable Amazon link you see is an affiliate link that I may earn advertising fees on.
Thank you so much for being a faithful reader and supporter of Foodtastic Mom. Be sure to PIN and print this recipe!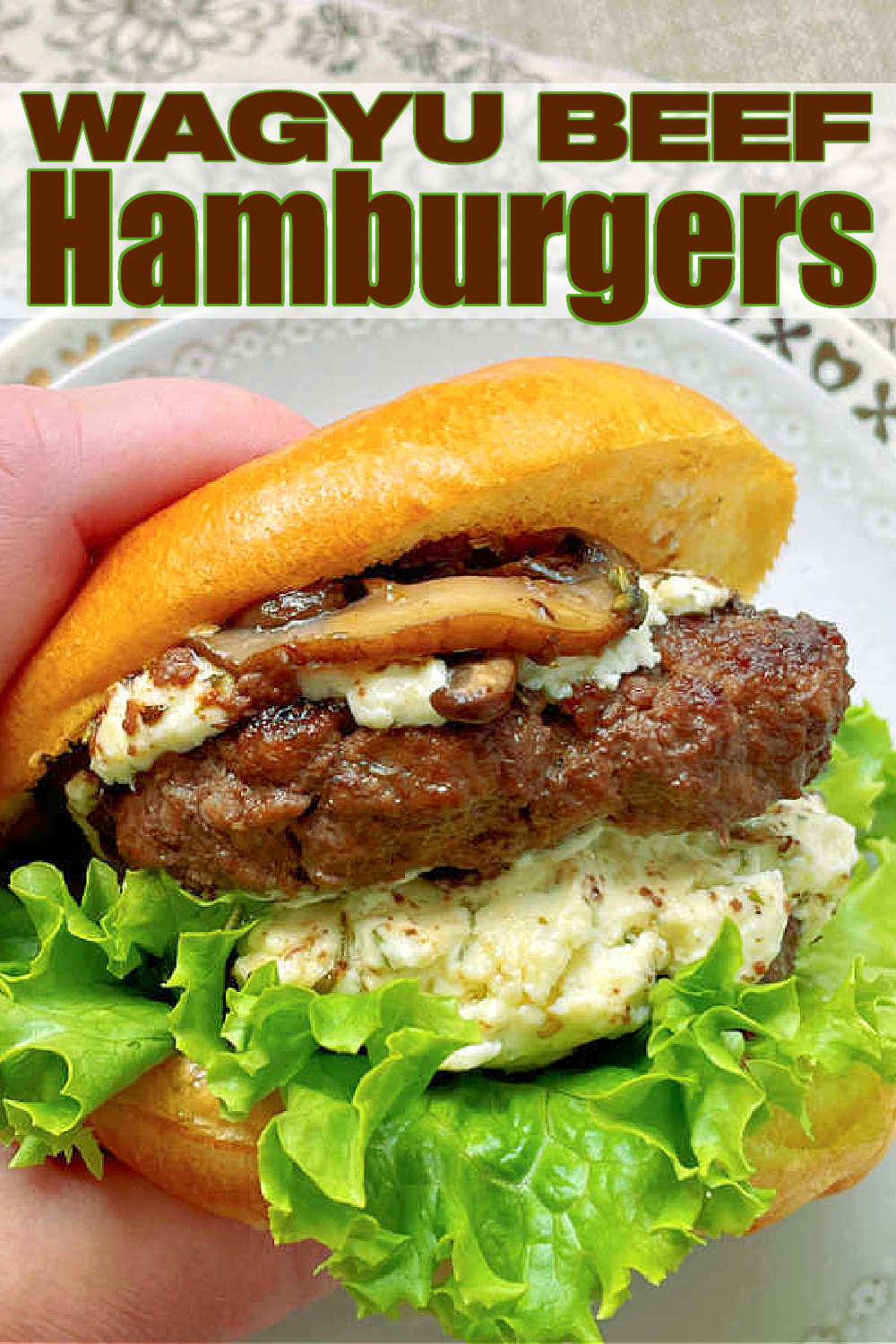 Wagyu Burger
This Wagyu Burger is the best with its simple ingredients and preparation to help the superior flavor of the wagyu beef take center stage.
Ingredients
1

lb

Ground Wagyu Beef

1

cup

Button or Baby Bella Mushrooms

1

tbsp

Extra Virgin Olive Oil

1

tbsp

Butter

2

tsp

Herbs de Provence seasoning

Salt and Pepper

1/3

cup

Boursin cheese

4

Lettuce Leaves

4

Brioche Buns
Instructions
Remove and discard the stems from the mushrooms. Clean the mushroom tops and slice them thinly.

Add the butter and olive oil to a non-stick pan over medium heat. Cook the mushrooms until browned and the liquid is mostly evaporated. Season them with salt and a little of the Herbs de Provence. Use a slotted spoon to remove the mushrooms to a clean bowl.

Divide the Wagyu Beef into four portions. Gently shape them into burgers. Season the burgers evenly with the remaining Herbs de Provence seasoning, salt and pepper.

Add the burgers to the same skillet that the mushrooms were cooked in, don't wipe out the pan.

Cook the burgers over medium heat on the first side for about four minutes. Flip the burgers over and cook for an additional 3 - 6 minutes, depending on how you like your burger cooked.

Medium rare burgers will take about 6 - 7 minutes, Medium burgers will cook in about 8 minutes and so on.

To assemble the burgers, place a lettuce leaf on the bottom half of the brioche buns. Top the lettuce with a burger. Spread a generous amount of Boursin cheese on top of the Wagyu burger. Top it with some cooked mushrooms and then the top half of the bun. Serve immediately.
More Burger Recipes