Roasted Autumn Vegetable Pasta combines roasted pumpkin, brussels sprouts and radicchio with pasta in a sage browned butter sauce.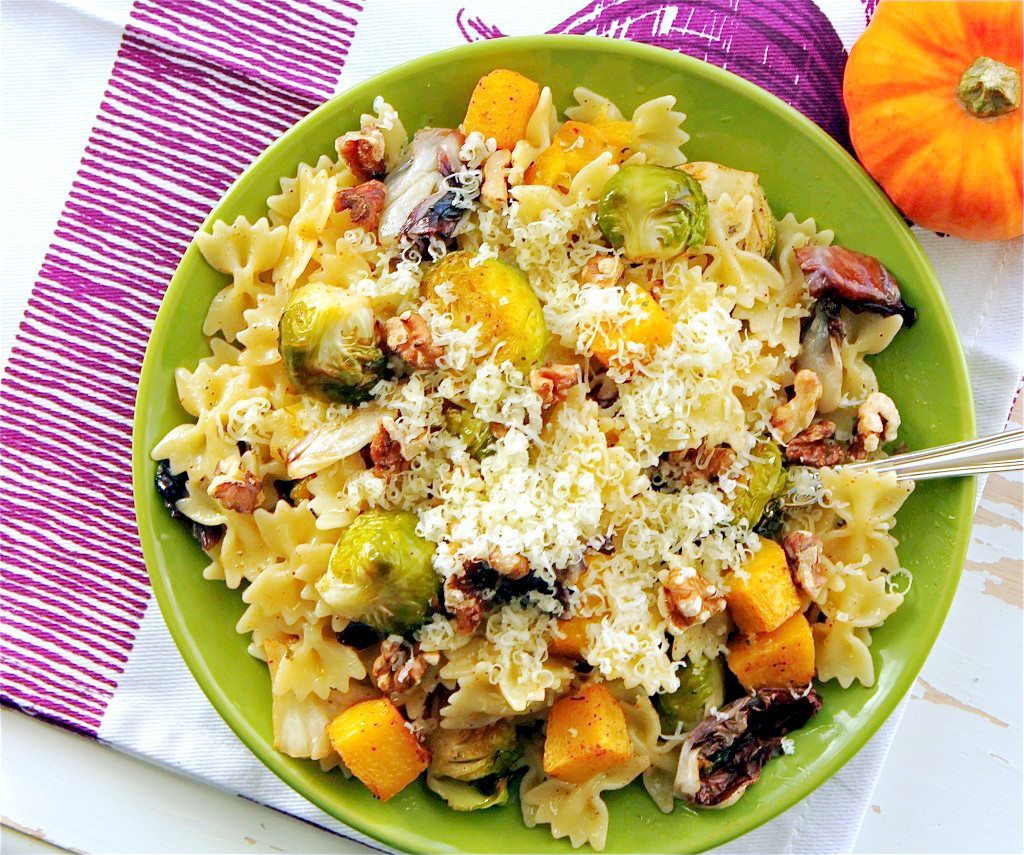 I first made this dish back when my blog was brand new in 2012. I decided to highlight the recipe again because we're right at the beginning of fall in 2018 and I'm craving this dish. It's on my dinner menu for this week in fact.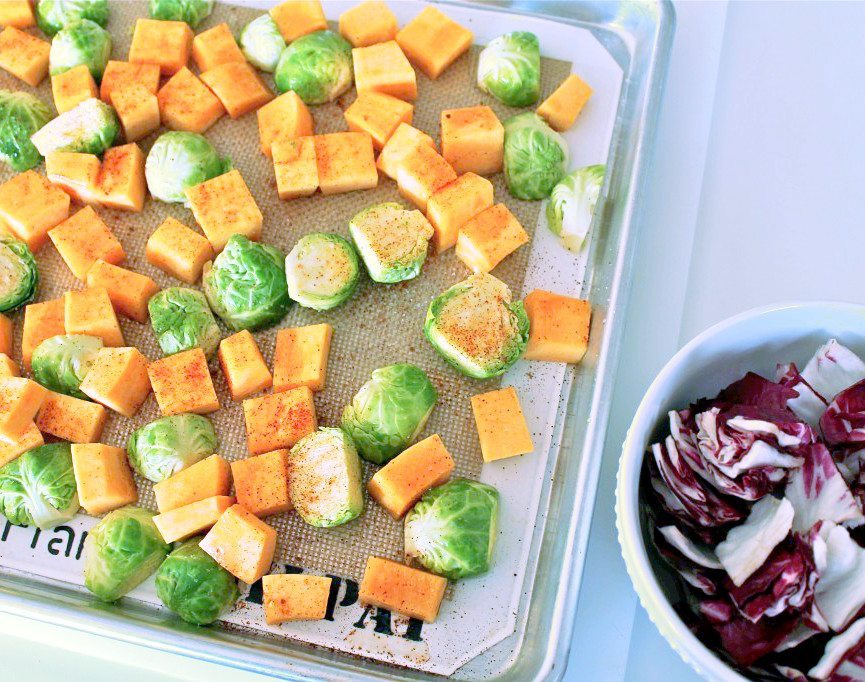 My kids actually tried the brussels sprouts back when I made this pasta for the first time. They were intrigued by the "mini lettuce heads" they saw me cleaning. It really pays to cook with your children because it gets them asking questions, which in most cases, makes them more willing to try something new. Plus I think the colors of the pumpkin, brussels sprouts and radicchio are so pretty together, making it an even more appealing dish for kids (and adults) to try and surely enjoy!
Tips for Roasted Autumn Vegetable Pasta:
If you are unable to find a sugar pie pumpkin, you can substitute butternut squash instead.
This recipe can easily be doubled.
If you (or your children) aren't a fan of nuts, just leave them out. Or swap the walnuts for another type of nut that you prefer.
When roasting vegetables, I always line my sheet pan with parchment paper or a silicone baking mat for a non-stick surface and easy clean-up.
Foodtastic Mom is a participant in the Amazon Services LLC Associates Program, an affiliate advertising program designed to provide a means for sites to earn advertising fees by advertising and linking to Amazon.com. Any highlighted, clickable Amazon link you see is an affiliate link that I may earn advertising fees on.
Thank you so much for being a faithful reader and supporter of Foodtastic Mom. Be sure to PIN and print this recipe!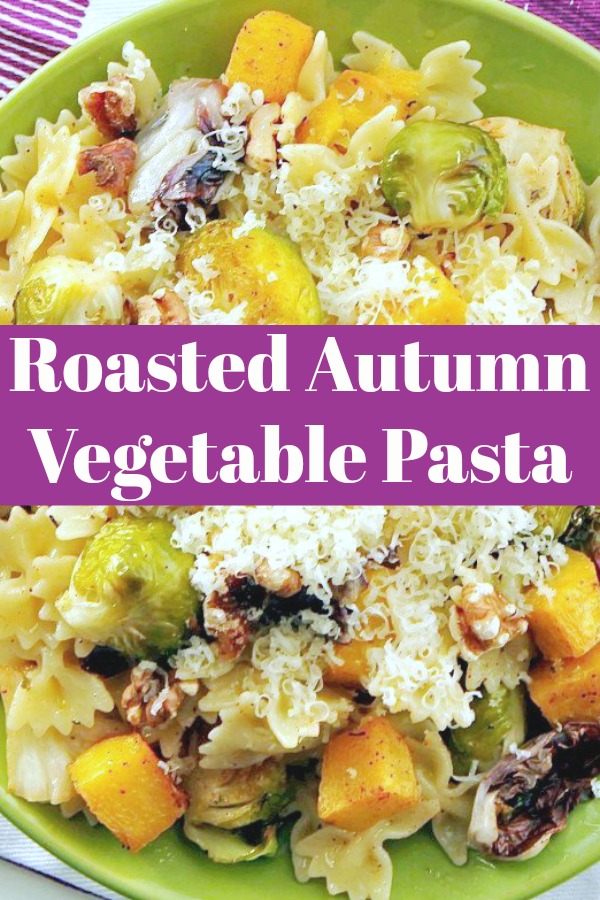 Roasted Autumn Vegetable Pasta
Roasted Autumn Vegetable Pasta combines roasted pumpkin, brussels sprouts and radicchio with pasta in a sage browned butter sauce.
Ingredients
2

lb

sugar pie pumpkin

or butternut squash

20

brussels sprouts

1

head

radicchio

3

tbsp

grape seed or olive oil

8

oz

pasta

I used mini farfalle

4

tbs

butter

1/2

cup

walnuts

chopped

1

tsp

salt

divided

1/2

tsp

dried sage

1/4

tsp

nutmeg

freshly grated Parmesan cheese for serving
Instructions
Preheat the oven to 400 degrees F.

Halve, seed and peel the pumpkin and cut into approximately 1/2-inch cubes. Peel the outer leaves from the brussels sprouts, trim off the stalky ends and halve. Toss the pumpkin cubes and halved brussels sprouts with 2 T. of olive oil and 1/2 teaspoon of salt.

Spread evenly on a sheet pan and roast for 20 - 25 minutes, stirring/flipping the vegetables once during cooking time.

Peel the outer leaves from the raddichio, quarter, remove the hard core and chop into roughly 1-inch pieces. Toss with remaining 1 T. olive oil. Evenly spread the raddichio over the roasted pumpkin and brussels sprouts, and return to the 400 degree oven. Continue roasting for about 5 minutes more.

Meanwhile, heat water to cook the pasta. While veggies are roasting and water is heating, heat a skillet over medium heat and toast the walnuts, about 5 - 8 minutes, shaking the pan occasionally to evenly toast.

Remove the walnuts to a bowl to cool, lower the heat to medium-low, and add the butter to the pan. Melt, swirling the pan occasionally, until the butter is a golden brown color (being careful not to burn it). Once butter is browned, stir in sage, nutmeg and remaining 1/2 teaspoon of salt.

Cook pasta according to package directions. Drain (reserving about 1/2 cup of the cooking water) and return the pasta to the pot. Toss the pasta with the roasted vegetables and the sage browned butter - adding some of the reserved pasta water at the end to make the sauce creamier. Serve with toasted walnuts and Parmesan cheese.
Nutrition
More food to eat in the fall: