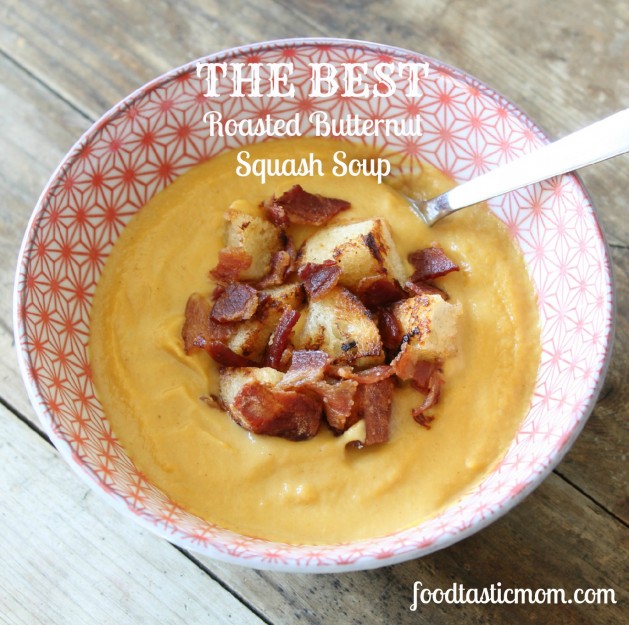 It's another gray and rainy day here… a perfect reason to tuck into this velvety squash soup. This soup is like a stadium blanket for your tummy AND it's topped with bacon and homemade croutons. Really, what excuse do you have for not making this?!? I would say the bacon is optional, but it makes me think of this…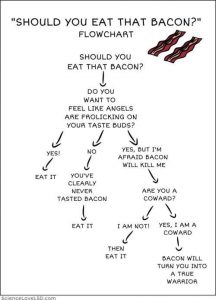 So let's go with no, it is definitely not optional. One thing to note about this particular recipe… with soups, I tend to stand over the pot and just throw seasonings and liquids in with no real regard to measurements. I think I'm pretty close in writing this down, but as with any homemade soup, you should always taste it before serving and adjust the seasonings to your own liking.
Also, this soup calls for deeply caramelizing the onions. If you've never done that, know that higher heat does not produce the result you want more quickly… it just burns the onions. I start my heat on medium to melt the butter then turn it down to medium-low. It will take 30-40 minutes to get your onions caramelized, but it is well-worth it for the deep flavor they add to the soup. Plus, there is no need to stand and constantly monitor the onions. Just stir occasionally until the desired color is reached.
This soup is pure comfort food and you know it's calling your name…
The Best Roasted Butternut Squash Soup
Ingredients
3

large butternut squash

2

T.

butter

3

onions

thinly sliced

1/2

c.

white wine

3

c.

chicken broth

2

T.

pure maple syrup

1

t.

salt

1/2

t.

cinnamon

1/4

t.

nutmeg

1/4

t.

black pepper

4

T.

cream cheese

cooked bacon

crumbled

homemade croutons

see notes
Instructions
To prepare the squash
Preheat oven to 400 degrees.

Slice a bit off the top and bottom of each squash, so you have a flat surface under both your knife and cutting board. Halve each squash and use a spoon to scoop out the seeds.

Place the squash halves, cut side down, in a 9 x 13 dish, filled with about 1 inch of water. Roast the squash for 60 - 80 minutes, or until squash can be easily pierced with a knife. Remove from oven, allow to cool for a bit, then scoop out the flesh into a bowl and mash until very smooth. The squash can be prepared the day ahead and stored, covered in the refrigerator.
To prepare the soup
Heat butter in stock pot over medium heat. Add onions and reduce heat to medium-low. Cook, covered, stirring occasionally, for about 30 minutes. Uncover and cook, stirring very occasionally for 20 - 30 minutes more, or until onions are deeply caramelized.

Turn heat to medium-high. Add wine and scrape up any browned bits from bottom of pot. Bring to a boil and add chicken broth, roasted squash, and seasonings. Stir well and bring to a simmer.

Remove soup from heat and add the cream cheese. Using a Cuisinart immersion blender, blend the soup until very smooth. Taste, adjust seasonings, and put back on medium heat until just simmering.

Serve soup topped with crispy bacon crumbles and homemade croutons.
Notes
To prepare the croutons:
Cut about a third of a French baguette into small cubes. This will yield about 2 cups of bread cubes. In a clean bowl, sprinkle the bread with about 1/2 teaspoon cinnamon, 1 teaspoon sugar and 1/4 cup of freshly grated Parmesan cheese.
Melt two tablespoons of unsalted butter in a non-stick skillet. Add the seasoned bread cubes and toast, stirring occasionally, for about 8-10 minutes in the skillet. Remove from heat and place on a paper towel lined plate until ready to serve.