Pumpkin Pie Dump Cake takes just a few minutes to get in the oven, with a cake layer on the bottom, pumpkin pie filling in the middle and pecan streussel on top.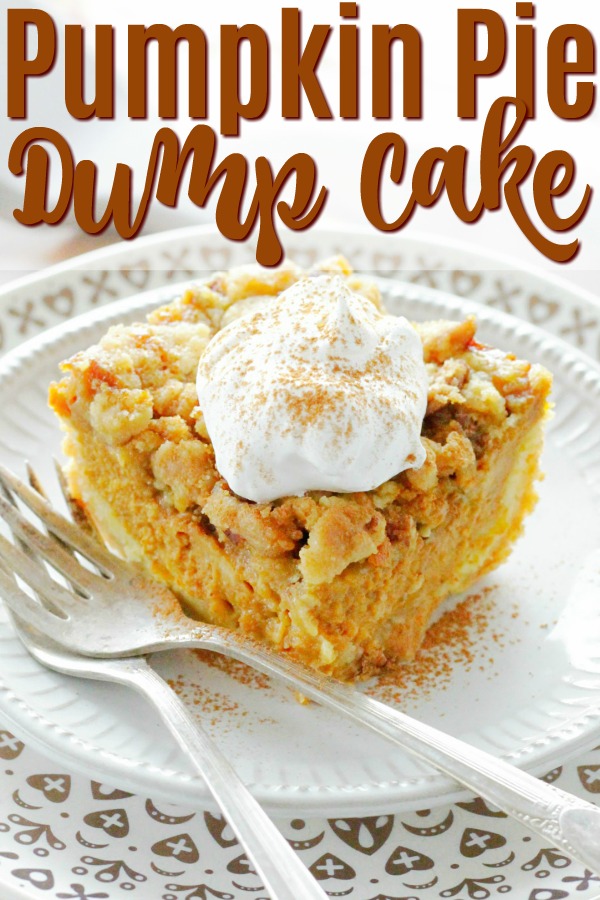 I've talked before about my dislike of pumpkin pie. I'm sorry to my readers who do really enjoy pumpkin pie, but you'll have to go elsewhere for a pumpkin pie recipe. Though I did run across this recipe the other day that I would be willing to try! Add some bourbon and chocolate to pretty much anything and I'm a fan.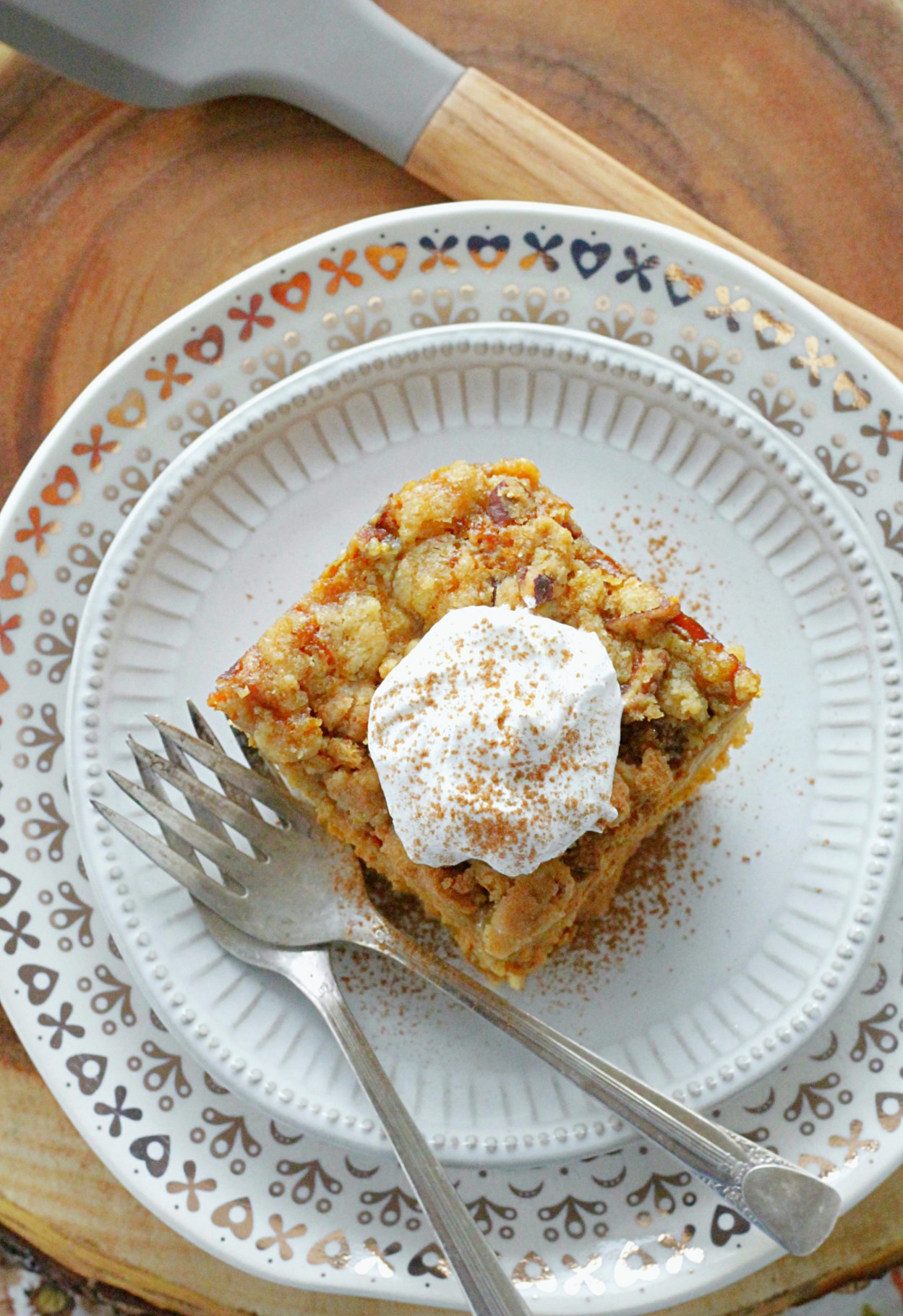 This recipe I'm calling pumpkin pie dump cake is based on a dessert I enjoyed at my son's band expo competition recently. I wasn't able to get her exact recipe in time for when I wanted to publish it, but I found this recipe and knew that it was similar enough. The cake layer on the bottom was what I was looking for.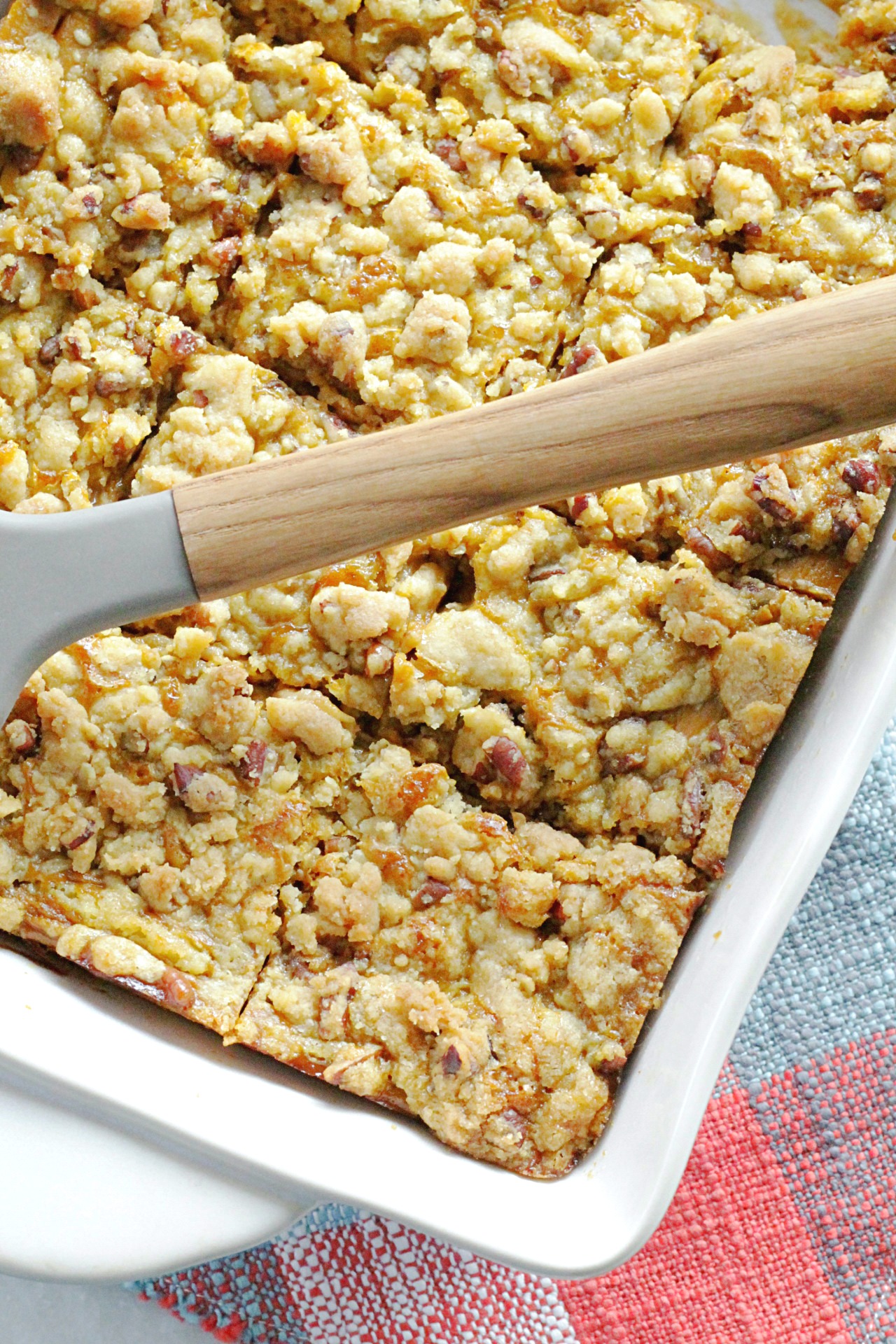 After some major tweaking of the All Recipes version of this cake, it was ready to go in the oven. After the suggested 50 minutes of baking time, I was concerned that the middle was still very jiggly and it didn't look done. So I continued baking it and ended up over-cooking it. Since this cake is meant to be kept in the fridge before serving, the pumpkin pie layer in the middle is going to stay jiggly. It firms up in the fridge, kind of a like a cheesecake.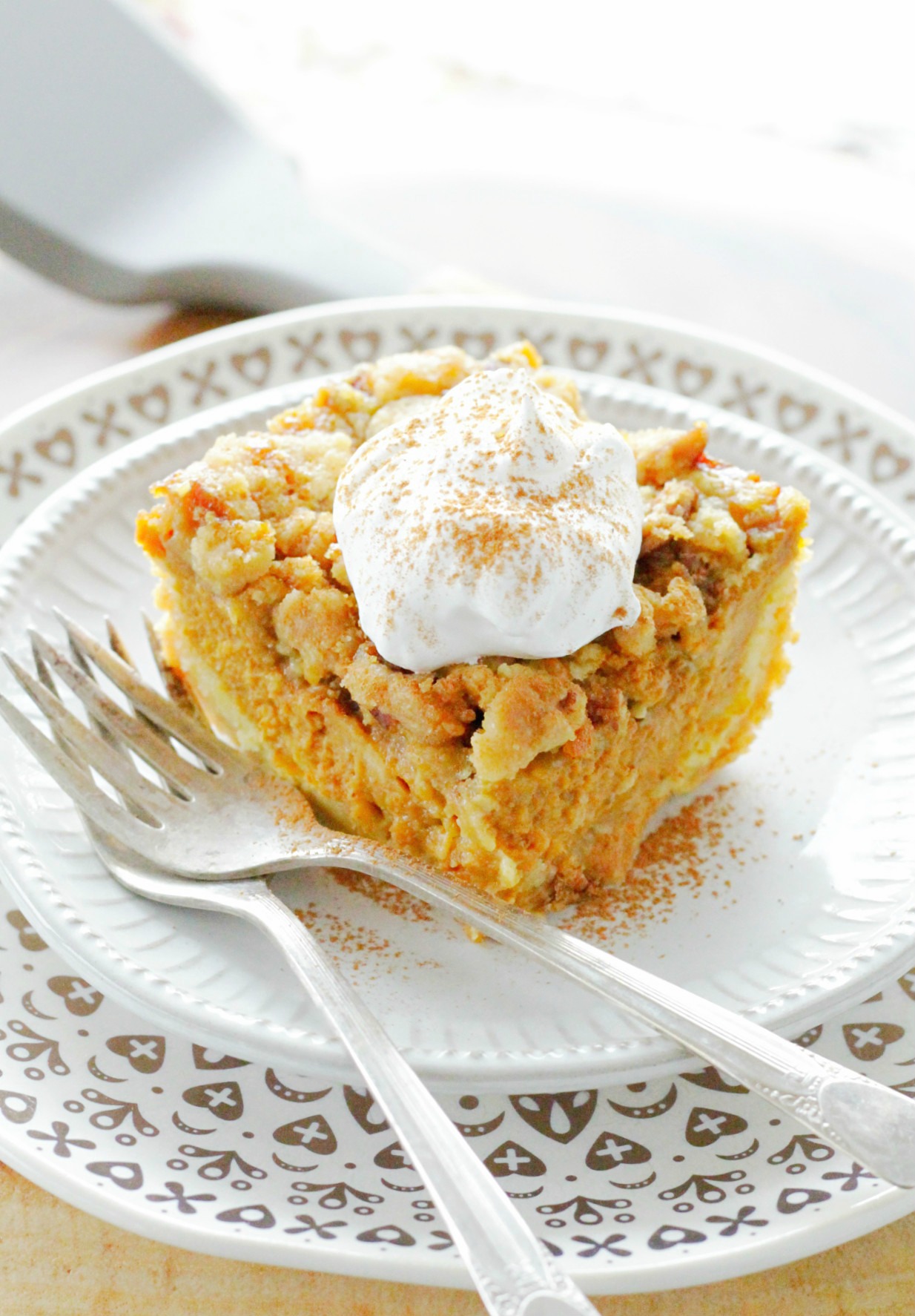 With this pumpkin pie dessert, I don't have to coat the whole thing in whipped cream to get it eaten. Just a little dollop does it. Also this dessert is very rich, so small pieces are appropriate.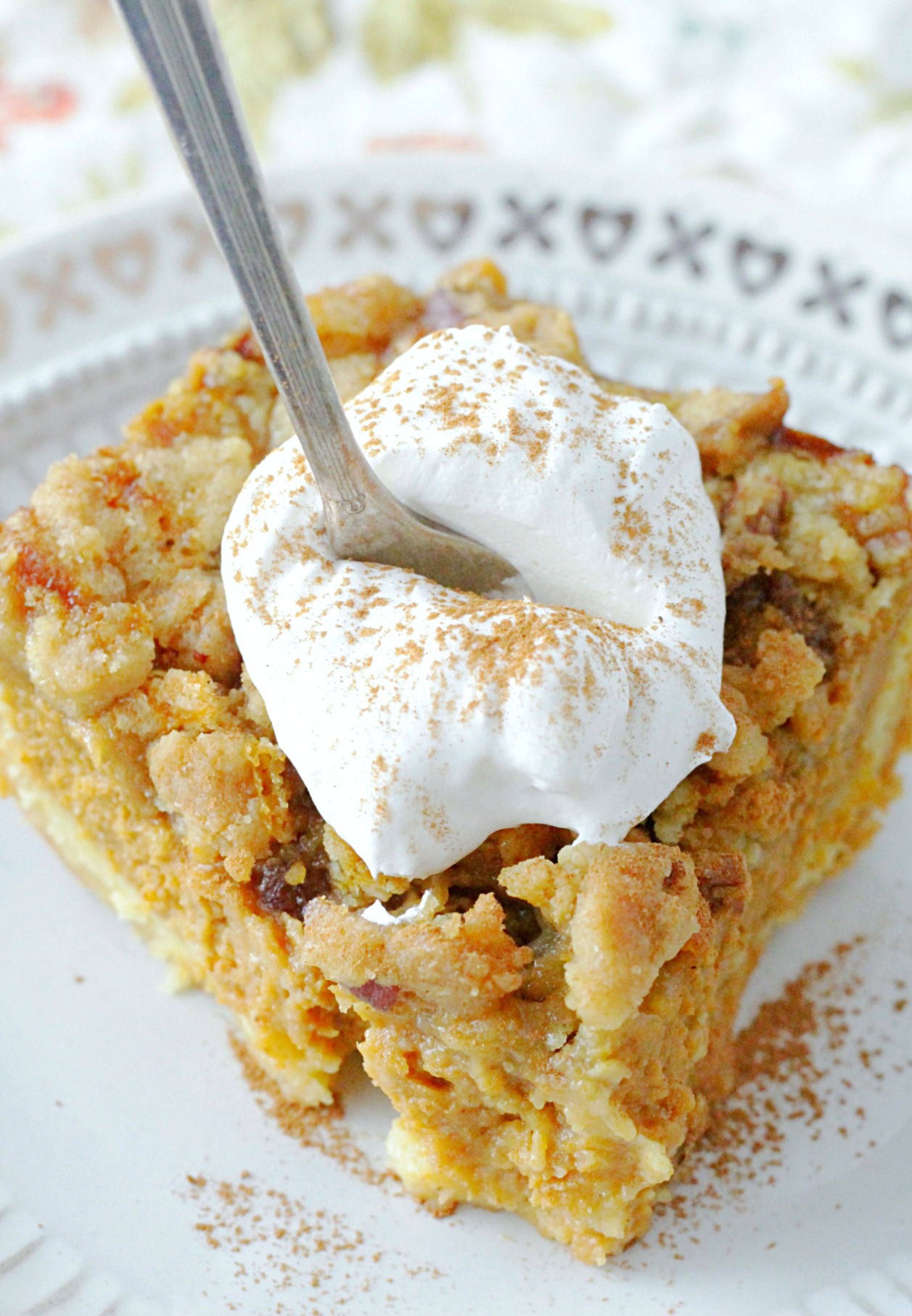 More Tips for Pumpkin Pie Dump Cake:
You need a large can of pure pumpkin for this recipe – 29 oz instead of 15 oz
I used this casserole dish to bake my cake – I really love this whole line (not sponsored)
Be sure to grease your baking dish well so the cake on the bottom doesn't stick to the pan
This cake is best served the next day, after it has cooled and then chilled in the fridge overnight
If you are not a fan of nuts, just leave them out
Foodtastic Mom is a participant in the Amazon Services LLC Associates Program, an affiliate advertising program designed to provide a means for sites to earn advertising fees by advertising and linking to Amazon.com. Any highlighted, clickable Amazon link you see is an affiliate link that I may earn advertising fees on.
Thank you so much for being a faithful reader and supporter of Foodtastic Mom. Be sure to PIN and print this recipe!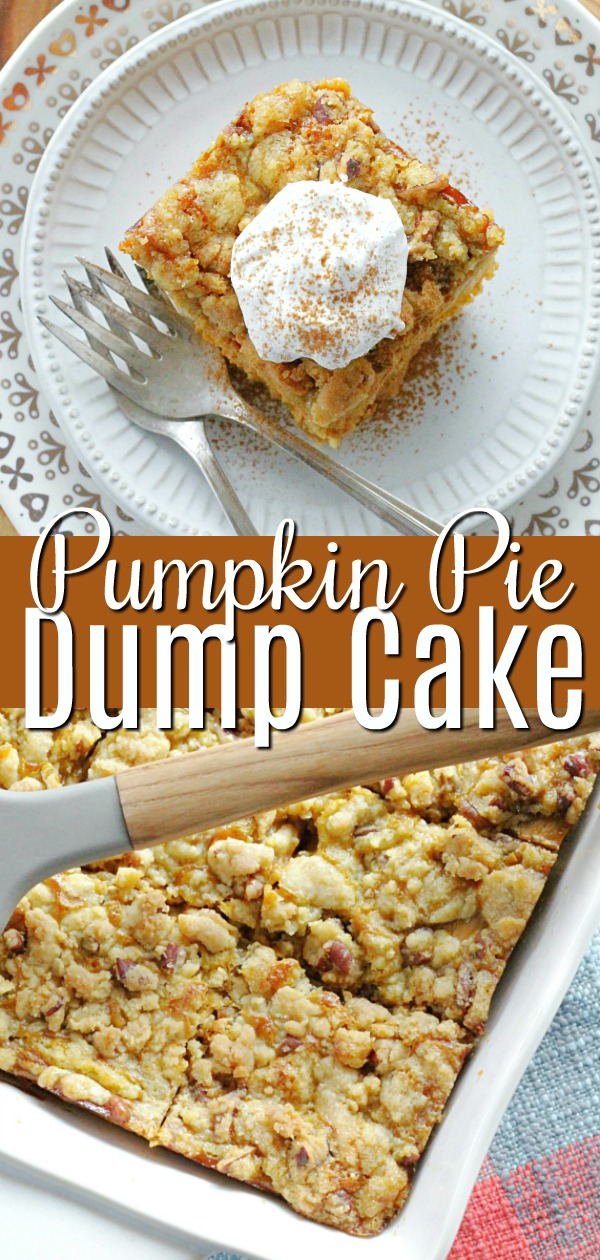 Pumpkin Pie Dump Cake
Pumpkin Pie Dump Cake takes just a few minutes to get in the oven, with a cake layer on the bottom, pumpkin pie filling in the middle and pecan streussel on top.
Ingredients
1

18.25 oz box

yellow cake mix

1

large

egg

8

tbsp

unsalted butter

melted

1

29 oz can

pure pumpkin puree

not pumpkin pie filling

3

large

eggs

1/2

cup

granulated sugar

1

tsp

vanilla extract

1

tsp

cinnamon

1

tsp

pumpkin pie spice

1/4

tsp

ground cloves

2/3

cup

evaporated milk

1/2

cup

light brown sugar

1/2

cup

pecans

finely chopped

4

tbsp

unsalted butter

softened

1/4

tsp

salt
Instructions
Preheat oven to 350 degrees F.

Grease a 9x13 baking dish and set aside.

Reserve one cup of the cake mix and set aside.

Place the rest of the cake mix in a mixing bowl. Crack on egg and beat it lightly, then add it to the bowl with the cake mix. Add the eight tablespoons of melted butter. Stir with a spatula until smooth. Spread the cake layer evenly in the bottom of the prepared baking dish.

With a hand or stand mixer, beat together the pumpkin, 1/2 cup granulated sugar, three eggs, evaporated milk, vanilla, cinnamon, pumpkin pie spice and cloves. Make sure it is well combined and pour it evenly over the cake layer in the baking dish.

In a clean bowl, whisk together the remaining cup of cake mix with the 1/2 cup of brown sugar, 1/2 cup of pecans and 1/4 teaspoon of salt. Blend in the softened butter with a fork until a crumbly streussel is formed.

Evenly sprinkle the pecan streussel over the top of the pumpkin layer.

Bake the cake for 50 minutes. The center will still be jiggly when you take it out of the oven.

Allow the cake to cool completely in the pan. Cover with plastic wrap and refrigerate overnight before serving.
Nutrition
More delicious pumpkin recipes: