You won't be able to resist a slice of this fabulous fall dessert. This Pumpkin Chocolate Chip Pudding Cake has been a family favorite for years.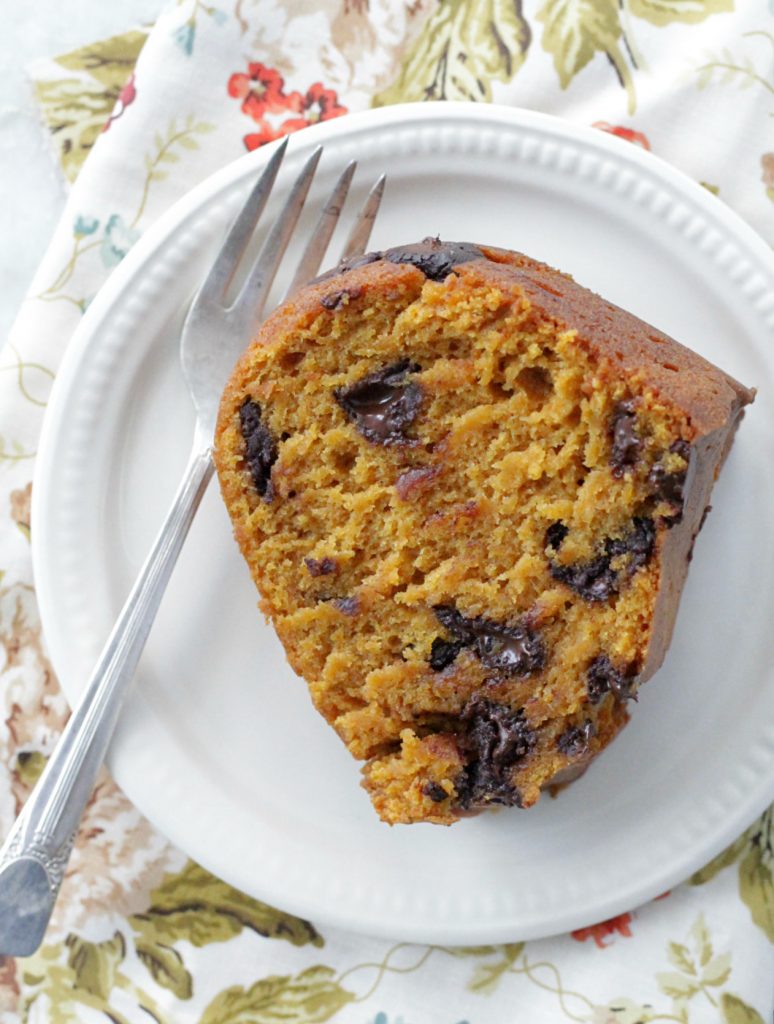 This cake used to be bread. I've made this recipe for years but I used to bake it in two bread loaf pans instead of a bundt cake pan. Because that is what the recipe said for me to do. I'm not usually one to follow recipes closely so it was odd I listened for so long in this case.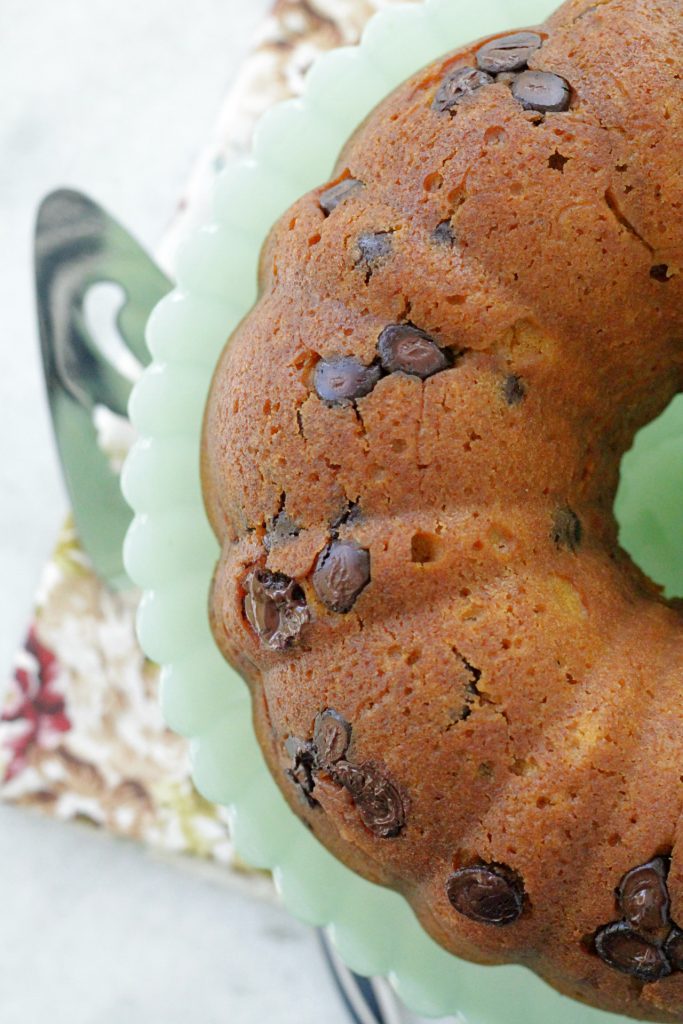 Not only is this cake perfectly pumpkin flavored, moist and full of chocolate but it also has less fat grams than similar recipes. Fat free vanilla pudding, egg whites and a modest amount of vegetable oil make this cake a stand-out dessert. But let's be real… it still has two cups of sugar in it! Which is why I decided it needed to be a cake instead of two loaves of quick bread.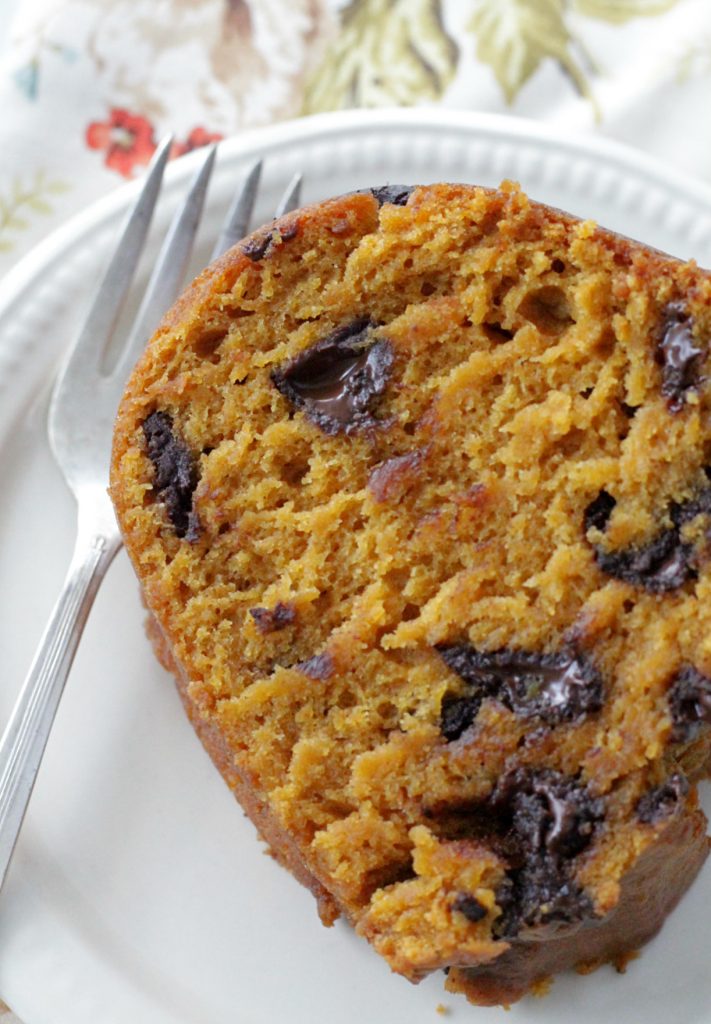 My family gobbles this up so quickly. The original recipe also divides this cake/bread into very small servings. I don't know about you but I don't have that kind of willpower when it comes to food flavored with pumpkin and chocolate. So 32 servings (or slices of quick bread) become 16 (or more realistically 10 to 12) slices of cake with my version. Whether that's good or bad judgement on my part – I'll let you decide!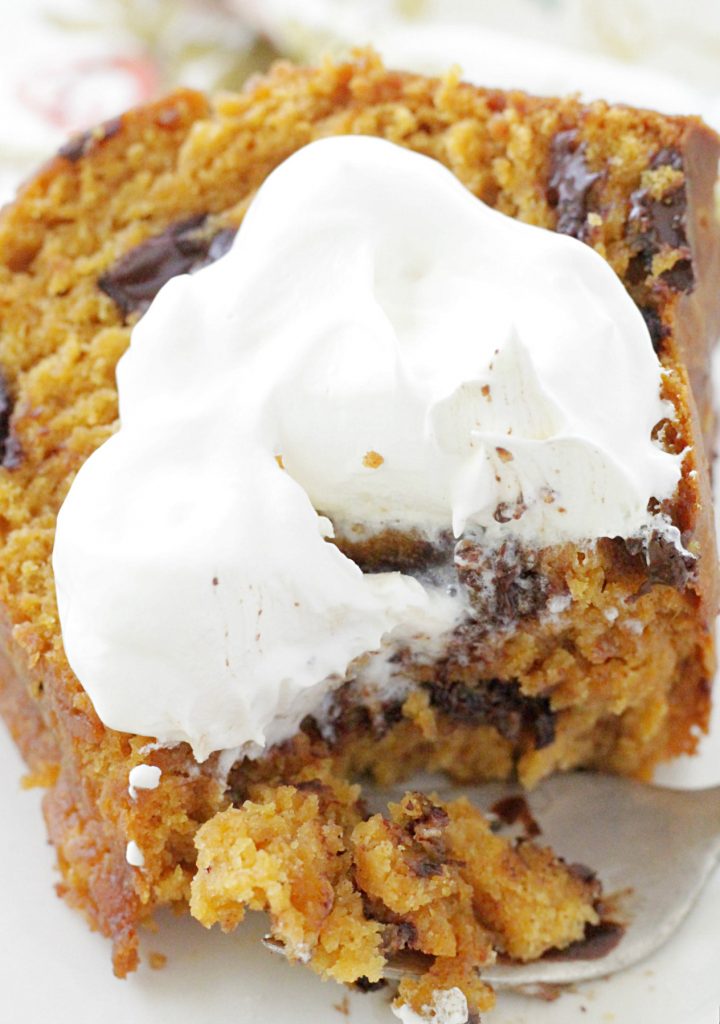 Pumpkin Chocolate Chip Pudding Cake
Ingredients
2

cups

sugar

2

cups

canned pumpkin

not pumpkin pie filling

1/2

cup

vegetable oil

4

large

egg whites

beaten

1/2

cup

fat-free vanilla pudding

1 container of a 4-pack

3

cups

all-purpose flour

1 1/4

tsp

ground cinnamon

1 1/4

tsp

salt

1

tsp

baking soda

1 1/2

cups

bittersweet chocolate chips
Instructions
Combine first five ingredients in a large bowl (sugar through pudding) and stir well with a whisk.

Combine flour, cinnamon, salt, and baking soda in a medium bowl, stirring well with a whisk.

Add flour mixture to pumpkin mixture, stirring just until moist. Stir in chocolate chips.

Pour batter into a bundt pan coated with cooking spray. Smooth the top of the batter with a spatula.

Bake at 350° for one hour or until a wooden pick inserted in the center of the cake comes out clean.

Cool 10 minutes in the cake pan on a wire rack, and then remove from pan. Cool completely, slice and serve.