I'm showing you how to make flavorful Pork Carnitas on the Grill and the process could not be more simple! Thanks to the Ohio Pork Council for sponsoring this post. All opinions are mine alone.
It's May here in Ohio and that means it is past time to turn on my grill. Pulled pork is such a crowd-pleasing, inexpensive and delicious meal to serve – any time of year. So I wanted to explore how to make pork carnitas (which is pulled pork with Mexican flavors) on the grill. The process was mostly hands-off and the results were pretty amazing.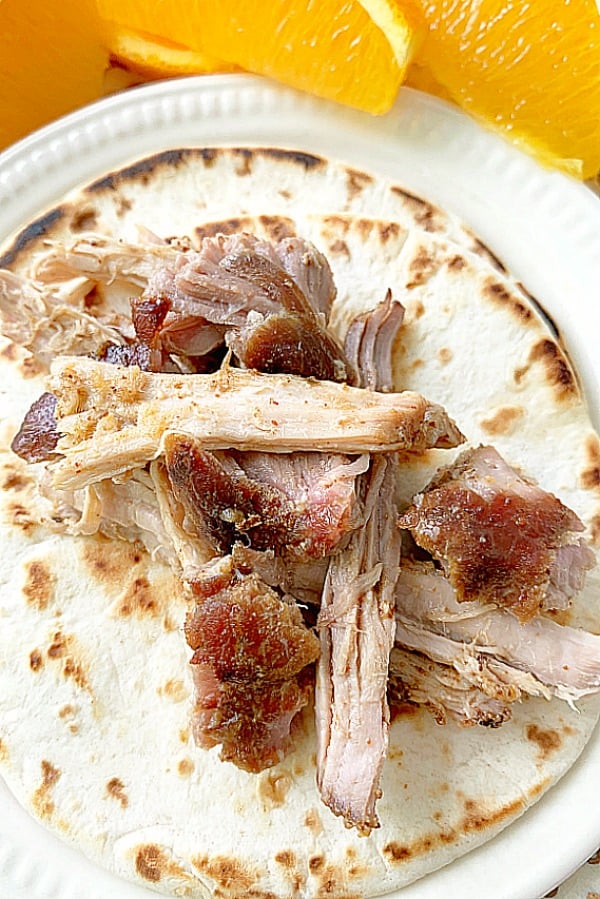 Watch how to grill pork carnitas:
What are pork carnitas?
The authentic Mexican version of pork carnitas is pork simmered in lard because it makes the pork amazingly tender. Pork carnitas are known for both being tender and having crispy bits of fat mixed in – quite an addicting combination. Here in the states a pork shoulder (also known as a pork butt) can be cooked low and slow and then crisped up at the end to mimic the Mexican carnitas. A foil pan on the grill provides for the low and slow park and then the grill provides the finishing touch.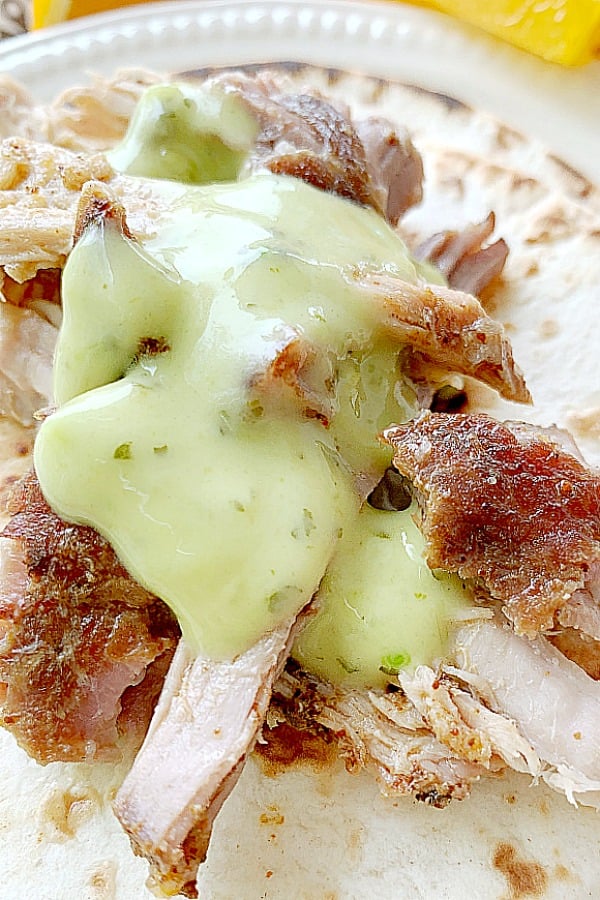 How are pork carnitas on the grill served?
Tacos are probably the most popular way to serve pork carnitas, but carnitas are also good served with rice as a burrito bowl. Heck if you're paleo or low carb you can fit pork carnitas into your diet too as a topping for lettuce or baked sweet potatoes. But I personally prefer a good pork carnitas taco topped with green salsa and a little shredded cheese.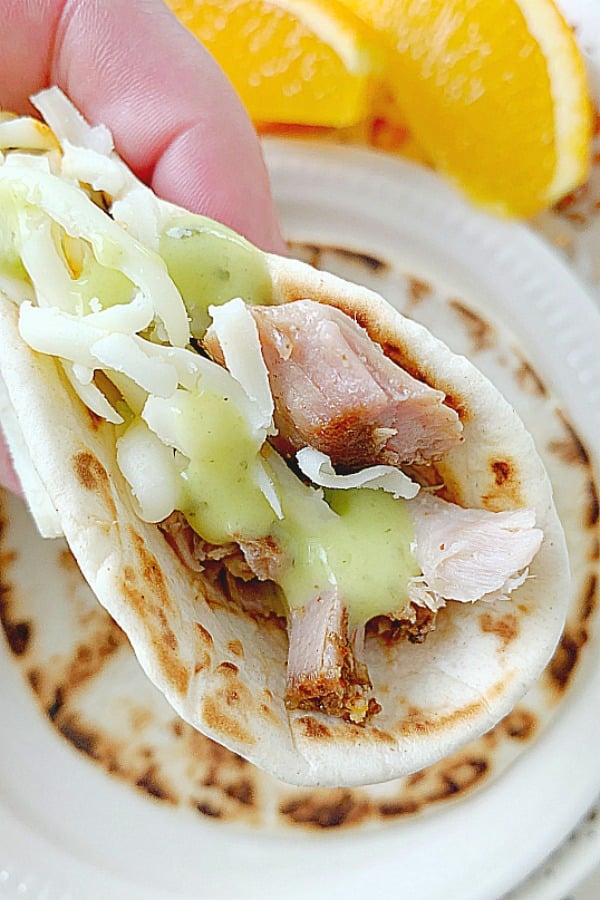 Kitchen Tips:
Pork loins and chops can be served with a blush of pink at 145 degrees F. That rule doesn't apply with carnitas though. Cook until the meat easily shreds with a fork. The fat in the pork shoulder adds flavor and keeps the meat really tender through the roasting and grilling process.
If you are local to me and buy your pork at the grocery store, you are supporting Ohio pork farmers.
Use a disposable foil pan similar to these for roasting the pork.
Instructions in this recipe are for a gas grill, similar to this one.
Foodtastic Mom is a participant in the Amazon Services LLC Associates Program, an affiliate advertising program designed to provide a means for sites to earn advertising fees by advertising and linking to Amazon.com. Any highlighted, clickable Amazon link you see is an affiliate link that I may earn advertising fees on.
Thank you so much for being a faithful reader and supporter of Foodtastic Mom. Be sure to PIN and print this recipe!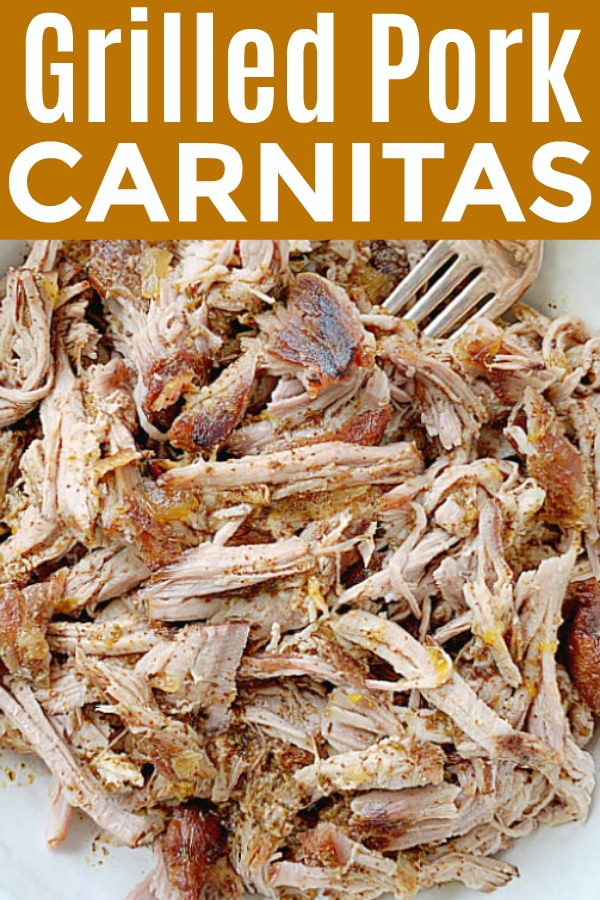 Pork Carnitas on the Grill
I'm showing you how to make flavorful Pork Carnitas on the Grill and the process could not be more simple!
Ingredients
3

lb

pork shoulder (aka pork butt)

1

12 oz can

sparkling water

lime or unflavored

1

orange

cut into sections

1/2

onion

cut into quarters

2

tbsp

light brown sugar

1

tbsp

chili powder

2

tsp

salt

1

tsp

cumin

1

tsp

oregano

1/2

tsp

cayenne pepper
Instructions
Preheat the grill on high. Scrape the grates clean. Turn all burners off except for one. You want to maintain your grilling temperature at 300 degrees F.

In a deep foil plan, top the pork shoulder with the sparkling water, orange and onion wedges.

Whisk together the brown sugar, chili powder, salt, cumin, oregano and cayenne pepper. Pour evenly over the pork shoulder.

Cover the pan with foil and slow roast on the side that the burner is not on (indirect heat) for 3 to 3 1/2 hours. Pork should be tender and cooked through - ready to shred.

Remove the pork from the pan and grill for a few minutes on each side to crisp up the exterior. Baste with the roasting liquid as you grill.

Remove the pork to a clean bowl. Cover loosely with foil.

Place about 1 cup of the cooking liquid into a saucepan. Bring the liquid to a boil and simmer for several minutes.

Shred the pork and pour the cooking liquid over it. Serve.
More grilling recipes with Ohio Pork: