Marinated in fresh pineapple, orange and lime juices plus three different types of peppers, this Al Pastor Grilled Pork Tenderloin is amazingly tender and full of flavor.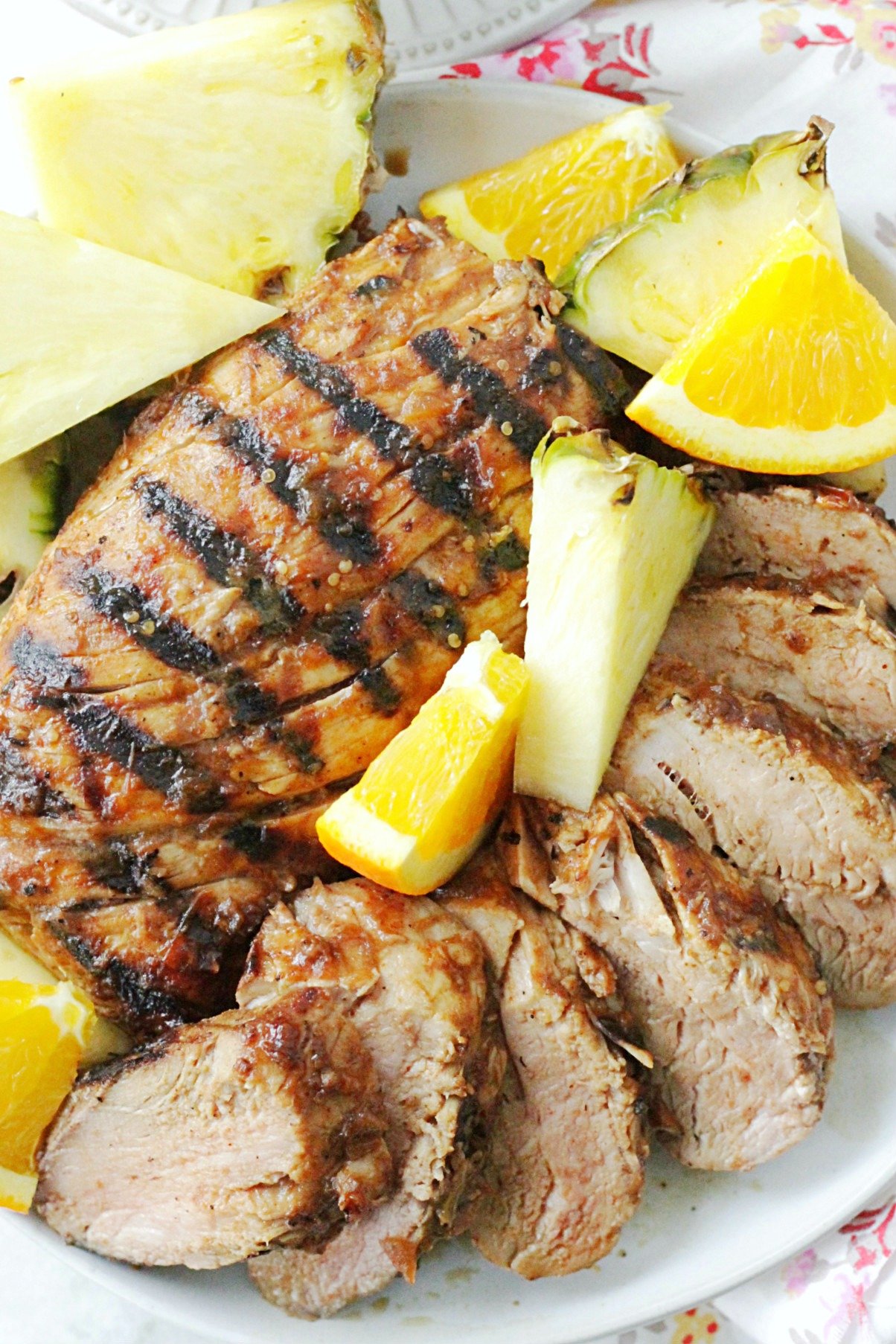 Al Pastor is a fusion combining Lebanese spit-grilled meat with central-Mexican spice and fresh fruit flavors. So this grilled pork tenderloin is not authentic Al Pastor per se. However I don't know many people who roast enormous hunks of pork at home on a spit – at least definitely not on an average weeknight. Pork tenderloin though is definitely an awesome weeknight dinner option. And my ground pork tacos al pastor style were such a hit that I decided to expand that idea to grilled pork tenderloin.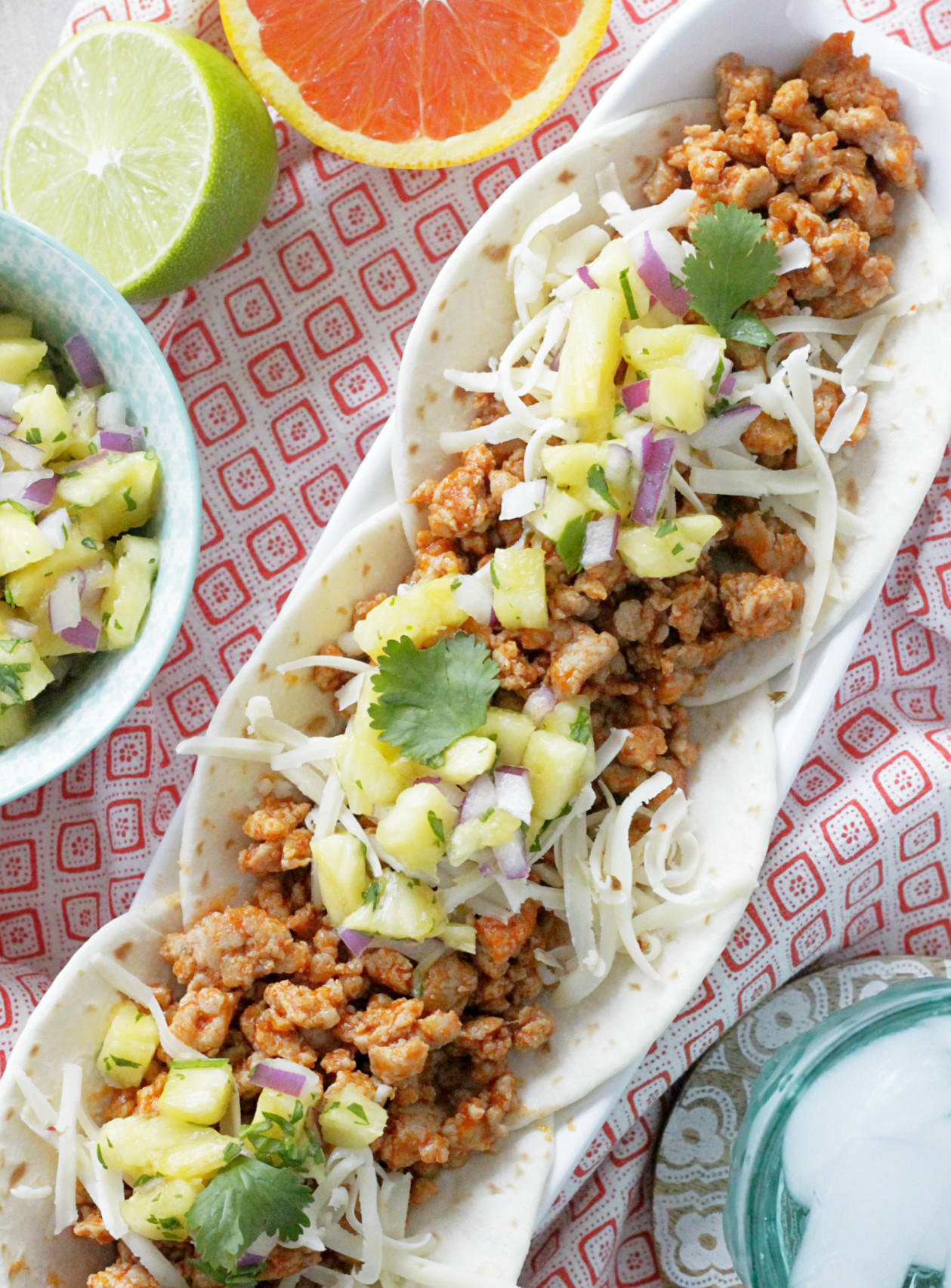 Did you also know that fresh pineapple juice is an excellent marinade for meat? I discovered that fact when creating this pineapple marinated steak taco recipe. Fresh pineapple juice contains the enzyme bromelain which helps to tenderize meat. This enzyme is destroyed in the canning process so only fresh juice will work. Keep reading to find out the best way to juice a pineapple.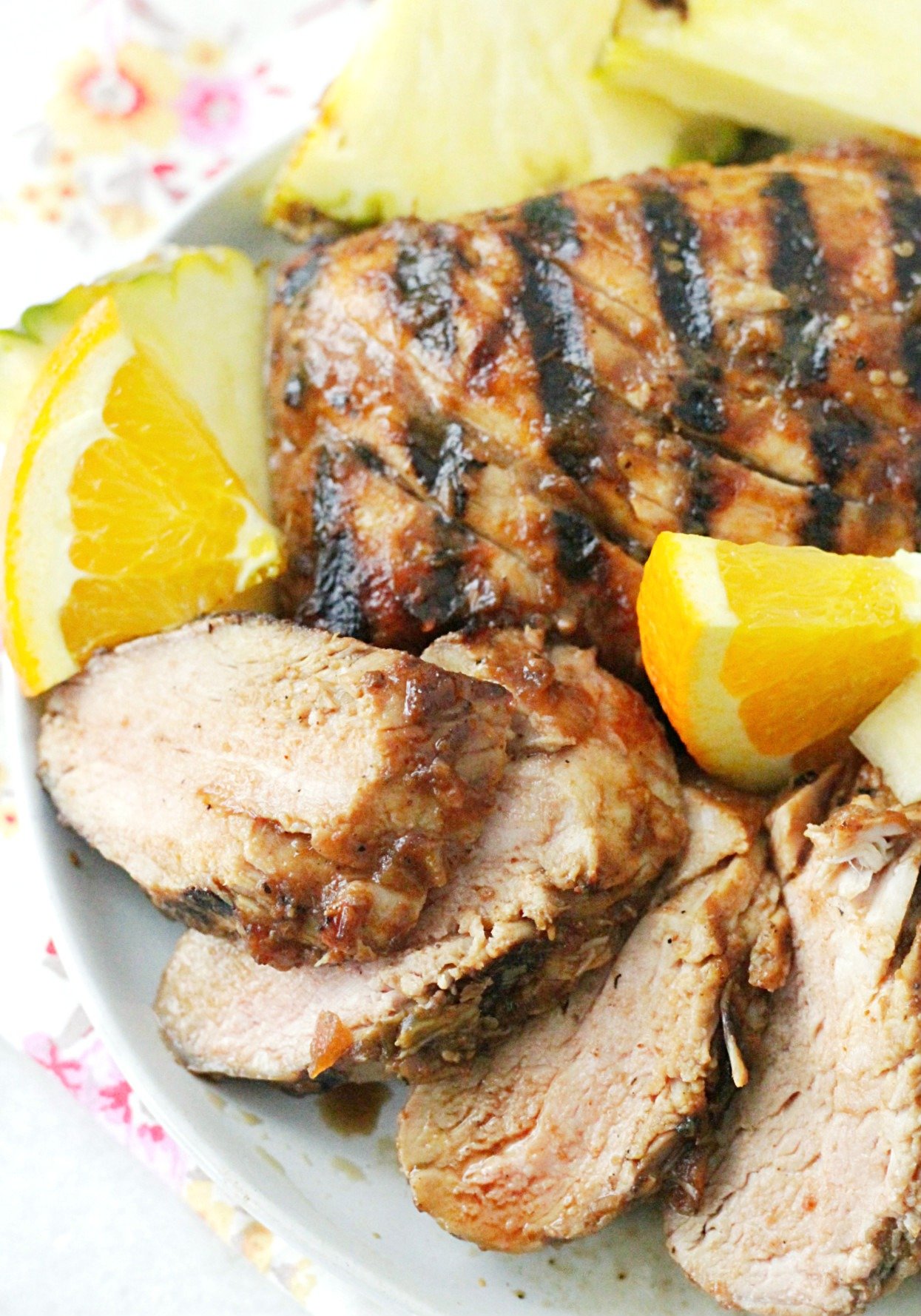 Since I'd already done Al Pastor-style tacos I decided to serve this pork with some pepper jack cheesy grits. Oh man. What a dinner it turned out to be! I'll be posting the recipe for the grits later this week.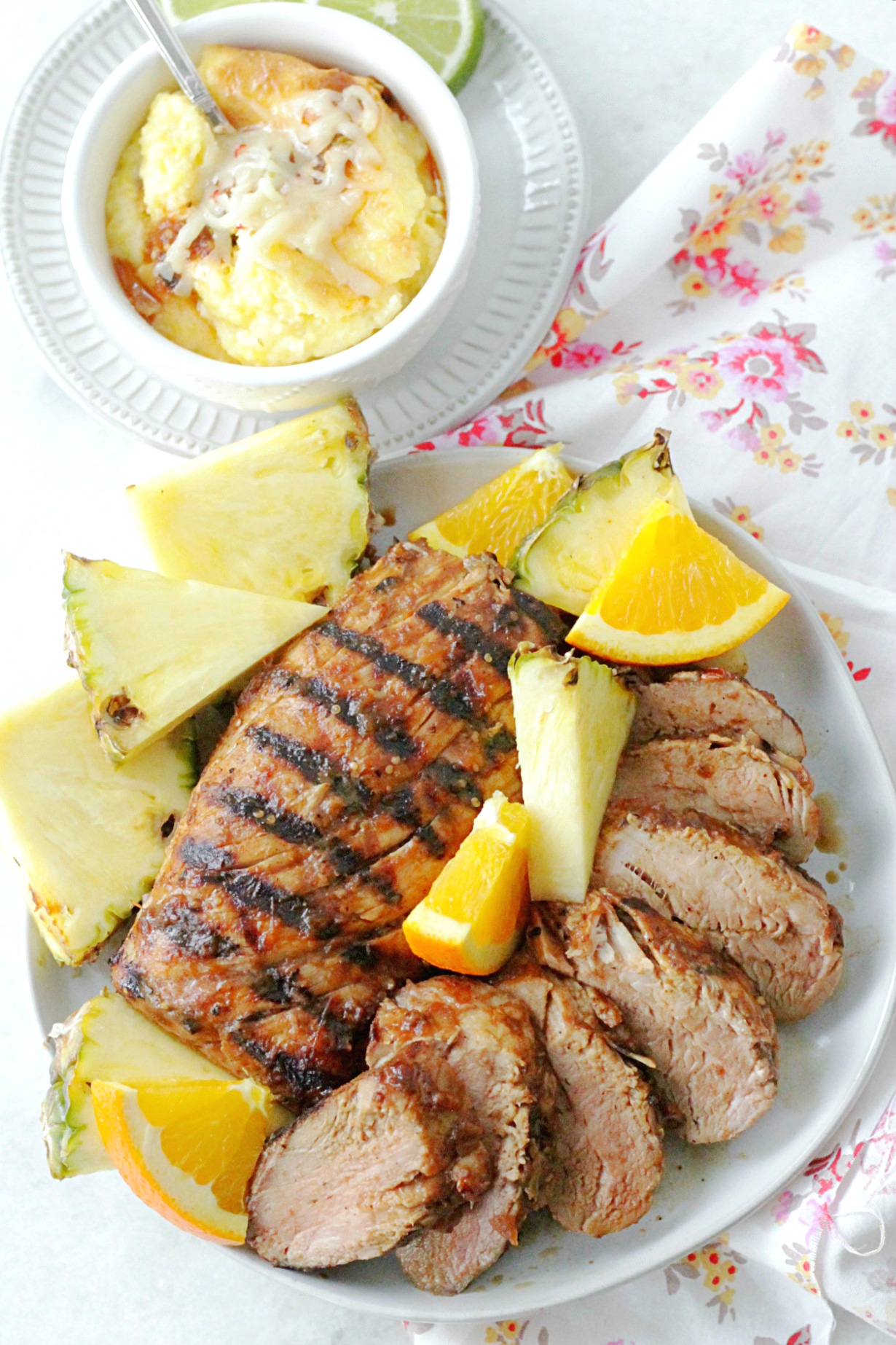 Tips for Al Pastor Grilled Pork Tenderloin:
Marinate the pork in about 3/4 of the marinating liquid. Reserve the rest for basting while the pork is on the grill.
As always for any grilling recipe I post, I recommend using THIS instant read digital meat thermometer to make sure you don't over cook (or under cook) your meat.
A blush of pink in grilled pork is a good thing! Cook pork to 145 degrees F and allow the meat to rest for at least 3 minutes before cutting into it and serving.
Pressing a fresh cut pineapple on a cheese grater does the trick to get fresh pineapple juice for marinating the pork tenderloin.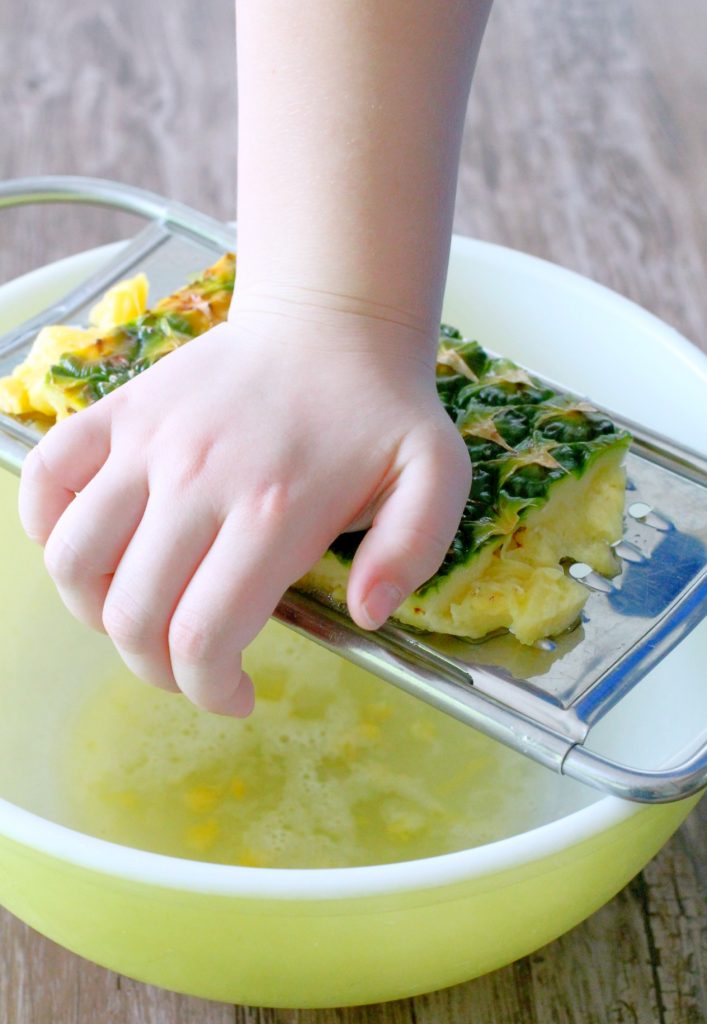 Foodtastic Mom is a participant in the Amazon Services LLC Associates Program, an affiliate advertising program designed to provide a means for sites to earn advertising fees by advertising and linking to Amazon.com. Any highlighted, clickable Amazon link you see is an affiliate link that I may earn advertising fees on.
Thank you so much for being a faithful reader and supporter of Foodtastic Mom. Be sure to PIN and print this recipe!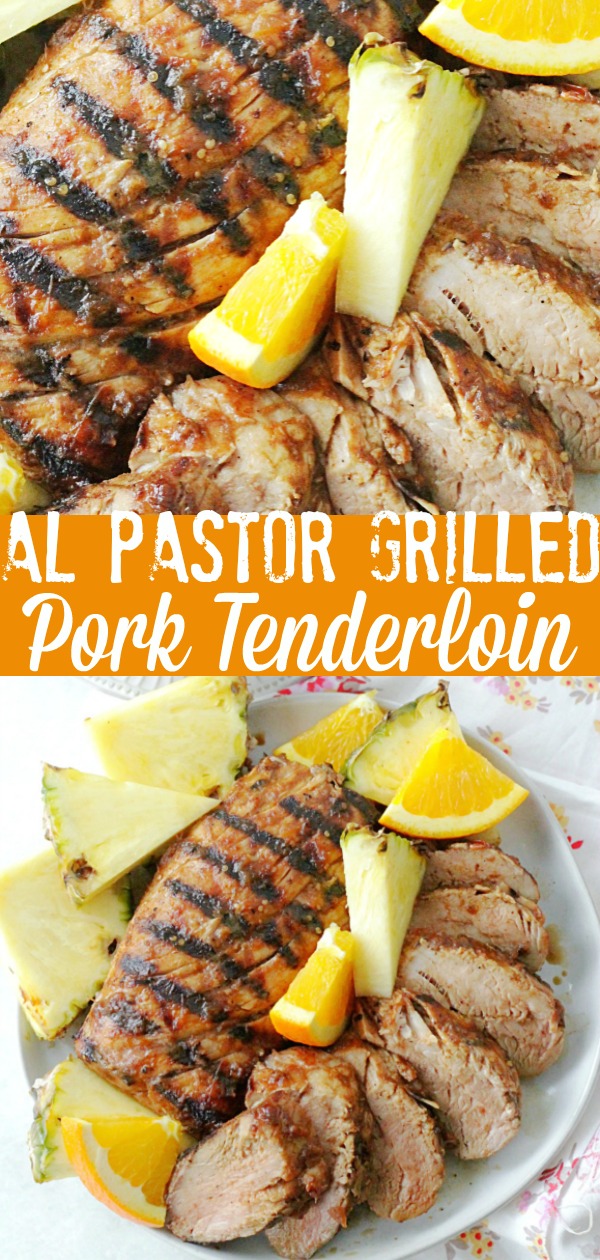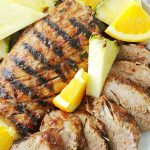 Al Pastor Grilled Pork Tenderloin
Marinated in fresh pineapple, orange and lime juices plus three different types of peppers, this Al Pastor Grilled Pork Tenderloin is amazingly tender and full of flavor.
Total Time
1
hour
30
minutes
Ingredients
2

pork tenderloins

about 3/4 of a pound each

1/2

cup

fresh pineapple juice

juice of 1/2 lime

juice of 1/2 orange

1/4

cup

vegetable oil

2

tbsp

chipotle peppers in adobo sauce

minced

2

tbsp

honey

2

tsp

salt

1

tsp

smoked paprika

1

tsp

ancho chili powder

1/2

tsp

garlic powder

1/2

tsp

cayenne pepper
Instructions
Prepare your grill. Turn all burners on high and let heat up. Scrape grates clean. Oil if needed. Turn one half of grill burners to medium low heat. Turn the other half off. Close the lid.

Whisk together all the marinade ingredients - fresh pineapple juice through cayenne pepper. Place about 3/4 of the marinade in a gallon-size zippered bag with the pork tenderloins. Seal the bag well and shake it around so the tenderloins are completely covered with marinade. Place the bag in the refrigerator and marinate for about 30 minutes. Do not marinate overnight - the fresh pineapple juice will tenderize the pork too much.

Reserve the other 1/4 of the marinade for brushing onto the pork while grilling.

Remove the pork from the marinade and discard the marinade in the bag. Place the tenderloins on the hot side of the grill and grill for about 5 minutes per side.

Transfer the pork to the side of the grill where the burners are turned off. Continue grilling until the internal temperature reaches 145 degrees F. This should take 25 - 30 minutes. Baste the pork a couple of times with the remaining al pastor marinade.

Remove the pork to a clean cutting board and tent with foil. Allow to rest for at least 3 minutes. Slice and serve.
More Grilled Pork Recipes: