I'm showing you how to make Gougeres – Classic French Cheese Puffs for a simple and impressive appetizer any time of year. Thanks to the Ohio Egg and Poultry Association for sponsoring this post. As always, all opinions are mine alone.
A classic French dough called a choux makes these Gougeres. It's kind of reminiscent for me of making homemade playdough. Water, milk and butter are boiled together, then flour is stirred in. The dough is cooled by mixing it for a few minutes with a stand mixer. And then eggs are added, one at a time, to form a dough that is easy to work with and magically puffs up in the oven when baked. I made Buckeye Cream Puffs with this same type of dough a few years ago. And so I had to show you how to make a savory version as well.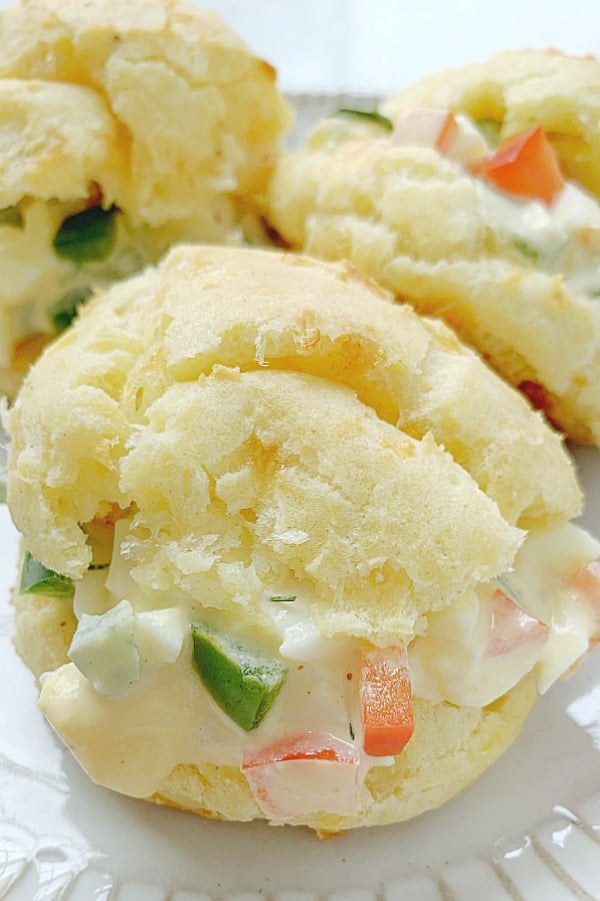 This recipe uses a lot of eggs! There are four eggs in the dough. And there are six eggs in the egg salad I am showing the Gougeres filled with. I'll post the exact amounts of ingredients in this egg salad in a separate post. But to the hard boiled eggs I added chopped red and green pepper, fresh dill, mayonnaise, Dijon mustard, salt, pepper and smoked paprika. This is a great recipe for the holidays because of the red and green colors in the egg salad, however you can make these Gougeres any time of year.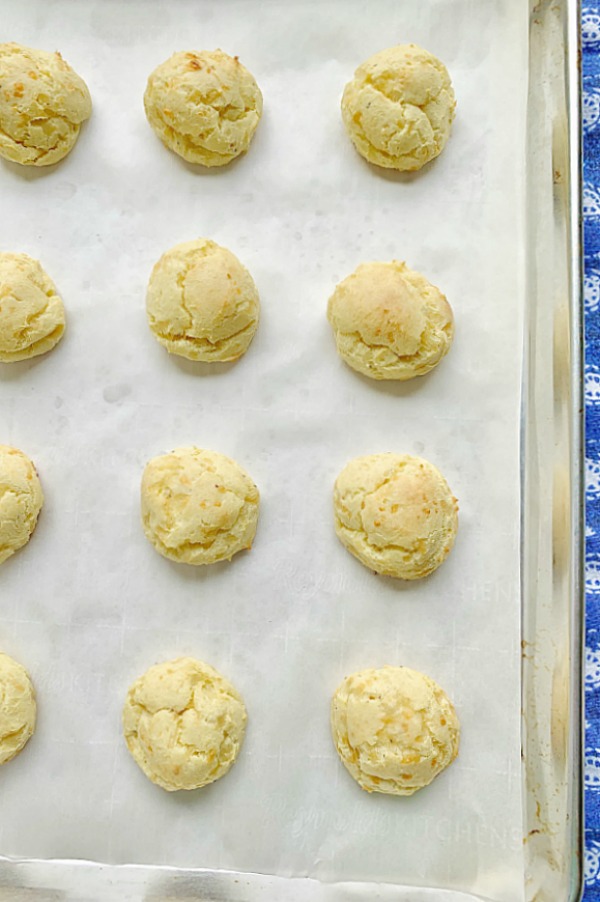 What to fill Gougeres with:
I love filling these classic French cheese puffs with egg salad, but here's some more suggestions for fillings…
A smear of cream cheese, smoked salmon and fresh dill
Paté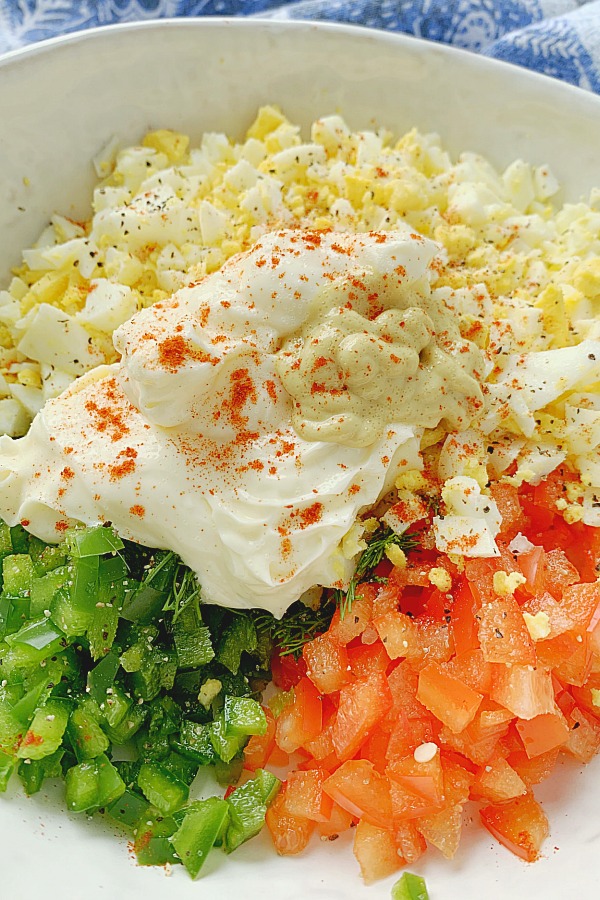 Facts about Ohio Eggs:
Eggs are one of the most important ingredients in holiday cooking and baking, and all year long!

Eggs add moisture, color, flavor and nutritional value to recipes.

More eggs are consumed during the winter holiday season than any other time of the year, including Easter

.

Start your holiday mornings with eggs!

One large egg contains 6 grams of high-quality protein to keep you feeling fuller longer and energized all day.

One large egg has 13 essential vitamins and minerals

, high-quality protein, unsaturated fats and zero carbs or sugars, all for just 70 calories.

Eggs are one of the few foods that are a naturally good source of vitamin D

.

There's a good chance the eggs you'll use for holiday baking came from an Ohio egg farm!

Ohio is ranked No. 2 in the nation for egg farming, producing about 9 billion eggs a year.

Visit OhioEggs.com to meet more egg farming families. Ohio egg farmers are proud to
provide healthy, safe and affordable eggs to consumers year-round, while protecting the
environment for future generations.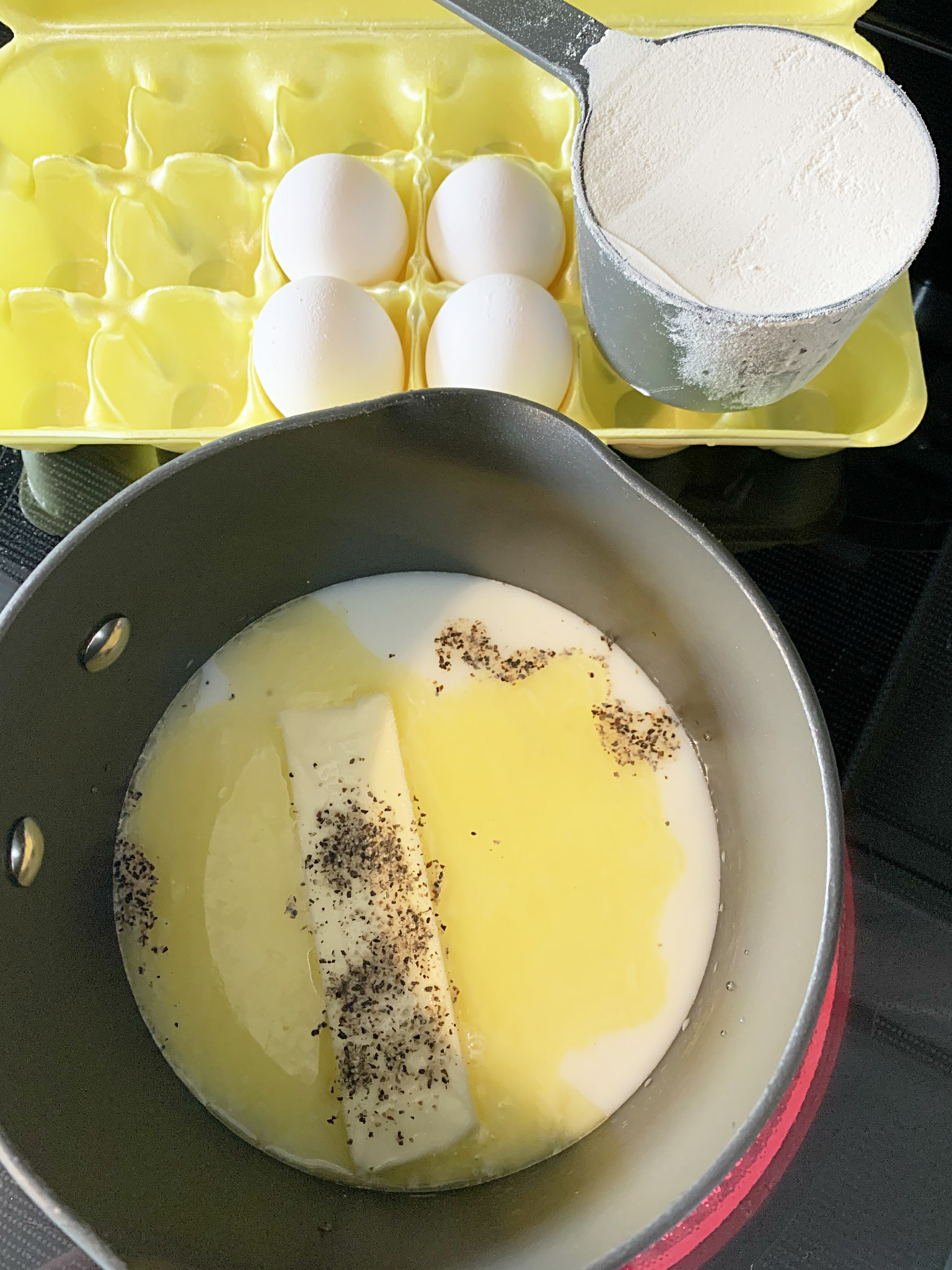 Kitchen Tips for Making Gougeres:
I used a non-stick saucepan similar to this one for heating the butter, milk and water and stirring in the flour.
I used this cookie scoop to transfer the dough to the baking sheets.
Be sure and line your baking sheets with silicone baking mats or parchment paper to prevent sticking.
Foodtastic Mom is a participant in the Amazon Services LLC Associates Program, an affiliate advertising program designed to provide a means for sites to earn advertising fees by advertising and linking to Amazon.com. Any highlighted, clickable Amazon link you see is an affiliate link that I may earn advertising fees on.
Thank you so much for being a faithful reader and supporter of Foodtastic Mom. Be sure to PIN and print this recipe!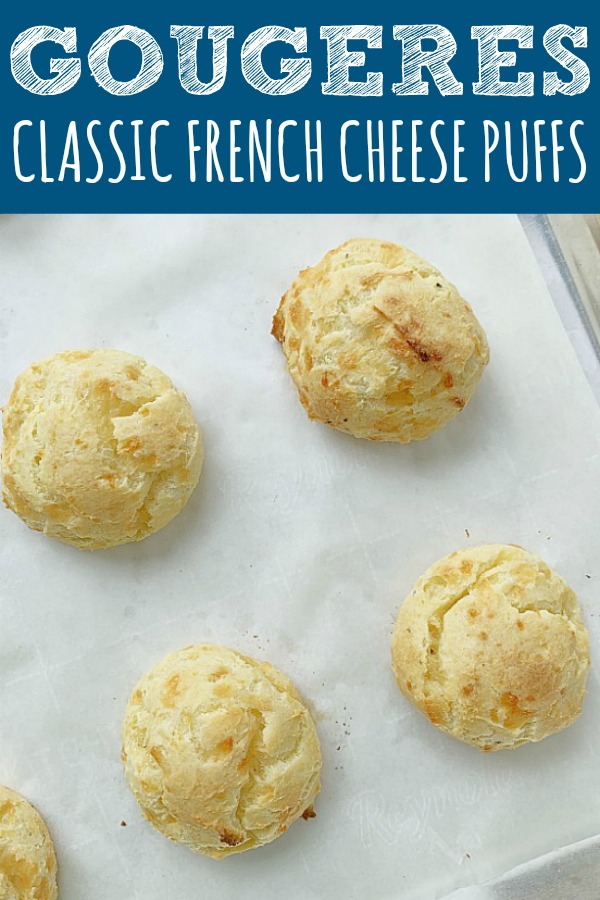 Gougeres - Classic French Cheese Puffs
I'm showing you how to make Gougeres - Classic French Cheese Puffs for a simple and impressive appetizer any time of year.
Ingredients
8

tbsp

unsalted butter

1/2

cup

milk

1/2

cup

water

1/2

tsp

salt

1/4

tsp

black pepper

1

cup

all-purpose flour

4

large

eggs

6

oz

Gruyére cheese

grated
Instructions
Preheat oven to 425 degrees F. Line two baking sheets with silicone baking mats or parchment paper.

In a medium saucepan, add the butter, milk, water, salt and pepper. Heat over medium-high heat until the mixture comes to a boil.

Add the flour, reduce the heat to medium-low, and stir with a heat-proof spatula until a smooth dough is formed, about two minutes.

Add the cooked dough to the bowl of a stand mixer fitted with the paddle attachment. Stir the dough on low speed until it stops steaming - about two minutes.

Add the eggs one at a time with the mixer on low speed and stir until each egg is completely incorporated into the dough.

Add the shredded cheese and mix with the mixer until it is completely incorporated into the dough.

Using a medium-sized cookie scoop, transfer the dough to the prepared baking sheets. You'll have 12 Gougeres on each pan.

Bake the Gougeres for 10 minutes. Reduce the oven temperature to 350 degrees F. Rotate the pans, top to bottom and front to back. Continue baking for an additional 10 minutes, until Gougeres have puffed up and are firm to the touch.

Allow to cool completely before removing the tops and adding egg salad or your choice of filling.
Nutrition