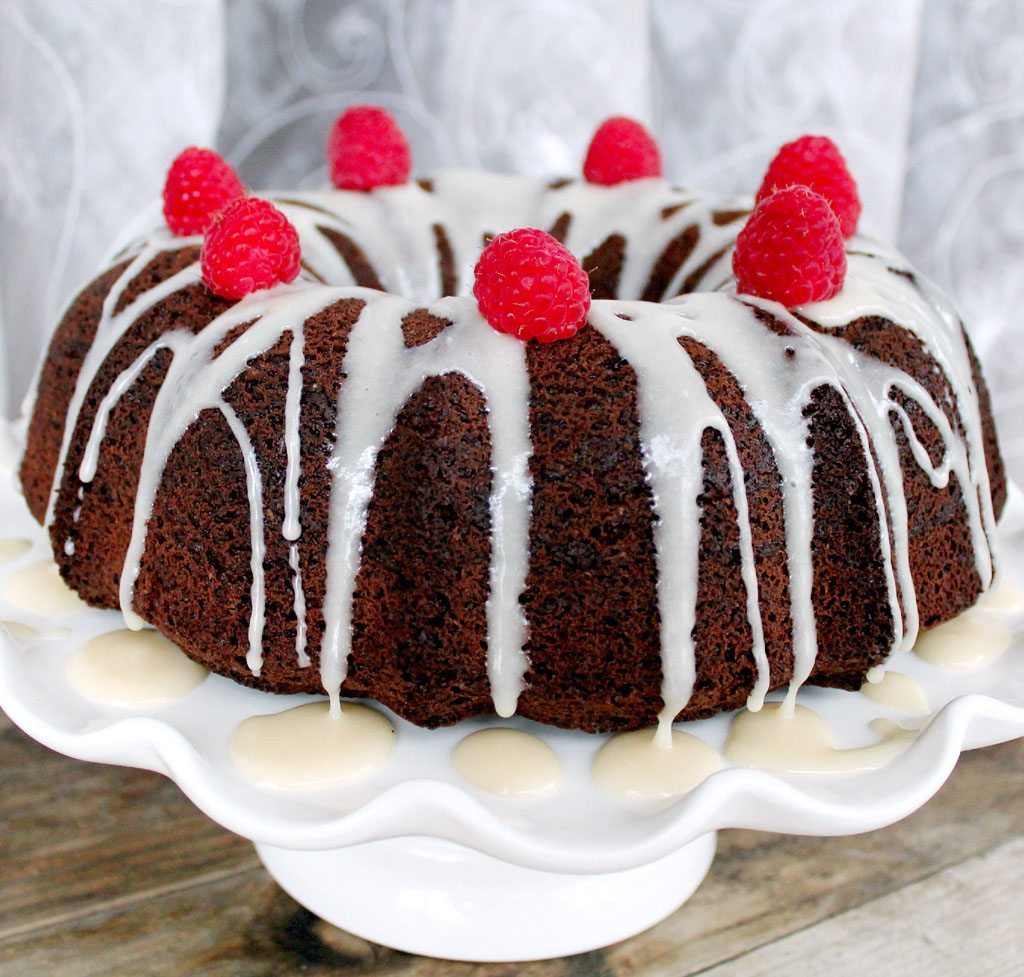 I love Bundt cakes because to make one from scratch generally doesn't take too long and the presentation happens as soon as you pop one out of its pan. A simple glaze or sprinkle of powdered sugar and it's ready to go… looking like you went to a whole lot of effort.
I know this is dated (and dates me) but whenever I make a Bundt cake, I can't help but think of the scene from My Big Fat Greek Wedding when the parents of the groom show up and present the Greek mother with a Bundt. I looked it up, and it still makes me giggle, so here ya go…
http://www.youtube.com/watch?v=OBV7ssh-6PI
This was our dessert last night, following the Chicken Tetrazzini and a Caesar salad. This recipe is also from the America's Test Kitchen new cookbook, Comfort Food Makeovers. It was yummy, although as I actually cut it into the 16 slices a proper serving was supposed to be, my husband wondered aloud why I was cutting the slices so SMALL. Clearly, we need to be better about portion control around here.
A before version of this deep, dark chocolate cake would set you back 400 calories and 17 grams of fat… for a (according to my husband) small slice. The after version is definitely more acceptable at 280 calories and 10 grams of fat (only 1.5 of them the saturated kind). And clearly, the fresh raspberries make this dessert all the more healthy… so load up on those and enjoy!
Glazed Chocolate Bundt Cake - Lightened Up
Ingredients
CAKE

3

oz.

bittersweet chocolate

chopped fine

3/4

c.

cocoa

1

t.

instant espresso powder

1

c.

boiling water

1 3/4

c.

all-purpose flour

1

t.

baking soda

1

t.

salt

2

c.

packed light brown sugar

1/2

c.

canola oil

2

large eggs at room temperature

1

T.

vanilla extract

GLAZE

1

c.

confectioners' sugar

1

T.

skim milk

1

T.

vanilla extract

pinch

of salt
Instructions
FOR THE CAKE

Adjust oven rack to lower-middle position and heat oven to 350 degrees. Spray inside of 12-caup Bundt pan with vegetable oil cooking spray.

Combine chocolate, cocoa and instant espresso powder in large bowl, pour boiling water over top, and cover; let sit for 5 minutes to melt chocolate, then whisk smooth. In separate bowl, whisk flour, baking soda and salt together.

Beat melted chocolate mixture, sugar, oil, eggs and vanilla together with a hand mixer on high speed for 1 minute. Sift one-third of flour mixture over batter and whisk until just a few streaks of flour remain. Repeat twice more with remaining flour mixture, then continue to whisk batter gently until most lumps are gone (do not overmix).

Scrape batter into prepared pan and smooth top. Gently tap on counter to settle batter. Bake until toothpick inserted in center comes out clean, 45-55 minutes, rotating pan halfway through baking. Remove cake from pan after 10 minutes of cooling on counter. Then allow cake to continue cooling on a baking rack, about 2 hours.

FOR THE GLAZE

Whisk all ingredients together in a bowl until smooth, then drizzle evenly over the top of the cooled cake. Let glaze set for about 15 minutes before serving.