Always have an answer for what's for dinner tonight with this recipe for Easy Fried Rice with Ham and Pineapple. This post is sponsored by Ohio Pork. All opinions are mine alone.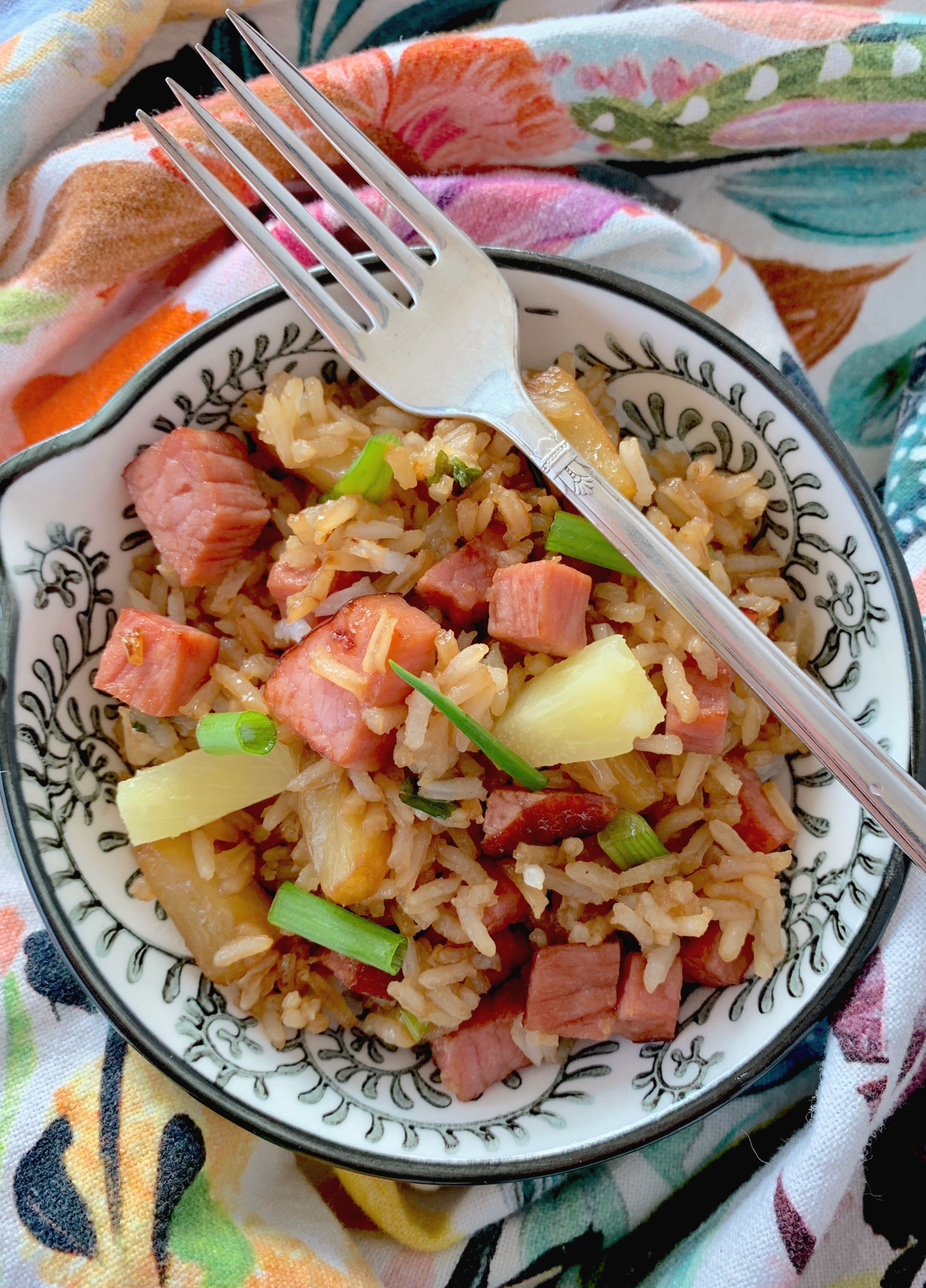 Did you know to make fried rice you don't need cold rice? Like you can make a pot of rice and then just quickly stir fry it to serve. You also don't need to mix-in anything Asian-inspired if you don't want to. It's your kitchen and so you have complete control! Chopped ham, pineapple and some green onion happen to be my favorite mix-ins for fried rice (egg and soy sauce are completely optional) so that's what I'm sharing with you today.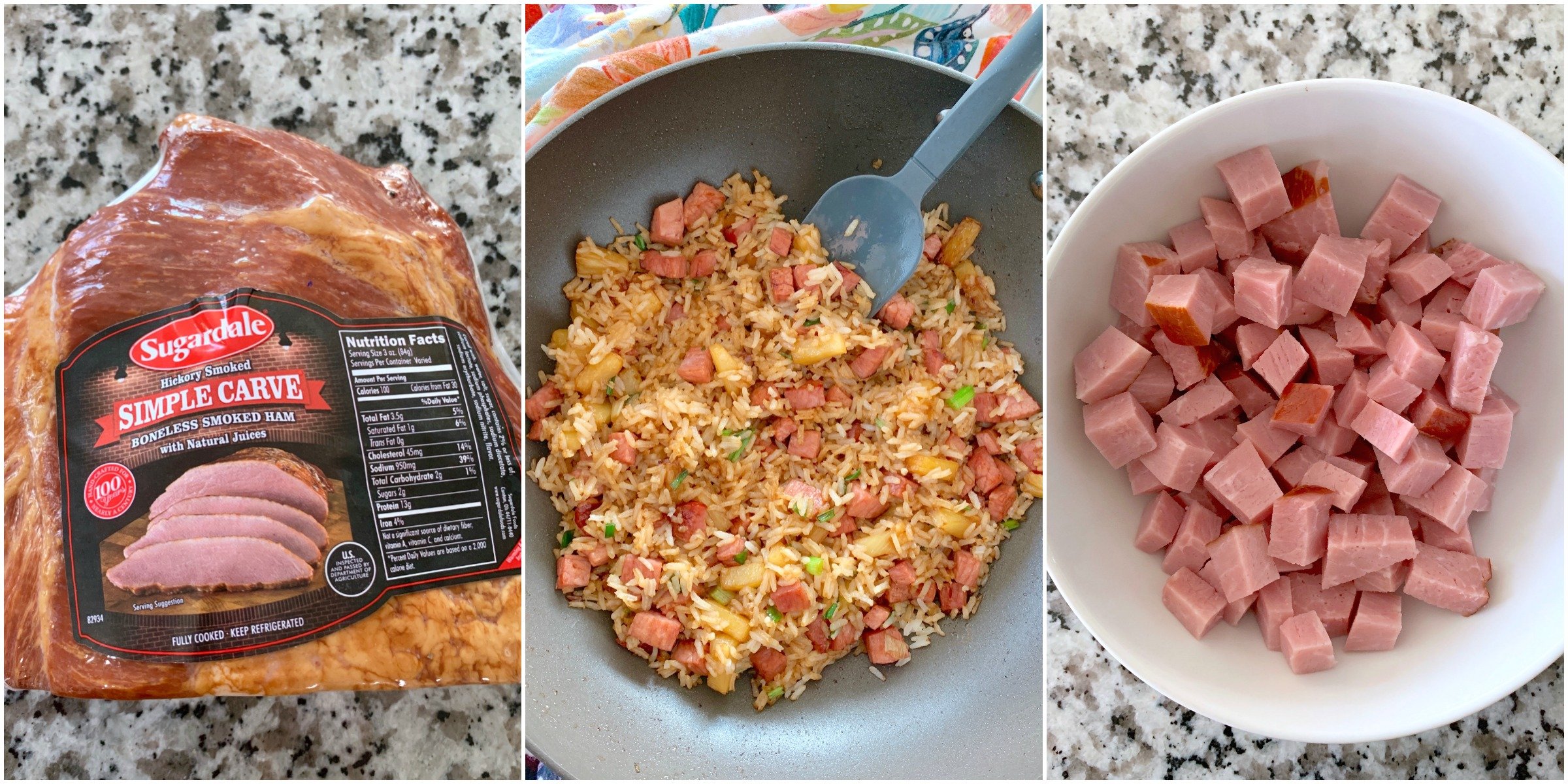 How to Cook Rice for Fried Rice:
Now let's talk about a tour I recently got to take with my friends at Ohio Pork. Myself and some blogger friends road-tripped it up to Massillon, Ohio recently to see how Sugardale Bacon is made. You're probably wondering what bacon has to do with ham? They do both come from a pig (yes, Homer Simpson, such a magical animal does exist). And Sugardale is in the business of producing and selling pretty much everything delicious that comes from a pig.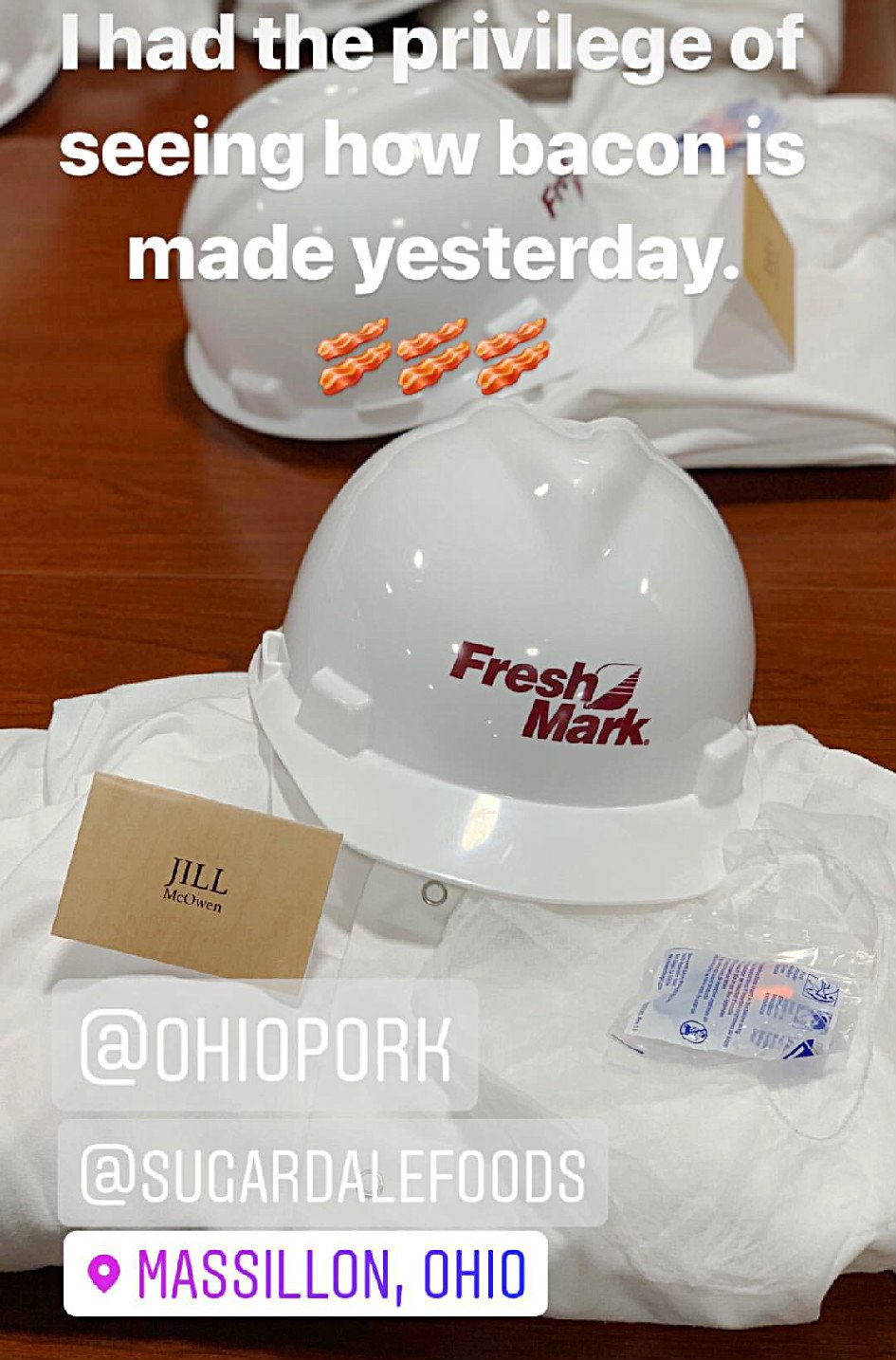 I did wonder as I put on my gear to go into the plant if seeing the whole process – from hanging pork bellies, to the smoke house, to the slicing and packaging – if I was going to somehow be turned off to bacon. But I'm happy to say the exact opposite happened. First of all the whole plant smells like bacon. So it was a delightful sensory experience from start to finish.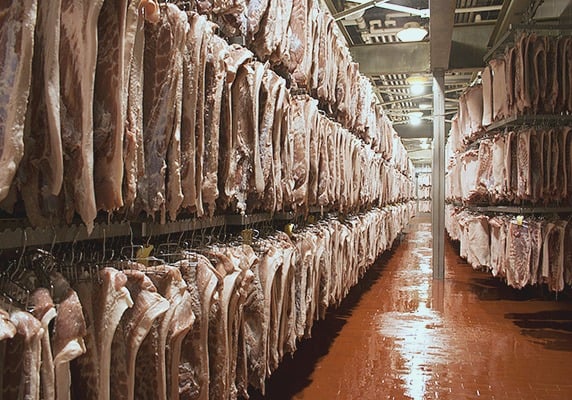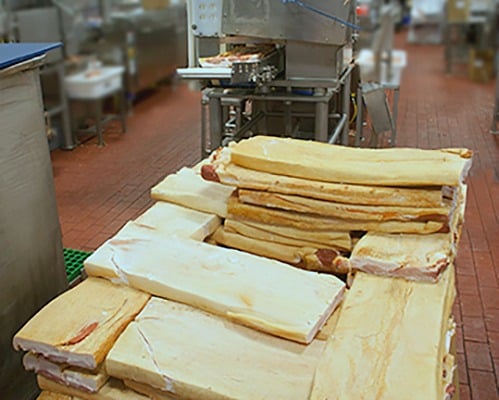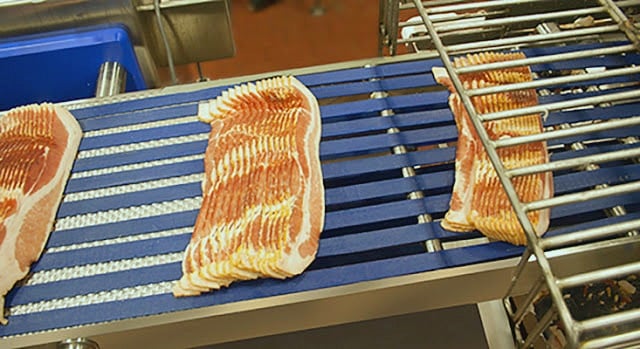 We left the plant with several of the delicious Sugardale products to try. I was most interested in this Simple Carve Boneless Smoked Ham. It's a really economical choice to feed a family of four. One of these hams is enough to make two full recipes of this Easy Fried Rice with Ham and Pineapple. Its smoky flavoring made this rice dish particularly delicious.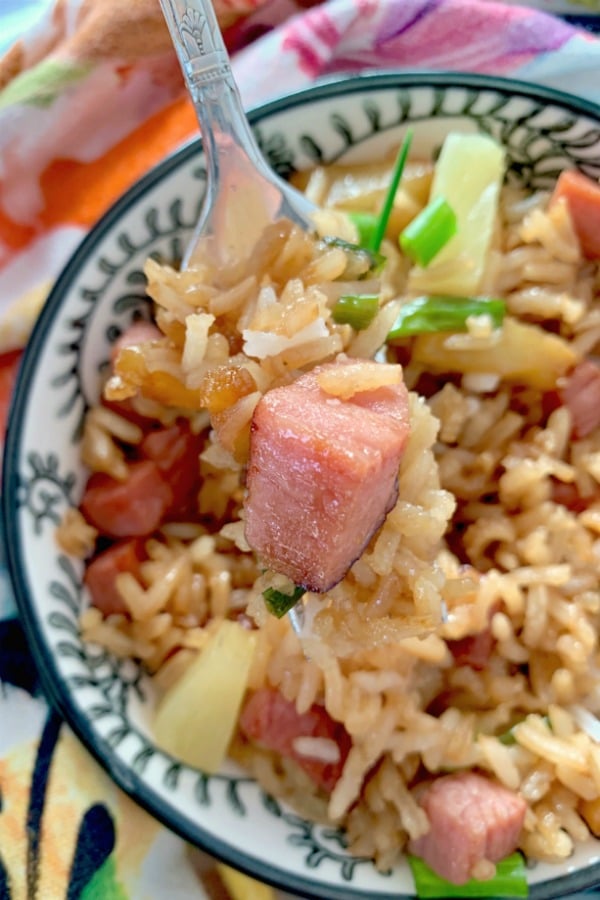 Tips for Easy Fried Rice with Ham and Pineapple:
There is no need to use leftover rice for this recipe. You can use freshly cooked rice.
I don't add eggs to my fried rice (personal preference). But feel free to add a couple of eggs if you'd like.
The ham is so smoky and salty that only a little soy sauce is needed for flavor.
This fried rice reheats well so make a double batch for lunch leftovers.
I use a large, nonstick pan similar to this one to fry my rice.
Foodtastic Mom is a participant in the Amazon Services LLC Associates Program, an affiliate advertising program designed to provide a means for sites to earn advertising fees by advertising and linking to Amazon.com. Any highlighted, clickable Amazon link you see is an affiliate link that I may earn advertising fees on.
Thank you so much for being a faithful reader and supporter of Foodtastic Mom. Be sure to PIN and print this recipe!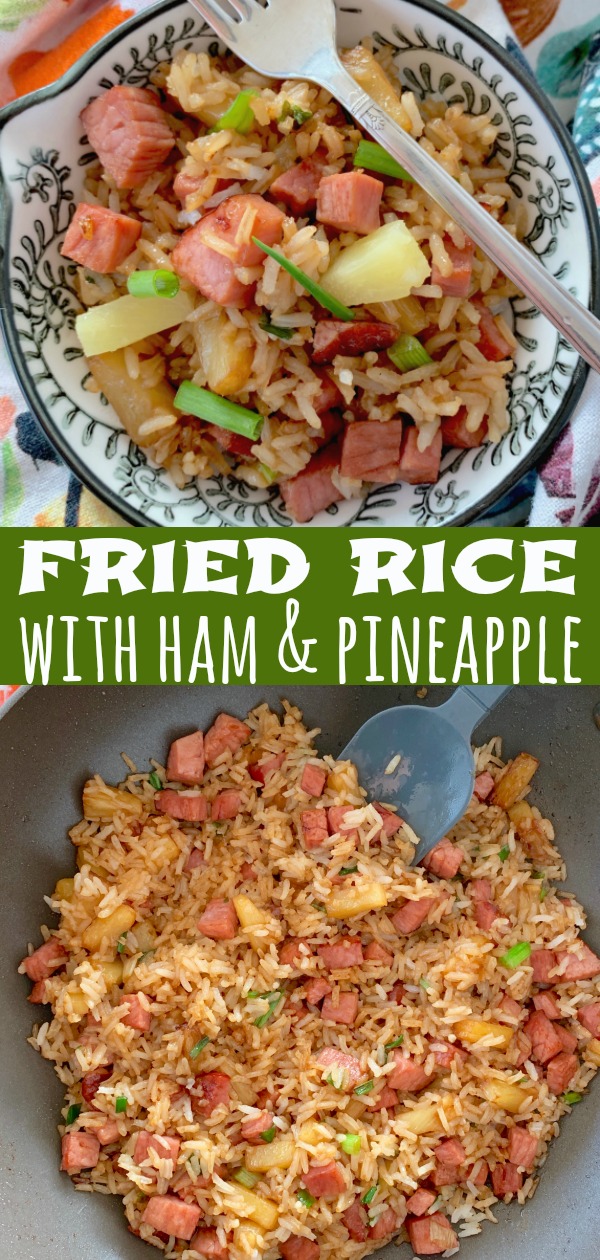 Easy Fried Rice with Ham and Pineapple
Always have an answer for what's for dinner tonight with this recipe for Easy Fried Rice with Ham and Pineapple.
Ingredients
2

tbsp

vegetable oil

divided

1

cup

rice

1 1/2

cup

water

1/4

cup

pineapple juice

1/2

tsp

salt

2

cups

Sugardale Simple Carve Boneless Smoked Ham

chopped

1

cup

pineapple tidbits

drained (use juice for cooking rice)

1/3

cup

green onions

chopped

2

tbsp

soy sauce
Instructions
Add one tablespoon of the oil to a saucepan over medium heat. Add the rice and cook to toast for a few minutes. Stir in the water, pineapple juice and salt. Bring to a boil. Reduce heat to the lowest setting and cover the pan. Cook the rice until the liquid has been absorbed and the rice is fluffy, about 15 minutes.

In a large, non-stick sauté pan, add the remaining tablespoon of oil over medium-high heat. Add the ham and cook, stirring often, until starting to brown.

Add the pineapple, green onion and soy sauce and cook for one minute.

Add the rice and stir well, cooking for a couple of minutes to coat the rice with the oil and soy sauce. Serve immediately.
Nutrition
More recipe with Ohio Pork: