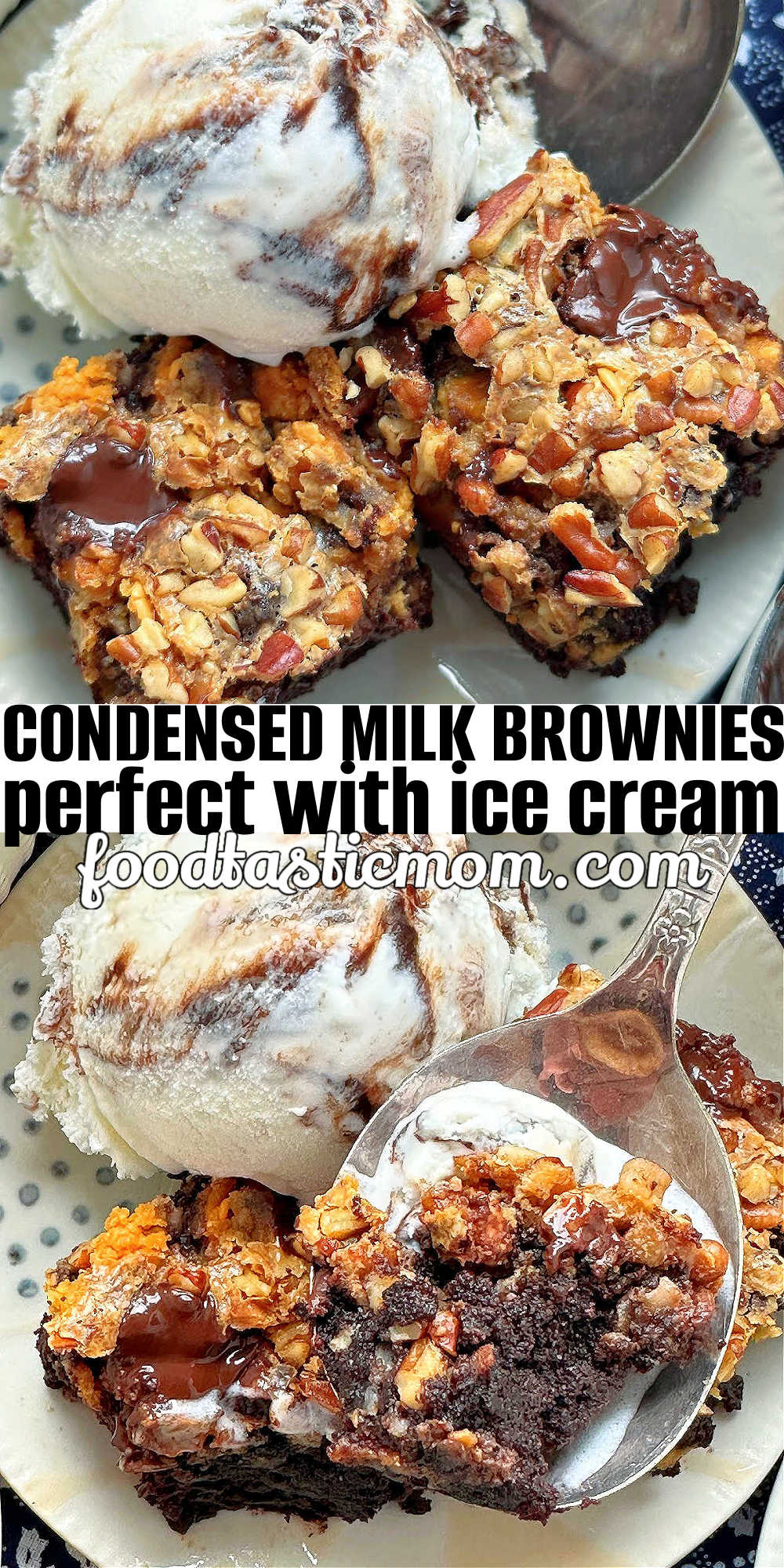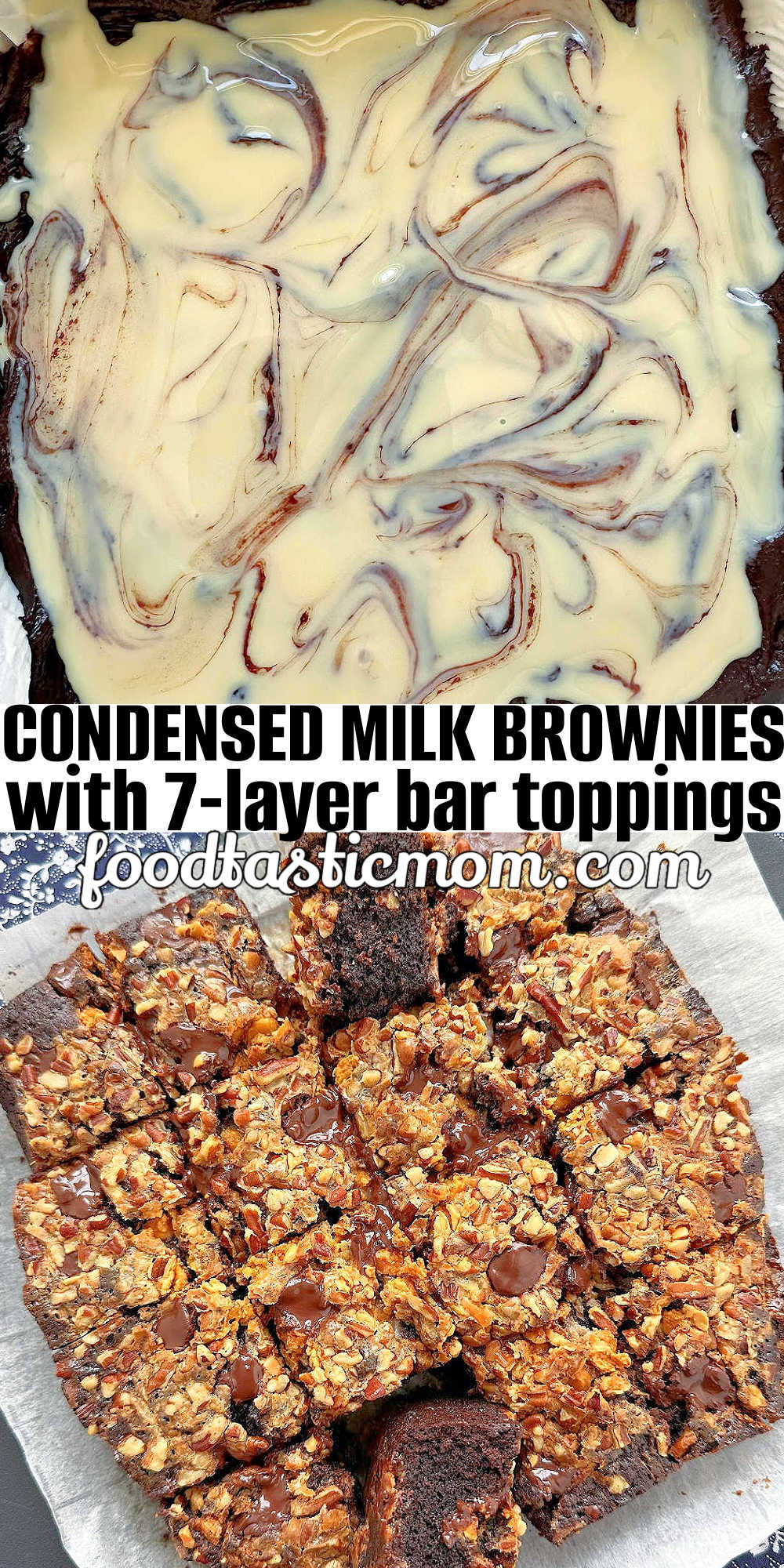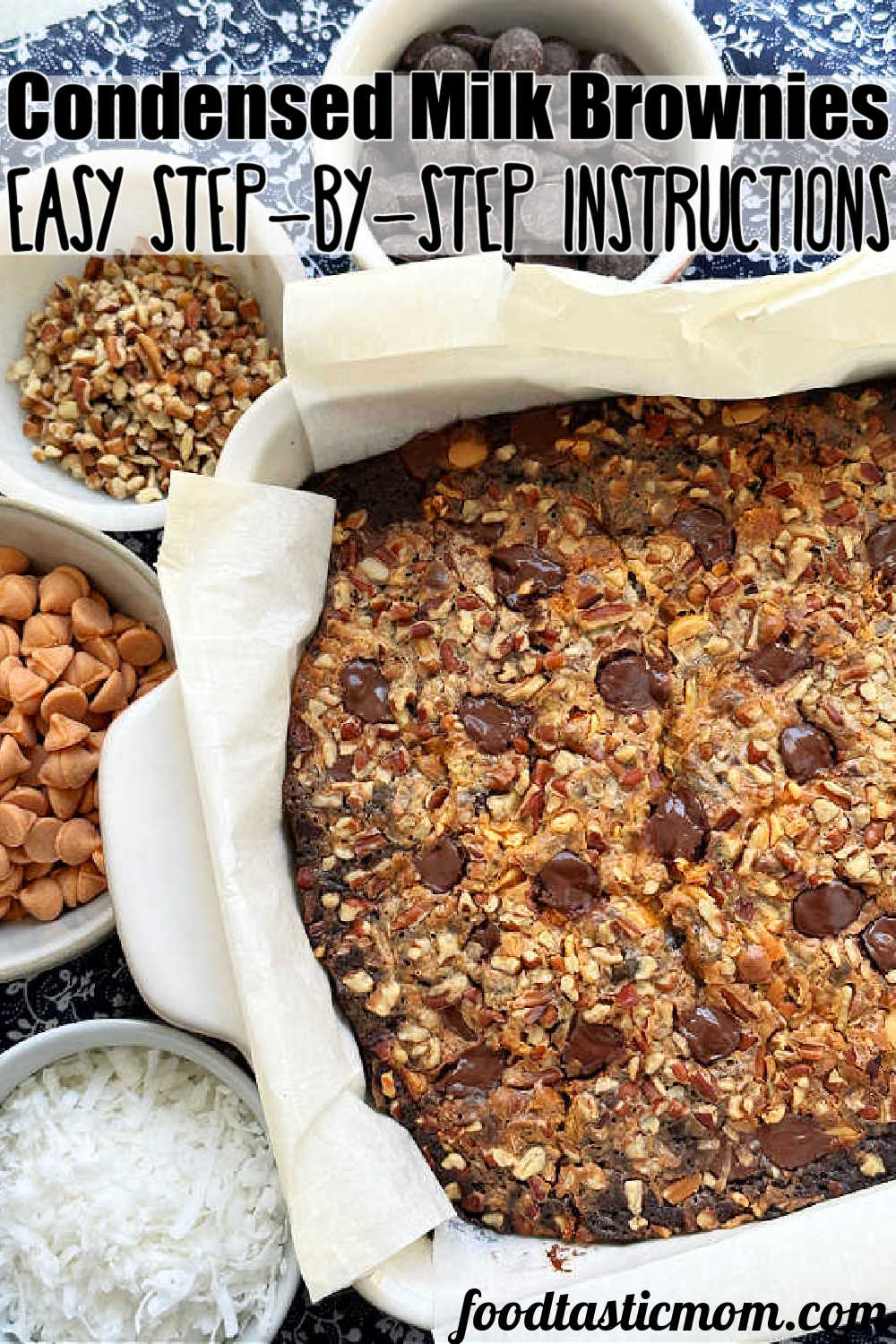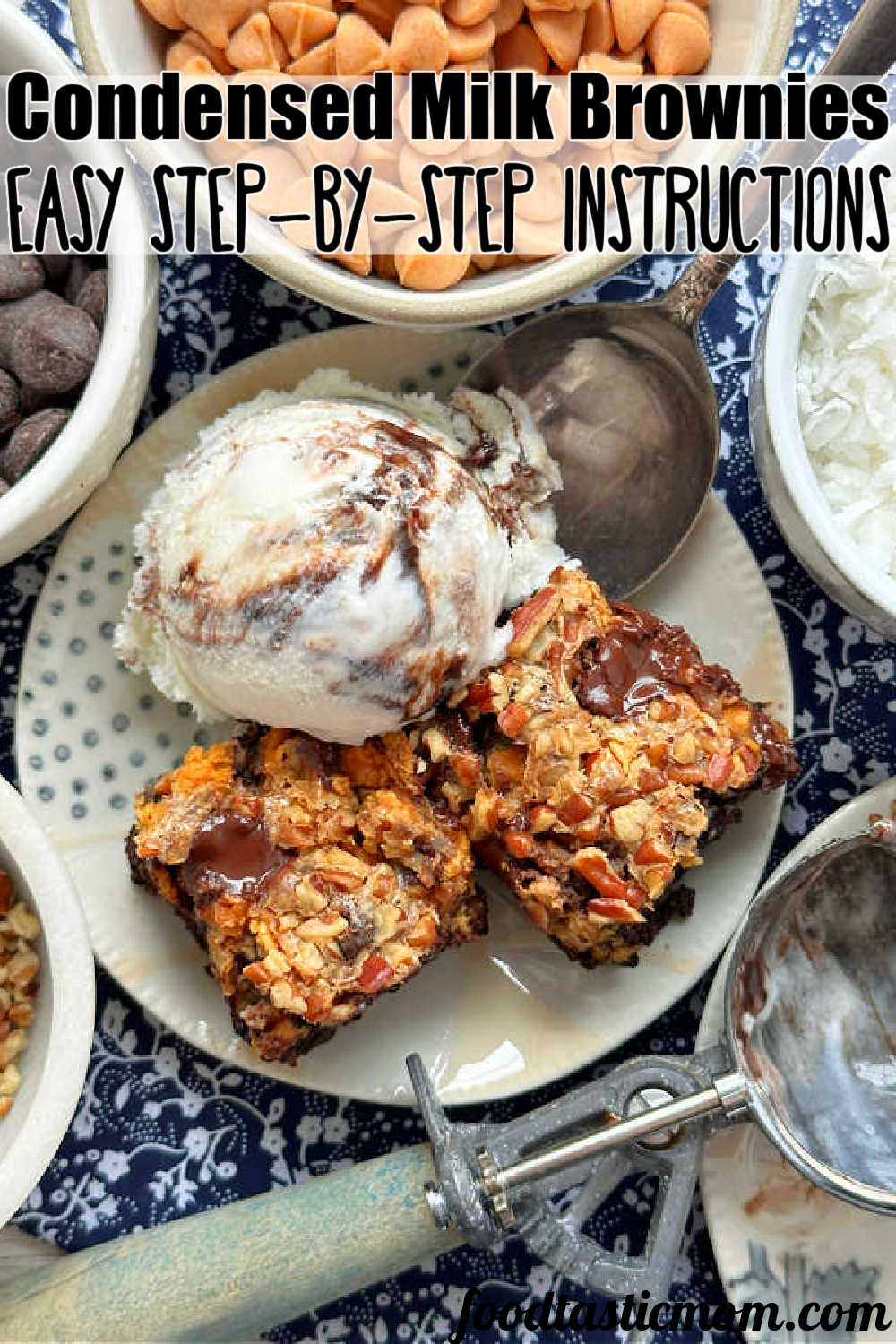 These decadent Condensed Milk Brownies have a drizzle of sweetened condensed milk and toppings similar to seven layer bars. They are perfect with a scoop of ice cream!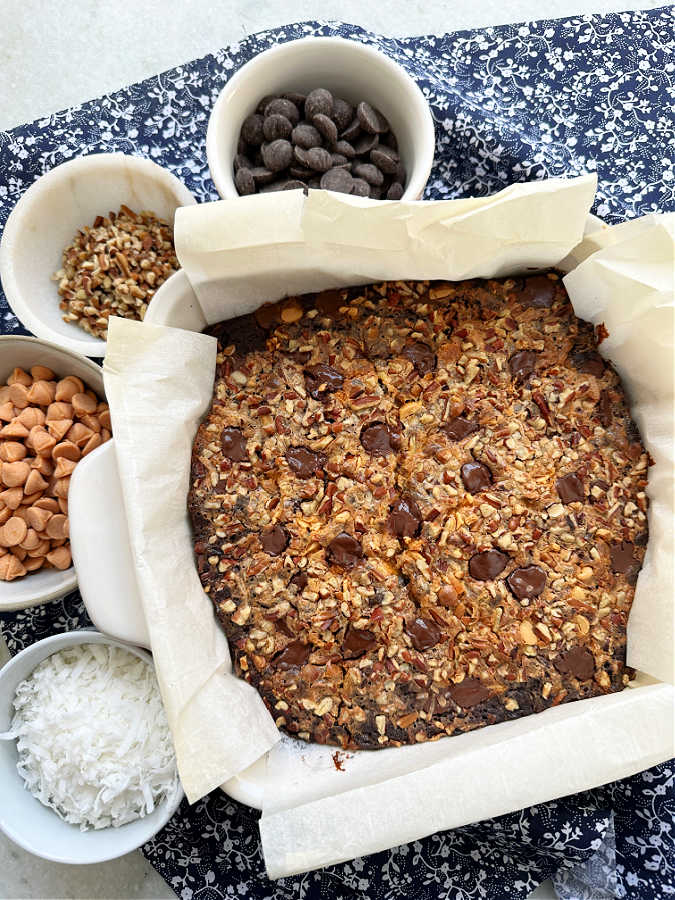 I ran across a recipe for Condensed Milk Brownies recently. I always associate Eagle Brand sweetened condensed milk with the seven layer bars my Mom would make each holiday season. The condensed milk makes for an extra moist crumb in the baked brownie. But I wanted to also top these homemade, simple, one bowl brownies just like the seven layer bars I enjoy so much. With chocolate and butterscotch chips, coconut and nuts. I am beyond thrilled with how these turned out! They are delicious and decadent bites on their own. But they're even better with a scoop of ice cream.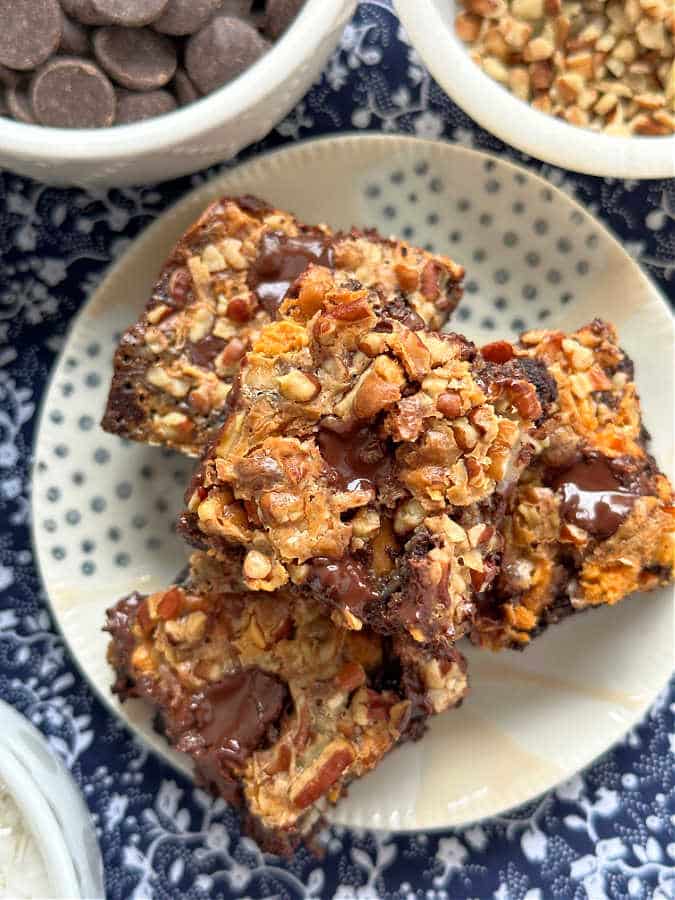 These brownies are the perfect bite to satisfy my sweet tooth when I'm having a craving. Here's some more of my favorite sweet recipes: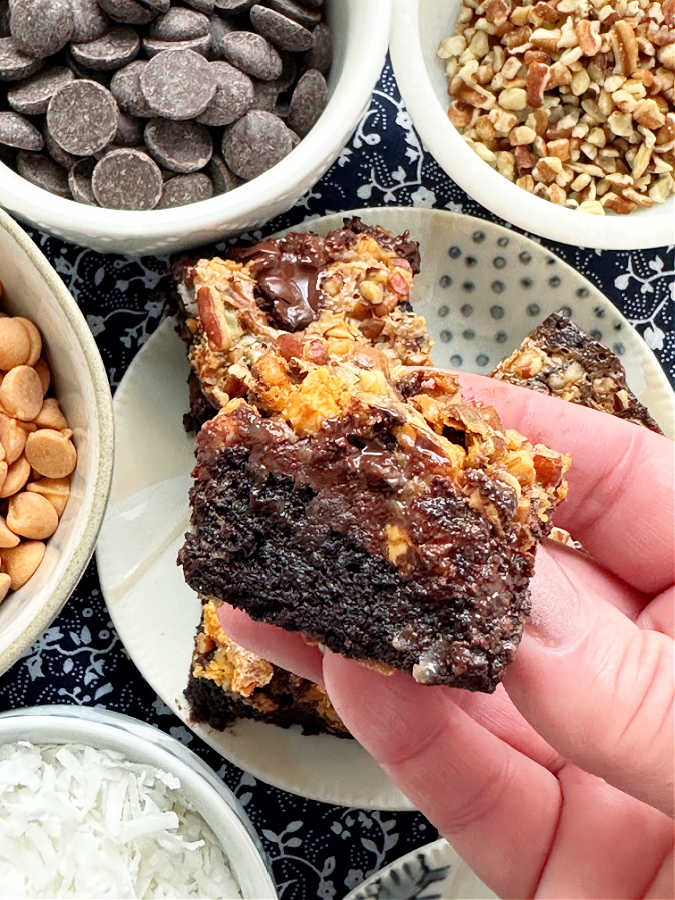 Why this recipe works
My recipe starts with a super simple one bowl dark chocolate brownie. Half a can of the condensed milk is mixed into the batter to achieve an extra fudgy brownie with a moist crumb. To make these brownies even more decadent, I decided to top them like a seven layer bar. Those are the most popular dessert I know of that uses a can of sweetened condensed milk. The topping on these brownies is what really takes them over the top. Brownies plus a gooey mixture of chocolate and butterscotch chips, flakey coconut and chopped pecans. These condensed milk brownies are so, so good. And they are just screaming to be served with a scoop of fudge ripple ice cream.
Ingredients for condensed milk brownies
Brownies
Butter – This brownie uses one stick of unsalted butter. Plus a little more for greasing the baking dish.
Granulated Sugar – White sugar in a brownie recipe makes them chewier. Granulated sugar is "dry" meaning it has no added molasses. It stays dry and does not melt into the brownie batter, which helps to make them chewy.
Light Brown Sugar – Brown sugar contains molasses and when baked it melts into the batter which helps to make the brownies fudgy.
Eggs – You might notice in my picture that there is only one egg. I left it this way as proof that I tested this brownie recipe a couple of times. One egg wasn't enough to make the batter set up when baked. I found that two large eggs plus one egg yolk was just right to achieve a dense, moist texture but without being too much like cakey brownies.
Vanilla Extract – Adds great flavor to the brownies to enhance all the toppings.
All-Purpose Flour – Just three dry ingredients combine to make a really great brownie. These one bowl brownies are so simple. If you already have flour and cocoa powder in the house, these will take less time than going out to the store to buy a box of brownie mix.
Cocoa Powder – I use Hershey's Special Dark cocoa powder because I like a dark, intensely chocolate brownie. But if you want a milder chocolate flavor, use regular cocoa powder.
Salt – Helps to balance all the sweet flavors in this recipe.
Sweetened Condensed Milk – The most popular type of sweetened condensed milk is Eagle Brand. But I tested this recipe with another brand and they both worked well.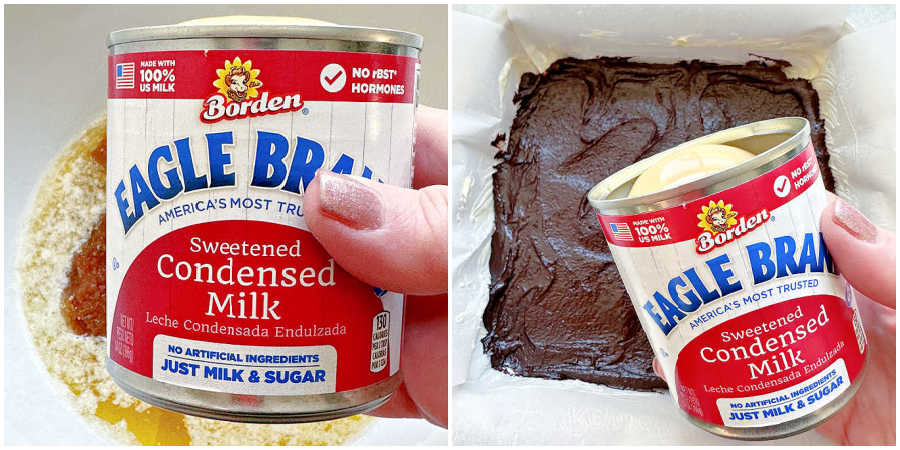 Top Layer
Chocolate Chips – I like to use the Ghiradelli brand of bittersweet dark chocolate chips in all my baking recipes. But you can choose to use semi-sweet chocolate chips if you prefer.
Butterscotch Chips – This is the traditional flavor combination for seven layer bars. You could choose to replace the butterscotch chips with peanut butter instead.
Coconut – I love the texture and flavor the shredded coconut adds to these brownies. But if you don't like coconut you could leave it off or add extra nuts or chips, it's totally up to you.
Pecans – I prefer pecans in this recipe but you could substitute walnuts instead.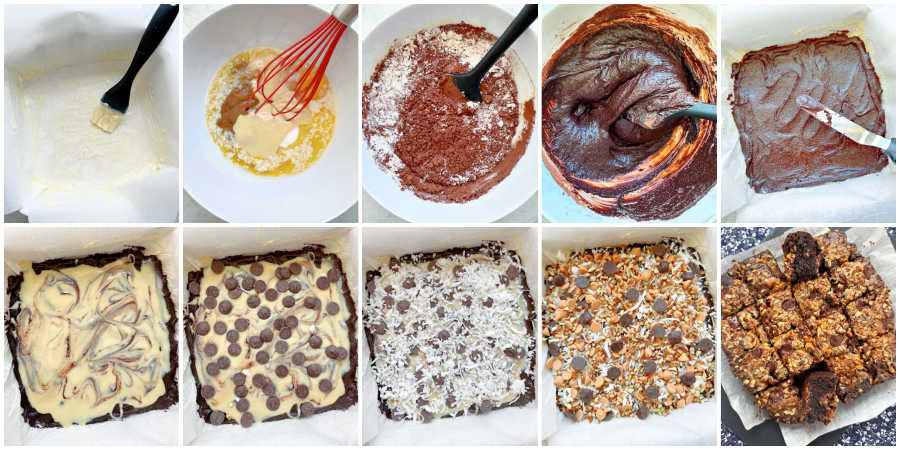 Instructions for making this condensed milk brownies recipe
Melt the butter in the microwave in a large bowl. Then add the eggs, sugars, vanilla and half the can of sweetened condensed milk. Use a whisk to whip the ingredients together until it is pale and smooth. Add the flour, cocoa powder and salt. Mix with a spatula until the chocolate mixture just comes together. Spread the chocolate batter evenly into the prepared dish. Pour the other half of the condensed milk on top of the brownies and lightly swirl with a knife. Evenly sprinkle the brownies with the chocolate and butterscotch chips, coconut and pecans. Then bake the brownies at 350 degrees for about 40 minutes. They'll still be a bit jiggly in the center when they are finished. They will set up as they cool in the dish.
Pro Tips
Make a "sling" with parchment paper so the brownies don't stick to the pan. This way you can easily lift the brownies out of the pan and slice them neatly after they are cooled. Here's helpful tutorial for how to do this.
For the sling, I spread a little melted butter in between the layers of parchment paper to make sure the paper sticks to itself and doesn't slide around. Then I grease the top layer of parchment with more melted butter to make sure the brownies don't stick.
Use room temperature eggs in your batter.
Don't over mix the brownie batter after you combine the dry ingredients with the wet. You don't want to overdevelop the gluten in the flour which will create a tough and chewy texture in your brownies.
Storage directions
Store cut and cooled brownies in an air tight container on the counter for up to three days. Or store them in an airtight container in the freezer for up to one month.
Serving suggestions
Eat a warm square of these brownies with a cold glass of milk. Or serve them with a scoop of fudge ripple ice cream. Make a brownie sundae by adding a drizzle of hot fudge sauce, whipped cream and more chopped nuts.
Kitchen tools
More brownie recipes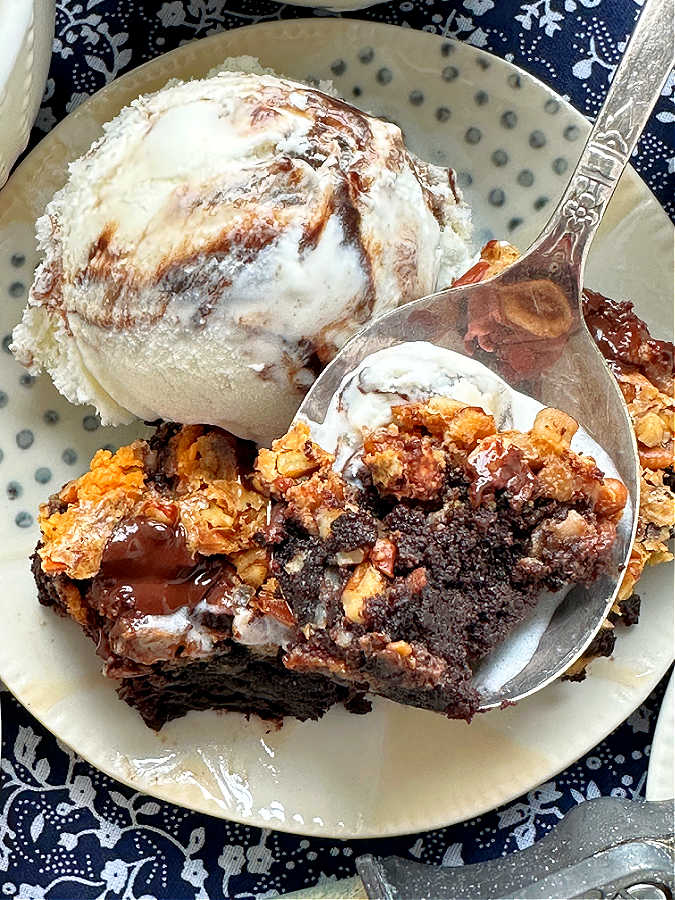 Condensed Milk Brownies
These decadent Condensed Milk Brownies have a drizzle of sweetened condensed milk and toppings similar to seven layer bars. They are perfect with a scoop of ice cream!
Ingredients
1/2

cup

butter

melted

1/2

cup

granulated sugar

1/4

cup

light brown sugar

2

large

eggs

at room temperature

1

large

egg yolk

at room temperature

1

tsp

vanilla extract

1/2

cup

all-purpose flour

1/2

cup

cocoa powder

3/4

tsp

salt

14

oz

sweetened condensed milk

1/3

cup

chocolate chips

1/3

cup

butterscotch chips

1/3

cup

shredded coconut

1/3

cup

pecans pieces
Instructions
Preheat the oven to 350 degrees F. Line an 8x8 baking pan with parchment paper and grease with melted butter.

In a large bowl, melt the stick of butter in the microwave. Add the granulated sugar, light brown sugar, the two eggs and egg yolk, half the can of the sweetened condensed milk and vanilla extract.

Use a whisk or hand mixer to whip together the butter mixture until pale and fluffy.

Add the flour, cocoa powder and salt. Use a rubber spatula or wooden spoon to stir the wet and dry ingredients together just until combined. Don't over mix.

Use an offset spatula to evenly spread the brownie batter into the prepared baking dish.

Bake the brownies for 38 - 42 minutes, or until the edges of the brownies are set and the batter has started to puff up in the center. The brownies will still be a bit "jiggly" in the center.

Allow the brownies to cool in the pan for a minimum of 30 minutes. Cooling for one hour will ensure the brownies are cool enough to slice neatly.

Using the parchment paper sling, lift the cooled brownies out of the pan and onto a cutting board. Use a sharp knife to cut the brownies into 16 squares.
Nutrition
Calories:
257
kcal
|
Carbohydrates:
35
g
|
Protein:
4
g
|
Fat:
13
g
|
Saturated Fat:
7
g
|
Polyunsaturated Fat:
1
g
|
Monounsaturated Fat:
3
g
|
Trans Fat:
0.2
g
|
Cholesterol:
35
mg
|
Sodium:
207
mg
|
Potassium:
178
mg
|
Fiber:
2
g
|
Sugar:
29
g
|
Vitamin A:
264
IU
|
Vitamin C:
1
mg
|
Calcium:
95
mg
|
Iron:
1
mg
Foodtastic Mom is a participant in the Amazon Services LLC Associates Program (Amazon Associate), an affiliate advertising program designed to provide a means for sites to earn advertising fees by advertising and linking to Amazon.com. Any highlighted, clickable Amazon link you see is an affiliate link that I may earn advertising fees on when you click to purchase.
Thank you so much for being a faithful reader and supporter of Foodtastic Mom. Be sure to PIN to Pinterest and print this recipe! Also like and tag 'Foodtastic Mom' on Facebook and Instagram if you make this recipe!