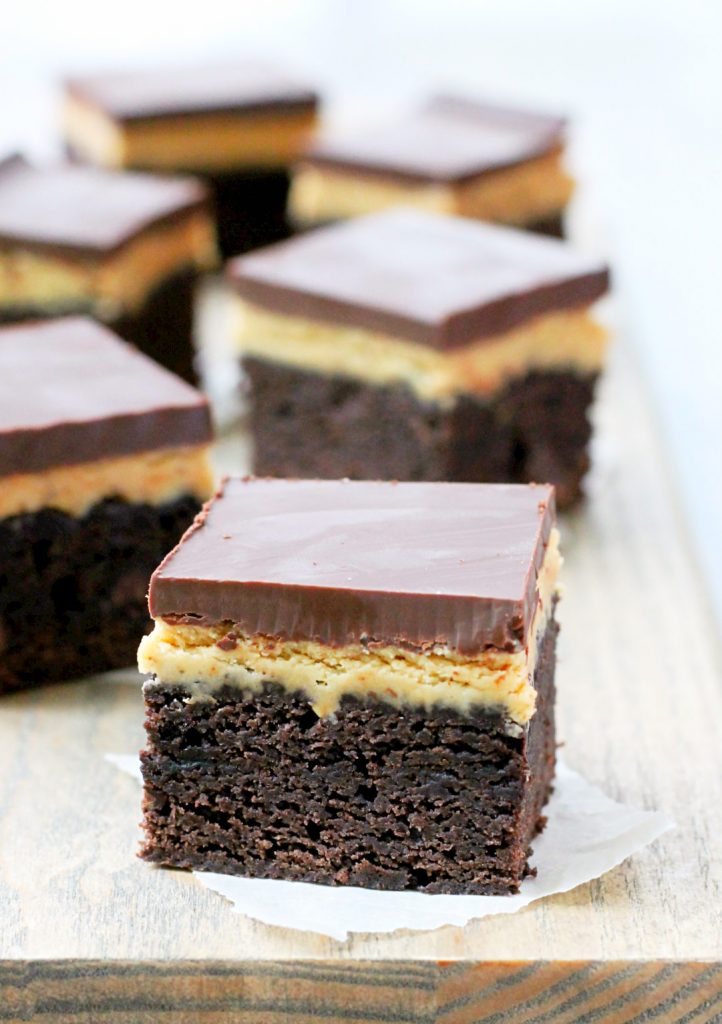 Make these buckeye brownies when you don't feel like rolling a bunch of little peanut butter balls but still want that classic flavor combination of chocolate and peanut butter. These brownies need to be at all your tailgating festivities this football season!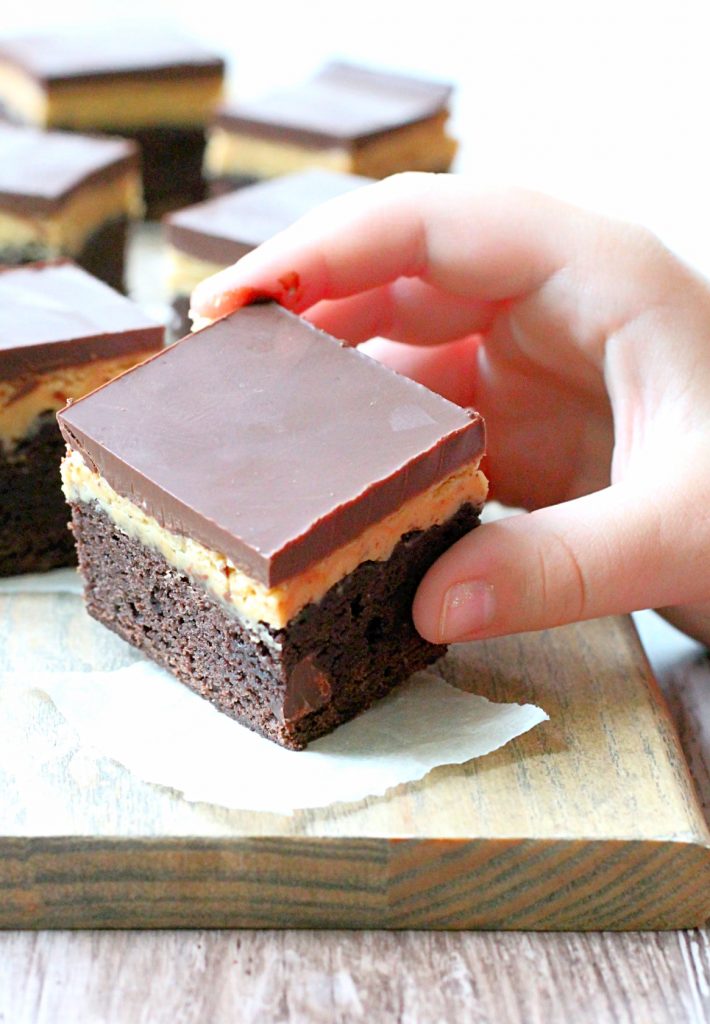 Living in Ohio it seems a requirement to be an Ohio State Buckeye fan. I get excited when they do well. But I have a confession to make. I am raising a son who bleeds blue and gold (and green)… GASP! Actually he's a Notre Dame fan. Like he's seriously obsessed with the Irish. And so because they lost to Ohio State in a bowl game recently the Buckeyes are now blackballed in his little world. So much so that he supports both those teams up north (Michigan – which is a dirty word to many Ohio State fans). But guess what? He had no problem eating these buckeye brownies. More than one actually. So I'll cut him slack.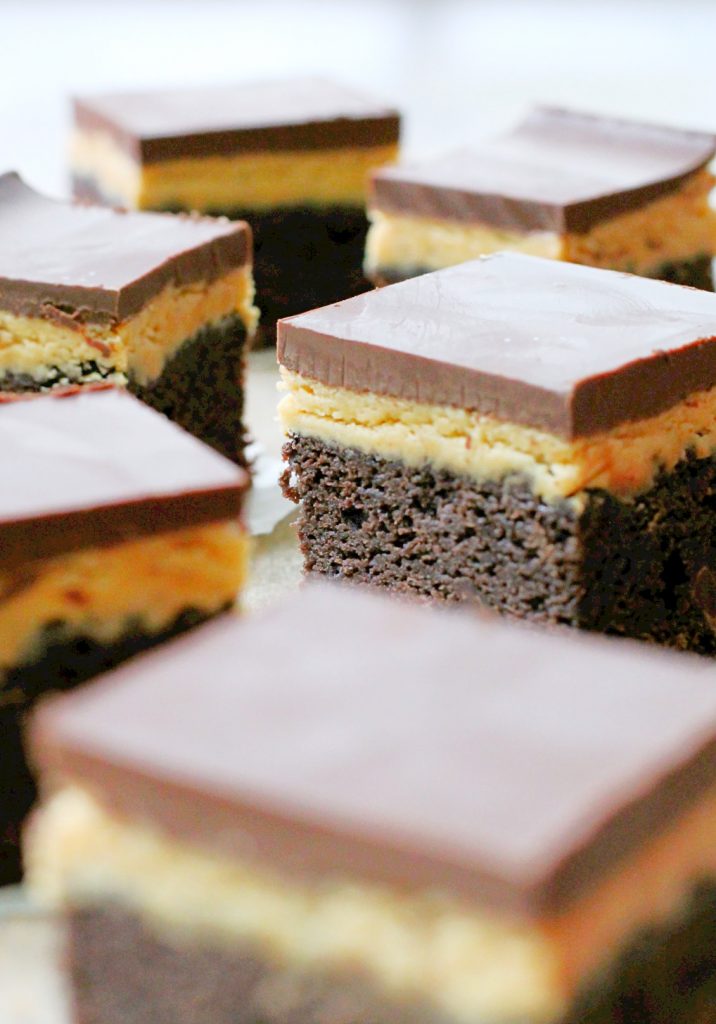 Seriously though football season around here is a big deal but it's all in good fun. I'm just happy to watch a good game and for an excuse to plop down in front of the big screen with some tasty tailgating grub. I like making the traditional buckeye candies but they are a little labor intensive. So when I found THIS recipe for these buckeye brownies I knew I had to try them. Seriously these are SO good and so simple.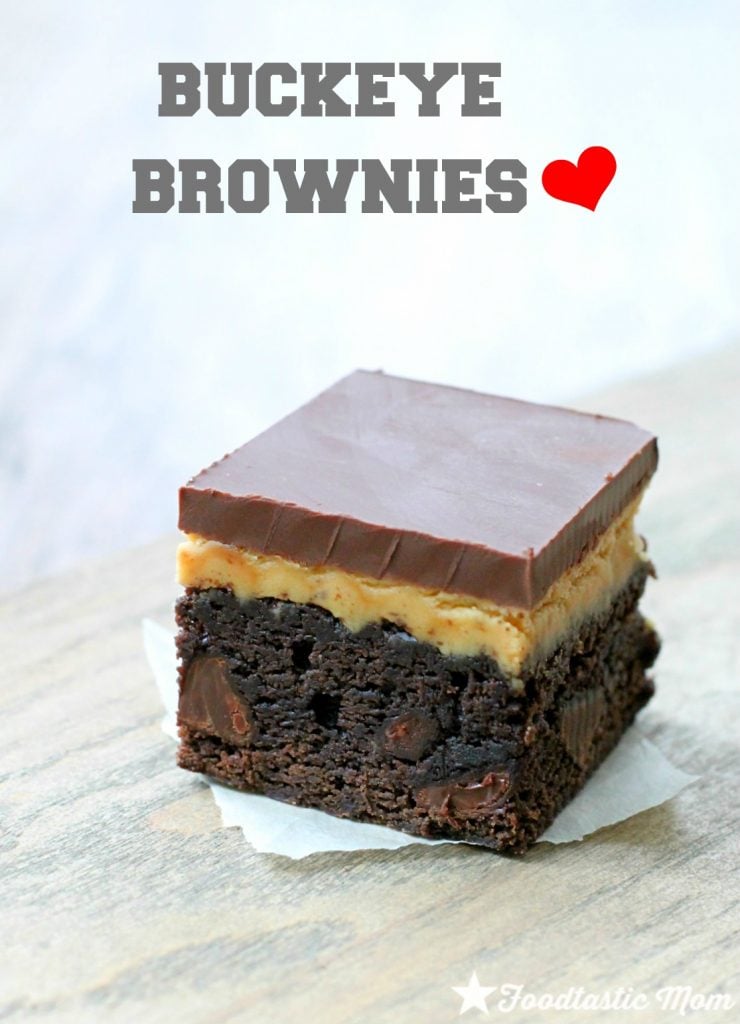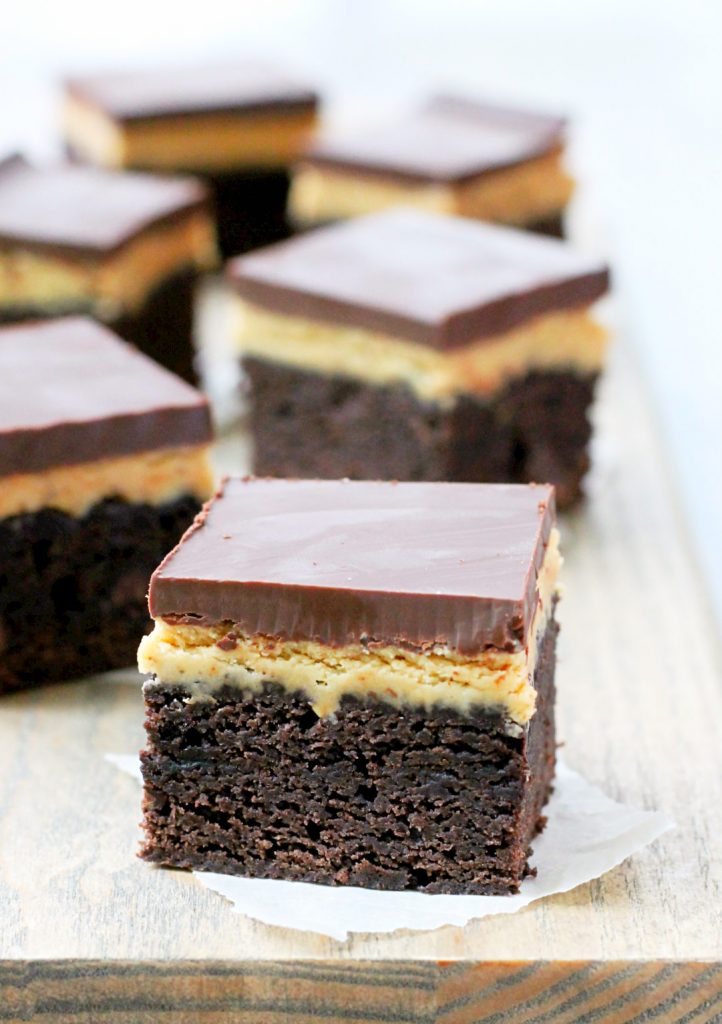 Buckeye Brownies
2016-08-17 18:52:11
Ingredients
1 box of brownie mix (I used Ghirardelli brand)
4 T. unsalted butter, softened
1/2 c. creamy peanut butter
1 c. powdered sugar
1/2 t. vanilla extract
pinch of salt
1 c. chocolate chips (I used Ghirardelli bittersweet)
1/4 c. creamy peanut butter
Instructions
Line an 8x8 pan with foil and spray with cooking spray. Prepare and bake the box of brownies according to package directions and allow to cool in the pan.
With a hand or stand mixer, beat together the butter and 1/2 cup of peanut butter. Add the vanilla extract, powdered sugar and pinch of salt. Beat on high until fluffy, scraping down the bowl with a spatula halfway through.
Spread the peanut butter buttercream evenly on top of the pan of cooled brownies.
In a clean bowl, microwave the chocolate chips and remaining 1/4 cup of peanut butter until melted. Start with one minute and heat in 30 second increments after until melted (to prevent burning). Stir until smooth.
Pour the chocolate and peanut butter ganache on top of the peanut butter buttercream frosting. Smooth evenly over the top.
Refrigerate the brownies for one hour before slicing and serving.
Adapted from This Grandma is Fun
Foodtastic Mom https://www.foodtasticmom.com/