This Chicken Tortilla Soup combines oven-roasted fresh tomatoes, garlic, onion and jalapeño peppers with rotisserie chicken and a flavorful broth.
I published this recipe originally back in 2013. I had run across a recipe that was attributed to Eva Longoria. Since then the link I originally referenced is no longer valid. I'm not really sure what drew me to the recipe in the first place. I used to watch Desperate Housewives. But it wasn't like I was a huge fan of any one character on the show. Anyway this soup is so delicious. So I was glad I found it. I decided to revamp the recipe a bit. And re-do the photos. So here we are with my version of Chicken Tortilla Soup in 2020.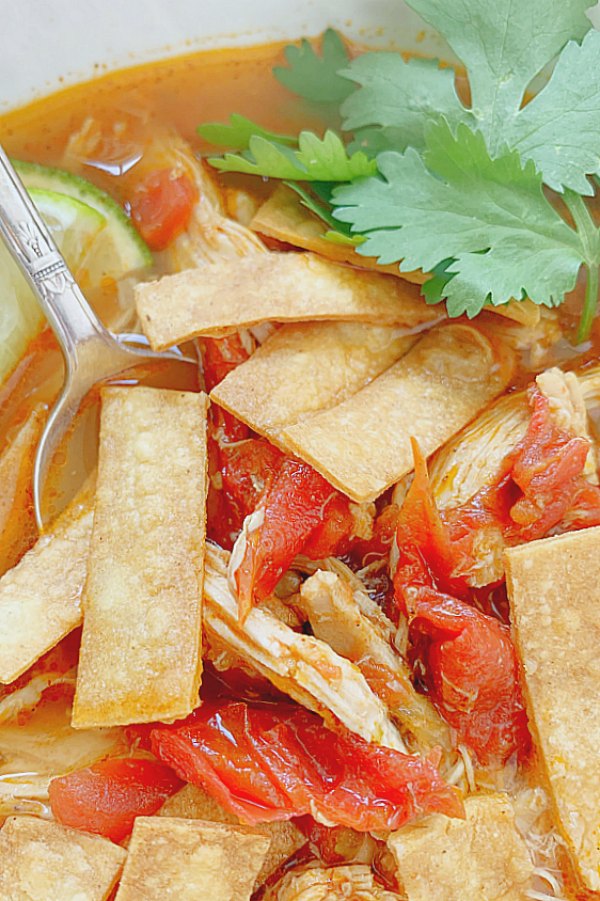 What's in Chicken Tortilla Soup?
Roma Tomatoes
Garlic
Onion
Jalapeño Pepper
Celery
Vegetable Oil
Rotisserie Chicken
Petite-cut Diced Tomatoes
Seasonings – chili powder. cumin, smoked paprika, cayenne pepper, salt
Lime
Chicken Broth
Corn Tortillas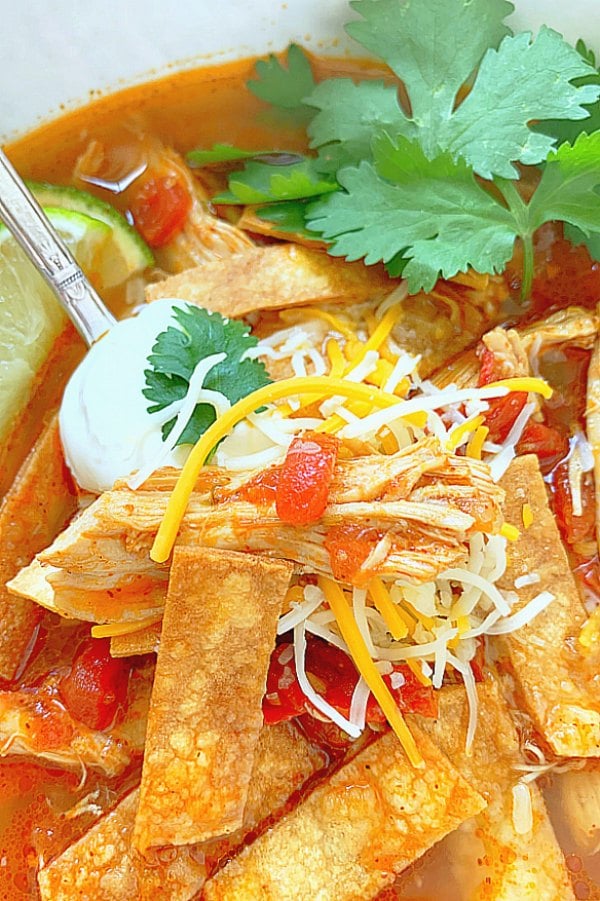 Is Chicken Tortilla Soup Healthy?
Chicken Tortilla Soup is loaded with fresh veggies. Two types of tomatoes (fresh and canned). Onion, a whole head of roasted garlic, celery and jalapeño. Lean rotisserie chicken. The soup is low in calories. It is a healthy soup. As long as you don't go overboard on the toppings – the fried corn tortilla strips, cheese and sour cream.
Kitchen Tips
Foodtastic Mom is a participant in the Amazon Services LLC Associates Program, an affiliate advertising program designed to provide a means for sites to earn advertising fees by advertising and linking to Amazon.com. Any highlighted, clickable Amazon link you see is an affiliate link that I may earn advertising fees on.
Thank you so much for being a faithful reader and supporter of Foodtastic Mom. Be sure to PIN and print this recipe!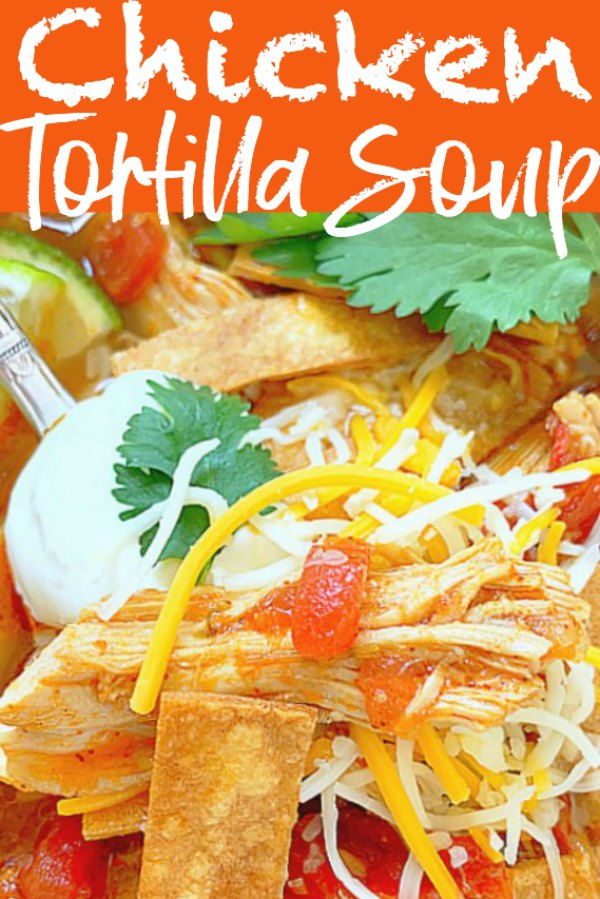 Chicken Tortilla Soup
This Chicken Tortilla Soup combines oven-roasted fresh tomatoes, garlic, onion and jalapeño peppers with rotisserie chicken and a flavorful broth.
Ingredients
8

Roma tomatoes

1

medium

sweet onion

1

large

jalapeño pepper

1

head

garlic

1

can (15 oz)

petite cut diced tomatoes

4

tsp

vegetable oil

2

tbsp

butter

3

stalks

celery

1

rotisserie chicken

meat removed from carcass and shredded

1 1/2

tsp

chili powder

1

tsp

cumin

1

tsp

smoked paprika

1

tsp

salt

1/4

tsp

cayenne pepper

4

cups

chicken stock

1/2

whole lime

juiced

1/4

cup

vegetable oil

12

small

corn tortillas

cut into strips
Instructions
Preheat oven to 350 degrees F.

Wash tomatoes, quarter them and remove stem and most of seeds. Chop the seeded tomatoes into large pieces. Peel the onion and cut it into large pieces. Quarter the jalapeño pepper and remove the stem, rib and most of the seeds. Chop it into large pieces. Toss the tomatoes, onion, and jalapeño with 3 teaspoons of the vegetable oil. Spread the vegetables evenly on a sheet pan lined with parchment paper.

Cut the top 1/3 or so of the head of garlic off so that all the cloves are exposed. Drizzle the remaining teaspoon of vegetable oil over the top. Place the garlic head, cut side up, on the sheet pan with the other veggies.

Roast the veggies and garlic for about 40 minutes. Separate the tomatoes into a bowl. Drain the canned tomatoes and mix them together with the roasted tomatoes.

Squeeze the garlic cloves from the roasted head onto a cutting board. Add the onion and jalapeño and roughly chop the mixture into small pieces.

Wash and chop the celery.

Add the two tablespoons of butter to a soup pot and melt over medium-high heat. Add the celery and cook for 3-4 minutes, stirring occasionally.

Add the chopped onion, jalapeño and roasted garlic. Cook for one minute.

Stir in the tomatoes and shredded chicken.

Add the chili powder, cumin, smoked paprika, cayenne pepper and salt. Stir well to combine.

Add the chicken broth. Bring the soup to a gentle boil. Reduce heat and cover the pot. Allow the soup to simmer for about 30 minutes. Add the lime juice. Taste and add more salt if necessary.

When ready to serve, heat 1/4 cup of vegetable oil over medium-high heat in a non-stick skillet. Add tortilla strips and cook, stirring often until tortillas are lightly browned and crisp. Remove the strips from the oil with a slotted spoon.Cool on a paper towel lined plate.

Top each bowl of soup with tortilla strips, shredded cheese and sour cream.
More Soup Recipes