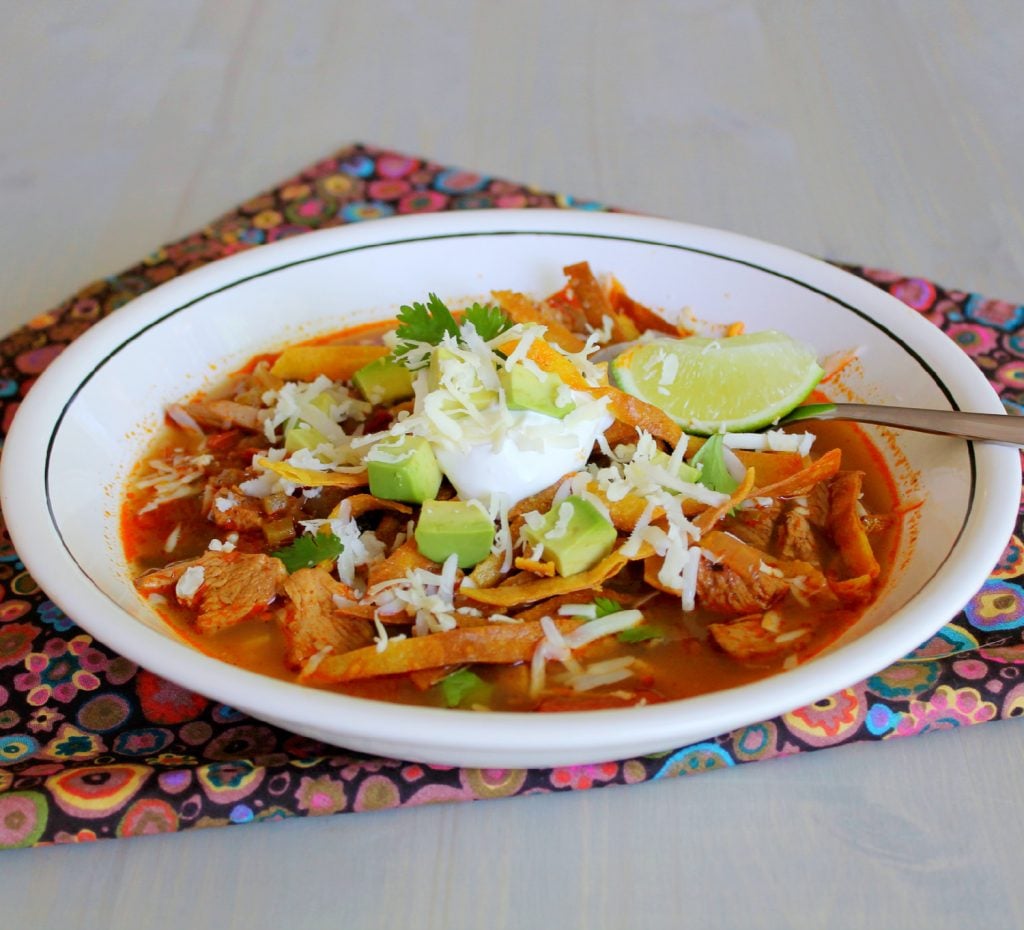 This is a really great chicken tortilla soup. It is thanks to Eva Longoria and Todd English and their restaurant in Los Angeles called Beso. I know nothing about the restaurant other than what the All the Best blog posted in her recipe intro. But I'm really glad she posted the recipe because now I can make it whenever I want. My whole family loved it.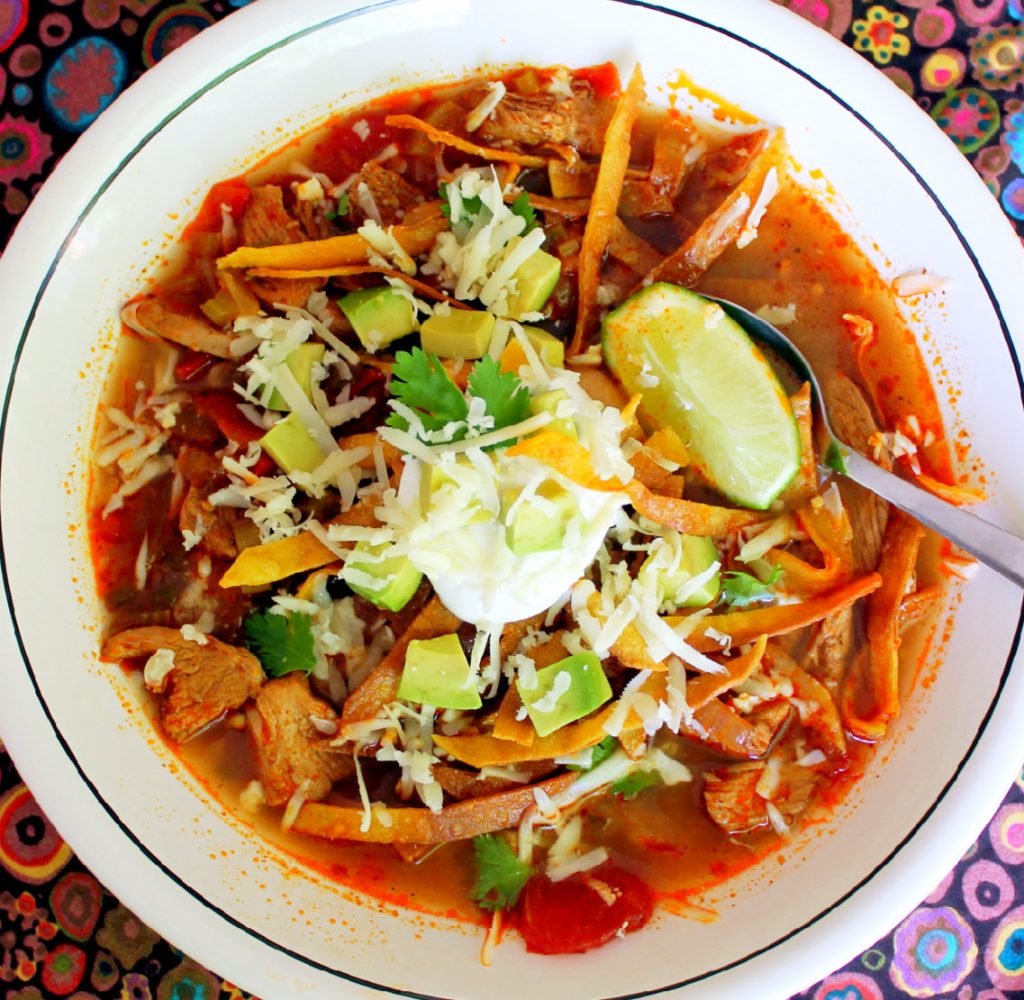 The tortilla strips are freshly pan-fried, made by simply cutting some whole corn tortillas in thin strips and cooking them over medium-high heat with olive oil and a bit of salt until they are crisp. Sure you could use crushed-up tortilla chips from a bag, but this soup really deserves something a bit better than that.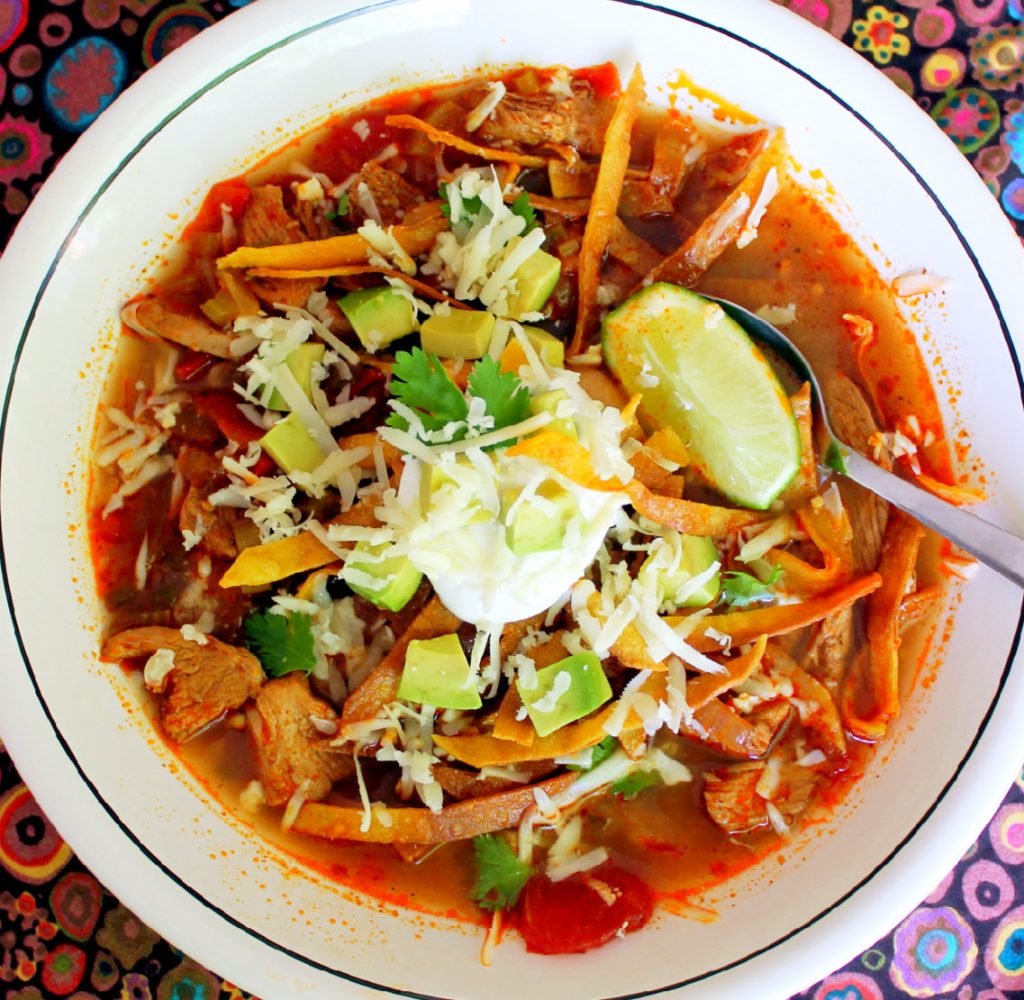 Eva Longoria's Chicken Tortilla Soup
2013-06-23 21:12:48
for the soup
8 whole Roma tomatoes
1/4 c. olive oil, divided
1 medium onion, diced
3 stalks celery, diced
1 lg. jalapeno pepper, seeded and diced
6 garlic cloves, minced
4 c. low-sodium chicken broth
juice of one lime
1/4 t. cayenne pepper
2 t. chili powder
2 t. cumin
2 t. smoked paprika
1 t. salt
1 bay leaf
3 boneless, skinless chicken breasts, diced
for tortilla strips
2 T. olive oil
12 small corn tortillas, cut in half and sliced into thin strips
1/2 t. salt
for serving
diced avocado
fresh cilantro
sour cream
shredded cheddar or monterey jack cheese
lime wedges
Instructions
Preheat oven to 350 degrees.
Wash tomatoes, quarter them and remove stem and most of seeds. Toss tomato quarters with 2 T. olive oil and place in a single layer on a sheet pan. Roast for 30 minutes.
While tomatoes are roasting, heat 2 tablespoons of olive oil in stock pot over medium heat. Add all the spices and salt, onion, celery and jalapeno. Stir occasionally and cook for about 8-10 minutes until vegetables are soft and translucent.
Add the chicken breast and garlic and saute for another 5 minutes. Add the chicken broth, lime juice and bay leaf and bring soup to a gentle simmer. Add tomatoes when they are finished roasting and simmer soup gently for about 30 minutes, stirring occasionally.
When ready to serve, heat 2 tablespoons of olive oil over medium-high heat in a large, non-stick skillet. Add tortilla strips and salt and cook, stirring often until tortillas are lightly browned and crisp. Cool on a paper towel lined plate.
Serve soup topped with tortilla strips and other garnishes.
Adapted from All the Best
Foodtastic Mom https://www.foodtasticmom.com/