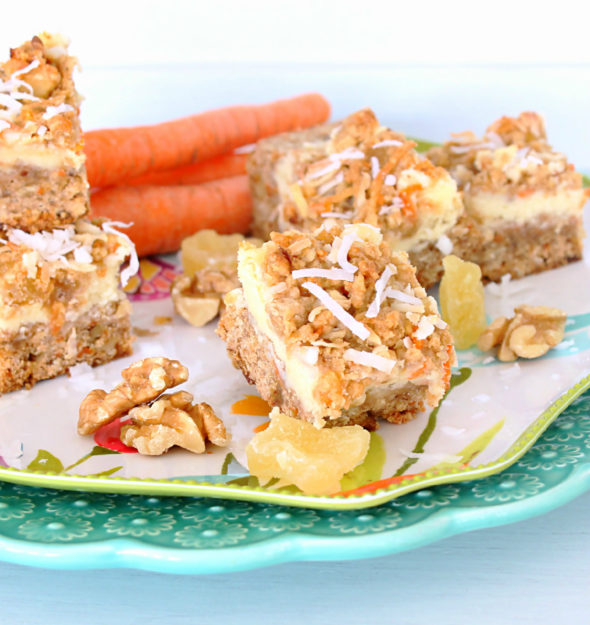 Carrot cake is most definitely not just for Easter, though I did make these for our Easter celebration. It's a combination of my two of my favorite desserts, carrot cake and cheesecake, in a handy and most definitely delicious, bar cookie form.
I found the original recipe at a blog called Wicked Good Kitchen, which is appropriate because these are wicked good. Hers were quite unique in that in the cheesecake layer, the bars contained both homemade carrot cake jam and salted caramel sauce. And while I'm sure those two delicacies took her bars to a complete other level of awesomeness, I wanted a bar dessert that was a bit less time consuming to put together.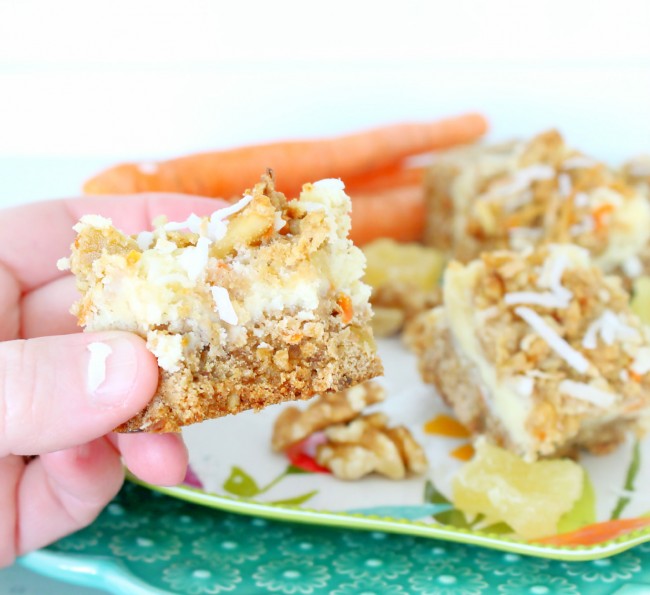 Because I'd left out these flavorings in the cheesecake, I transferred the white chocolate chips she called for in the crumb layer and instead melted it into the cheesecake layer. And also, I'm personally not a fan of raisins in my carrot cake, so I subbed dried pineapple tidbits instead.
There was so much to love about this dessert! It made a ton. It was definitely a crowd-pleaser. And the flavors blended perfectly together. Carrotcake + Cheescake. You'll want to make these for sure!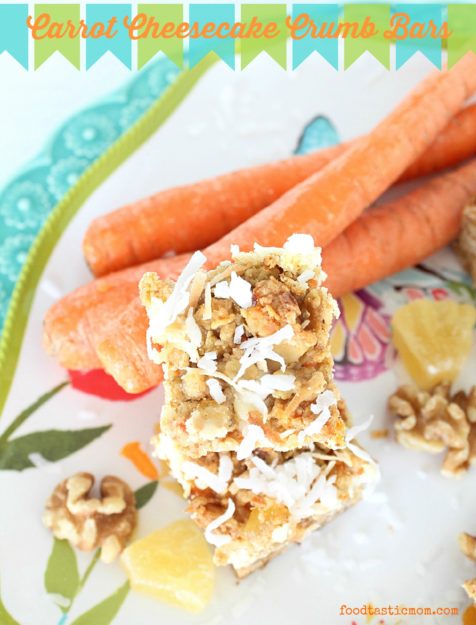 Carrot Cheesecake Crumb Bars
Ingredients
for the carrot cake crust and crumb topping
2 1/2

c.

all-purpose flour

1 1/4

c.

old-fashioned rolled oats

1/2

c.

light brown sugar

1/2

c.

white granulated sugar

1/2

t.

baking soda

1 1/2

t.

cinnamon

1

t.

salt

1/2

t.

all spice

1/4

t.

nutmeg

2

sticks unsalted butter

cold and cut into 16 slices

1 1/2

c.

finely grated fresh carrot

about 3 medium

3/4

c.

walnuts

finely chopped

1/2

c.

flaked coconut

1/2

c.

dried pineapple tidbits

finely chopped
for the cheesecake filling
2

8 oz. pkg. cream cheese, softened

2/3

c.

white granulated sugar

2

large eggs

1

T.

fresh squeezed lemon juice

2

t.

pure vanilla extract

4

oz.

white chocolate

melted and cooled a bit (I used a Ghirardelli 4 oz. bar)
Instructions
Preheat oven to 350 degrees with oven rack in the center position. Grease a 9 x 13 metal pan and set aside.
for the crust and crumble
In the bowl of a stand mixer, combine the flour, oats, sugars, seasonings, salt and baking soda. Fit the mixer with the paddle attachment and stir together the flour mixture on low until well combined. While mixer is still running on about second to lowest speed, begin adding the slices of cold butter, one slice at a time. Wait about 30 seconds between each addition. Keep the mixer going until the butter is completely incorporated into the flour mixture and it resembles wet sand. Shut off mixture.

In a separate large bowl, stir together the grated carrot, coconut, walnuts and dried pineapple. Add the flour mixture to the carrot mixture and stir very well with a spatula or wooden spoon until well-combined.

Measure out a generous 2 cups of the crumbled mixture and put in the refrigerator.

Press the remaining carrot cake crust mixture evenly into the bottom of your prepared 9 x 13 pan.

Bake for 15 minutes.
for the cheesecake filling
Meanwhile, wash your mixing bowl and return it to your stand mixer with the paddle attachment. Whip together the softened cream cheese and sugar. Stop the mixture and add the eggs, lemon juice and vanilla. Whip again. Stop mixer and add the melted white chocolate and beat until smooth.

When crust comes out of the oven, spread the cheesecake mixture evenly over the top of the warm crust. Top evenly with the crumb mixture you set aside in the refrigerator earlier.

Bake for an additional 40 minutes, or until the filling is set but still jiggles slightly in the middle. Allow pan to cool on wire rack for about an hour. Then cover and refrigerate for at least 4 hours before slicing the bars and serving.