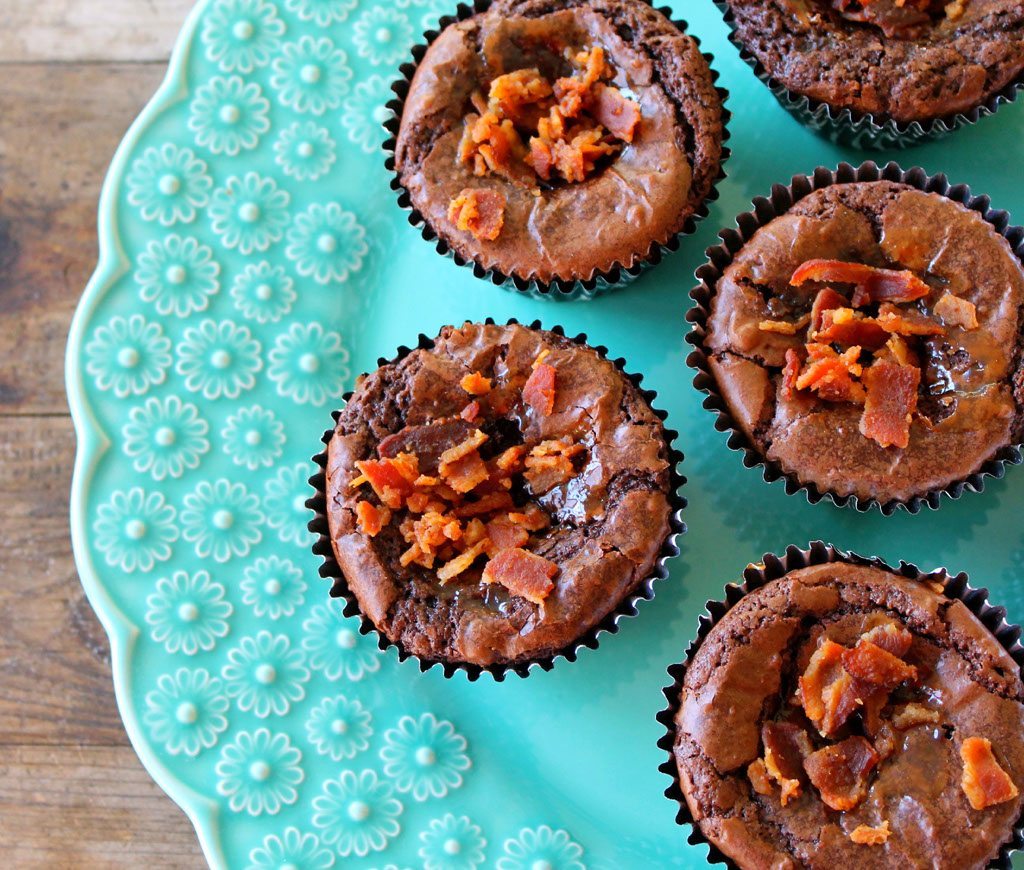 This is how I showed some love to my husband for his 40th birthday party this past weekend. He loves bacon, bourbon and chocolate… possibly (or not) in that order… so when I saw a version of these on Pinterest, I knew this had to be the dessert for his party. The recipe I pinned was gluten-free, which we don't need to be. I was short on time and was using a jarred caramel sauce to begin with, so I decided to really make these easy and use Ghirardelli boxed brownie mix to create them. This helped considerably as I'd had an enjoyable Saturday with a long walk, leisurely breakfast and a little shopping. Meaning I ran home in the late afternoon with only 2 hours to throw together the entire food spread AND shower. It all came together quite nicely and the brownies were a huge hit (even though admittedly I wasn't sure if bacon on a brownie was *really* a good idea).
If you aren't sure either, I promise it's not weird. The chocolate is intense and combined with the bacon it adds up to a nice sweet and salty combination. If you have a Trader Joe's in your area it's very much worth the trip for their "Fleur de Sel" Caramel Sauce… I could eat the stuff straight out of the jar with a spoon.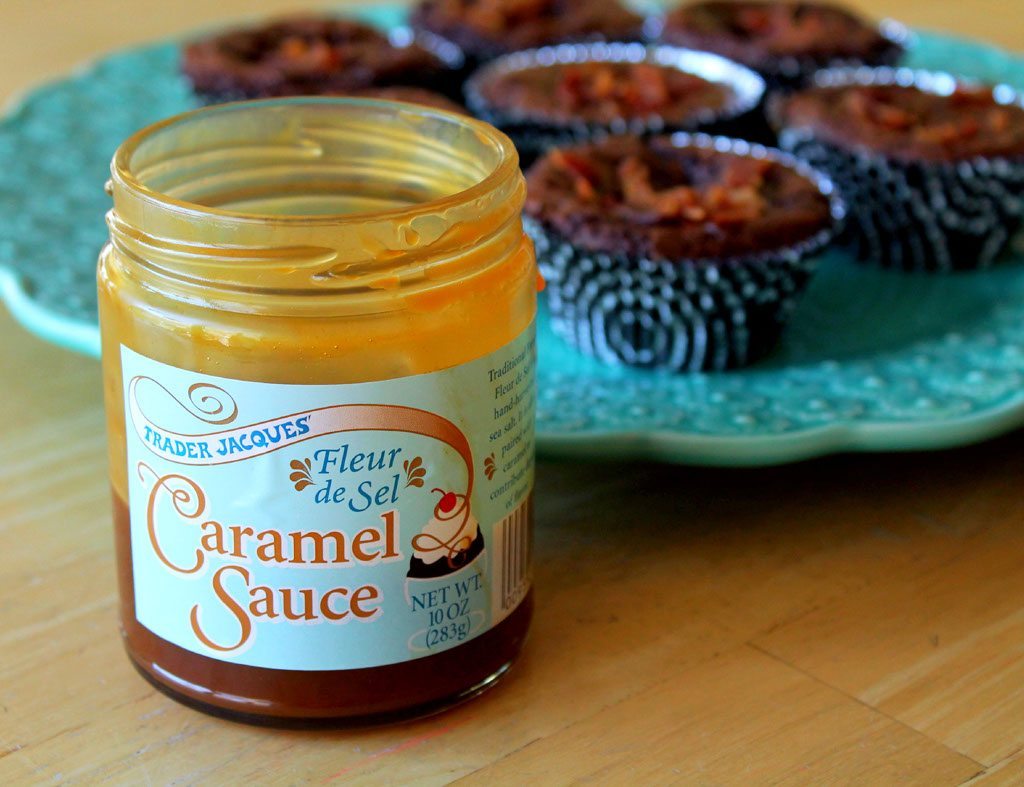 As for the bourbon flavor, Ghirardelli brownie mix calls for 1/4 c. of water, which is the equivalent of 4 tablespoons. I only replaced half the water with bourbon, but if you want a more intense bourbon flavor by all means use the full 1/4 cup of bourbon in place of the water.
Bourbon Bacon Brownies with Salted Caramel Sauce
Ingredients
1

box Ghirardelli brand Brownie mix

any variety

1/3

c.

oil

2

T.

bourbon

2

T.

water

1

egg

3/4

c.

Trader Joe's Fleur del Sel Caramel Sauce

4

slices

bacon

cooked and crumbled
Instructions
Preheat oven to 325 degrees. Line 12 muffin cups with liners. Prepare brownies according to package direction, replacing half (or all) of the required water with bourbon. Fill each liner 2/3 full with brownie mix and bake for 25-30 minutes until brownies are puffed and toothpick inserted in the center comes out clean.

Allow to cool in pans for about 10 minutes, then top each bourbon brownie cup with 1 tablespoon of caramel sauce and a sprinkling of bacon bits. Allow to finish cooling in pan before serving.