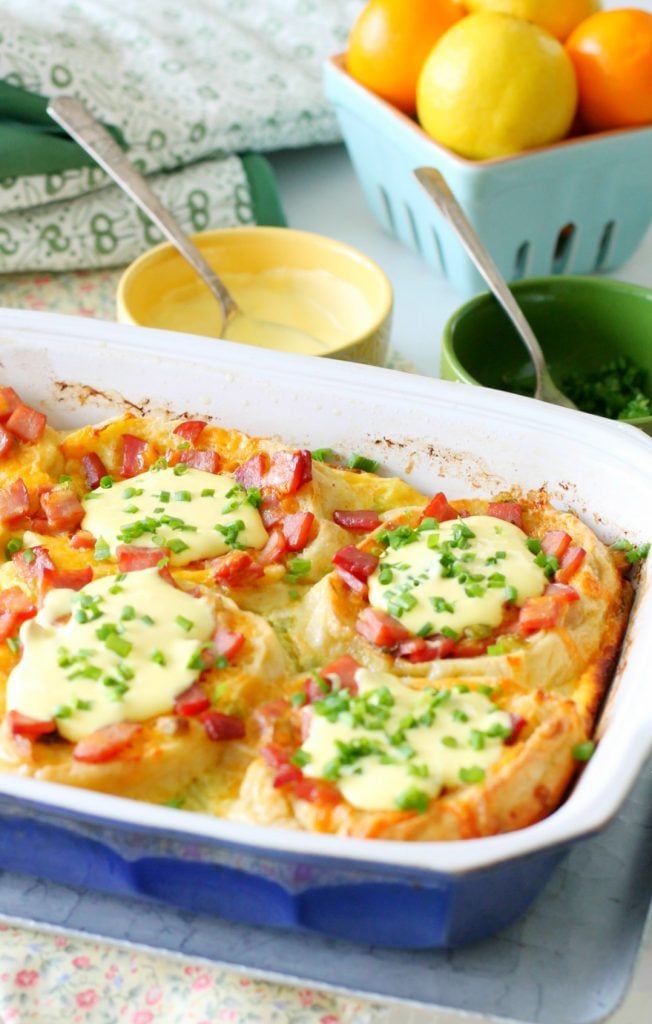 This Eggs Benedict Breakfast Bake is a stunning addition to any breakfast buffet. And that's the beauty of it. Traditional eggs benedict is not a dish easily made for a crowd. At least I've never tried it. I actually have never poached an egg before! It's not because I don't think I can… it's because I have an issue with the texture of runny yolks. I feel like my food blogger card needs to be revoked for that or something. But try as I might, I just don't like poached eggs. So turning eggs benedict into a casserole solves that problem for me and creates a show-stopper dish for you!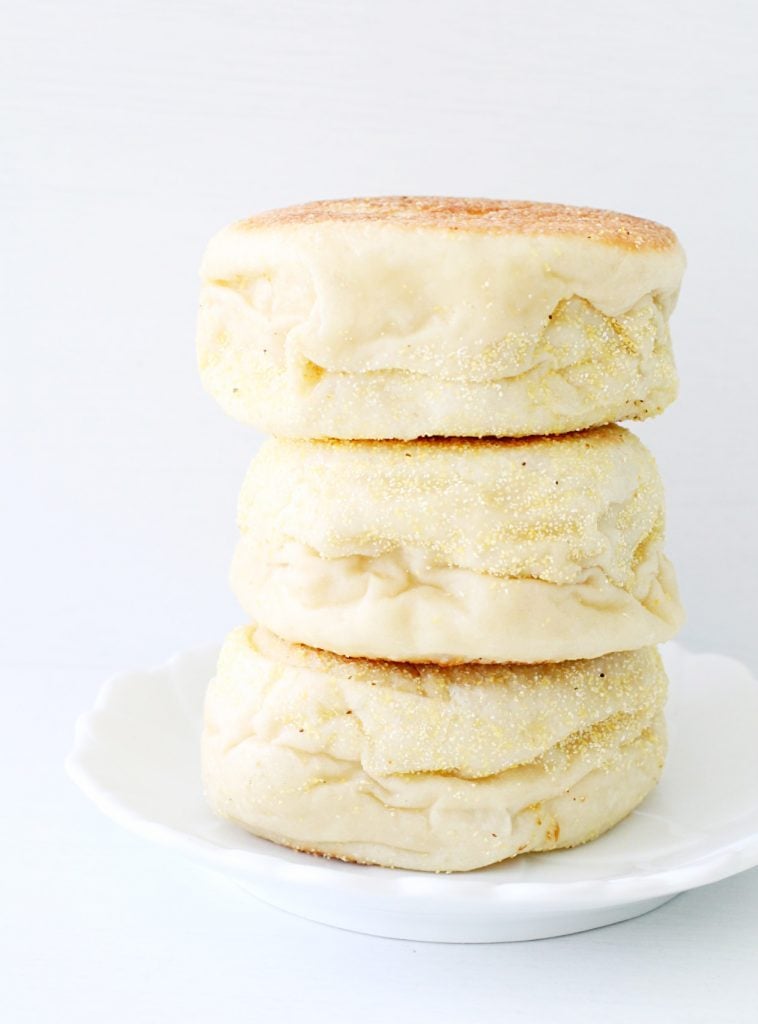 A word about the English muffins I used in this because they deserve all the praise they can get. We have a local baker (Blue Oven Bakery) here in Cincinnati that makes the most glorious English muffins I've ever eaten. They are the size of at least two of the standard grocery store variety. And the taste and texture of these muffins are in another universe. They are pillowy soft, earthy, a little tangy and so fresh tasting. They really make this breakfast bake outstanding and gave me the ability to keep the English muffin halves intact so each serving looks almost individual. Standard English muffins I think would be better cut into cubes to layer along the bottom of the casserole dish. I will be specific about that in the recipe below.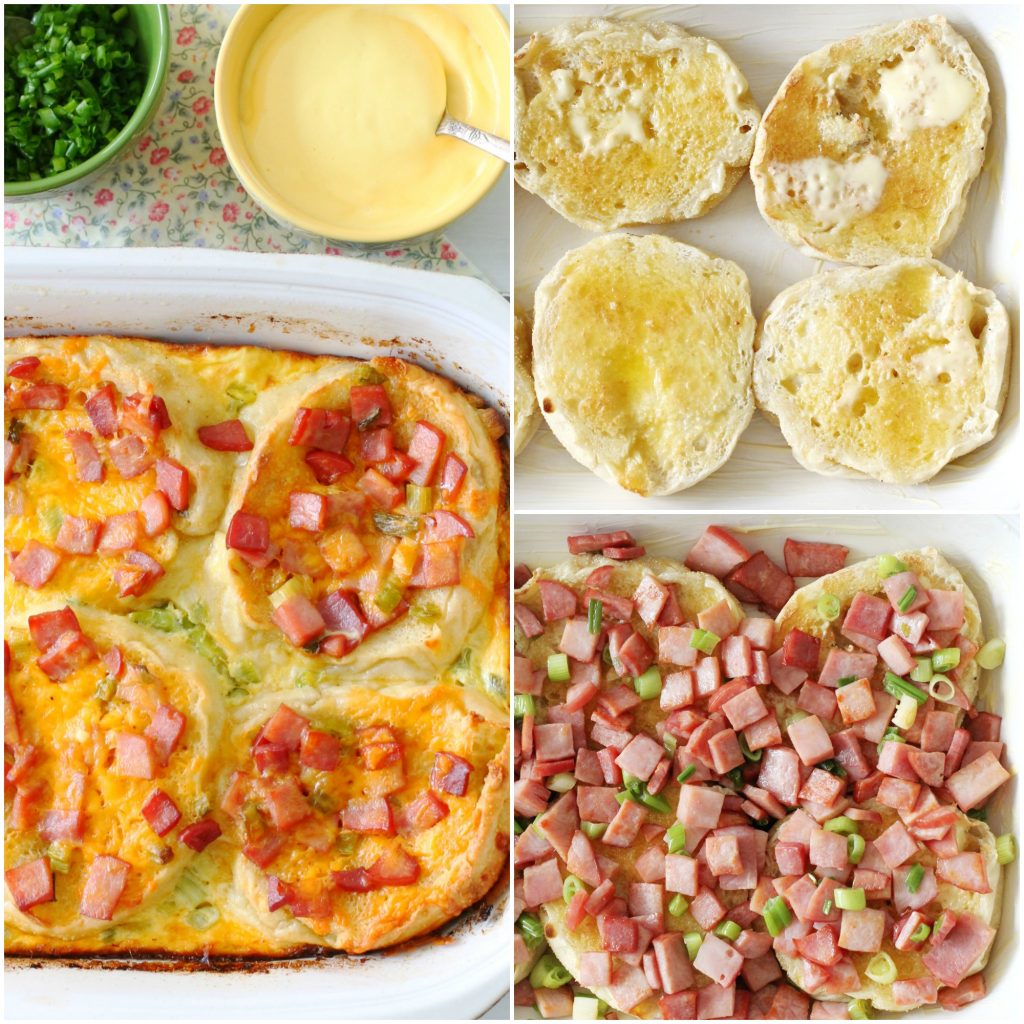 This dish was really simple to create. A buttered casserole dish is layered with toasted and buttered English muffins. Then topped with cubed ham and sliced green onions (that I browned first in a skillet). I added shredded cheddar cheese for an extra punch of color and flavor. Then the whole thing is bathed in an egg and milk mixture that is gently flavored with cayenne pepper and mustard.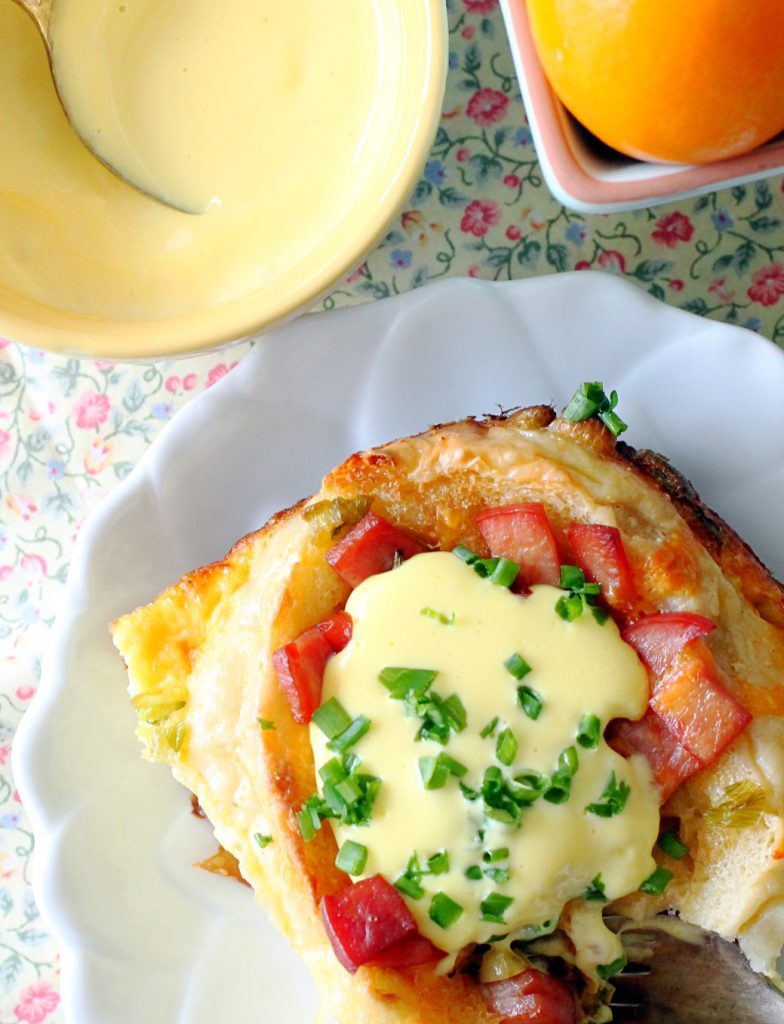 I used Julia Child's blender hollandaise sauce to top this breakfast bake. And finished it with some chopped fresh chives. It really is lovely to behold and even better to eat. Make sure and pin this beautiful breakfast bake for your next holiday brunch!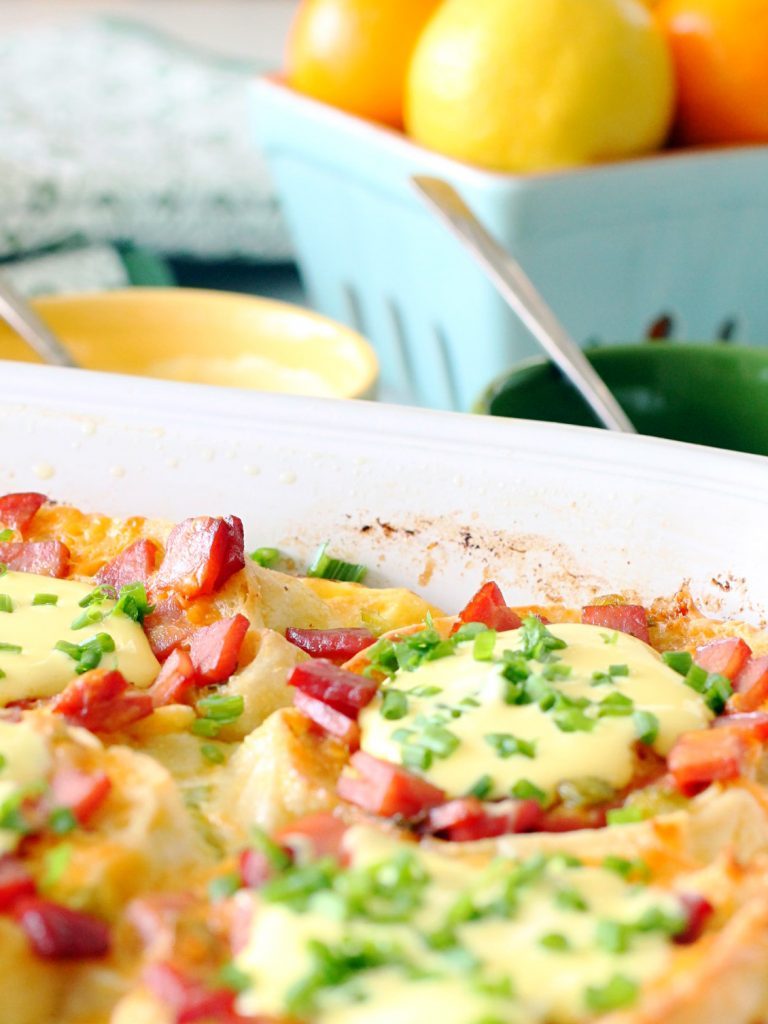 This recipe is featured on Meal Plan Monday. Meal Plan Monday is proudly hosted by Southern Plate, Southern Bite, A Southern Soul, and Big Bear's Wife.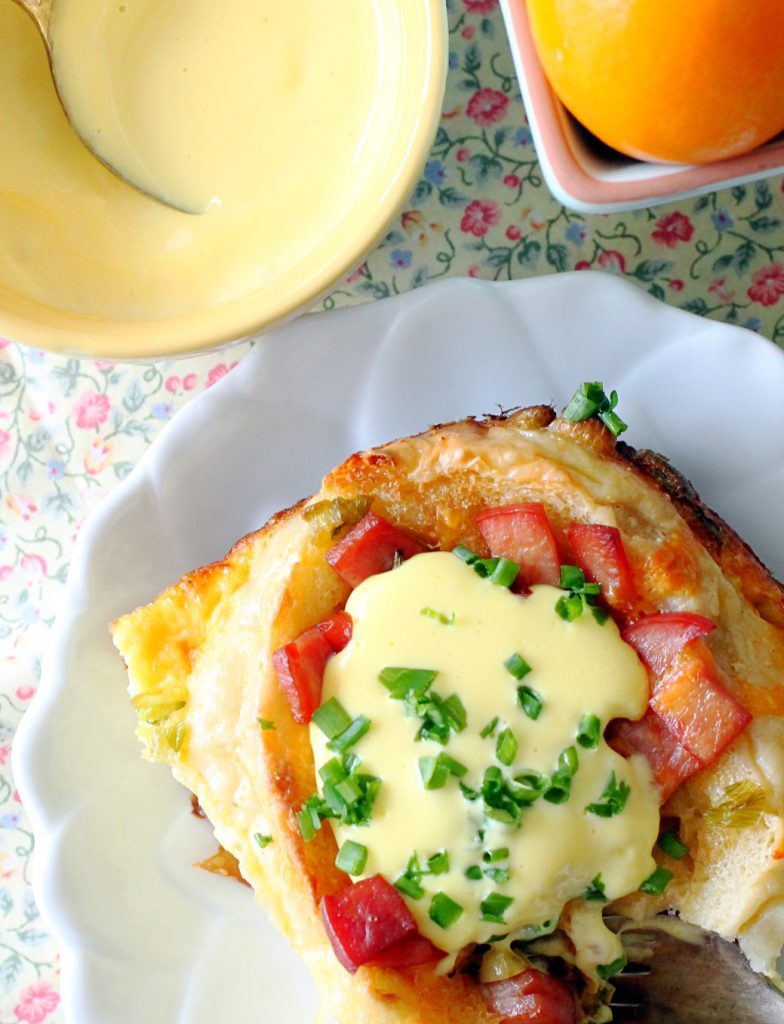 Eggs Benedict Breakfast Bake
2016-04-11 07:56:48
for the bake
3 Blue Oven Bakery English Muffins, split and toasted
-or-
6 Standard English Muffins, not split
butter, softened
12 oz. fully cooked ham, cubed (I used Bob Evans brand)
4 green onions, white and light green parts sliced
1 c. (4 oz.) sharp cheddar cheese, shredded
8 large eggs
1 c. whole milk
1/2 c. sour cream
2 T. yellow mustard
1 1/2 t. salt
pinch of cayenne pepper
1/2 c. fresh chives, chopped
for the hollandaise
3 large egg yolks
1 T. fresh lemon juice
pinch of salt
1 stick of butter, melted
for the bake
The day before you plan to serve your bake, cut your English muffins into cubes. Spread on a baking sheet and broil in the oven for a few minutes to brown them lightly.
Generously butter a 9x13 casserole dish and spread the toasted English muffin cubes into the bottom of the dish.
If you are lucky enough to have access to Blue Oven Bakery English muffins, simply split, toast and butter each half. Then place the six halves evenly, buttered side up, in the buttered dish.
Heat a non-stick skillet over medium-high heat and sauté the ham and green onions for about 8 minutes, stirring occasionally, until the ham is starting to brown.
Layer the cooked ham and green onions on top of the English muffins.
Top the ham layer evenly with the shredded cheddar cheese.
Whisk together the eggs, milk, sour cream, mustard, salt and cayenne and evenly pour the mixture over the rest of the bake ingredients.
Cover the dish with foil and refrigerate overnight.
Remove the dish from the refrigerator about an hour before you plan to bake it the next day.
Preheat the oven to 375 degrees.
Bake the casserole for 30 minutes, covered with foil.
Remove the foil and continue to bake for another 15 - 20 minutes, or until the dish is looking puffed and the top is browning.
While the casserole is baking place the egg yolks, lemon juice and salt in a blender. Blend on high for a few seconds. Set the blender to low and through the hole in the middle of your blender lid, pour the melted butter in a slow steam into the egg yolk mixture. Cover the hole and blend the hollandaise on high speed for about 1 minute. Taste, add a little more lemon and salt if needed, and serve immediately with the breakfast bake.
Top the Eggs Benedict breakfast bake with the hollandaise sauce and chopped fresh chives.
Foodtastic Mom http://www.foodtasticmom.com/