I jazzed up my Mom's go-to recipe for coffee cake to create The Best Sour Cream Coffee Cake – with plenty of streusel and a brown butter glaze.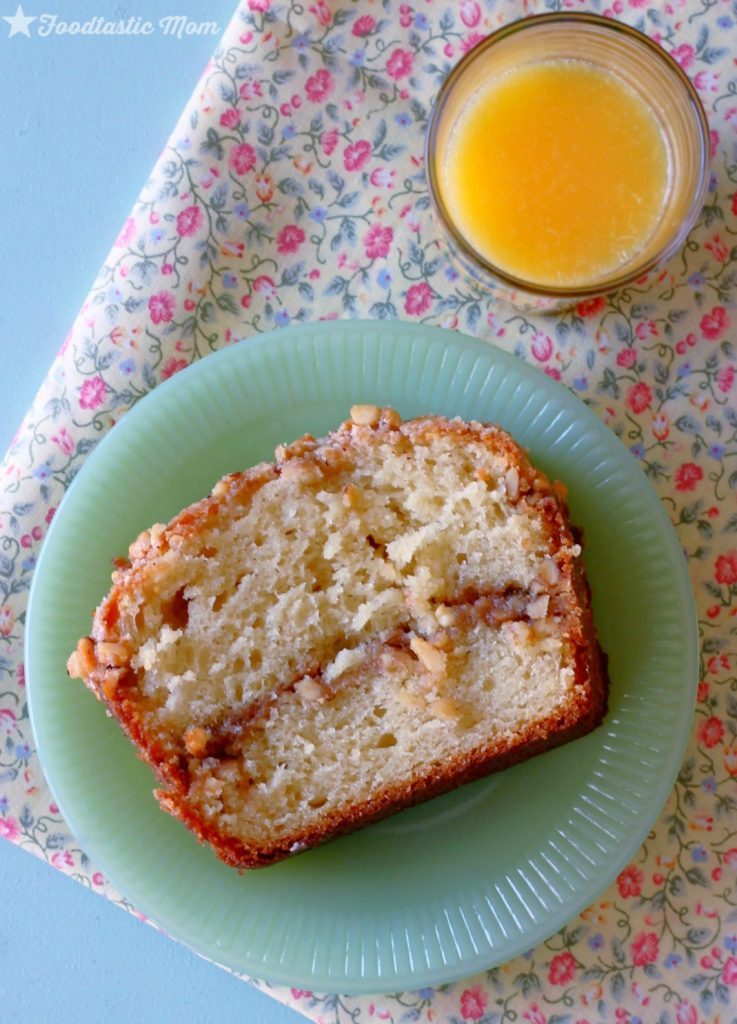 It's Saturday night and I am having a rare opportunity to watch some cable TV. I just finished the movie "The Blind Side" (that's a favorite of mine, though despite Sandra Bullock, the book was still better) and now I'm halfway through "The Hunger Games" (the first one). So it's a nice relaxing evening of editing pictures for me.
I am at my Aunt's house, in my hometown. I don't get up here often, but we are here this weekend to celebrate my son's tenth birthday. Time sure flies and it does not seem like it's been a whole year since I made him these pancakes for his ninth birthday. But it is. This year his interests include Notre Dame (not just football, the whole school), math and science (a change from last year when his favorite subject was writing), swimming (that hasn't changed) and playing the viola. He is such a neat kid and I love mothering him through all the changes.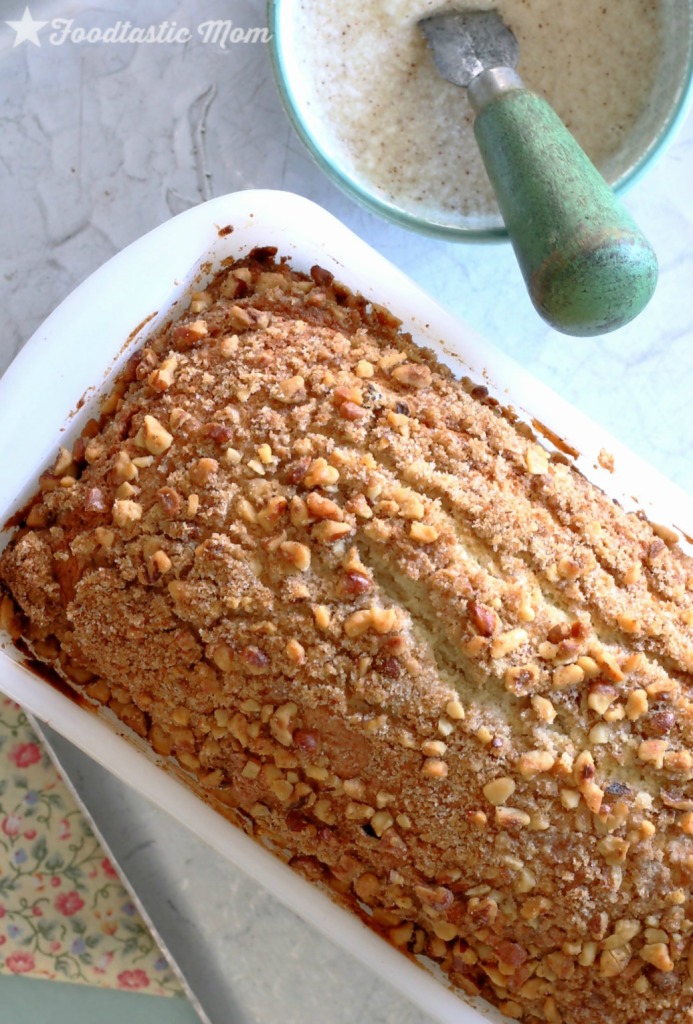 Another thing I love (that doesn't seem to change) is baking breakfast treats. I don't discriminate. I enjoy pancakes, muffins, scones and coffee cakes pretty much equally. And I try not to throw around the term "the best" on just any old recipe. This coffee cake most definitely deserves it.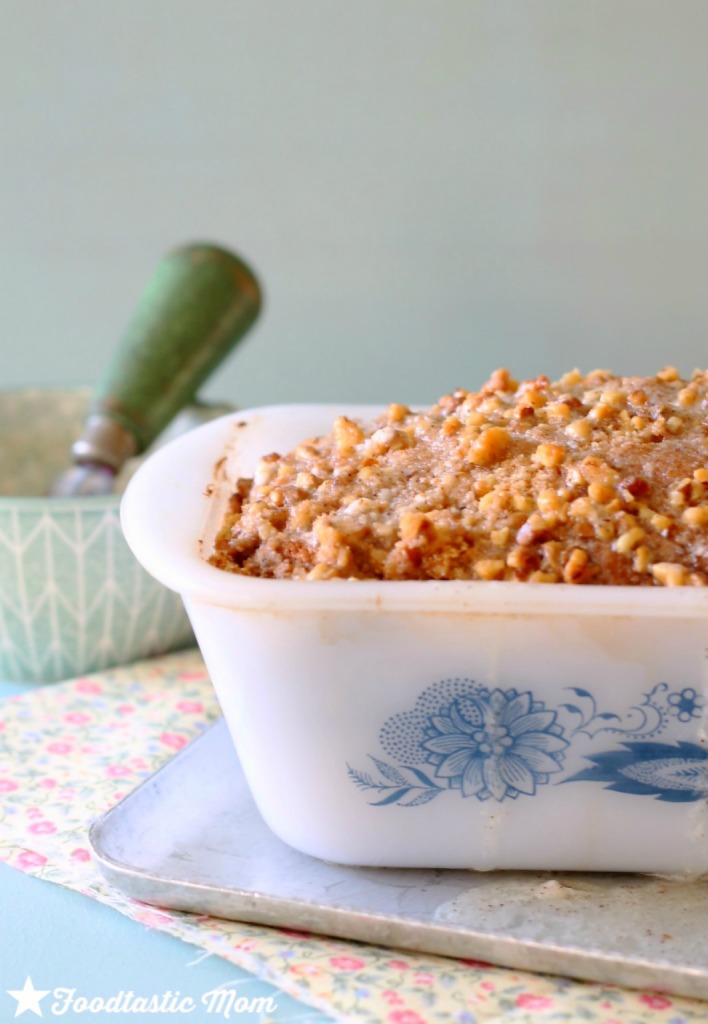 One of my favorite cakes my mom would make when I was growing up was her sour cream coffee cake. It had streusel both in the middle and on the top, just like this cake, but she baked hers in a 9×13 pan. I wanted one that made a little less (mainly so I wouldn't eat as much) and when I stumbled on THIS recipe, I was smitten. The picture was SO enticing, but I wanted the taste and texture of the cake to just, well… be the best!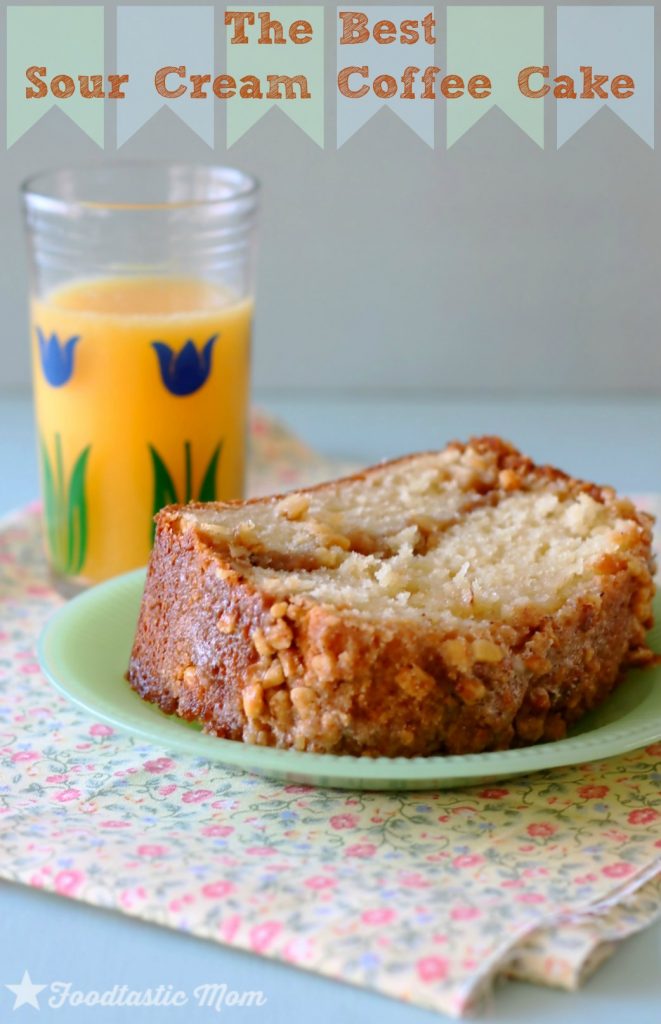 In the past with making streusel-topped loaf cakes, my main complaint is the streusel is too much, preventing the cake from baking evenly. So I halved the amount of streusel (though not to worry, it's still plenty decadent) and I added extra walnuts on top. And after the cake emerged from the oven, I topped it with a warm brown butter glaze.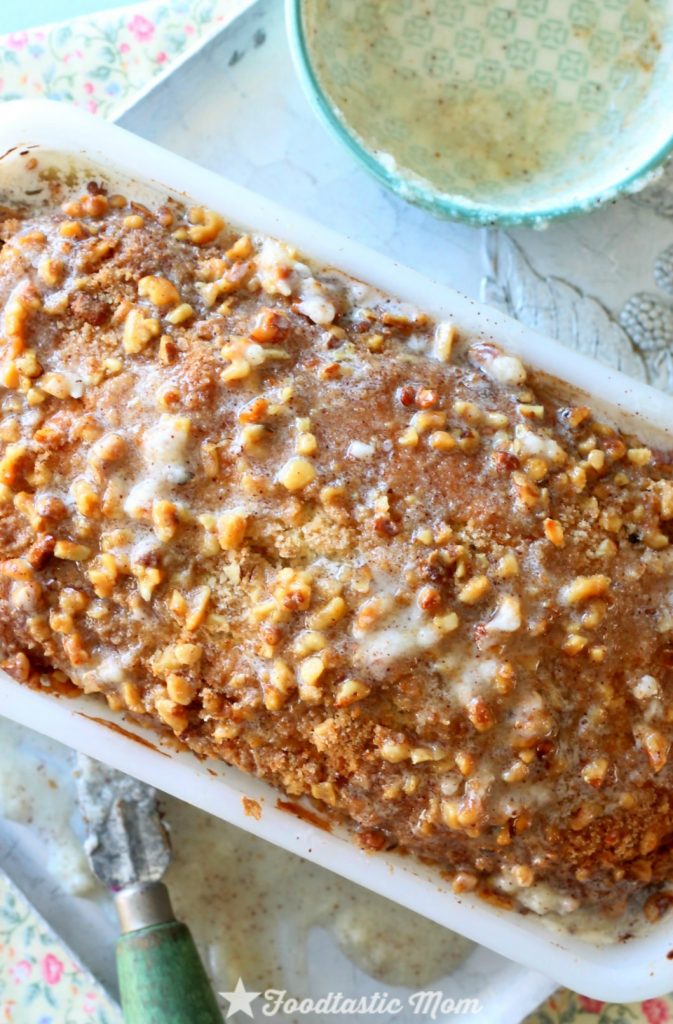 Oh. my. gosh. With a cold glass of fresh orange juice? A slice of this cake is just perfection. Kind of like the luxury of sitting in front of the TV for a quiet evening of relaxing and favorite movie watching. After a full day of enjoying my favorite son on his tenth birthday 🙂

The Best Sour Cream Coffee Cake
I jazzed up my Mom's go-to recipe for coffee cake to create The Best Sour Cream Coffee Cake - with plenty of streusel and a brown butter glaze.
Ingredients
1

stick (8 tbsp)

unsalted butter

softened

3/4

cup

sugar

2

large

eggs

1

tsp

vanilla extract

1/2

cup

sour cream

1 1/4

cups

all-purpose flour

1/2

tsp

baking powder

1/4

tsp

baking soda

1/4

tsp

salt

2

tbsp

light brown sugar

1/4

cup

all-purpose flour

3/4

tsp

cinnamon

1/8

tsp

salt

1 1/2

tbsp

unsalted butter

cold

6

tbsp

walnuts

finely chopped

1/2

cup

powdered sugar

3

tbsp

unsalted butter

3

tbsp

milk
Instructions
Preheat oven to 350 degrees.

Spray a 9×5 loaf pan with non-stick cooking spray.

With a hand or stand mixer, beat together the stick of butter and 3/4 cup sugar until pale and fluffy. Add the eggs, one a time, beating after each addition. Add the vanilla and sour cream and beat until well combined.

Whisk together the flour, baking powder, baking soda and salt. Add the dry ingredients to the butter mixture and stir by hand until no streaks of flour remain. Set the cake batter aside.

In a clean bowl, combine the brown sugar, flour, cinnamon, pinch of salt, 1 1/2 tablespoons of cold butter and 1/4 cup of the walnuts. Use a pastry cutter or two forks to cut the butter into the streusel until well combined.

Spread half the cake batter into the bottom of the loaf pan. Sprinkle half the streusel on top of the batter. Top the streusel with the remaining cake batter and spread to smooth the top. Sprinkle the remaining streusel on top. And top with the remaining 2 tablespoons of chopped walnuts.

Bake the bread on the center rack of the oven for 50 minutes, or until loaf springs back when the top is lightly pressed.

While the bread is baking, heat a small skillet over medium heat. Add the remaining 3 tablespoons of butter. Melt the butter and swirl the pan until the butter smells "nutty" and is browned. Remove from heat.

Whisk together the powdered sugar, browned butter and milk to form a smooth glaze.

Pour the glaze over the top of the bread when it comes out of the oven.

Allow the bread to cool, slice and serve.