I've been eating and posting more healthy meals lately. I usually do this to counteract the holiday indulgence, which my friend Lacy (who has extensive work experience at a weight loss clinic and as a personal trainer) so kindly reminded me last week packs another seven pounds on the average person. I looked this up, and while this seven pound average is exaggerated and the real total (average) is closer to one pound between Thanksgiving and New Year's, this informative New York Times article emphasizes that in speaking of averages, it is important to keep in mind that A. that pesky one pound sticks with us each year (so add it up from the ages of 20 to 40) AND a person who is already overweight tends to gain a lot more. Oh joy. So, here I am, eating and posting about some healthy stuff DURING the holidays, not just after. Luckily for me and you, this couscous bowl is as tasty as it looks.
The inspiration for this dish came from my friend Charla who had eaten and loved a meal at The Green Dog Cafe recently. Theirs started with quinoa, and had roasted sweet potatoes, sautéed spinach, golden raisins and pine nuts. I've no idea what they flavored theirs with.
I'd thought I would use quinoa, but I had an unopened box of Trader Joe's Whole Wheat Couscous in my pantry, so it was the winner. Plus, a serving size contains seven grams of fiber and eight grams of protein… definitely healthy. Also, I'd purchased some local Habanero honey recently and thought it would work well with the flavors I was planning.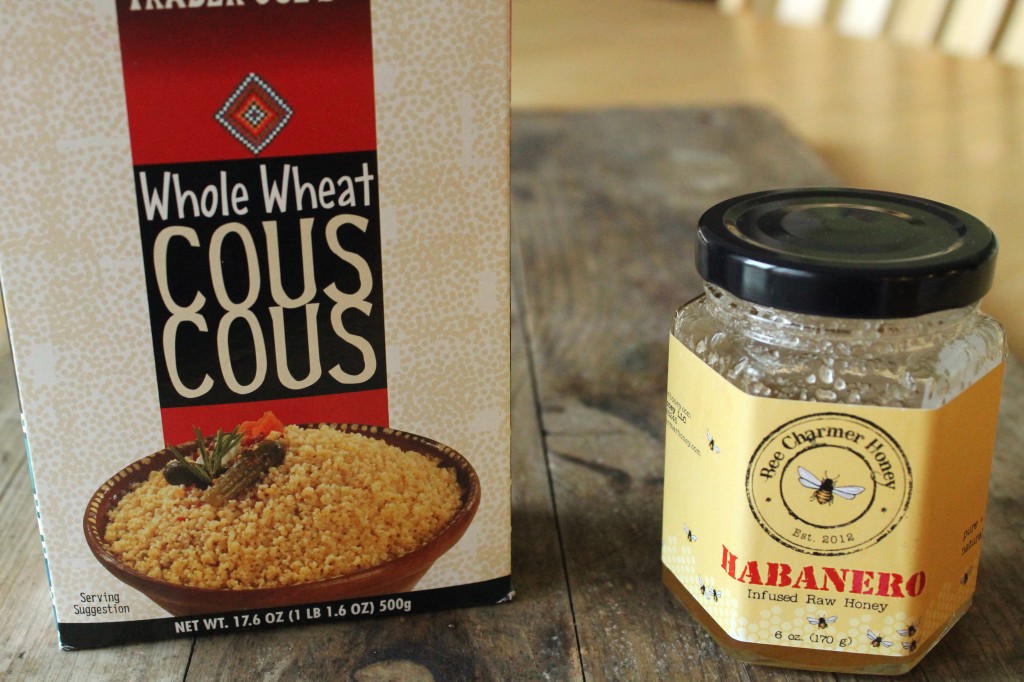 For some reason at the store today, I decided to add pomegranate. I wasn't sure in my head how it would work, but I'm really glad I tried it. The bright flavor of the ruby-red seeds really liven up the earthy and rich components of the kale and sweet potatoes. Plus, pomegranates were on sale, four for $5… and I got a ton of seeds out of just one. It was way better to purchase fresh and seed them myself than to buy a jar of just the seeds. If you've never done it, just halve the pomegranate and then gently peel the skin away from the jewel-like seeds. The seeds pop out pretty easily after the skin has been pulled away. So good!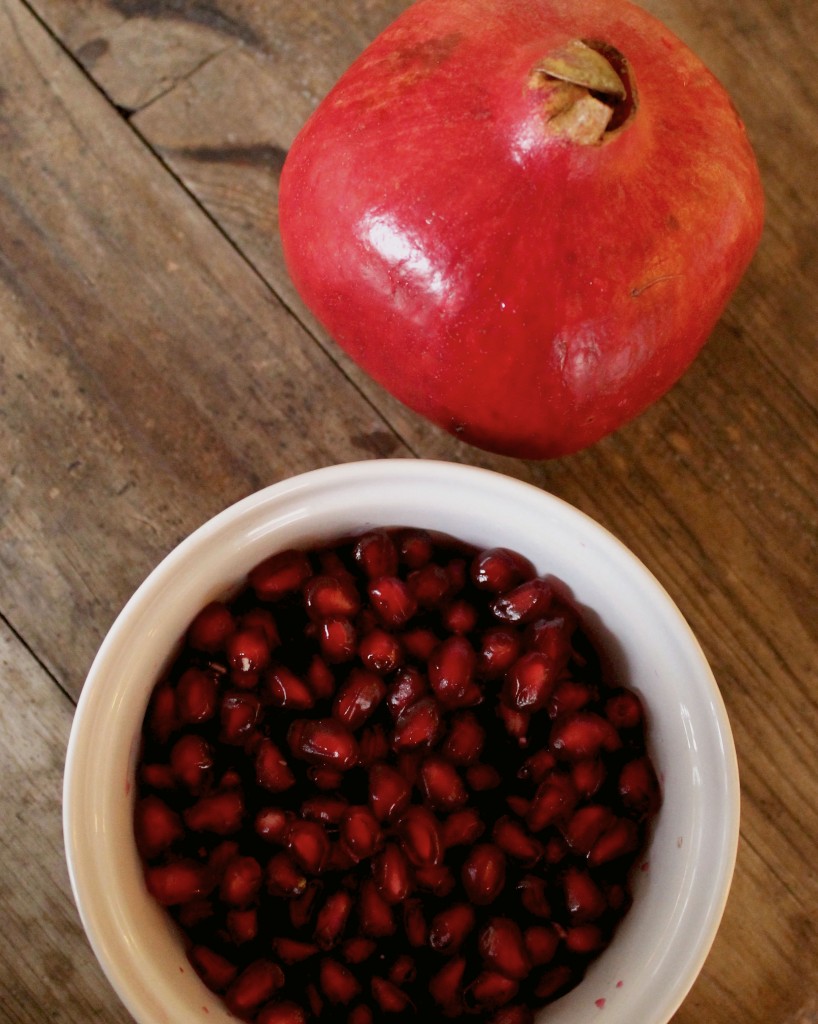 So here it is, a healthy and quick to pull together couscous bowl to get you through the winter. I can't promise that it will help keep your pound or so off, but this is at least one of the things I'm eating to try and keep it off myself!
Winter Couscous Bowl
serves 4
1/4 c. pine nuts
1 c. whole wheat couscous
2 c. water, divided
2 T. grape seed oil, divided
1 T. Habanero honey (or regular honey and a pinch of ground red pepper)
1 t. salt, divided
1/4 t. cinnamon
2 c. sweet potatoes, peeled and cut into small cubes
12 oz. kale (I purchased the pre-washed and cut kind in a 16 oz. salad bag)
1 fresh pomegranate, seeds only
Feta cheese, optional
Heat oven to 400 degrees. In a large saucepan over medium heat, toast the pine nuts until golden and fragrant. Make sure to check them frequently, so they don't burn. Meanwhile, toss the peeled and diced sweet potatoes with 1 T. oil, honey and cinnamon. Spread evenly on a rimmed baking sheet and roast for 30-35 minutes, or until fork-tender. Stir at least once during cooking time.
After the pine nuts have toasted, remove them to a glass bowl. To same saucepan, add 1 cup water, 1 T. oil and 1/2 t. salt. Bring to a boil, add 1 c. of couscous. Remove from heat, stir well, cover tightly with lid and let sit for 5 minutes. Fluff with fork and cover until ready to use.
While couscous is cooking, heat a large stock pot over medium-high heat. Add 1 cup water, kale and 1/2 t. salt. Cover pot and steam for 5 minutes. Uncover pot, stir well and cook for 5 more minutes, or until kale is nice and tender. It will shrink greatly! Remove from heat and stir the couscous, sweet potatoes and pine nuts directly in the stock pot with the kale.
Serve topped with pomegranate seeds and crumbled feta cheese.