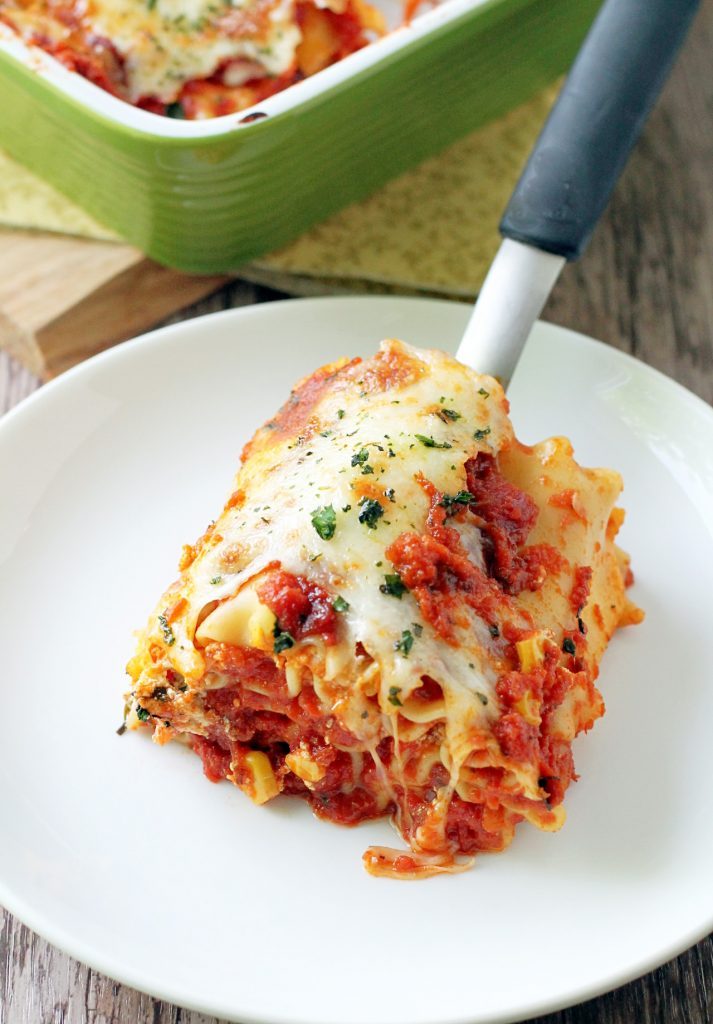 My rainbow lasagna rolls are homestyle comfort food utilizing summer's freshest vegetables. My kids loved tucking every color of the rainbow into these cheesy lasagna roll ups and hugging them in thick, rich tomato sauce. Serve these rainbow lasagna rolls with my world's best garlic bread for an Italian meal your whole family will love!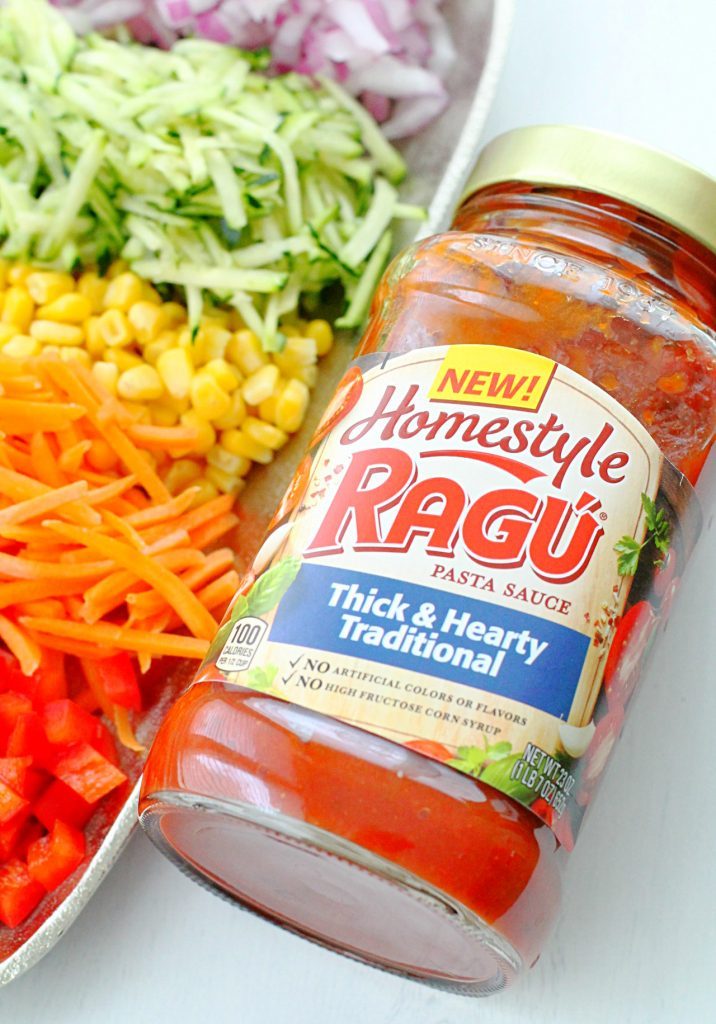 Jarred pasta sauce is a staple in my pantry. Obviously I love to cook and my goal is to provide wholesome comfort food made from scratch for my family every day. Life though and this busy season of elementary school schedules with swim team, piano, orchestra, chorus and musical practices tends to have other plans. So there are many nights when boiled spaghetti with RAGÚ® tomato sauce (with no artificial flavors, artificial colors or high fructose corn syrup) is our dinner which is great because what better meal for two developing swimmers than pasta with red sauce?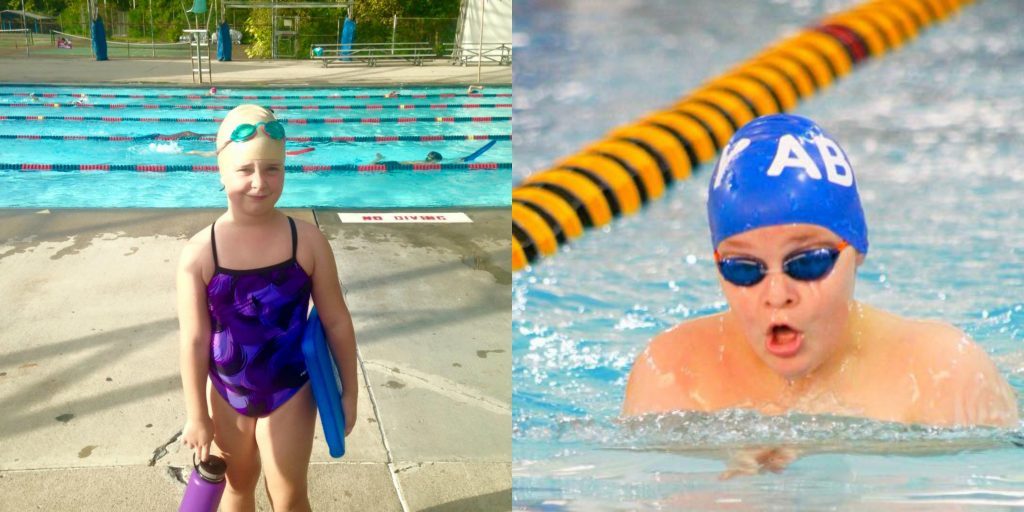 I talk a lot on my blog about feeding my kids and how I've managed to get them to not be picky. I mean they're not eating raw broccoli every single night but they are adventurous and have learned to appreciate my cooking over the years. I was never a short order cook in their toddler years which meant some nights their dinner amounted to sliced fruit. Ultimately I was more stubborn than my children (which is saying a lot) and kept offering the "adult" food at every meal. Did that make for some (many) frustrating meal times? Yes, definitely. But at 9 and 11 years old now they enjoy helping me in the kitchen and want to learn to cook and like trying new foods. The payoff for perseverance at dinner time is huge!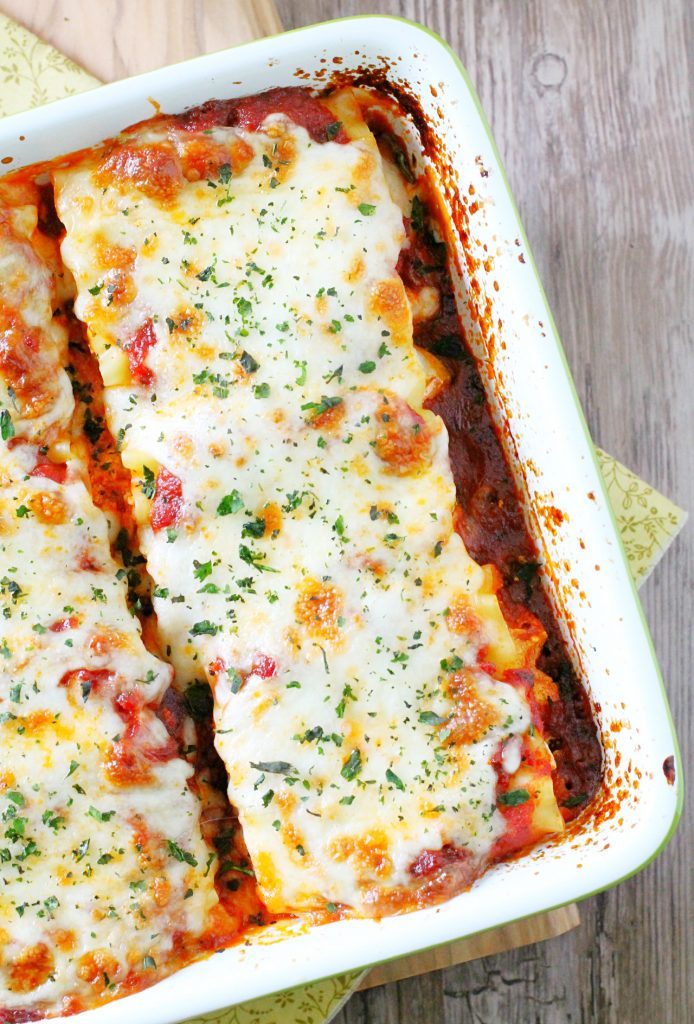 And it's totally OK to boil pasta and open a jar of sauce and call it family dinner (even at 9 pm at night – which happens probably once a week during the school year at our house). RAGÚ® has totally upped their pasta sauce game with their new line of Homestyle Sauces. When they asked me to try them I was happy for an excuse to create a new pasta recipe and thrilled with the quality. This is their thickest sauce yet with an intense, bold, perfectly developed flavor. My son dolloping that sauce was an easy photograph to get because the sauce is so thick and rich.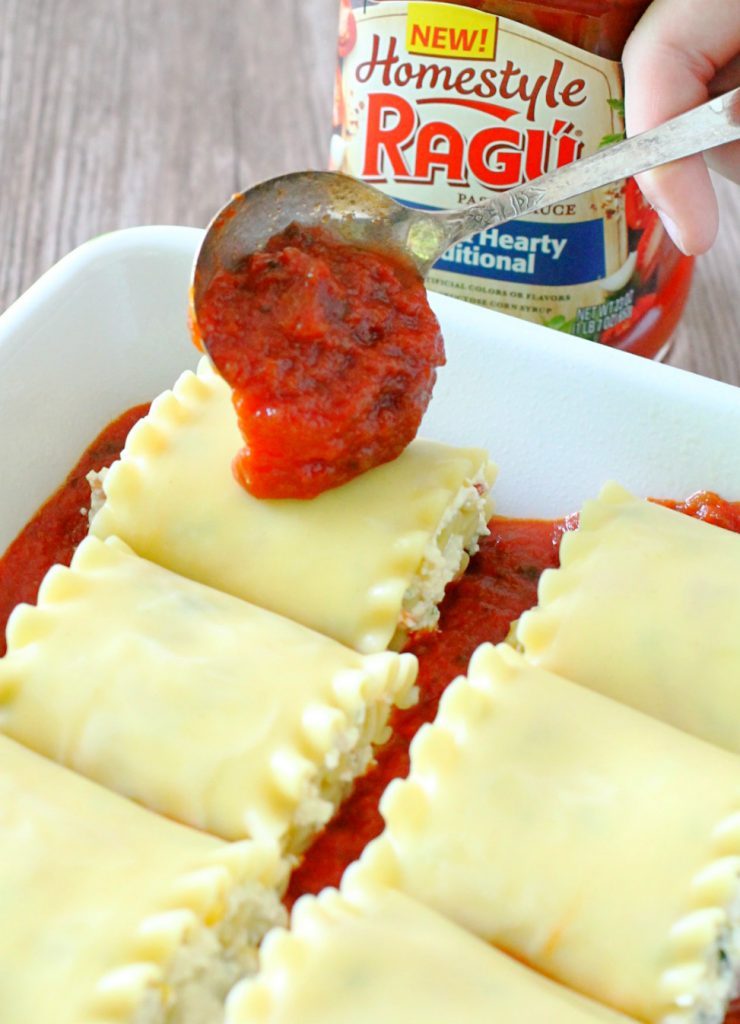 These lasagna rolls may seem fussy but they are totally not. Get your kids to help you with the steps. The cooked veggies are tucked into a ricotta and parmesan cheese mixture that was easy to spread on the cooked lasagna noodles. And there was no need for multiple sauce ingredients to heighten the flavor of the finished dish. This RAGÚ® Homestyle sauce does it all.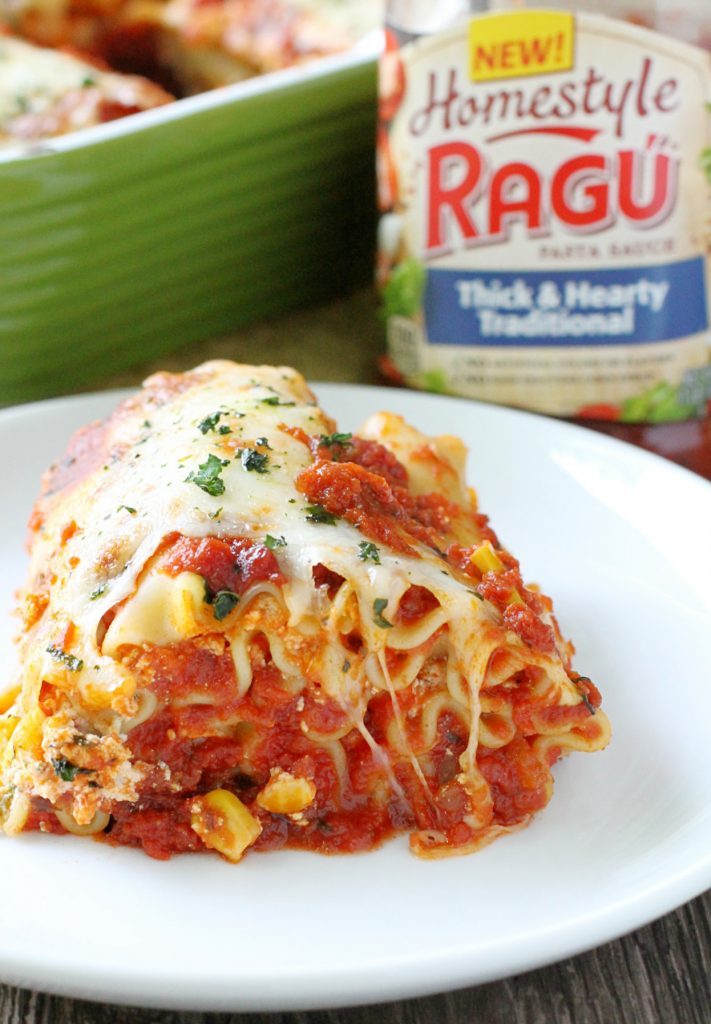 Rainbow Lasagna Rolls
Ingredients
9

lasagna noodles with curly edges

2

jars

23 ounces each Ragu Homestyle Thick and Hearty Traditional Sauce

1

red bell pepper

chopped

1

c.

carrots

shredded

1

c.

frozen corn

1

c.

zucchini

shredded

1

small purple onion

chopped

1

T.

butter

1

T.

olive oil

1

16 oz. container ricotta cheese

4

oz.

Parmesan cheese

shredded

1

large egg

1/4

c.

fresh basil

chopped

1

t.

salt

1/2

t.

black pepper

8

oz.

mozzarella cheese

shredded
Instructions
Preheat oven to 400 degrees.

Cook lasagna noodles according to package directions. Remove them from the pasta water and lay them flat between sheets of parchment paper on a sheet pan (cookie pan). Set aside.

Heat the butter and olive oil in a large, non stick pan. Add all the veggies (red pepper through purple onion) and cook over medium high heat, stirring occasionally, for about 8 minutes - or until veggies are starting to brown and shrink a bit. Remove from heat.

In a large bowl, stir together the ricotta cheese, Parmesan, egg, fresh basil, salt and pepper. Add the cooked veggies and stir well to combine.

Spray a 9 x 13 baking dish with cooking spray and pour one jar of the Ragu Homestyle Thick and Hearty Traditional Sauce over the bottom of the dish.

Spread about a 1/2 cup of the cheese and veggie mixture evenly over each lasagna noodle and roll up. Place each lasagna roll, seam side down, in the dish covered with sauce.

Dollop the remaining jar of sauce evenly over the top of the lasagna rolls.

Cover the dish with foil and bake for 40 minutes.

Remove the dish and uncover. Sprinkle the top of the rainbow lasagna rolls evenly with the shredded mozzarella cheese.

Set the oven to broil and put the dish back into the oven until the top of cheese is melted and starting to brown. Sprinkle the top with more fresh chopped fresh basil and serve.
It's their thickest sauce yet.
It's their boldest flavor yet. Made with a special blend of herbs to layer and build the flavor.
There's no artificial flavors, colors or high fructose corn syrup.
There's love and care going into the sauce, making sure it is made right for your family