My Veggie Halloumi Kebabs with Creamy Grilled Lemon Dip are the perfect option for a light grilled meal that both vegetarians and meat-eaters will enjoy!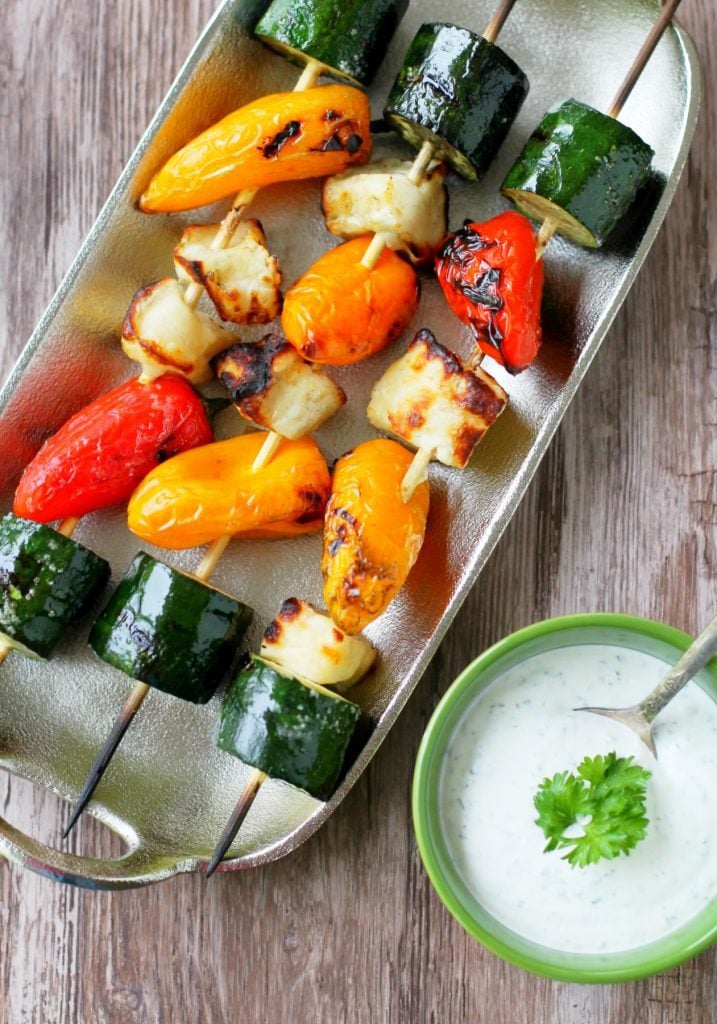 Have you ever grilled fresh lemons? Have you tried halloumi cheese? If not you need to do both, pronto! My neighbor clued me in recently about grilling fresh lemons and the magic that happens. The juice gets concentrated – bright, smokey and tart – and is just fabulous tossed with fresh garlic and olive oil for pasta. Or in this case mixed in with a little sour cream, mayo, parsley, garlic and salt for a zingy dip you'll crave all summer long!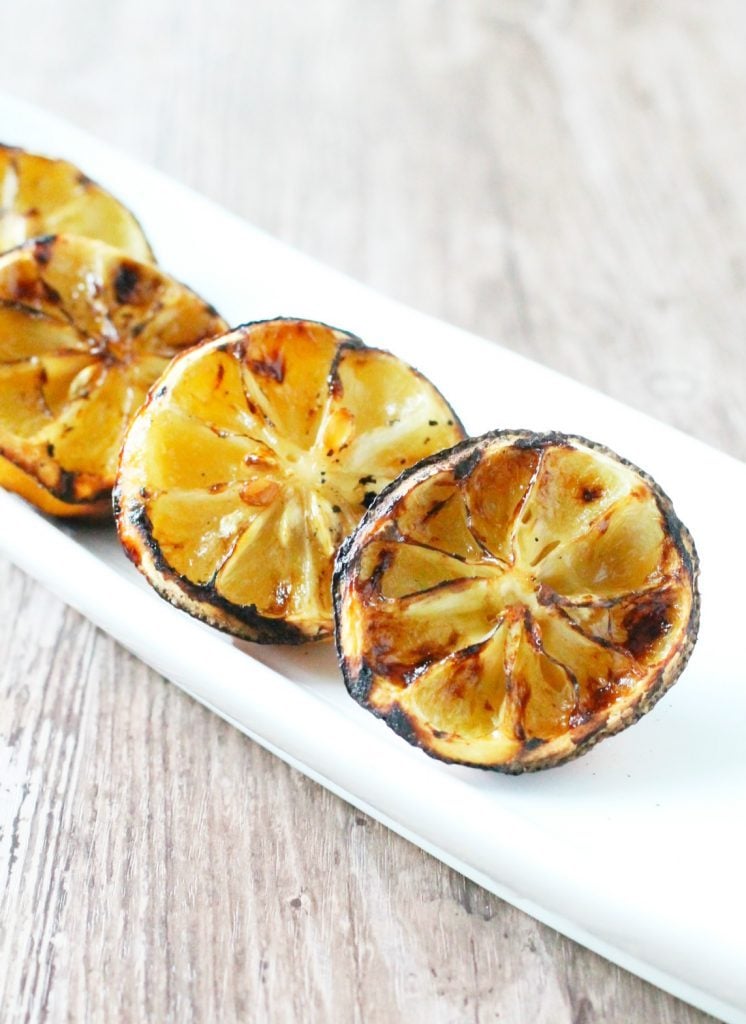 Halloumi cheese is not always easy to find in the grocery store (at least it wasn't in mine) but it's worth seeking out because it's a tasty and satisfying meat alternative for grilled kebabs. The cheese holds up to grilling. It is LITERALLY grilled cheese.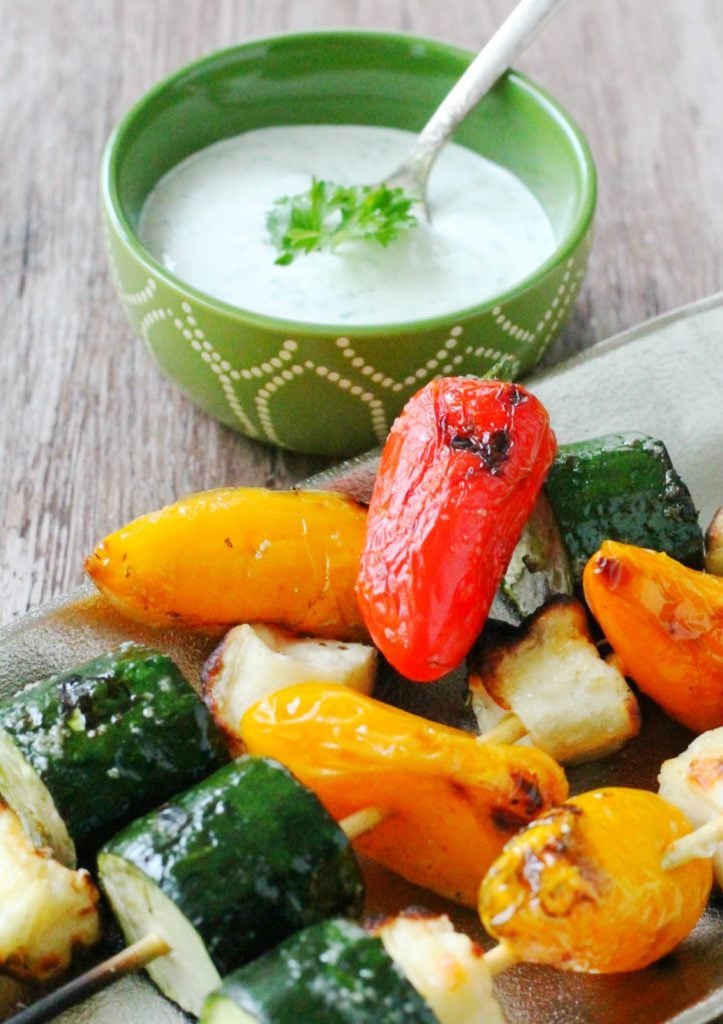 So combined with grilled fresh zucchini and peppers this is a fun and light summer meal that will please just about anyone. If you need or want to you can make this a vegan dish by replacing the halloumi cheese with fresh mushrooms and use vegan mayo in the dip. But don't forgo the grilled lemons… trust me.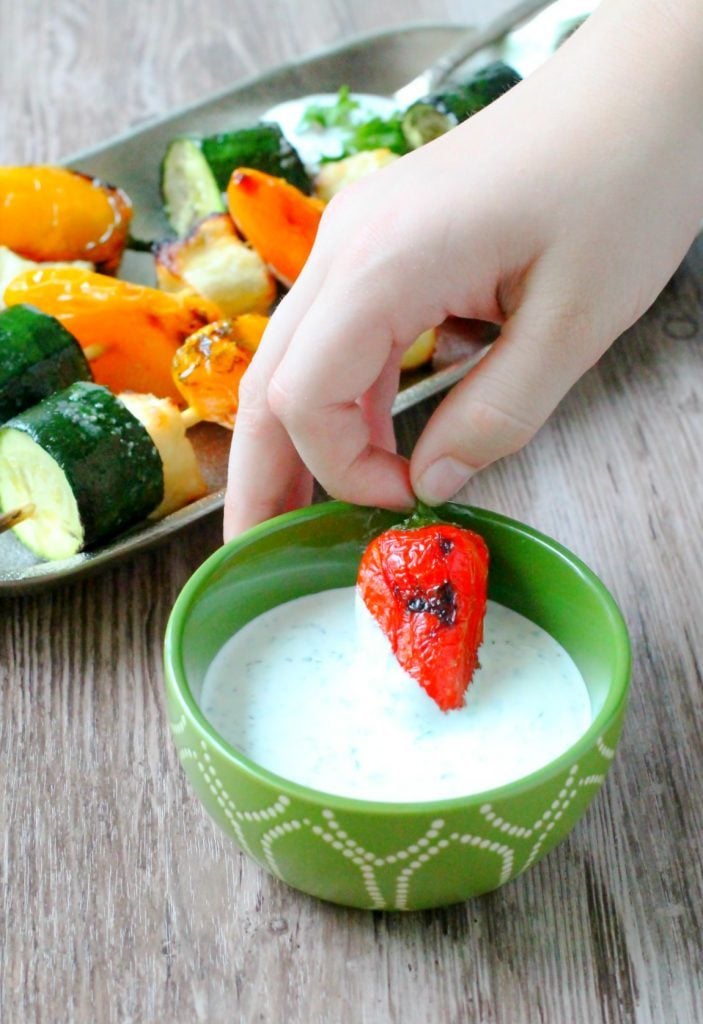 Pair these kebabs with some fresh corn on the cob, caprese salad, strawberry shortcake, sliced watermelon, etc. – whatever your summer favorites happen to be – and you have an easy, breezy meal. I'm so excited for summer…what about you?
Veggie Halloumi Kebabs with Creamy Grilled Lemon Dip
Ingredients
1

bag mini sweet peppers

red, yellow and orange

4

small zucchini

8

oz.

halloumi cheese

2

T.

vegetable oil

salt and pepper

2

whole lemons

3/4

c.

sour cream

1/4

c.

mayonnaise

1/4

c.

fresh parsley

1

clove

garlic

minced

1/2

t.

salt
Instructions
Soak 8 wooden skewers in water for a couple of hours before assembling or use metal kebab skewers.

Turn on grill burners to high to heat fully. Scrape the grates clean and then turn all burners to low.

Slice both lemons in half, rub lightly with oil and grill for about 8 minutes, starting cut-side down and flipping to cut side up after a couple of minutes. Remove from grill and allow to cool enough to handle.

Squeeze grilled lemon juice into a bowl (using a strainer to remove any seeds).

Add the sour cream, mayonnaise, parsley, garlic and salt and mix well to combine. Set dip aside.

Slice zucchini into 16 equal pieces, discarding ends.

Cut halloumi cheese into 16 equal size cubes.

Thread each kebab skewer with two mini sweet peppers, two pieces of zucchini and 2 cubes of cheese.

Rub each kebab lightly with the vegetable oil and sprinkle each with a little salt and pepper.

Grill kebabs on low heat, flipping once or twice, until grilled evenly - about 10 minutes.

Remove kebabs from heat and serve with creamy grilled lemon dip.