This post is sponsored by Mirum Shopper. As always all opinions are mine alone.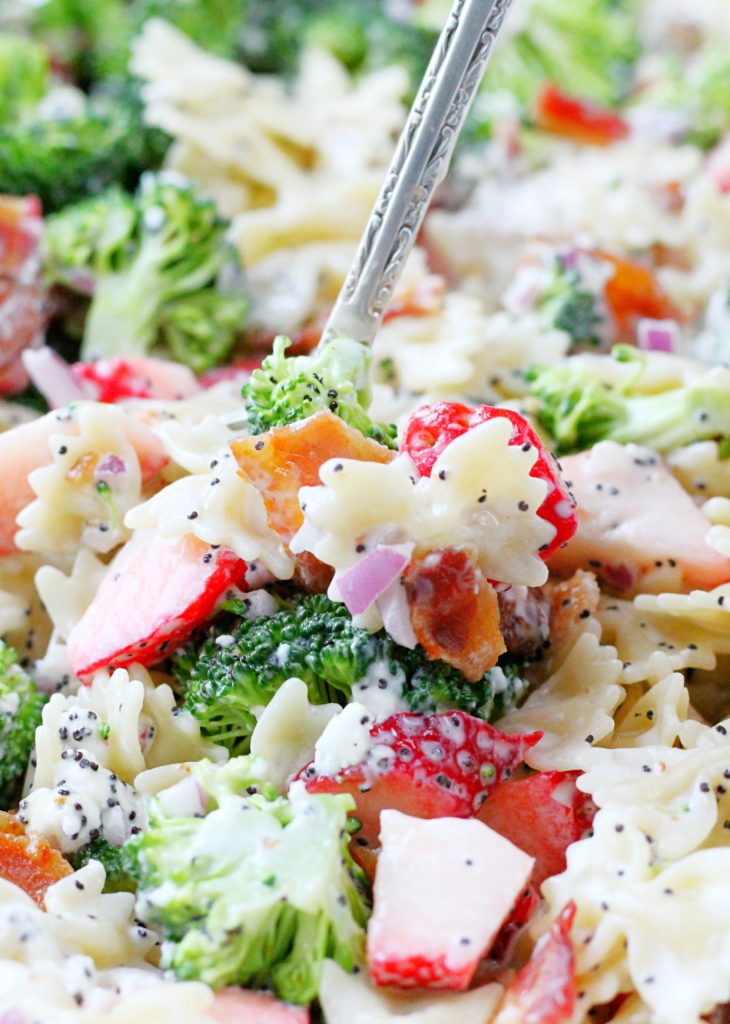 Summer Broccoli Pasta Salad pairs broccoli and strawberries with a sweet poppy seed dressing and bacon for a fresh side dish bursting with flavor. I make a spinach strawberry salad (recipe HERE) and everyone asks for the recipe. Or they ask me to bring it to the next gathering. I've made it for years.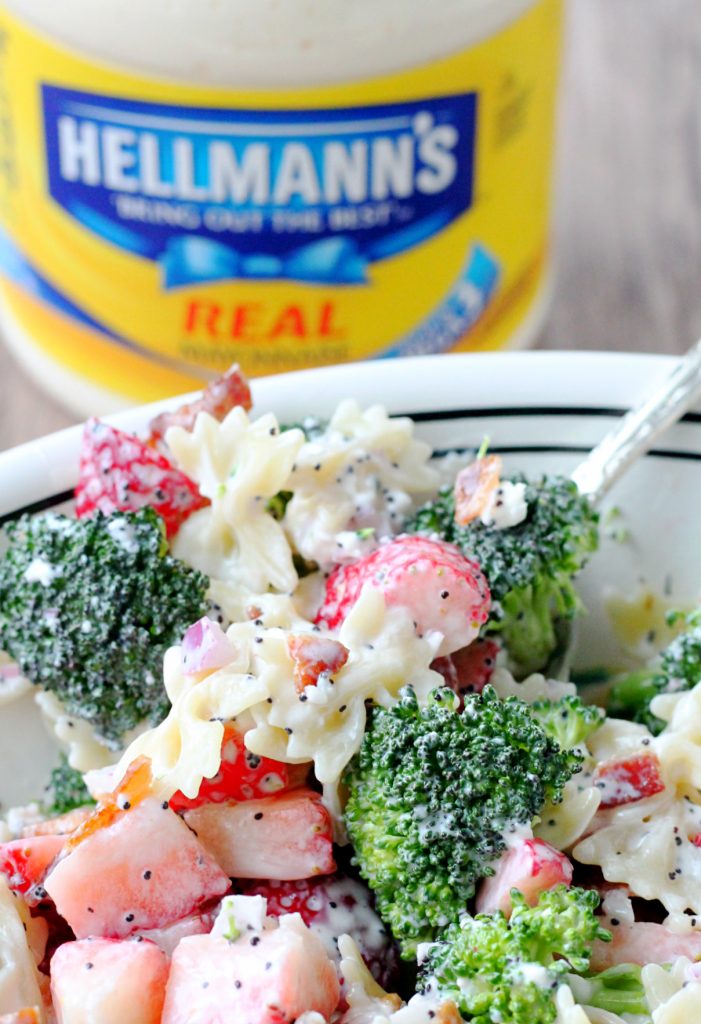 I was thinking about those flavors when browsing THIS collection of recipes and being drawn to the "Fan Favorite Broccoli Salad". I've eaten a lot of broccoli salads in my lifetime. I really like broccoli so I always go for the broccoli salad at a picnic or in a buffet line. But I've never seen a broccoli pasta salad like this one.
It maybe doesn't seem like it would work but it most definitely does. The strawberries provide a light sweetness that compliments the slight bitterness of the broccoli. This salad is crunchy, soft, sweet, salty and zingy. And as is usual with most of my recipes the time involved in making this dish is short. Because we're all about convenience these days aren't we? I sure am.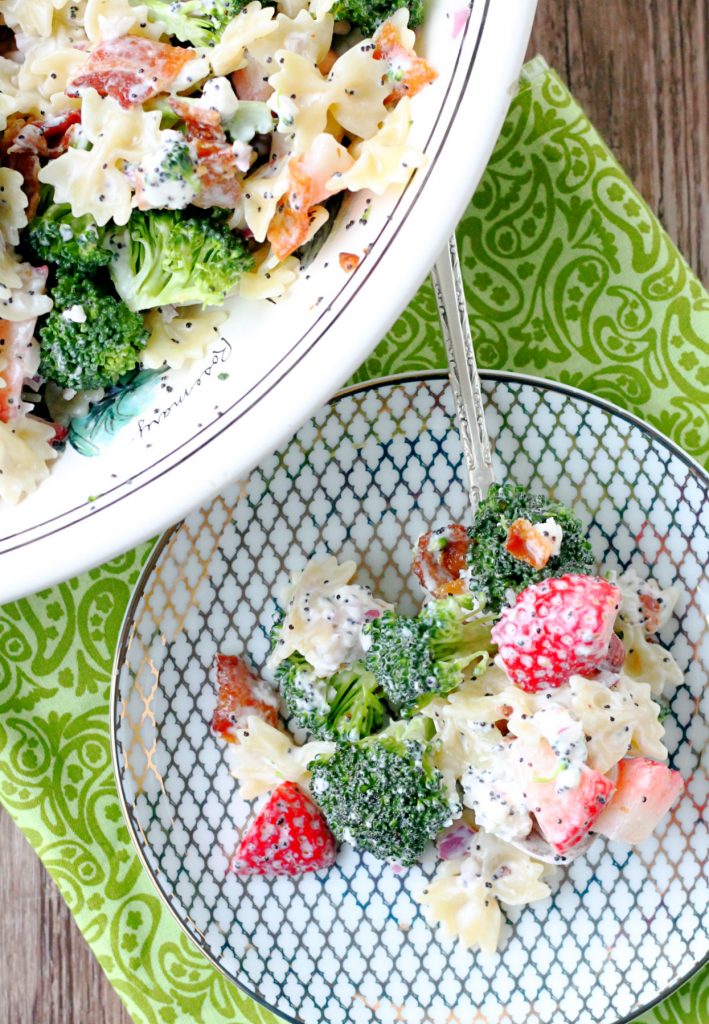 But convenient or not, meal times keep happening. Our families have to eat every single day whether we have a lot of time and energy or we're barely keeping up. And that's where Sam's Club can help…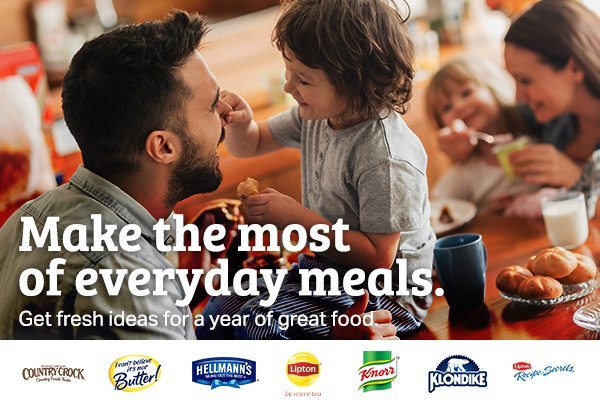 MAKE THE MOST OF EVERYDAY MEALS WITH SAM'S CLUB
This Summer Broccoli Pasta Salad is based on a Broccoli Salad recipe from Sam's Club at their Unilever Brands-Food Hub.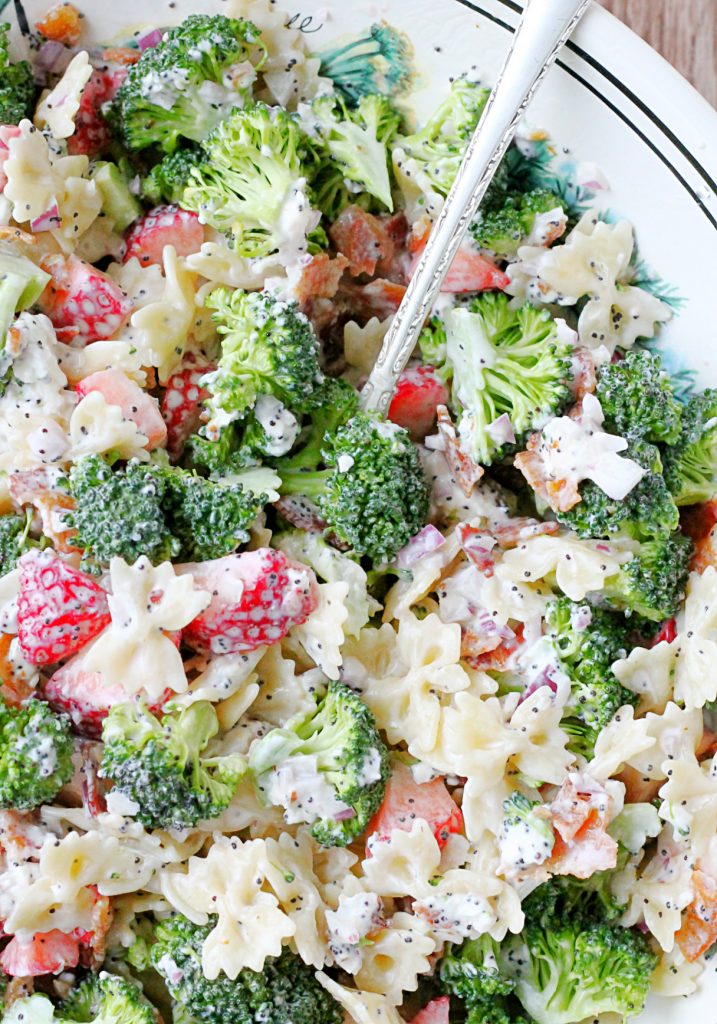 Using the Unilever Brands-Food Hub can also save you time! Pick your recipe and then click on Buy Now to order your food item. You have the option of getting your items picked out ahead of time, so you can pick them up at a predetermined time at your local Sam's Club. I like this option for when I'm rushing between errands or I'm simply too tired to get out and shop. It happens! And of course buying in bulk means a cost savings for your family on Hellmann's Mayonnaise and these other Unilever brands like:
Knorr Chicken and Beef Flavor Bouillon
Lipton Recipe Secrets Onion Mix
I Can't Believe It's Not Butter!
Country Crock Spreads
Lipton Iced Tea Bags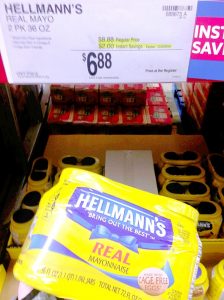 If you decide to shop in store, you can always try their Scan & Go app. As you walk through the store, use your phone to scan your items. Pay on your phone and show your store receipt on your way out. No check-out lines!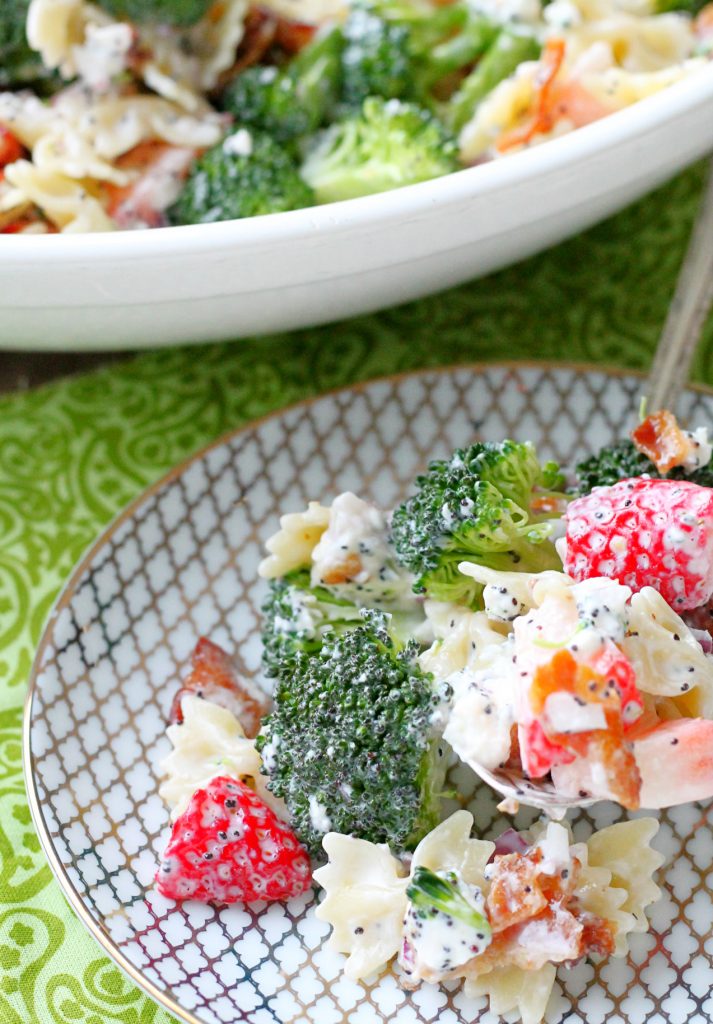 Be sure and Pin this recipe to save for all your warmer weather picnics and potlucks!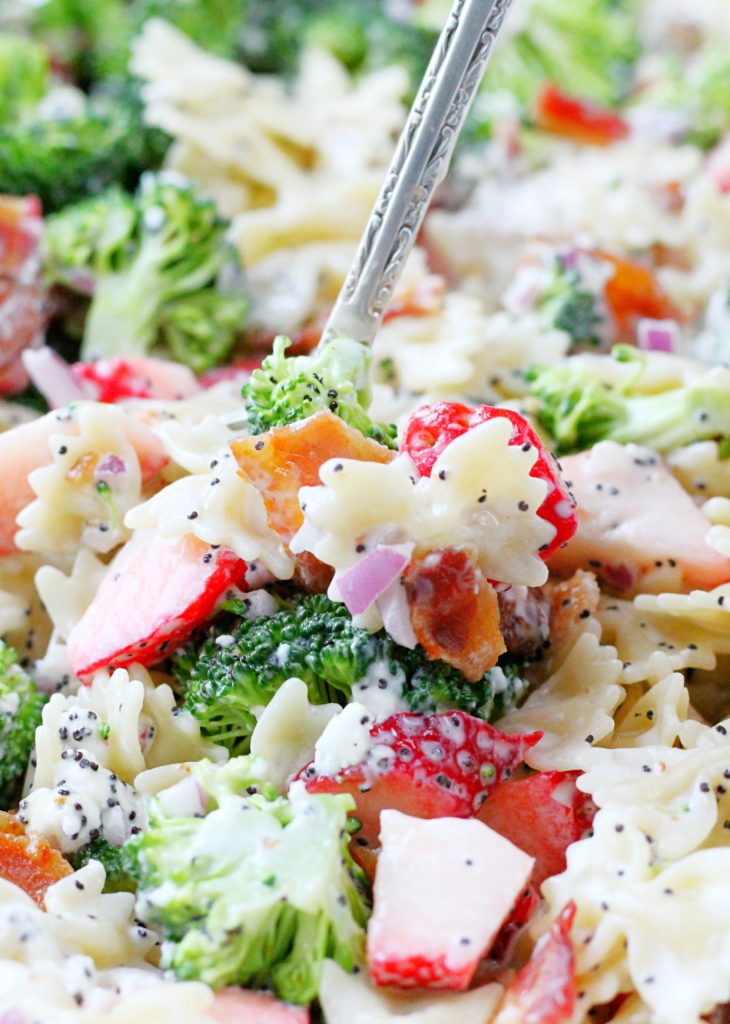 Summer Broccoli Pasta Salad
2017-02-16 20:43:12
Ingredients
1/2 box (8 oz.) bow tie pasta
3 c. broccoli florets
1 1/2 c. strawberries, stemmed and chopped
1/2 red onion, finely chopped
1/2 c. goat cheese, crumbled
8 oz. bacon, cooked and crumbled
1 c. Hellmann's mayonnaise
1/4 c. sugar
2 T. white vinegar
2 T. poppy seeds
1/2 t. salt
1/4 t. fresh ground pepper
Instructions
Cook the pasta according to package directions and rinse under cold water.
Place pasta in a large bowl and toss the pasta with the broccoli florets, strawberries, red onion, goat cheese and bacon.
In a separate bowl or measuring cup, whisk together the mayonnaise, sugar, vinegar, poppy seeds, salt and pepper.
Pour the dressing over the pasta salad and stir to combine.
Refrigerate at least 2 hours before serving.
Foodtastic Mom https://www.foodtasticmom.com/