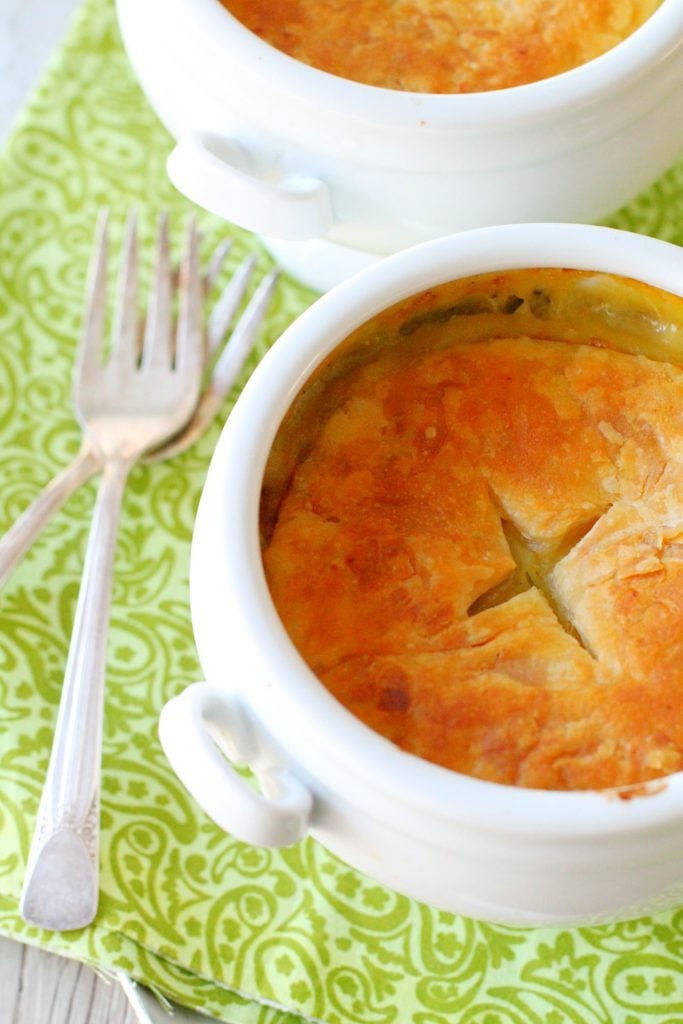 Super Tuesday 2016 happened today and since I live in Ohio I pay attention because we're kinda a big deal when it comes to Presidential elections. But this particular election is weird. It's kinda scary to be honest. Almost like a Twilight Zone episode I wish could be over soon. That's all I'm gonna say here on my little happy space about that. I'd much rather talk about my Spring Chicken Pot Pie!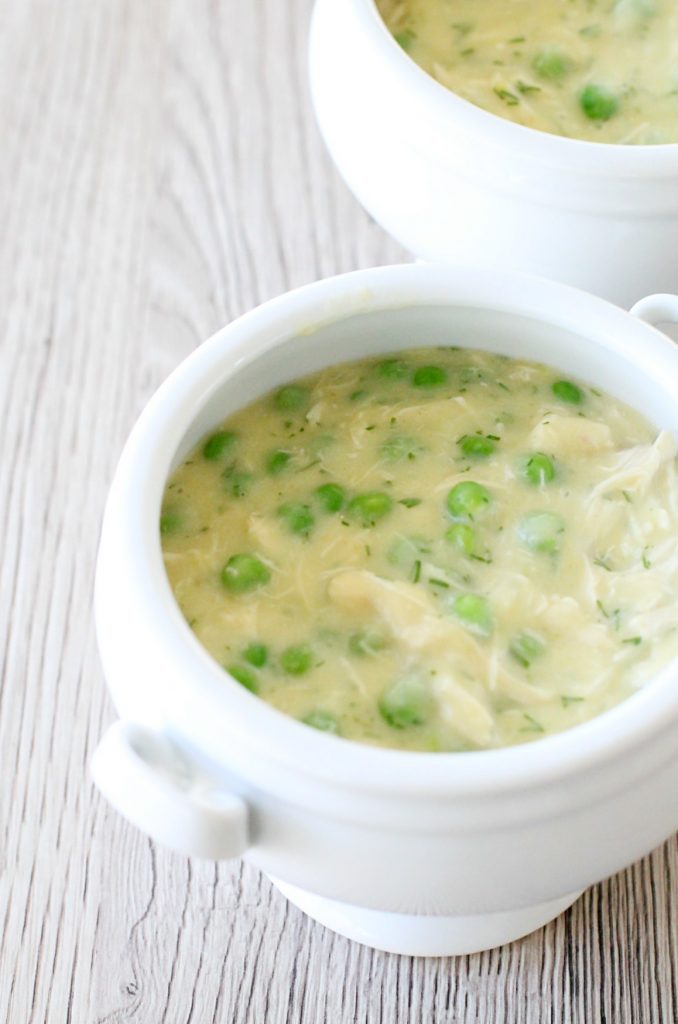 The tender chicken and Spring peas are bathed in a potato leek "soup" that's buttery with just enough cream and Irish cheddar cheese to make it rich and velvety. There's a little fresh dill in there too. This spectacular, light-green hued filling is topped with circles of puff pastry baked to golden-brown perfection. I love a classic comfort food dish that can travel with us right into Spring.

POPULAR VIDEOS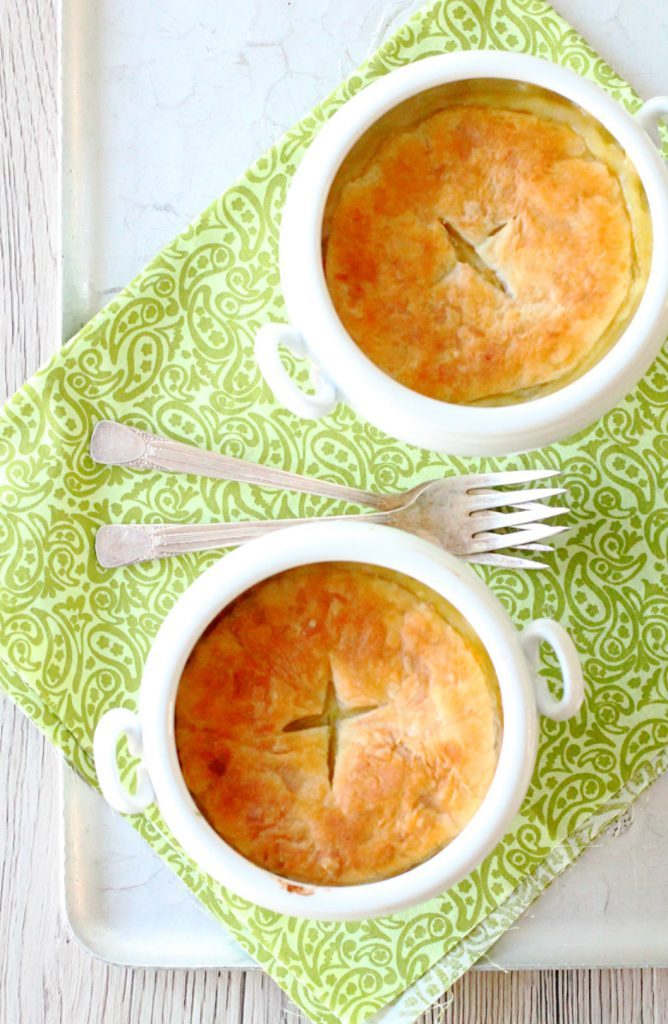 And boy do I need some comfort this week. Our weekend was full to the brim with a swim meet, boy scout camping trip and belated friend birthday party for our daughter. All sandwiched around the dreaded time change and losing an hour of sleep Saturday night. I know it's just a measly hour, but it completely wrecks me every year. Am I just a wimp? Can anyone else relate to feeling like a zombie after "springing" forward? If so, you'll appreciate my Spring Chicken Pot Pie even more!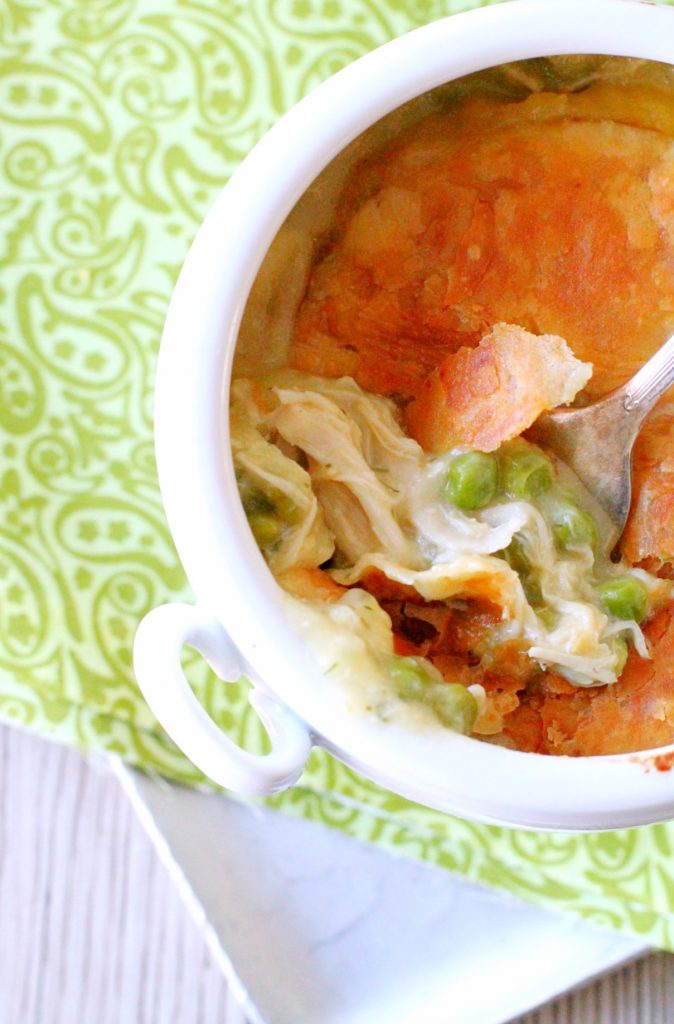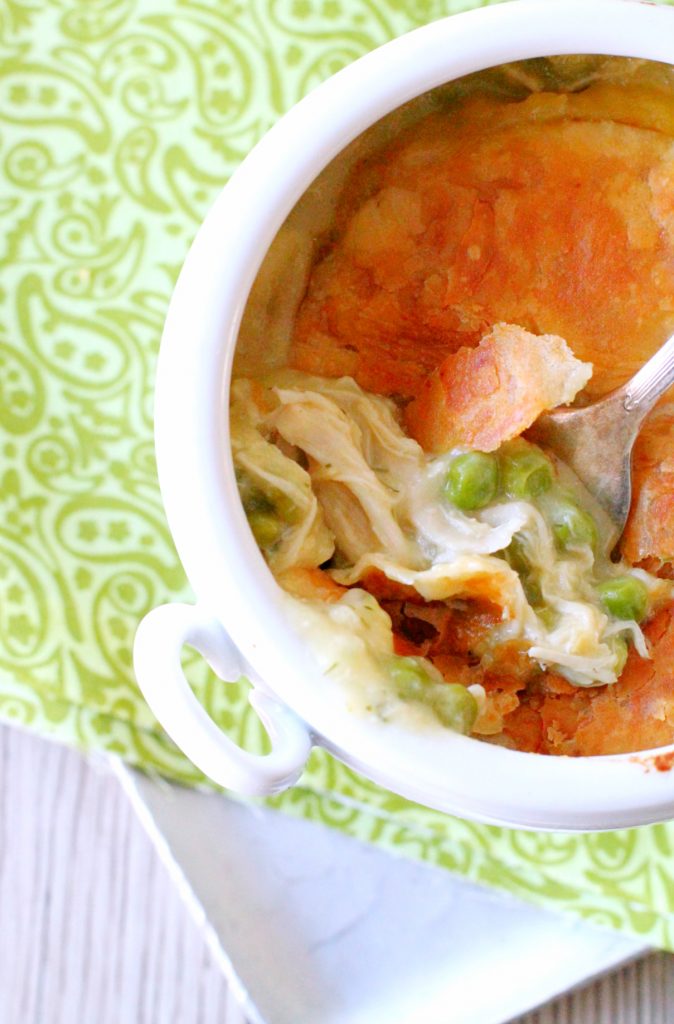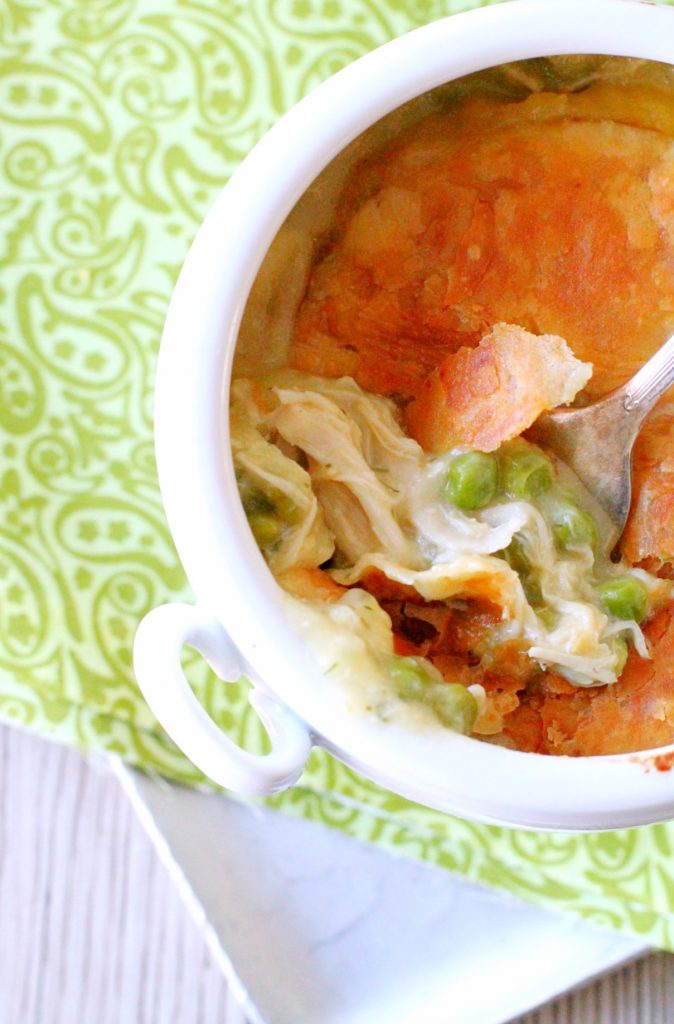 Spring Chicken Pot Pie
2016-03-15 17:08:02
Serves 4
Ingredients
1 sheet of frozen Puff Pastry, thawed
1 rotisserie chicken, white meat only
4 T. unsalted butter
2 leeks, white and light green parts only, chopped
2 Yukon Gold potatoes, peeled and sliced
1 t. salt
1/2 t. white pepper
2 c. chicken broth
1/4 c. heavy cream
1/2 c. Irish cheddar cheese, shredded
1 T. fresh dill, chopped
1 c. frozen baby peas
Instructions
Preheat oven to 450 degrees. Cut puff pastry into four circles to fit the tops of 4 large ramekins or ceramic soup dishes (oven-safe).
Heat butter over medium-high heat in a large sauce pan and add leeks. Cook for about 5 minutes. Add potatoes, chicken broth, salt and pepper. Bring to a boil, then lower heat to simmer for about 20 minutes, or until potatoes are fork-tender.
Remove the leek and potato mixture from the heat and blend until smooth. I used an immersion blender directly in the sauce pan.
Return the leek and potato "soup" to the stove. Over medium heat, stir in the cream, shredded chicken, peas and dill. Then add the Irish cheddar and stir until melted.
Divide the filling evenly among four ramekins or soup dishes. Top each dish with a circle of the puff pastry.
Bake on the center rack of the oven for 20 - 25 minutes, until puff pastry is golden brown. Allow to cool for about 5 minutes and serve.
Foodtastic Mom https://www.foodtasticmom.com/