These slow cooker maple Dijon pork chops are so tender and full of flavor. They've quickly become a family favorite in our house!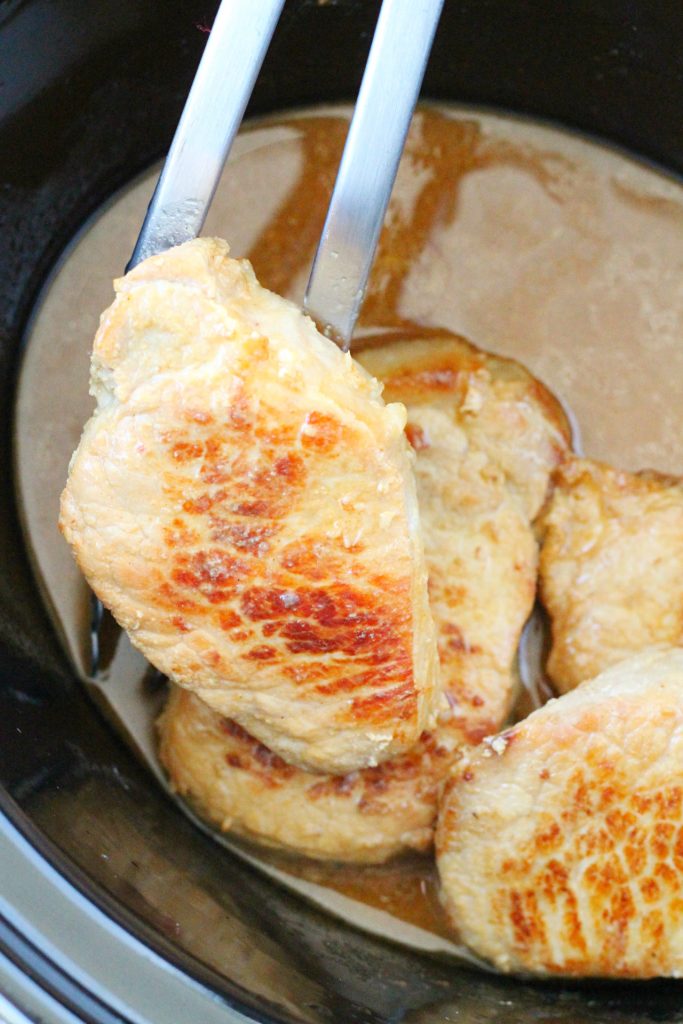 For most of my life I've grilled pork chops. And unless I take the time to marinate them properly that results in some dry pork chops. I tend to overcook things to make sure they're done and I don't food poison my family. Even though I know better and I have a great digital thermometer.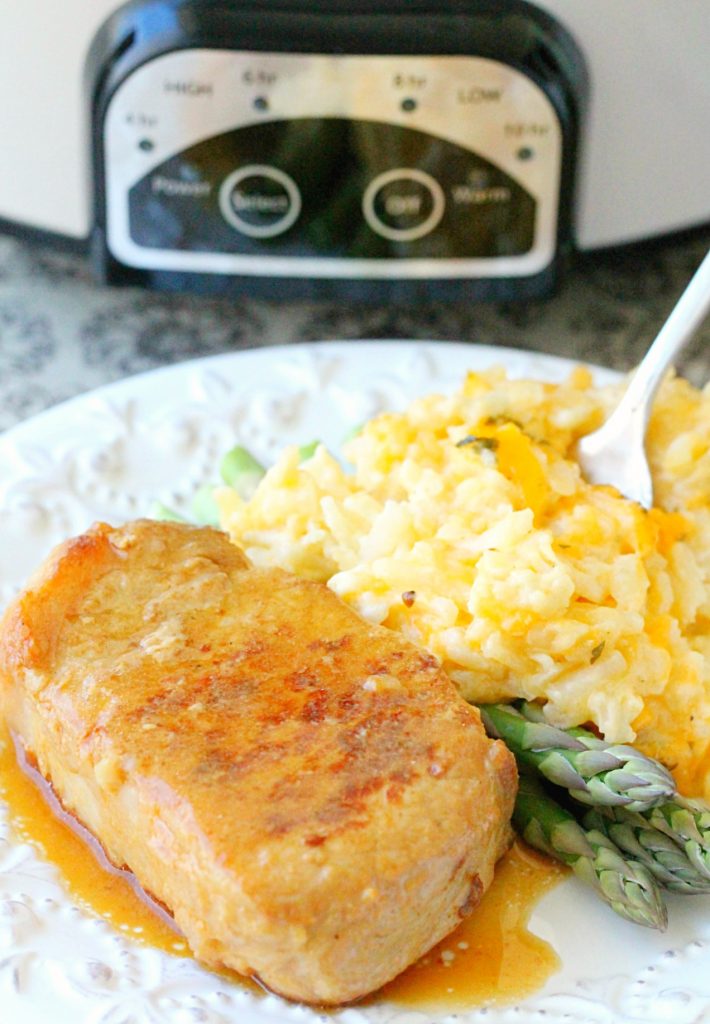 But a few weeks ago I discovered the simple pleasure of maple Dijon sauce and I've been wanting to put it on everything. So I decided to put it on some pork chops. But instead of grilling them I slow (and I mean slow) roasted them in the oven and they were amazing. But since most times I'm not home long enough to roast something in the oven for two hours I decided to recreate the flavors in my slow cooker.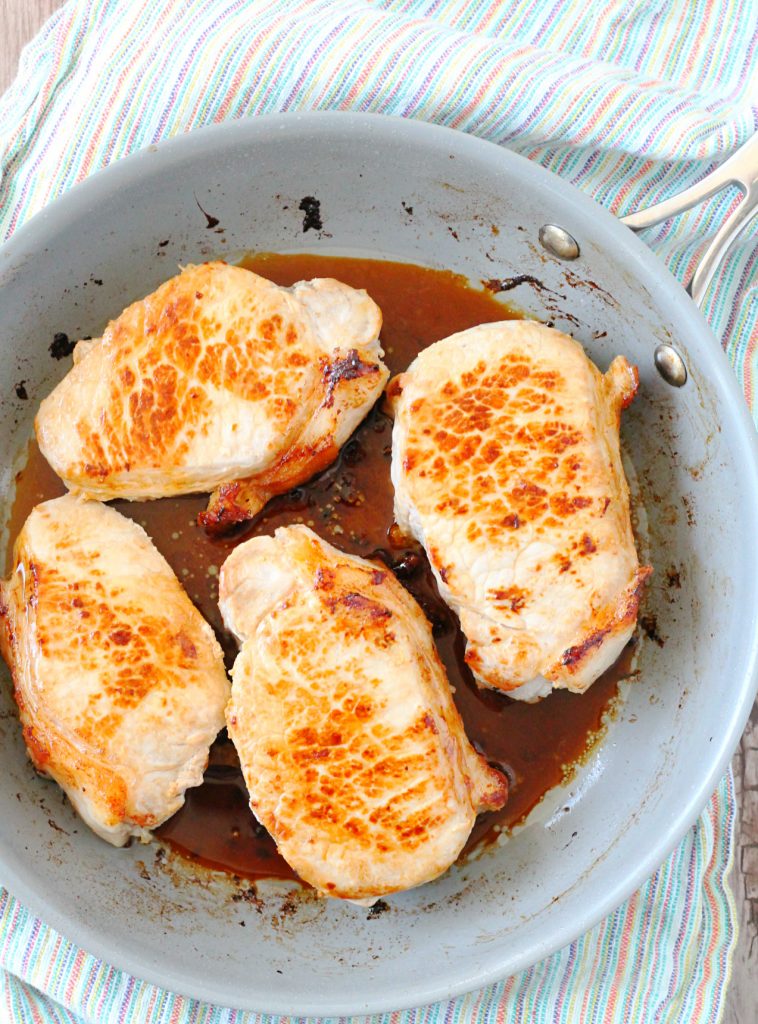 You could serve these with baked potatoes, corn on the cob or rice. I decided to make hashbrown casserole (also in a slow cooker) and I'll be sharing that recipe here soon. A salad, roasted asparagus or fresh sliced tomatoes (in the summer) would round out this meal nicely. I think this is my new favorite way to fix pork chops!
Here's a couple of tips:
Buy boneless pork chops from your butcher counter so they are fresh and thick. Mine were 1.5 inches thick!
Take the time to really brown the outside of your chops to render the fat and add extra flavor.
Use pure maple syrup, not pancake syrup for your sauce.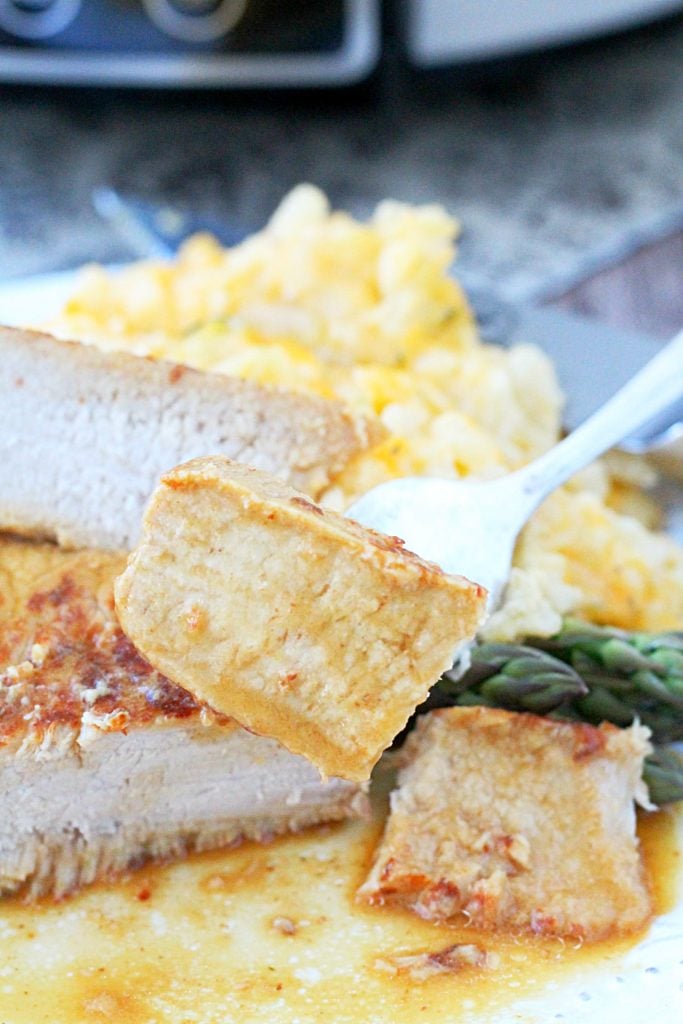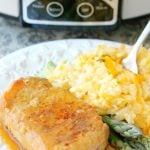 Slow Cooker Maple Dijon Pork Chops
Ingredients
4

boneless loin pork chops

mine were 1.5 inches thick

1

tbsp

vegetable oil

1/4

cup

beer or chicken broth

2

tbsp

Dijon mustard

2

tbsp

pure maple syrup

1/2

tsp

salt

1/4

tsp

black pepper
Instructions
Heat a large, non stick skillet over medium high heat. Add a tablespoon of vegetable oil to the pan to prevent sticking. Add the chops and brown each chop, about 5 minutes per side.

Place the chops into a slow cooker set on low. Pour the fat out of the skillet.

Return the skillet to the heat and add the beer (I used a pale ale) to scrape up the browned bits from the bottom of the skillet. If you don't like cooking with beer, use chicken broth.

Whisk together the Dijon mustard, maple syrup and salt. Add it to the hot skillet and let it simmer for one minute.

Pour the sauce over the pork chops in the slow cooker and cook on low heat for 5 - 6 hours.

Serve the pork chops with the sauce in the slow cooker.