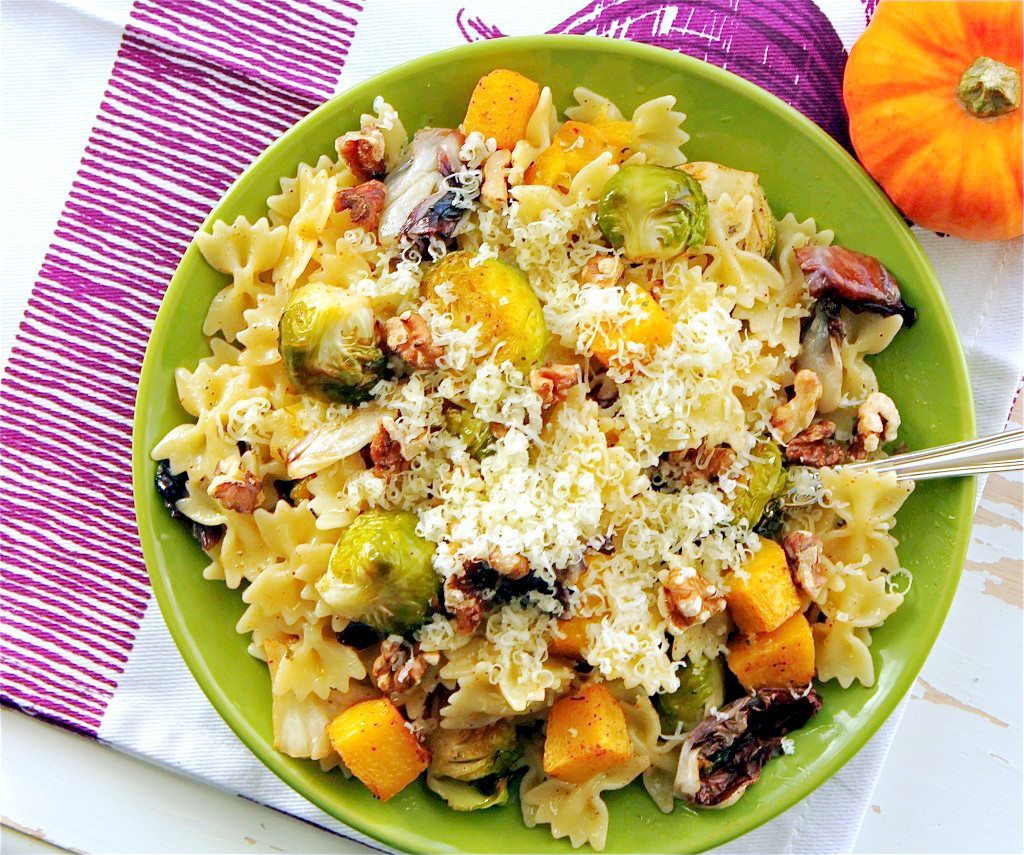 Roasted Autumn Vegetable Pasta is lightly dressed with a sage brown butter sauce and sprinkled with toasted walnuts and fresh parmesan cheese. It's a lovely meal for any occasion and the perfect excuse to purchase one of those sugar pie pumpkins and actually eat it!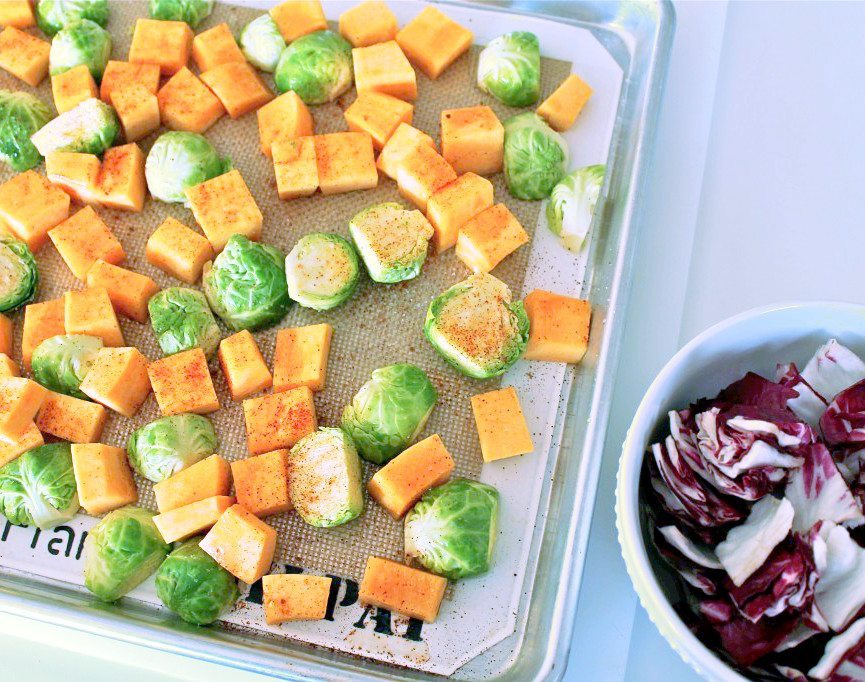 My kids even tried the brussels sprouts, mainly because they were intrigued by the "mini lettuce heads" they saw me cleaning. It really pays to cook in front of your children because even if they don't always help it gets them asking questions, which at least in our case, makes them more willing to try something new. And the colors of the pumpkin, brussels sprouts and radicchio are gorgeous together, making it an even more appealing dish for kids (and adults) to try and surely enjoy!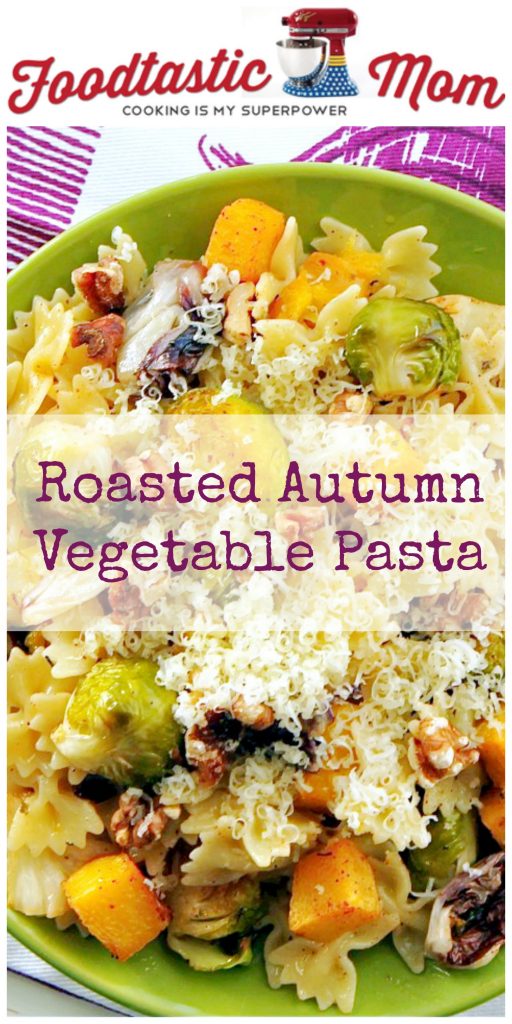 Roasted Autumn Vegetable Pasta with Sage Browned Butter
2013-10-02 12:00:11
Ingredients
1 (2 lb.) sugar pie pumpkin
20 brussels sprouts
1 small head raddichio
3 T. olive or grape seed oil, divided
8 oz. (1/2 box) of small pasta (I used Barilla mini farfalle)
6 T. unsalted butter
1/2 c. walnuts, chopped
1/2 t. salt
1/2 t. dried sage
1/4 t. ground nutmeg
1/4 t. ground chipotle pepper
Fresh grated Parmesan cheese for serving
Instructions
Preheat the oven to 400 degrees. Halve, seed and peel the pumpkin and cut into approximately 1/2-inch cubes. Peel the outer leaves from the brussels sprouts, trim off the stalky ends and halve. Toss the pumpkin cubes and halved brussels sprouts with 2 T. of olive oil, salt, nutmeg and chipotle pepper. Spread evenly on a sheet pan and roast for 25 minutes, stirring/flipping the vegetables once during cooking time.
Peel the outer leaves from the raddichio, quarter, remove the hard core and chop into roughly 1-inch pieces. Toss with remaining 1 T. olive oil. Evenly spread the raddichio over the roasted pumpkin and brussels sprouts, and return to the 400 degree oven. Continue roasting for 8 minutes more.
Meanwhile, heat water to cook the pasta. While veggies are roasting and water is heating, heat a skillet over medium heat and toast the walnuts, about 8 minutes, shaking the pan occasionally to evenly toast. Remove the walnuts to a bowl to cool, lower the heat to medium-low, and add the 6 T. of butter to pan. Melt, swirling the pan occasionally, until the butter is a deep golden brown color (being careful not to burn it). Once butter is browned, stir in sage and season with salt.
Cook pasta according to package directions. Drain and return to pot. Toss the pasta with the roasted vegetables and the sage browned butter. Serve with toasted walnuts and Parmesan cheese.
Adapted from Annie's Eats
Foodtastic Mom https://www.foodtasticmom.com/