Just three ingredients mixed in the right proportions and with the correct techniques will produce perfect homemade Rice Krispie Treats every time.
I had surgery yesterday and so to ease myself back into things I chose to make rice krispie treats. They are always a comfort food to me but they have to be homemade. I just can't deal with the prepackaged variety. I have already published two other versions of krispie treats that are wildly popular: Oreo Krispies and Krispie Treats for Athletes. So it seemed obvious to publish a basic recipe as well.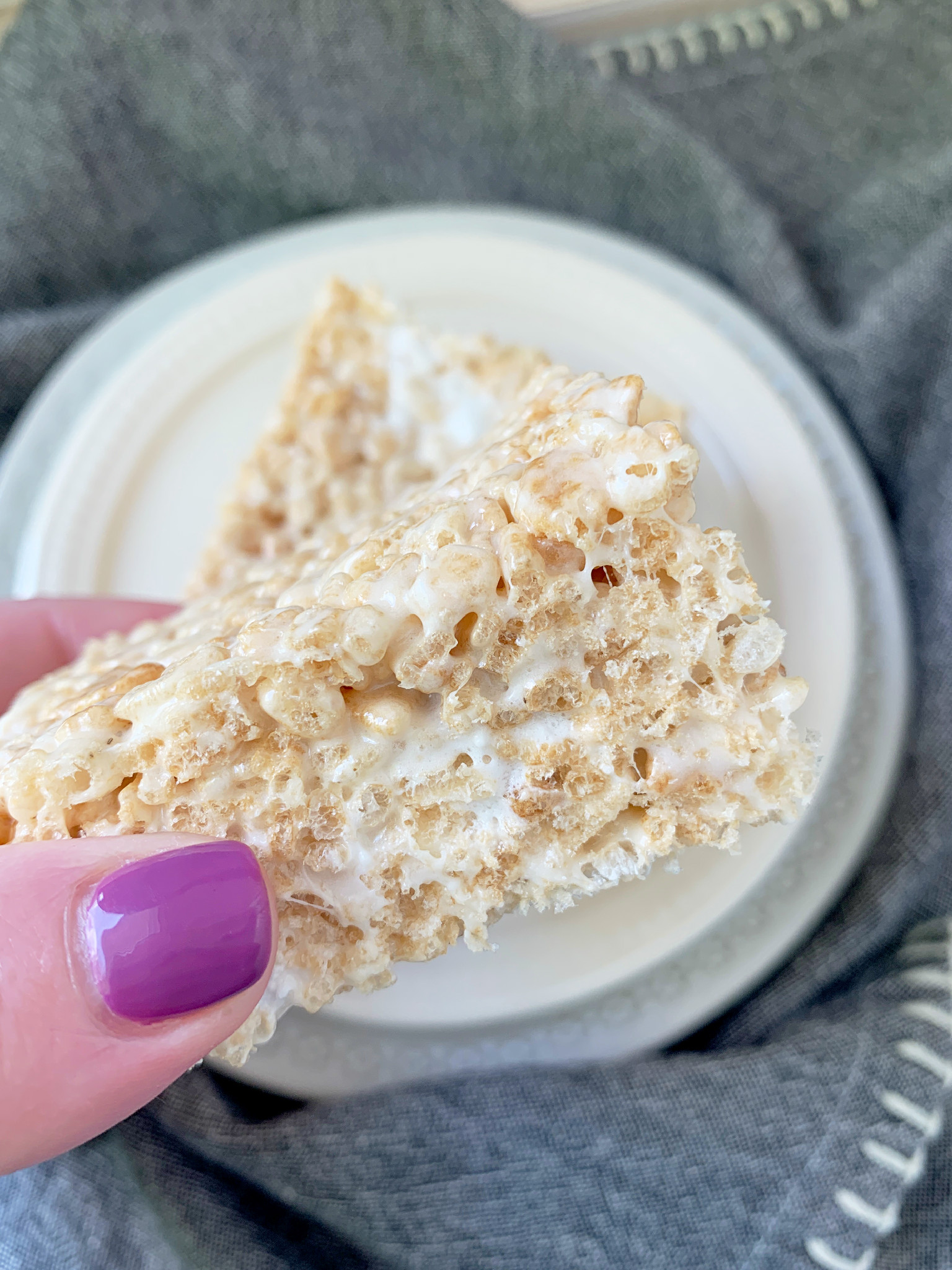 What's in rice krispie treats?
Just three ingredients: rice krispies, mini marshmallows and salted butter. You read that right. The salt in the butter really helps to accent the vanilla sweetness in the marshmallows and malted flavor in the rice cereal. The key to really good rice krispie treats is getting the ratios of these ingredients correct. And knowing how to spread them in the pan and being patient enough to let them cool before cutting. I personally think that last one is the hardest part!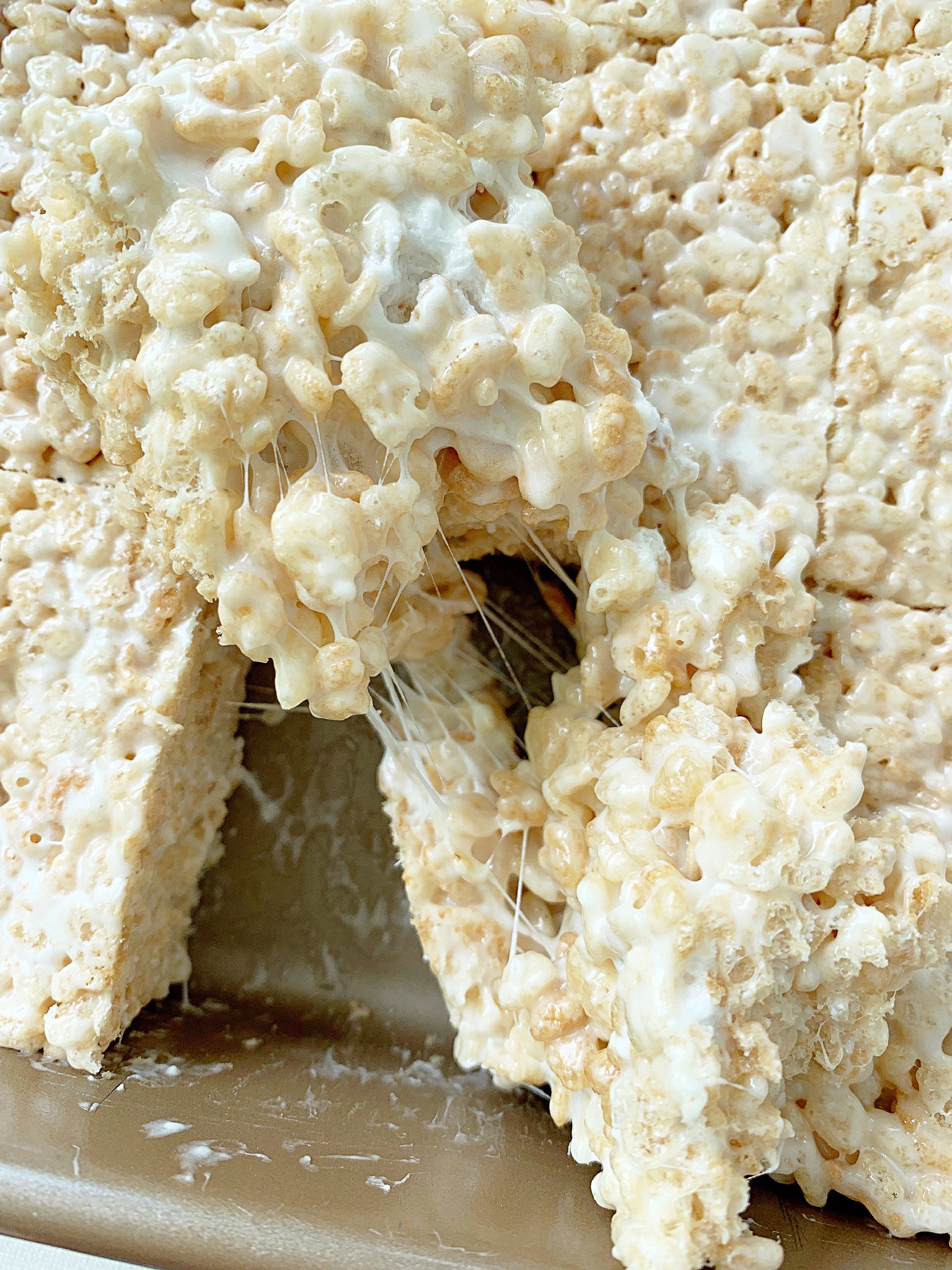 Are rice krispie treats gluten free?
Unfortunately no. The cereal contains a malt flavoring which is derived from barley grain. And barley grain does contain gluten.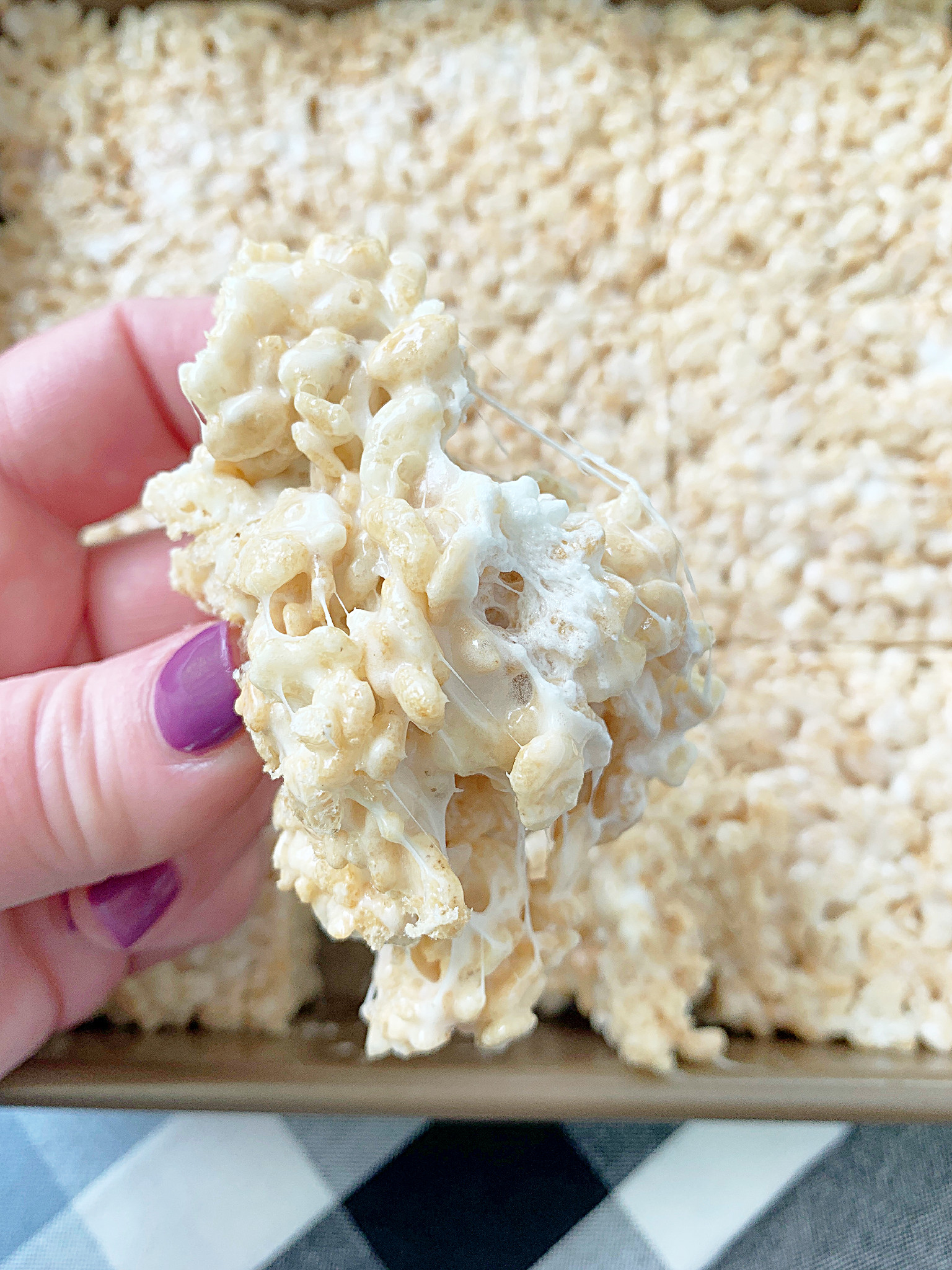 How long will rice krispie treats stay fresh?
For up to 3 days at room temperature (if they last that long) or up to 6 weeks in the freezer. Store cut rice krispie treats in an air tight container and place wax paper in between layers to prevent sticking. If frozen, remove the treats from the freezer and allow them to sit at room temperature for 15 minutes before serving.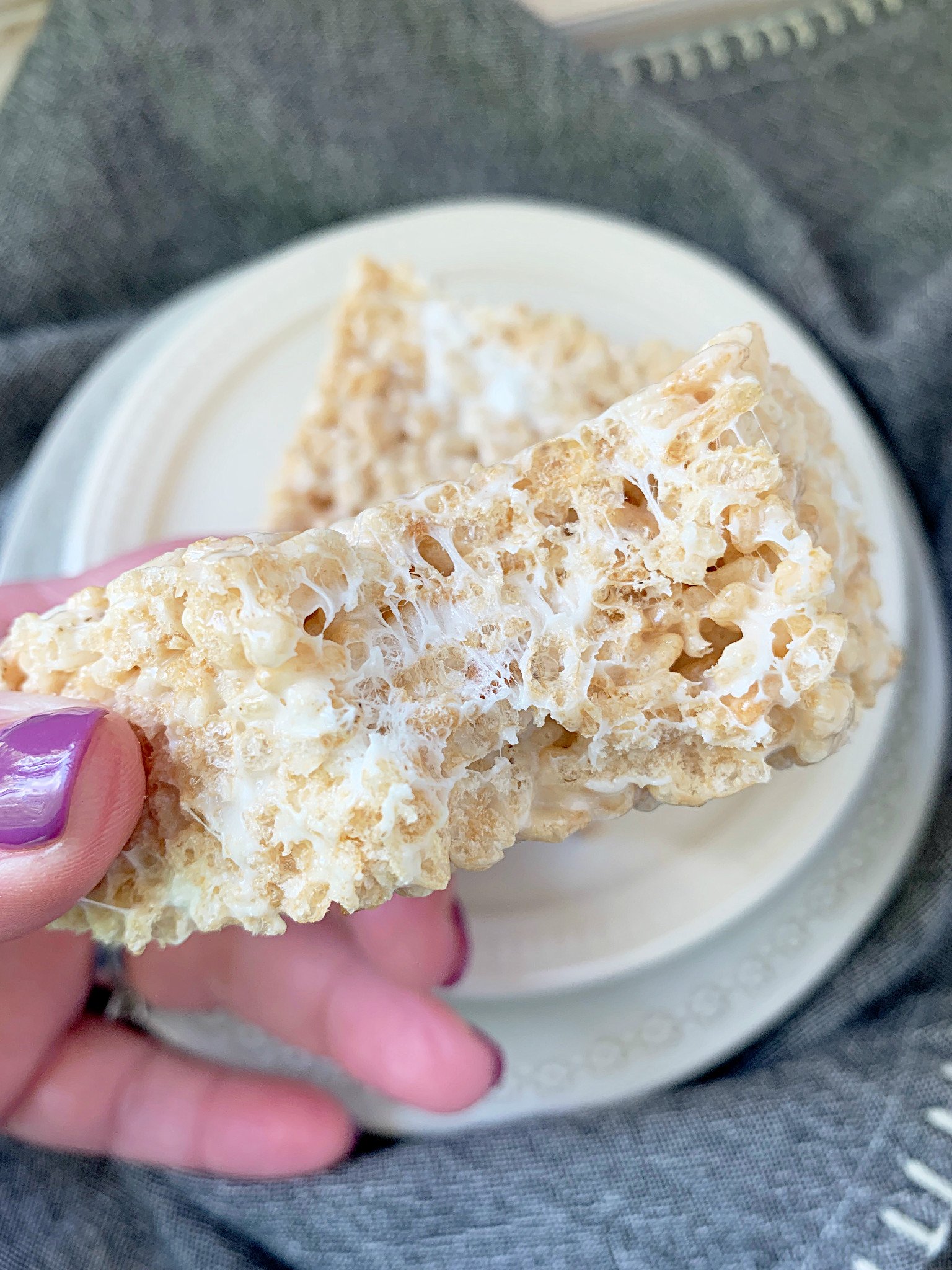 Kitchen Tips:
I melt the butter and marshmallows together in a saucepan similar to this one.
To prevent sticking when spreading the warm treats into the pan, oil the back of a metal spoon. I just wipe a little vegetable oil onto a spoon with my hand. Or you can spray the spoon with cooking spray.
Be sure and allow treats to cool before slicing and serving. I pop the pan into the refrigerator for at least 20 minutes.
Foodtastic Mom is a participant in the Amazon Services LLC Associates Program, an affiliate advertising program designed to provide a means for sites to earn advertising fees by advertising and linking to Amazon.com. Any highlighted, clickable Amazon link you see is an affiliate link that I may earn advertising fees on.
Thank you so much for being a faithful reader and supporter of Foodtastic Mom. Be sure to PIN and print this recipe!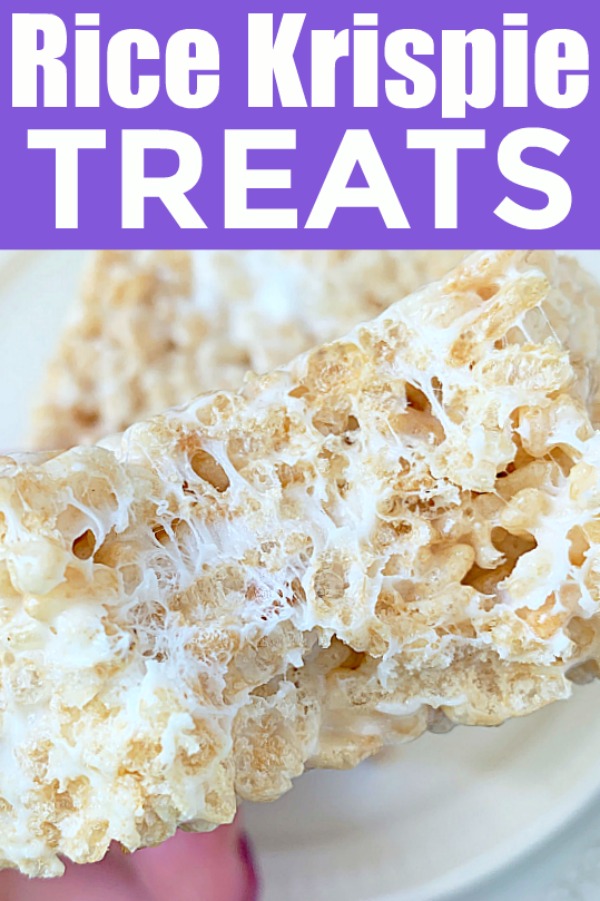 Rice Krispie Treats
Just three ingredients mixed in the right proportions and with the correct techniques will produce perfect homemade Rice Krispie Treats every time.
Ingredients
5

tbsp

salted butter

5

cups

Rice Krispies

8

cups

mini marshmallows

divided
Instructions
In a large bowl, mix together the Rice Krispies and one cup of the mini marshmallows.

In a large saucepan over low heat, melt the butter.

Add the remaining 7 cups of mini marshmallows and stir into the melted butter. Continue stirring over low heat until the marshmallows are completely melted into the butter.

Pour the melted butter and marshmallow mixture over the Rice Krispies cereal mixture and gently stir with a rubber spatula until evenly combined.

Spread the rice krispie treat mixture into a 9-inch square pan. Spray the back of a large metal spoon with cooking spray or lightly oil it with vegetable oil to prevent sticking. Use the back of the spoon to spread the mixture evenly into the pan, pressing it into the corners and smoothing the top.

Pop the pan into the refrigerator to allow the rice krispie treats to cool for at least 20 minutes before slicing and serving.
Nutrition
More Krispie Treat Recipes: