This Osso Buco Slow Cooker Ragu pasta sauce feels fancy and is full of flavor. Thank you to the Ohio Beef Council for sponsoring this post. All opinions are mine alone.
I'm all about a fancy pasta sauce that yields impressive and flavorful results thanks to the humble work of my slow cooker. Osso Buco is a traditional Italian dish that seems reserved for a fancy night out on the town. But just a few simple ingredients and your slow cooker are all that are necessary to create this sophisticated pasta dish at home.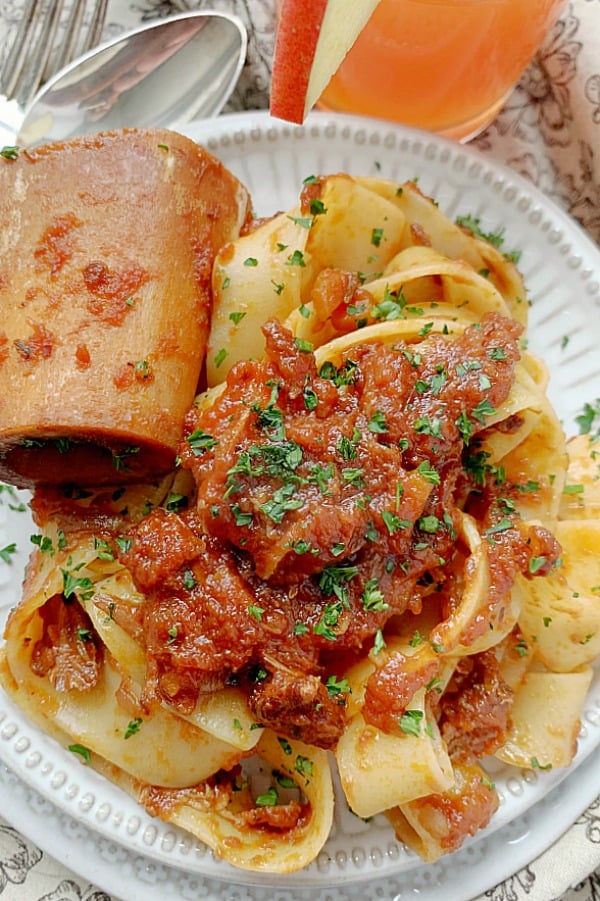 What is Osso Buco?
The words osso buco literally translated mean "bone with a hole". The bones are in the center of veal shanks, which are slowly braised until the meat becomes fork tender. The marrow in the center of the bones becomes tender enough to melt into the sauce as well. Osso Buco usually includes herbs, wine and sometimes tomatoes – as is the case with this Ragu pasta sauce.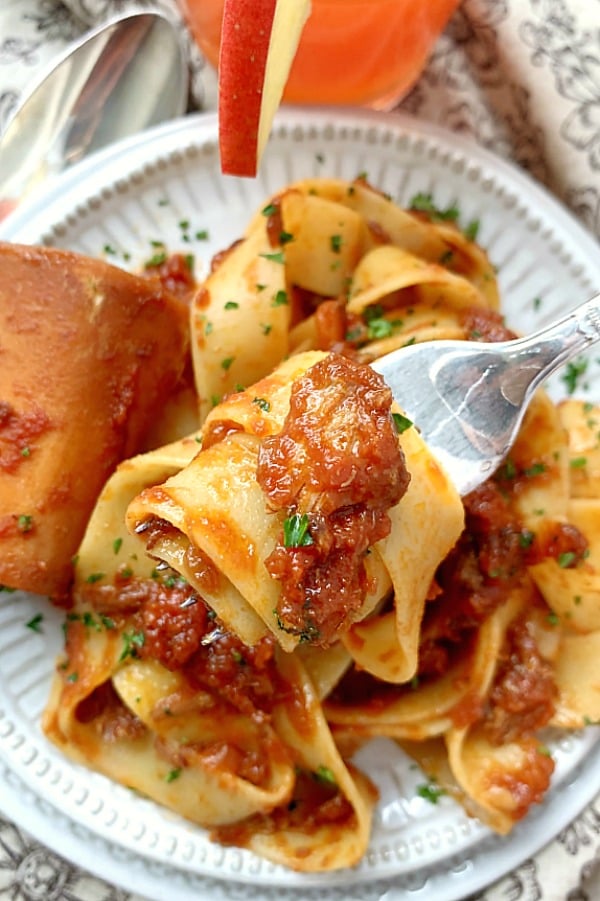 Facts about Veal:
Veal is rich in nutrients, like protein, zinc, niacin, vitamins B-6 and B-12.
Veal is extremely lean. A 3 oz. portion of veal contains 5.6 grams of fat and 160 calories.
Veal farmers purchase dairy calves when they weigh 100 pounds and raise them until they are 5 to 6 months old. Veal calves live indoors, protected from the elements, in group pens where they can socialize, eat and receive veterinary care.
700 farm families raise veal calves in the United States.
Veal calves are fed nutritionally balanced milk or soy based diets. Their feed contains iron and 40 other essential nutrients, like amino acids, carbohydrates, fats, vitamins and minerals.

Kitchen Tips:
Purchase veal shanks from your grocery meat counter.
Choose a red wine for this recipe that is suitable for drinking, like a merlot, pinot noir or lighter-style cabernet.
I used a 6-quart slow cooker for this recipe, similar to this one.
This sauce is best made a day ahead, then slowly reheated in the slow cooker when ready to serve.
Here is a guide to pasta shapes, including pappardelle, which works particularly well with this Ragu-style sauce.
Foodtastic Mom is a participant in the Amazon Services LLC Associates Program, an affiliate advertising program designed to provide a means for sites to earn advertising fees by advertising and linking to Amazon.com. Any highlighted, clickable Amazon link you see is an affiliate link that I may earn advertising fees on.
Thank you so much for being a faithful reader and supporter of Foodtastic Mom. Be sure to PIN and print this recipe!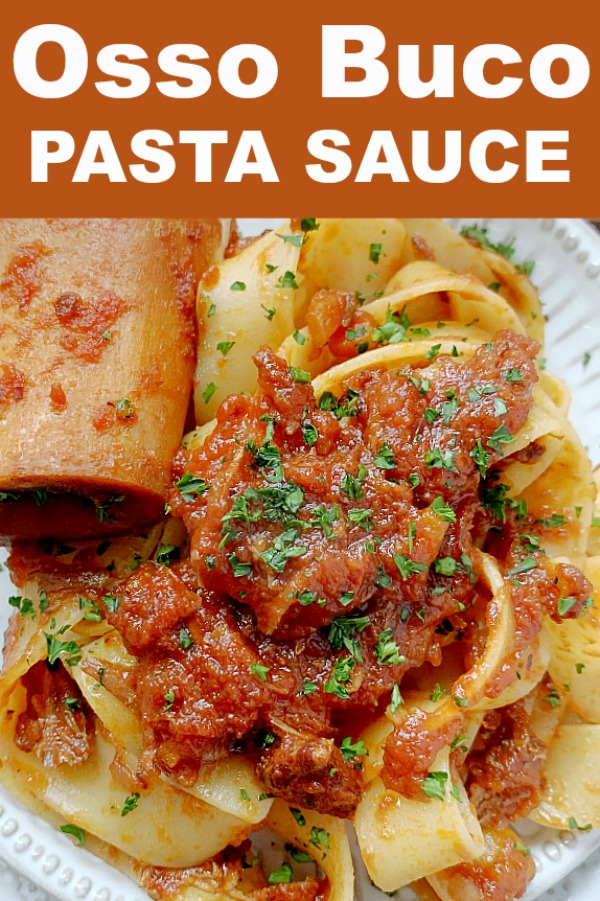 Osso Buco Slow Cooker Ragu
This Osso Buco Slow Cooker Ragu pasta sauce feels fancy and is full of flavor.
Ingredients
2

veal shanks

approximately 1.5 pounds total

2

slices

bacon

chopped

2

tbsp

vegetable oil

1/2

yellow

onion

finely chopped

1

large

carrot

peeled and finely chopped

3

cloves

garlic

minced

1/2

tsp

dried rosemary

1

tsp

salt

1

tbsp

sugar

1/2

cup

red wine

1

28 oz can

crushed tomatoes
Instructions
In a large, non-stick sauce pan over medium-high heat, cook the bacon until it is starting to brown.

Add the vegetable oil and heat until shimmering.

Add the onion and carrot and cook for about 5 minutes, stirring occasionally, until the onion is beginning to soften.

Stir in the garlic and cook for about 1 minute, until fragrant.

Add the veal shanks and cook on all sides until starting to brown, a total of 5 - 10 minutes.

Stir in the red wine and bring to a boil.

Stir in the crushed tomatoes until simmering. Stir in the rosemary, salt and sugar.

Add the entire mixture to the slow cooker. Cook on LOW heat for about 8 hours.

Remove the veal shanks and shred the meat from the bones, removing all obvious fat.

Return the shredded meat and the clean bones to the pot with the sauce. Stir well to combine. Serve the Ragu sauce with pappardelle pasta.
Nutrition
More Recipes with Ohio Beef: