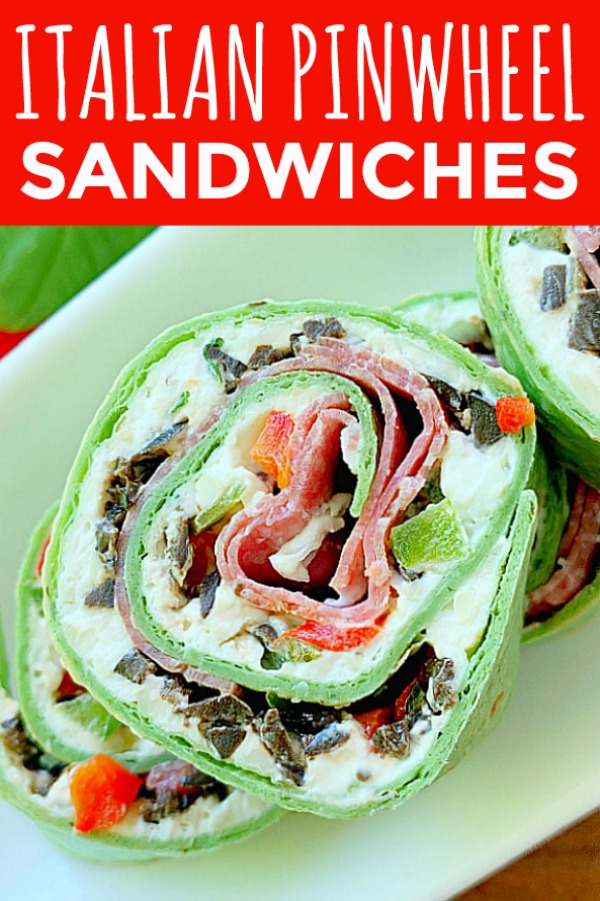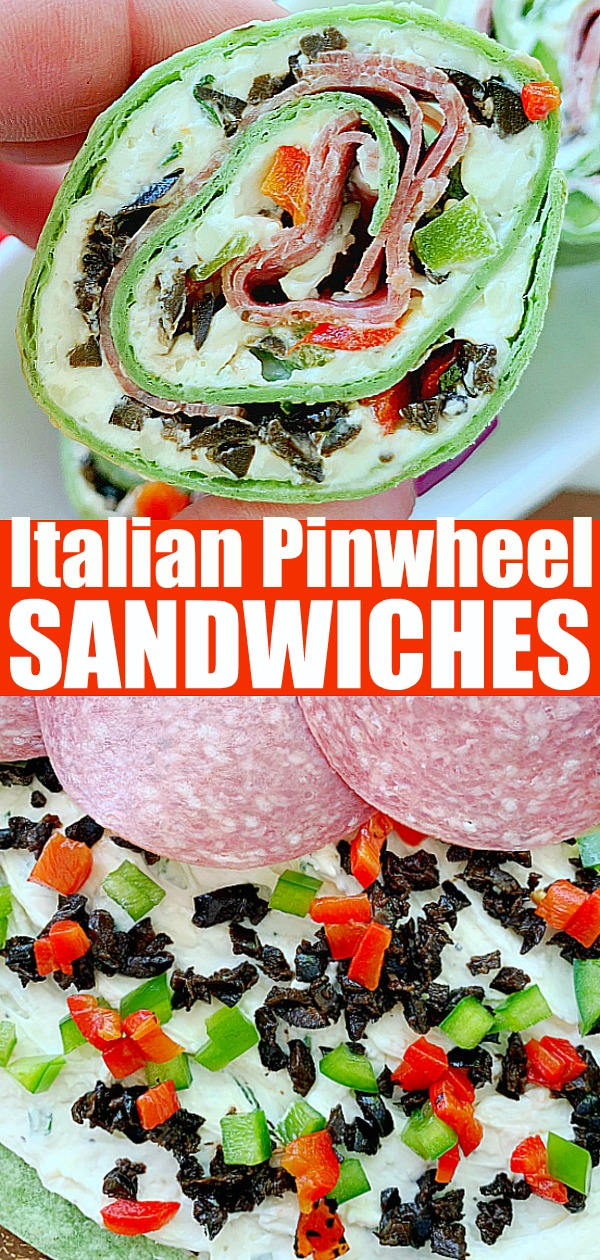 Use help from the antipasto bar to make these colorful Italian Pinwheel Sandwiches that can be made a day before serving.
I am in full on picnic mode at the moment because that's what I really want to do for Mother's Day. What is it about a picnic that makes eating seem so much more fun and not as ordinary. I posted a meme the other day that says 88% of parenting is figuring out what people are going to eat this week. That may be a bit of an exaggeration but it is true that deciding what to eat can feel like a chore. These Italian Pinwheel Sandwiches are fun finger food that help to alleviate boredom in terms of eating.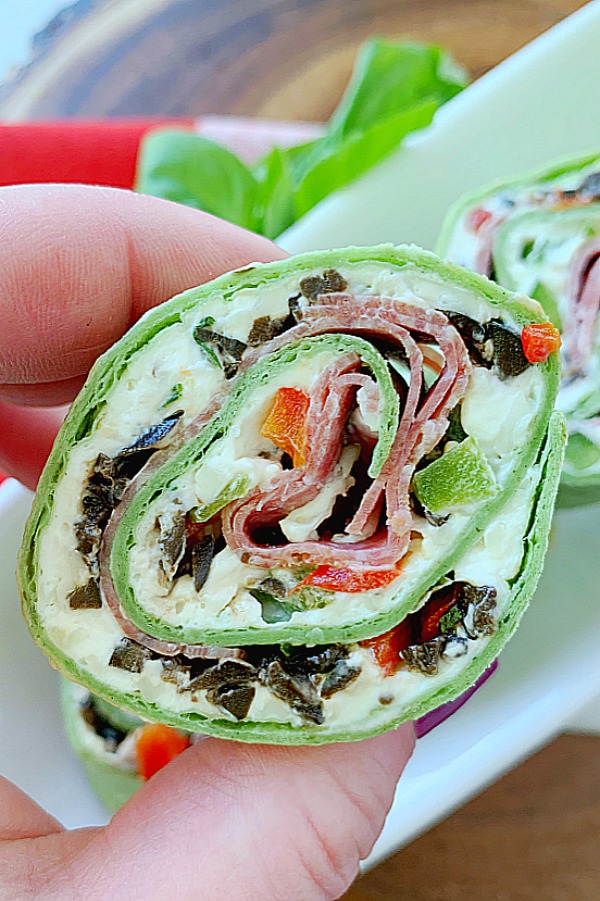 What are pinwheel sandwiches?
They look like a pinwheel because they are wrapped in a tortilla. I like choosing colorful tortillas like these green ones that have spinach in them. Traditionally a pinwheel sandwich includes fillings found in a club sandwich – chicken or turkey, bacon, lettuce and tomato. But I like an Italian version because it is more customizable. Don't like olives then skip them. Add artichoke hearts or roasted mushrooms. The cream cheese filling can really be topped with whatever you prefer.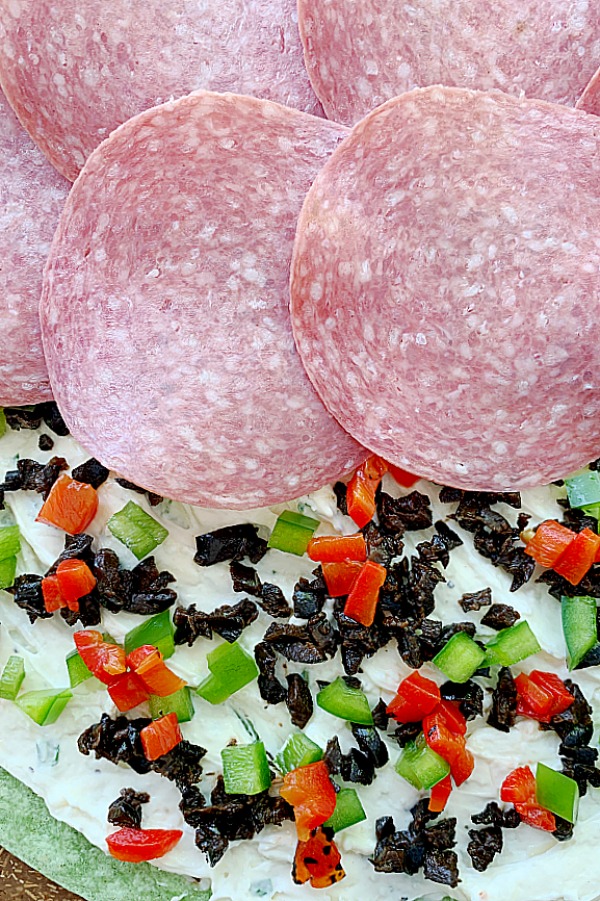 Can I make pinwheel sandwiches the night before?
Yes you can make them the night before. In fact they are better that way. Assembling the pinwheel sandwiches the night before allows all of the fillings to chill and "firm up" which makes the tortillas rolls much easier to slice and serve when ready.
What to serve with pinwheel sandwiches:
I like to serve pinwheel sandwiches as part of a picnic or appetizer spread. Here's some great recipes to go along with your Italian Pinwheel Sandwiches…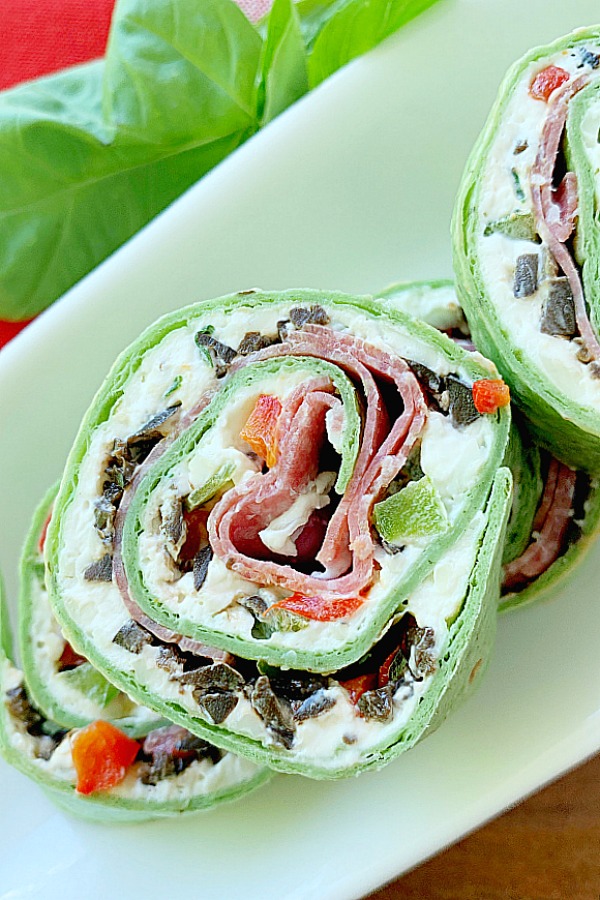 Kitchen Tips:
Foodtastic Mom is a participant in the Amazon Services LLC Associates Program, an affiliate advertising program designed to provide a means for sites to earn advertising fees by advertising and linking to Amazon.com. Any highlighted, clickable Amazon link you see is an affiliate link that I may earn advertising fees on.
Thank you so much for being a faithful reader and supporter of Foodtastic Mom. Be sure to PIN and print this recipe!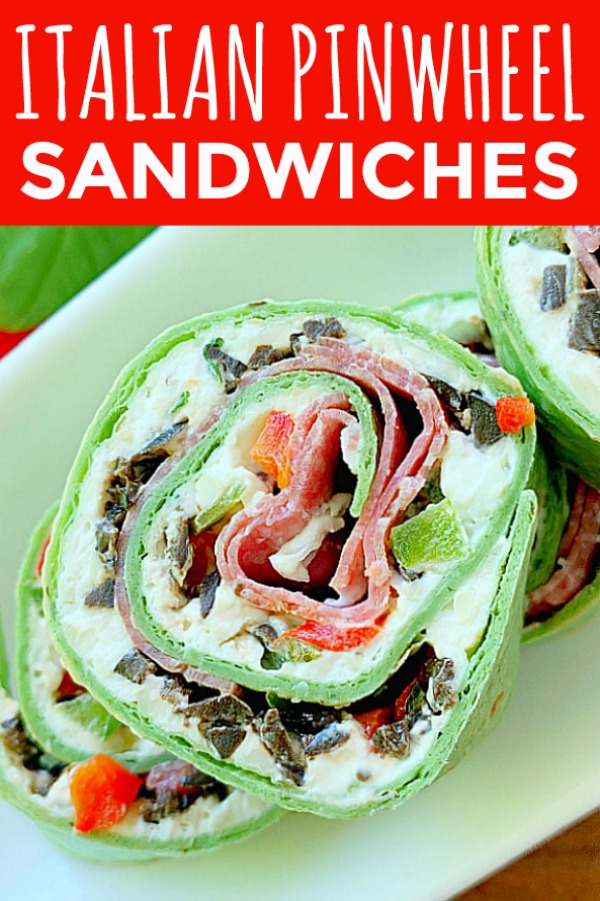 Italian Pinwheel Sandwiches
Use help from the antipasto bar to make these colorful Italian Pinwheel Sandwiches that can be made a day before serving.
Ingredients
4

large

spinach tortillas

8

oz

whipped cream cheese

1/4

cup

mayonnaise

1/4

cup

mozzarella cheese

shredded

1/2

pkg

Italian dressing seasoning mix

2

tbsp

grated Parmesan cheese

2

tbsp

fresh basil

finely chopped

1/2

tsp

garlic salt

1

cup

roasted red pepper

finely chopped

1

cup

green pepper

finely chopped

1/2

cup

black olives

finely chopped

12

oz

salami slices
Instructions
Mix together the whipped cream cheese, mayonnaise, mozzarella cheese, Italian seasoning, Parmesan cheese, basil and garlic salt until well blended.

Divide the cream cheese mixture evenly among the four tortillas. Spread it thinly, leaving about 1/4-inch border at the edge.

Evenly top the cream cheese mixture with the olives, roasted red peppers, green peppers and salami.

Tightly roll up each tortilla. Seal them in a zippered plastic bag or with plastic wrap. Chill them in the refrigerator for at least 2 hours or overnight.

Slice each tortilla into about 1-inch slices when ready to serve.
Nutrition