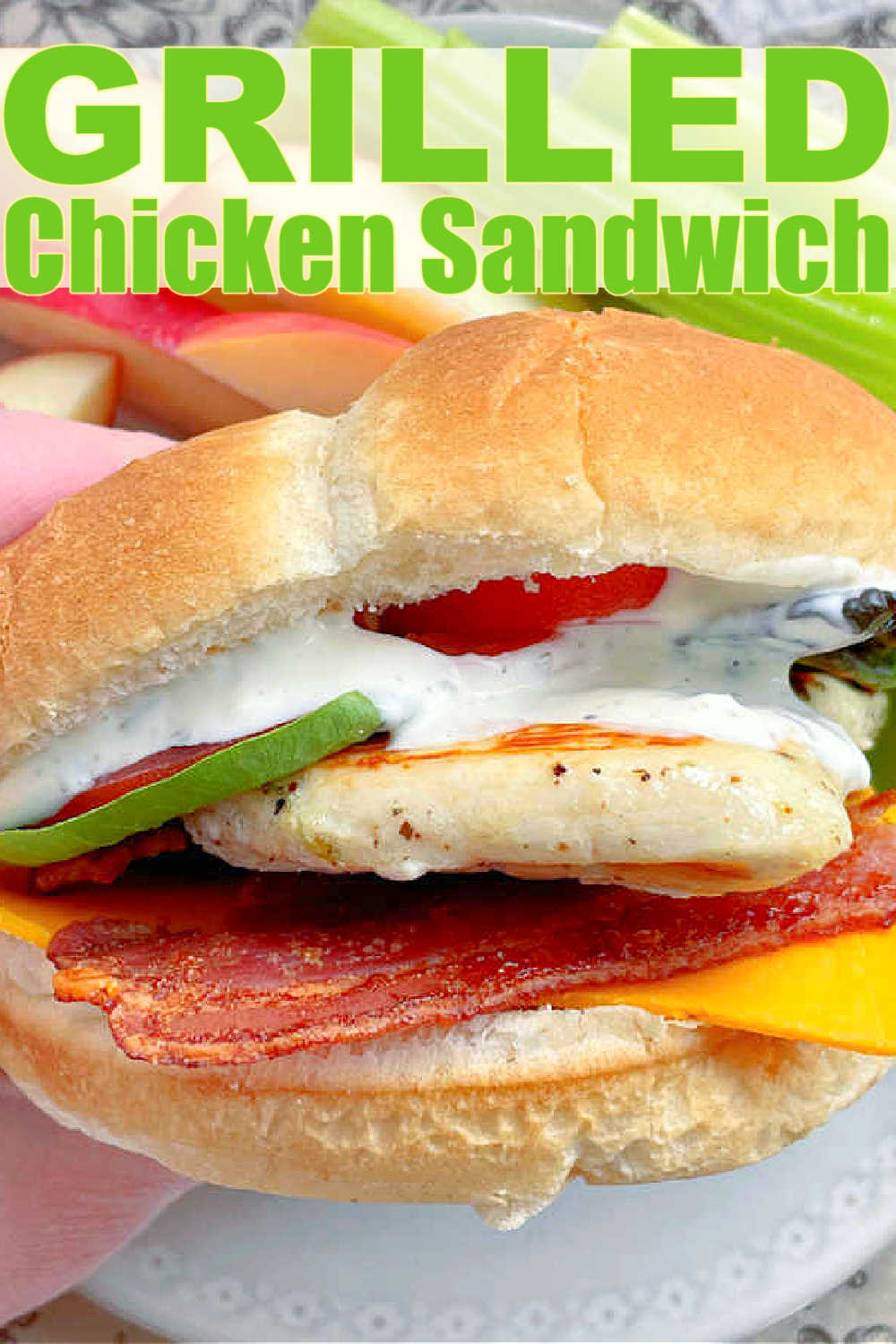 The best Grilled Chicken Sandwich is made at home on the George Foreman Smokeless Grill. The chicken breast is tasty and tender and grills in just a few minutes. Top it with cheddar, bacon, Ranch, lettuce and tomato for a real 'treat yourself' experience! This post is sponsored by George Foreman and Mavrck. All opinions are mine alone.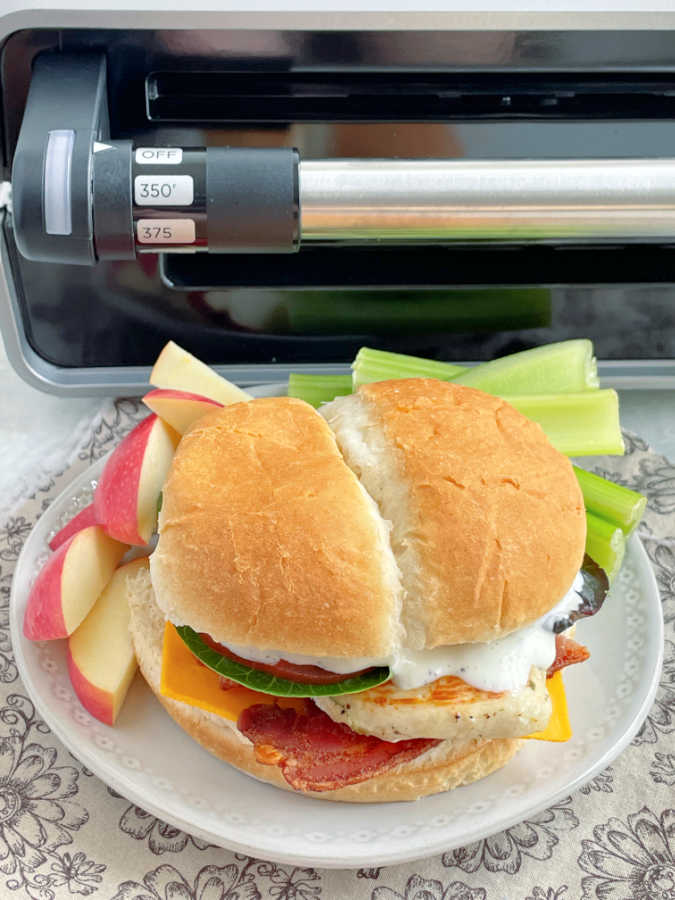 Ingredient suggestions for Grilled Chicken Sandwich
How your grilled chicken sandwich looks is completely up to you. I decided to make mine with what seems like a popular ingredient combination – chicken, bacon, cheddar and Ranch. Here are some other topping and bun suggestions:
Sesame seed bun with pickle slices, lettuce, tomato, sliced onion, mayonnaise and mustard
Pretzel bun with honey mustard, melted Swiss cheese and grilled onions
Multigrain bun with sliced avocado, Monterey Jack cheese and chipotle mayonnaise
For a low-carb "sandwich", top the grilled chicken with Caesar dressing and wrap it in romaine lettuce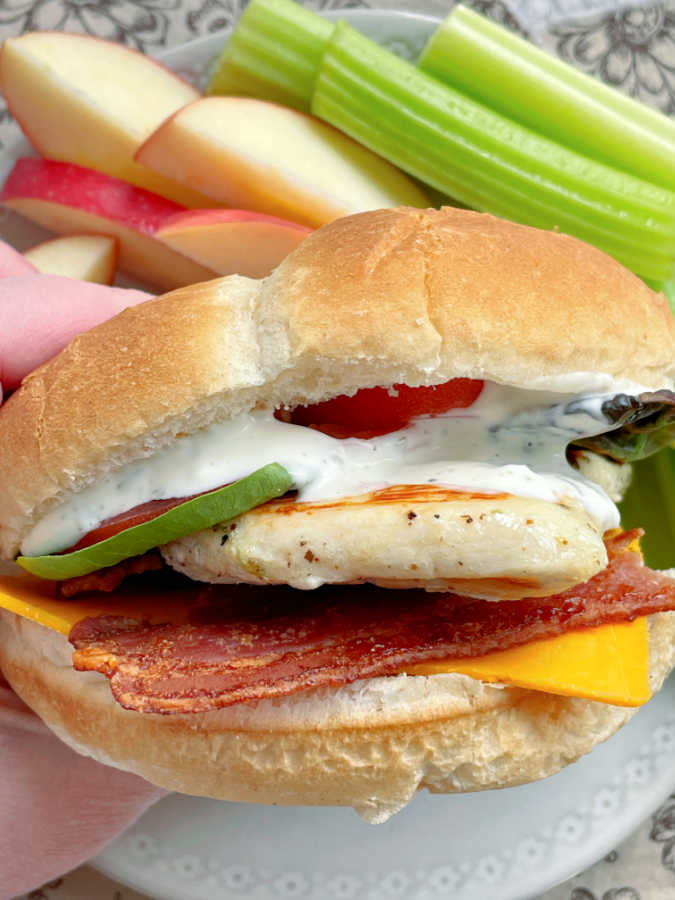 Marinade for the chicken breasts
Marinating chicken for sandwiches is simple. I chose a bottled Italian-style dressing and added some lemon zest, salt and sugar to it. So simple and tastes great! Here's a from-scratch marinade for chicken that is delicious too.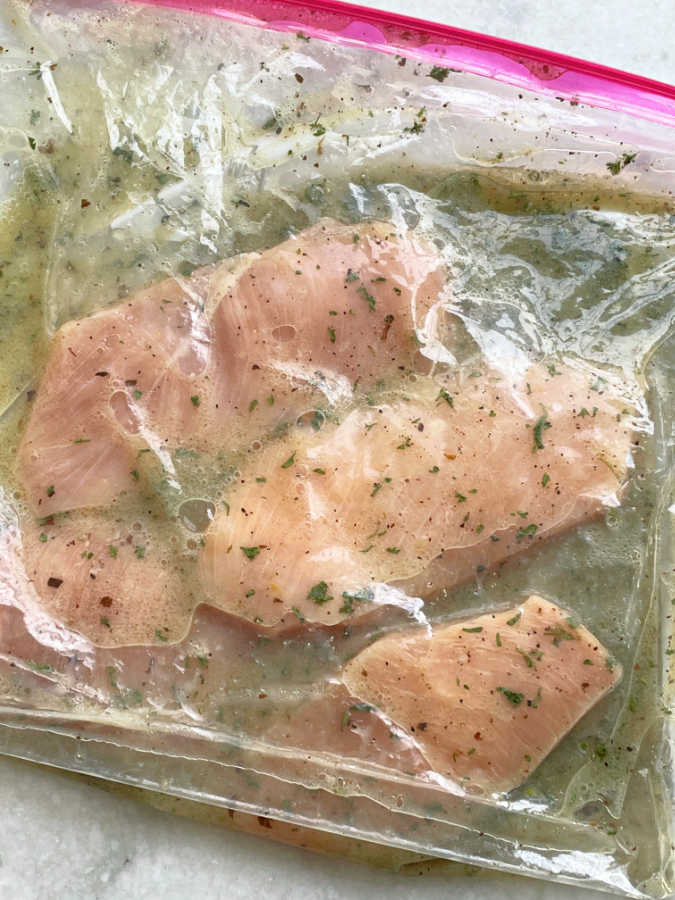 What type of chicken to use?
I like using frozen chicken breasts. They are trim and thin, perfect for grilling quickly. I place them in a gallon-sized zippered bag with my marinade. Then let them thaw in the refrigerator, while marinating, overnight. If you choose to use fresh chicken breasts, it's helpful to cut them in half (lengthwise, to make them thinner) and pound them to a uniform thickness. This helps them to grill evenly and more quickly.
How to make a Grilled Chicken Sandwich at home
For grilled chicken sandwiches at home anytime of year, using a George Foreman Smokeless Grill is the way to go. Enjoy fast cooking without sacrificing flavor! The George Foreman grill delivers 3x* faster cooking for quick and easy meals any night of the week. The grill grates and drip pan are also easy to clean and dishwasher-safe.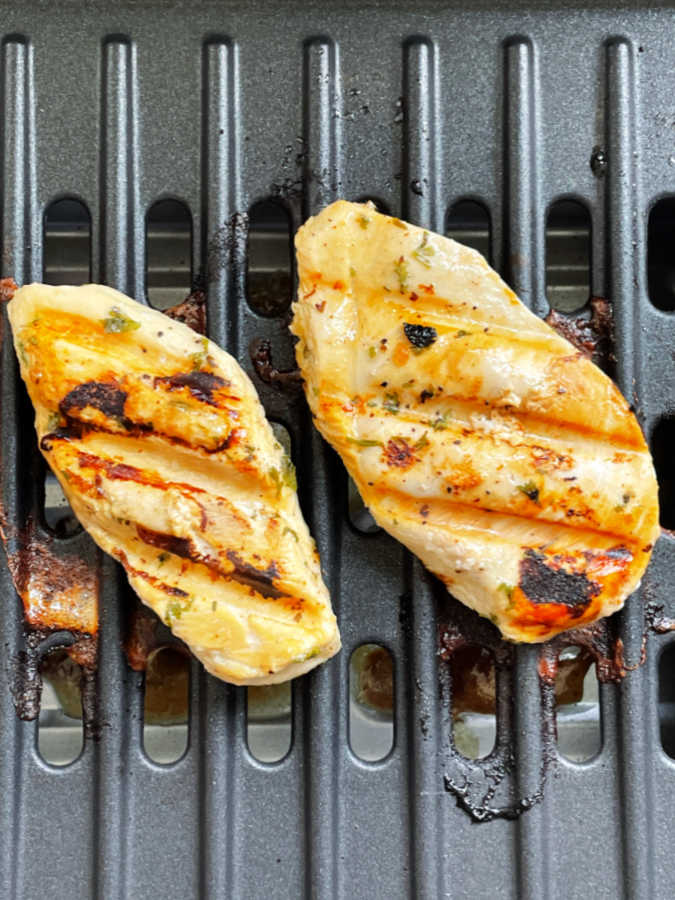 Kitchen Tips
Foodtastic Mom is a participant in the Amazon Services LLC Associates Program, an affiliate advertising program designed to provide a means for sites to earn advertising fees by advertising and linking to Amazon.com. Any highlighted, clickable Amazon link you see is an affiliate link that I may earn advertising fees on.
Thank you so much for being a faithful reader and supporter of Foodtastic Mom. Be sure to PIN and print this recipe!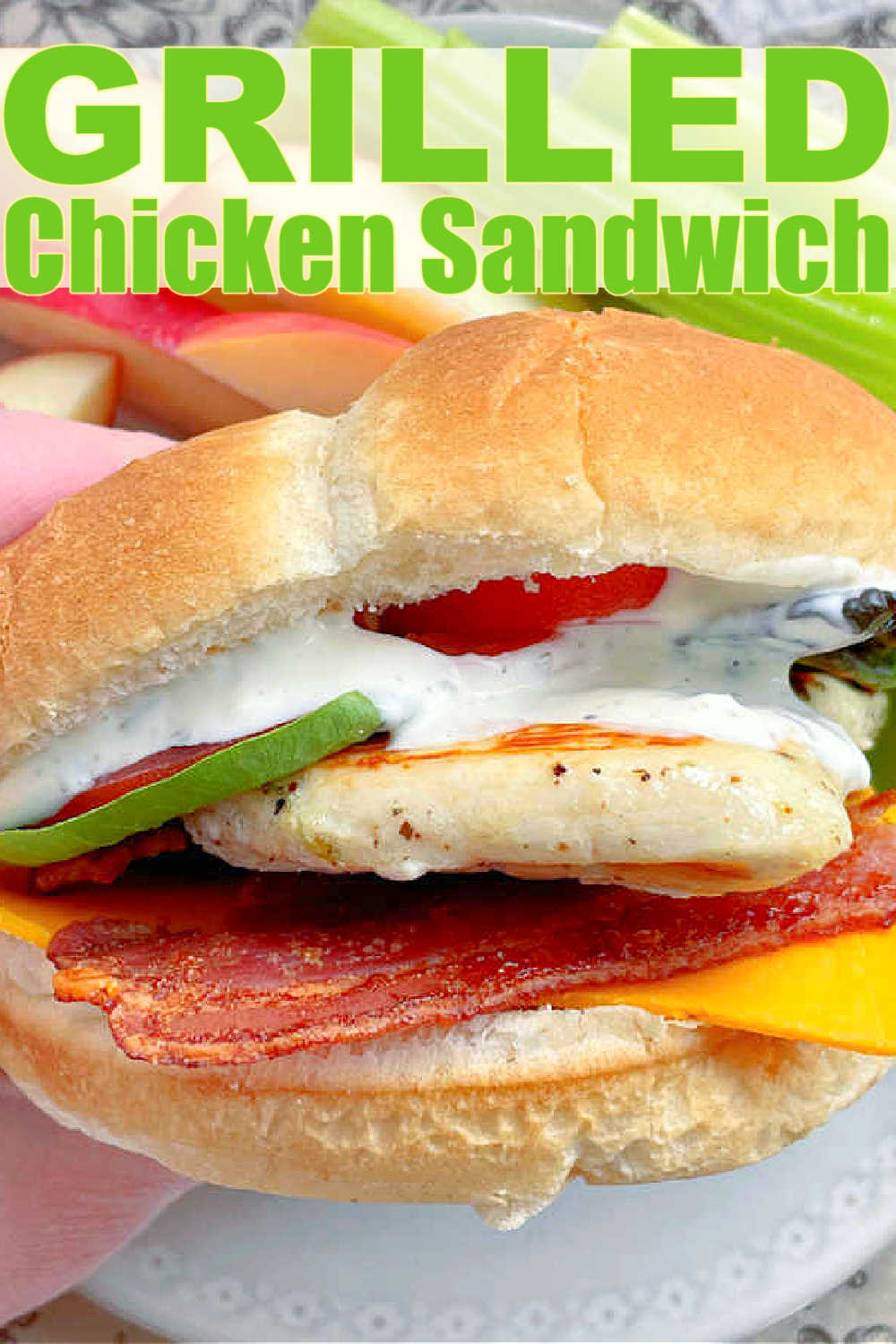 Grilled Chicken Sandwich
The best Grilled Chicken Sandwich is tasty and tender and ready in just a few minutes, then loaded with cheddar, bacon and Ranch.
Equipment
George Foreman Smokeless Grill
Ingredients
4

4-6 oz

chicken breasts

1/2

cup

bottled Italian dressing

1

tbsp

lemon zest

2

tsp

sugar

1

tsp

salt
Sandwich Assembly
4

sandwich buns

8

slices

cooked bacon

4

slices

sharp cheddar cheese

lettuce

tomato slices

Ranch dressing
Instructions
Whisk together the Italian dressing, lemon zest, sugar and salt. Pour the marinade into a gallon-sized, zippered bag.

Place four frozen chicken breasts into the bag with the marinade, seal the bag, and allow the chicken to thaw in the marinade overnight.

Or, if using fresh chicken breasts, pound them to a uniform thickness. Place them in the marinade and refrigerate for four hours.

Preheat the George Foreman Smokeless Grill to 425 degrees.

Place the chicken breasts on the grill and close the grill.

Grill the chicken for 5 minutes. Check the temperature. The chicken is done when it reaches at least 165 degrees F.

Assemble the sandwiches - bottom half of bun, slice of Cheddar, bacon, grilled chicken breast, lettuce, tomato, Ranch dressing, top half of bun. Enjoy!
More Grilled Chicken Recipes