This post has been compensated by Mazola Corn Oil, as part of my affiliation with them as a Brand Ambassador. As with all my sponsored posts, I don't agree to promote a product unless I already use it in my own kitchen. All opinions are my own.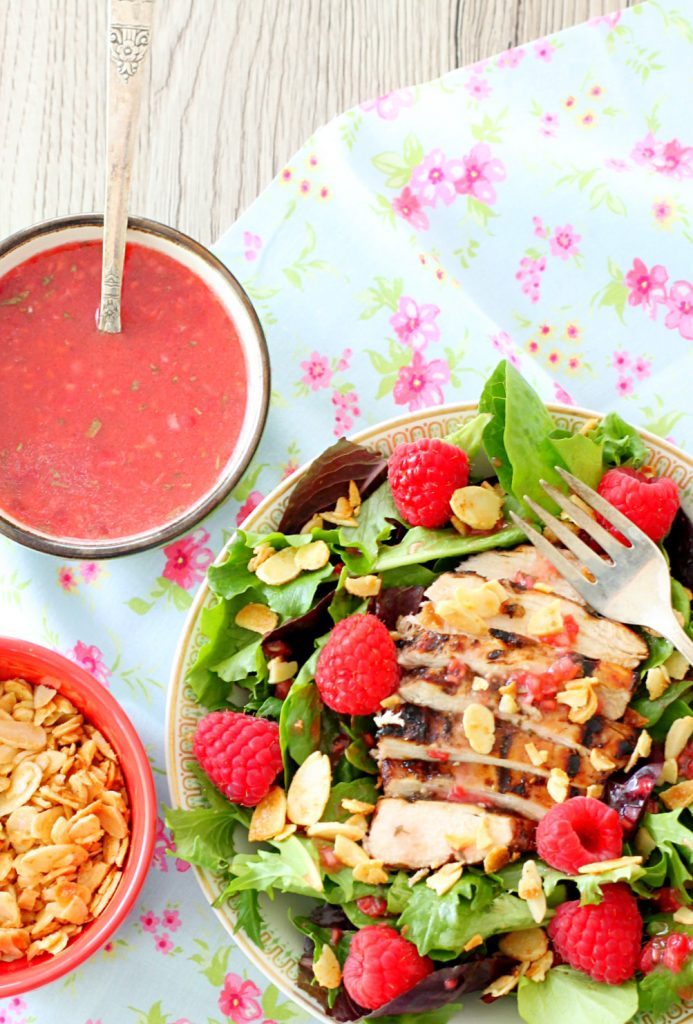 I haven't posted a salad for a while and since it's June I figured it was time again to share one. Luckily Mazola® had my back with their recipe for this vibrant salad that uses fresh raspberries both in the marinade for the chicken and dressing for the salad. The zingy candied cayenne almonds really add a fun punch of flavor too… they are both sweet and spicy!
I'm really proud of my three recipe collection I've shared in my time as brand ambassador for Mazola Corn Oil. In case you missed the first two, I've also posted a moist and fruit filled Pumpkin Apple Muffin recipe and a hearty Kale Corn Chowder that's both filled with veggies and topped with bacon.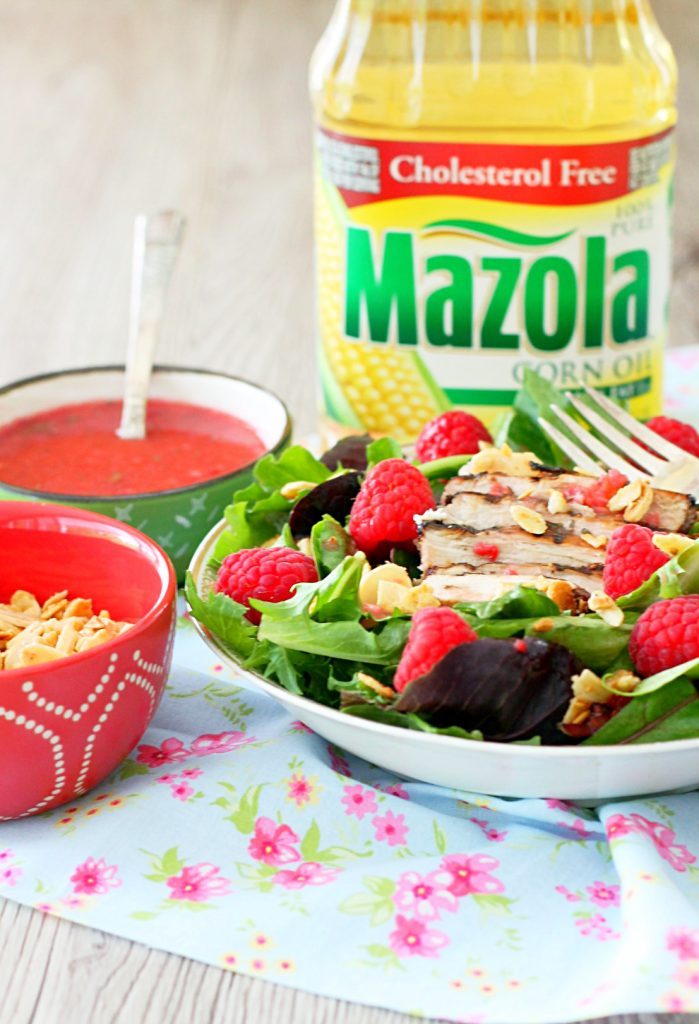 Back when Mazola contacted me asking if I'd consider promoting their oil, what convinced me most were the numbers pointing to corn oil as superior to olive oil in lowering cholesterol. I myself got lucky (gene-wise) and inherited decent cholesterol numbers, but my mom especially has had to fight high cholesterol for much of her life.
Did you know:
A recent study published in the Journal of Clinical Lipidology found that corn oil helps lower cholesterol more than extra virgin olive oil.
Corn oil has more cholesterol-blocking plant sterols than other cooking oils, almost 4X more than olive oil.
Corn oil has a high smoke point, making it a great all-purpose cooking oil you can use for everything from sautéing and grilling, to even baking!
Mazola Corn Oil has a neutral flavor, so it brings out the flavors of the other ingredients.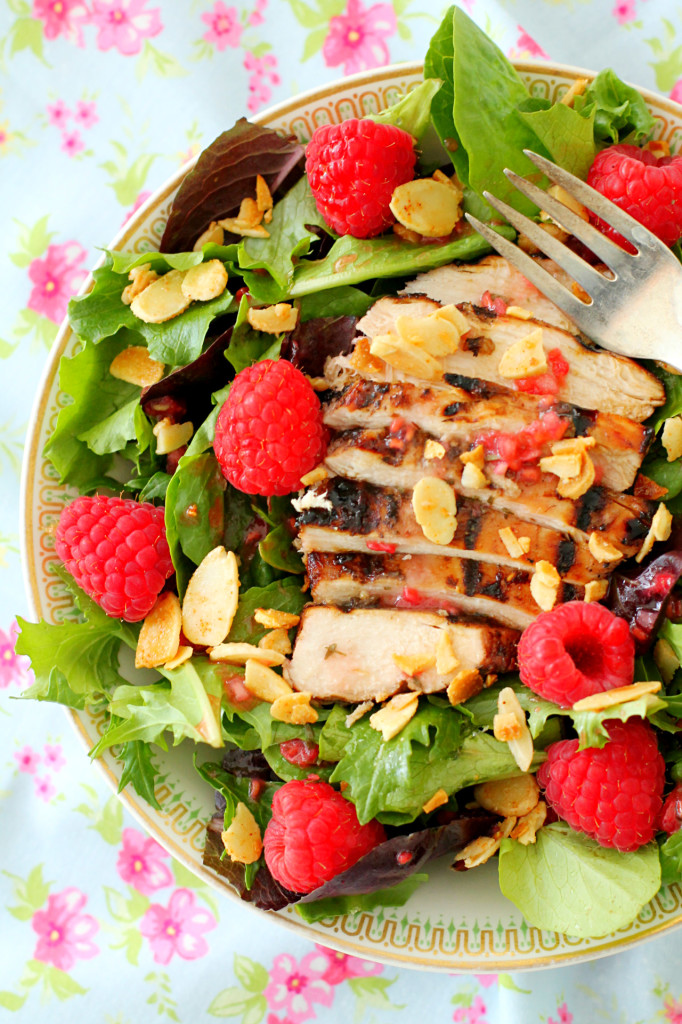 Now back to this gorgeous salad. It's so fresh and easy to put together. I envision making a whole recipe at the beginning of the week then portioning it into single-serve lunches for myself throughout the week. Having a "salad bar" set-up in your own refrigerator is always a good way to keep your calories for the day in check.
I didn't change a thing from the original Mazola recipe. It's low in cholesterol and packed full of fresh and nutrient-filled ingredients. Plus it really does taste as good as it looks!

Raspberry Grilled Chicken Salad with Candied Cayenne Almonds
Ingredients
for the candied cayenne almonds
1/3

c

sliced almonds

1

T.

sugar

1/4

t.

Spice Islands® Cayenne Pepper

1

t.

water
for the marinade and salad dressing
1/4

c.

white wine vinegar

1 1/2

c.

fresh raspberries

divided

2

T.

honey

2

T.

chopped fresh tarragon

2

T.

minced shallots

1

t.

Dijon mustard

1/8

t.

Spice Islands® Sea Salt

2

T.

Mazola® Corn Oil

4

chicken breast portions

4 ounces each

8

cups

spring mix lettuce
Instructions
Toast almonds in nonstick skillet over medium-high heat until golden brown; stir often, about 4 minutes. Mix together sugar, cayenne and water; add to skillet. Stir nuts until sugar is completely dissolved and almonds are evenly coated. Transfer to a plate and set aside to cool completely.

Combine vinegar, 1/2 cup raspberries, honey, tarragon, shallots, mustard and sea salt in a medium mixing bowl. Smash the raspberries using the back of large spoon. Whisk in oil. Pour 1/2 cup vinaigrette into a large resealable plastic bag and add chicken; marinate in the refrigerator for 15 minutes. Cover and chill remaining vinaigrette.

Preheat grill to medium high heat.

Brush cooking grates clean. Coat grates with grill spray to prevent sticking. Remove chicken from marinade; discard remaining marinade. Grill chicken 5 to 7 minutes or until cooked through (165 degrees); turn once halfway through grilling. Remove chicken to cutting board, cover with foil and let rest 3 minutes.

Toss lettuce with reserved vinaigrette and divide salad evenly between 4 plates. Top with grilled chicken and remaining raspberries; sprinkle with candied nuts.